Blog

7 min
Top 15 Things To Do In Amsterdam When You're High
7 min
Amsterdam—a city of coffeeshops, museums, architecture, outdoor spaces, and bizarre attractions. Check out the very best things to do in the Dutch capital when high.
As the cannabis mecca of Europe, Amsterdam attracts millions of weed-loving tourists every year. The city offers gorgeous architecture, a labyrinth of quaint canals, delicious delicacies, fascinating museums, and even a red light district.
Hundreds of cannabis-serving coffeeshops dot the streets and alleyways. Cannabis tourists can choose between busy, world-renowned venues and quieter "underground" locations. If you're new to Amsterdam or looking for some high-quality coffeeshops to explore, check out the 15 best coffeeshops the city has to offer.
However, Amsterdam provides much more than just herbal delights. After you've hit some bowls and chowed down some space cake, go out and see what the city has to offer. Here are the top 15 things to do when visiting Amsterdam when you're high.
15. Glow-in-the-dark mini golf
Test your accuracy with a game of GlowGolf! Traverse around the indoor course guided by glow-in-the-dark neon statues and structures. Playing here sober can be trippy, but doing so high will take your mind to another universe filled with glowing animals and amusing murals. The course features 18 holes, each with its own unique style, twists, and challenges.
You and your smoking crew will most likely develop sore abs from the sheer amount of giggles that will go down. Just don't underestimate how competitive this game can get!
14. Visit Wondr
Cannabis enhances the senses. The herb makes colours brighter, food taste amazing, and music sound euphoric. If you want to take advantage of this elevated state, head on over to Wondr—a house of interactive rooms that will rev up your central nervous system. Wondr invites visitors to explore, dance, sing, and touch!
Designed by some of the most creative individuals in Amsterdam, the immersive experience provides a whirlwind of sensations. You'll find yourself stepping off the street and into a mesmerising jungle, an ocean of marshmallows, and a glittering sky! If you're feeling particularly extroverted, write on the walls or grab the microphone and sing your heart out.
It seems as though they created this trippy location purely to dazzle the minds of cannabis-loving tourists, so don't miss out!
13. Get a tad bit higher on the Smokeboat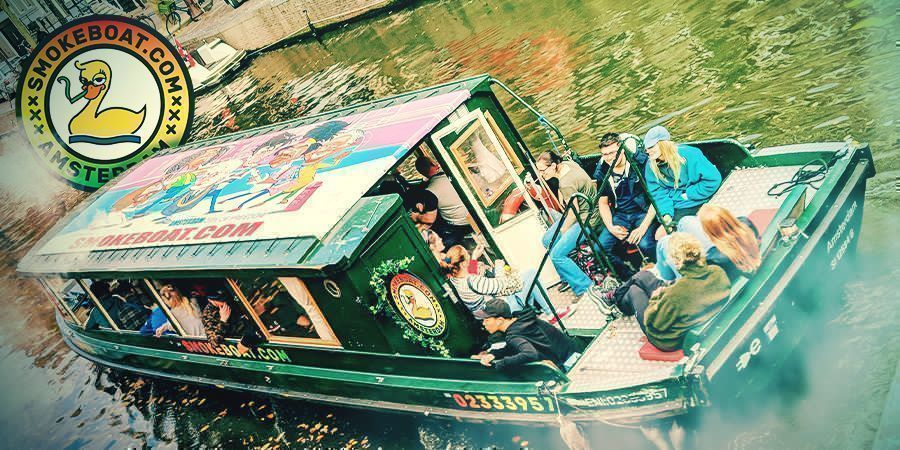 Many tourists visit Amsterdam for two reasons: high-grade cannabis and beautiful canals. Why not combine the two into a single experience? Smokeboat Amsterdam makes this a possibility.
Smokeboat Amsterdam will take you on a tour of the city's beautiful canal network, and let you smoke joints and blunts at the same time. Soak in the sights and enjoy some reggae tunes while you continue to bathe your brain in THC.
Before taking to the water, the tour starts off at a high-quality coffeeshop. This will give you the chance to stock up on buds and smoking supplies before embarking on the journey. The boat doesn't allow the use of tobacco, but they kindly provide a free tobacco substitute.
The crew will also take care of your cottonmouth for you, with a free water and lemonade bar! If you fancy something a bit stronger, sip on a beer or a glass of wine between each hit.
12. Swing up in the sky (or just enjoy the view)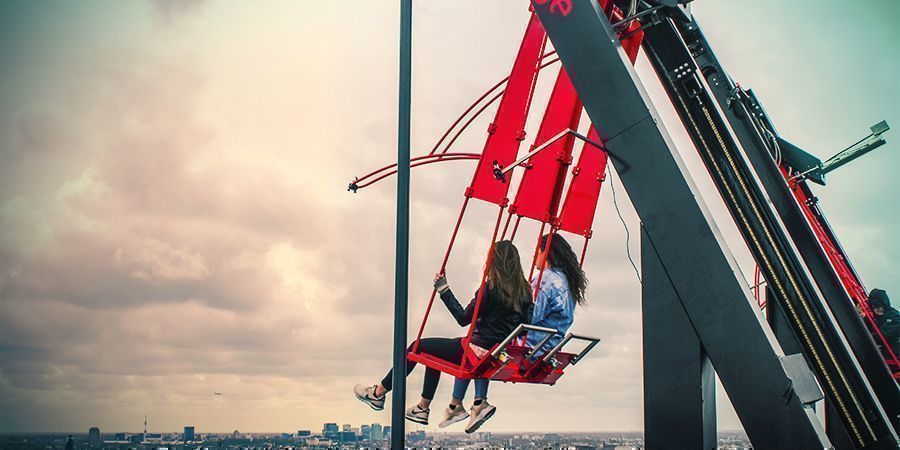 If you've got a head for heights—or want to test your fears—you need to head to the A'DAM LOOKOUT! As you enter the building, you'll make your way towards a psychedelic elevator with a glass ceiling. Dazzled by spectacular lighting and sound effects, you'll ascend from the 1st to the 20th floor in a mere 20 seconds.
As soon as you step out, you'll find yourself 100 metres above the city with a 360° view. You'll be able to see the historical city centre, parts of the canal network, and an expansive skyline.
If you want to fully immerse your stoned mind in the experience, test your metal and jump off the "Over the Edge" swing. The ride swings customers off the edge of the Sky Deck, exposing a unique vertical view of the ground below. Feel the adrenaline course through your veins as you peak on the pendulum.
11. Pedal boat the canals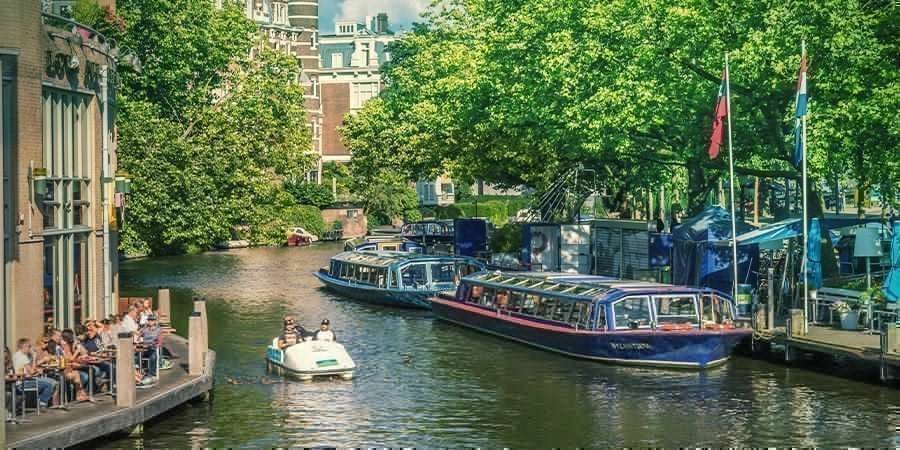 A lot of smokers prefer more laid-back pastimes. If this sounds like you, pedal boating the canals serves as one of the most relaxing ways to spend an hour in Amsterdam. The experience offers a much different—and quieter—perspective of the city.
Jump in a boat with a couple of buddies and put your legs to work. You're free to go anywhere you like, as long as you follow a few basic rules. Catch a completely different view of the city's quaint bridges and historical landmarks, and enjoy the therapeutic sound of water splashing up against the side of your vessel.
10. Get some stroopwafels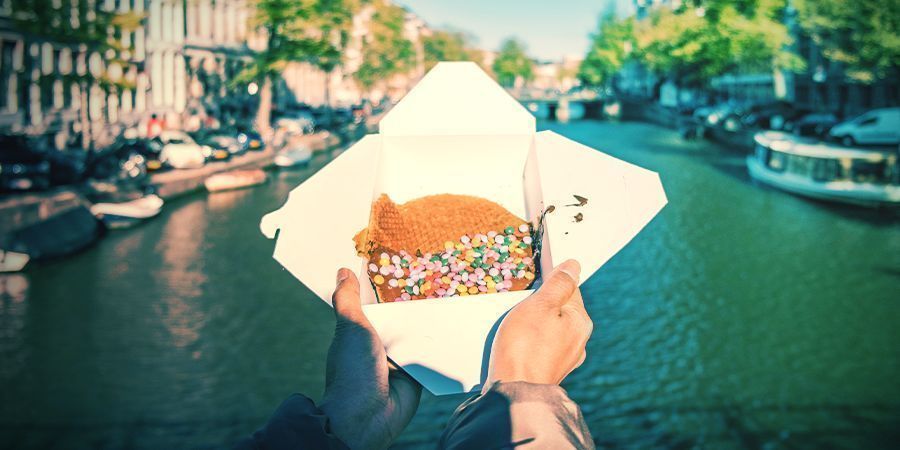 After visiting several coffeeshops and sampling their wares, you've probably developed quite the appetite. Luckily, Amsterdam offers the perfect cure for the munchies: stroopwafels! Bakers craft this traditional Dutch delicacy by fusing together two rounded waffles, after loading the middle with deliciously sweet caramel. Truthfully, you'll find it hard to decide which factor provides the most pleasure—the texture or the taste.
As your teeth sink into the brittle waffle, the sweet taste buds on the tip of your tongue will set ablaze. The moreish taste makes it easy to demolish several of these treats at once, especially after a joint or two.
Oh, and they go down extremely well with a fresh cup of coffee. Place the sugary disk on top of your steaming mug for a minute or two. This will soften up the caramel and provide even more momentary mouth pleasure!
9. Visit the Foodhallen for a smorgasbord of national and international goodies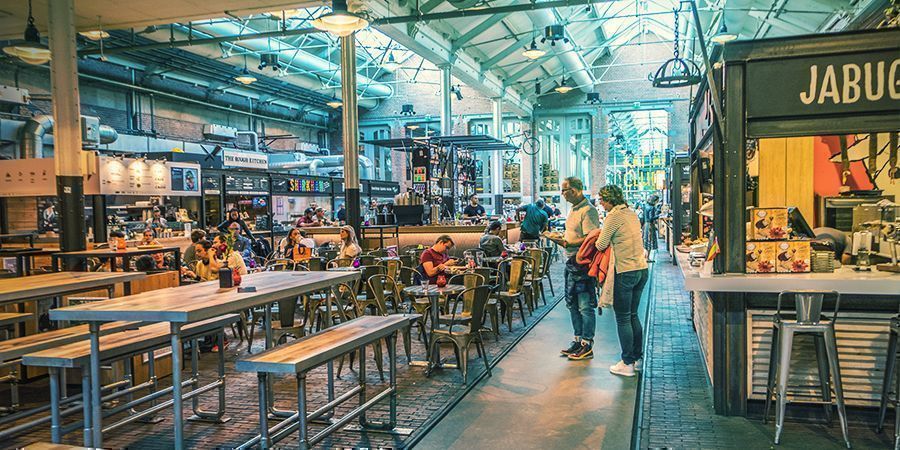 A paradise for foodies, Amsterdam's Foodhallen offers a massive range of culinary choices. Visitors are truly spoilt for choice. Choose between hot dogs, Mexican, Dim Sum, fish, chicken, Mediterranean, tacos, sushi, pizza, pita, Vietnamese, and countless other meat-based and vegetarian dishes! Take some time between dishes to sink some expertly brewed beers. The beer bar offers 60 local and international options.
Foodhallen doesn't just offer exceptional flavours, it provides a great vibe. Situated in an old tram station, the tall ceiling and wide-open space create a feeling of community.
8. Check out the museums surrounding Museumplein or chill on the grass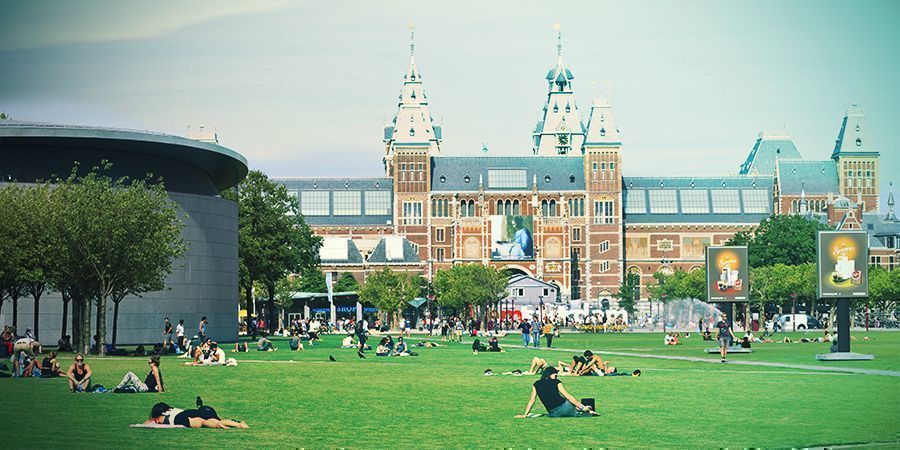 Located in one of Amsterdam's most prestigious neighbourhoods, Museumplein (Museum Square) features some of the most important museums in the city. If you're in the mood to download some information and learn, you need to check this place out! Museumplein boasts a long list of fascinating exhibits, including the Diamond Museum, Moco Museum, Stedelijk Museum, and Van Gogh Museum.
In the summer, head over to Museumplein to simply relax on the grass and soak in the sun. The large grounds play host to numerous festivals and double up as a great picnic spot. Head over to the pond for a spot of ice skating if you're visiting during the winter!
7. Visit a brewery — insiders recommend one of the brouwerij het IJ locations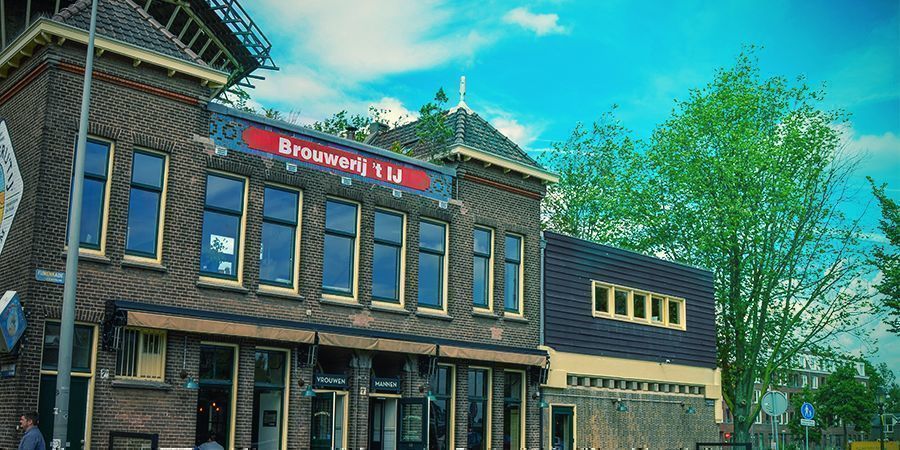 Known for its fine beer, the Netherlands has given rise to some big names in the alcohol industry. However, many small, high-quality independent brewers have sprung up all over Amsterdam. Sure, the city is known for its great weed, but you can find some world-class beer here, too.
If you enjoy an occasional tipple, you should visit one of the many breweries in the city. Brouwerij het IJ delivers one of the best experiences in this domain. The company provides a long and delicious list of craft beer. Head over to their Funenkade venue on Fridays, Saturdays, and Sundays for a guided tour. English tours commence at 3:30 pm, and Dutch tours go down at 4:00 pm.
Remember, if you're mixing alcohol and weed, always smoke first and drink last!
6. Reconnect with nature at Hortus Botanicus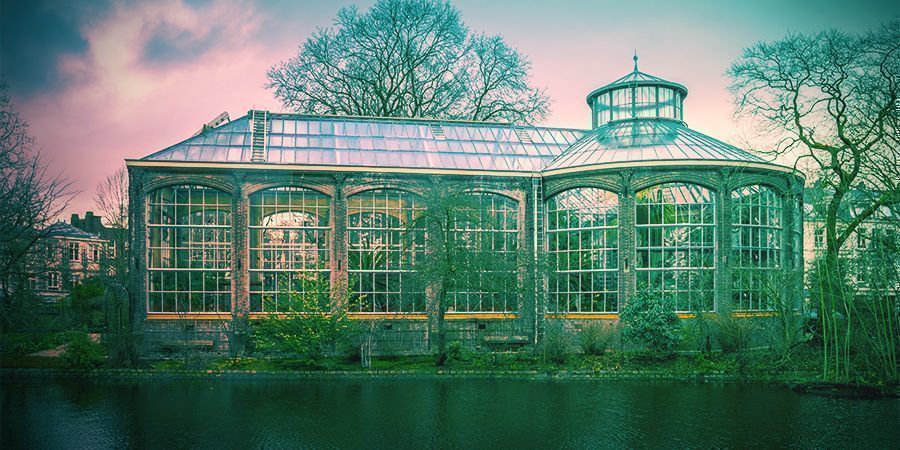 Are you looking for a break from the hustle, bustle, and stimulation of the city? Plunge into nature at "The Hortus"—Amsterdam's spectacular botanical garden. Marvel at the beauty of nature as you work your way around this magnificent location. Check out the Three Climate Greenhouse, a massive glass structure that features subtropical, desert, and tropical zones. Make your way into the Palm Greenhouse to view a large collection of palm species and gaze upon the large aerial roots of the lacy tree philodendron.
If you really want to immerse your cannabinoid-bathed brain in nature, step into the butterfly greenhouse and witness hundreds of tropical butterflies flutter around and lay their eggs. Add some educational value to your experience by jumping on a guided tour! They're usually free on Saturday or Sunday; check out the website to make sure!
5. Get "highly" educated at the Hemp Museum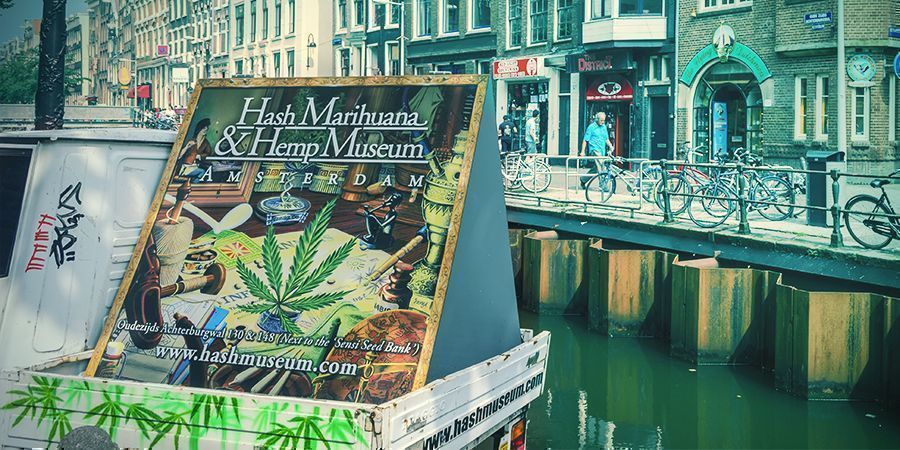 In between smoking weed, learn everything you could possibly know about hemp! As the oldest exhibition dedicated to the plant in the world, Amsterdam's Hash Marihuana & Hemp Museum will blow your mind! Discover the rich history of a plant that has changed the world throughout history, and continues to do so today.
You'll learn about its past industrial uses, the medicinal properties of the herb, and the ABCs of CBD. The venue smashes any propaganda surrounding cannabis and dives straight into the facts. You'll leave with a whole new appreciation for the herb.
4. Visit one of the many festivals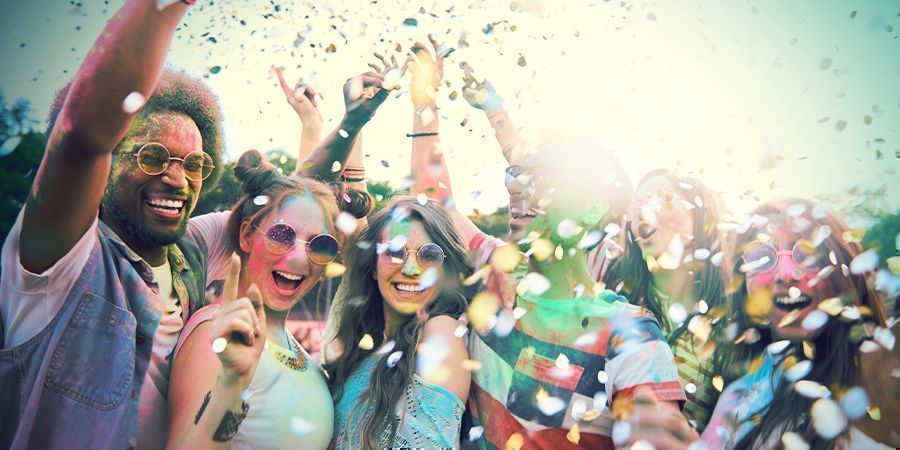 People travel from all over the world to party in Amsterdam. The city hosts over 300 festivals every single year, with events that appeal to diverse tastes. If you really want to feel the bass and move your body, check out one of the many events during the dance music festival season that stretches from summer to the end of autumn. Check out DGTL Festival for heavy-hitting electronica, or Dance Valley—the world's longest-running dance festival! If you're more of a metalhead, you should definitely give the Amsterdam Metalfest a shot.
If you fancy something much more psychedelic, check out Wonderland Festival. The indoor event features thumping bass, psychedelic lighting, and all manner of trippy costumes and artwork.
3. Check out the Amsterdam Dungeon

Nowadays, Amsterdam boasts a bright, happy, and lively vibe. But things haven't always been this way. Head to the Amsterdam Dungeon to experience the last 500 years of Amsterdam's dark and creepy history, presented with a healthy dose of humor—strange as that may sound. See, smell, hear, and feel the thrills of the labyrinth, the horror of witch-burning, the absurdity of the tavern, and the sheer intensity of the torture chamber!
If you think the experience won't rattle you, you're mistaken. Ten live actors, state-of-the-art special effects, and blood-curdling screams will make it seem impossibly real. This tongue-in-cheek attraction will hit you some interesting facts, and have you and your mates in stitches.
2. Watch a movie at Pathé Tushinski for a bit of a gatsby feel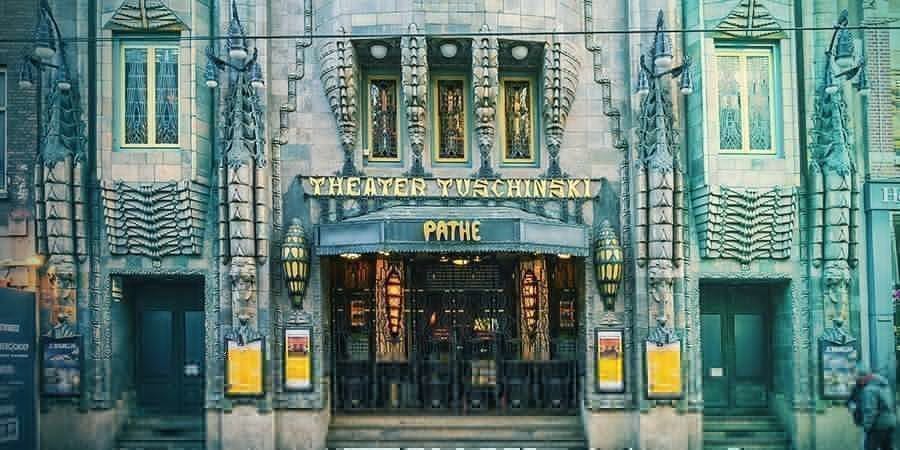 After a few hours in a coffeeshop, not much beats snuggling up, munching some snacks, and enjoying a visual masterpiece. Watch a film in the classiest theatre in Amsterdam: Pathé Tushinski. Opened in 1921, the venue has served as an important setting for film premieres for many years. In recent times, Tuschinski has been restored to provide visitors with a luxury cinema experience.
Stepping through the doors feels like jumping into a Great Gatsby set. Marvel at the high ceilings, stunning architecture, sophisticated colours, and stacked balconies. Sit back and relax in the large two-seater benches and enjoy the latest flicks. If you fall in love with the vibe, you can also join a guided tour to learn more about the venue.
1. Chill in one of the many parks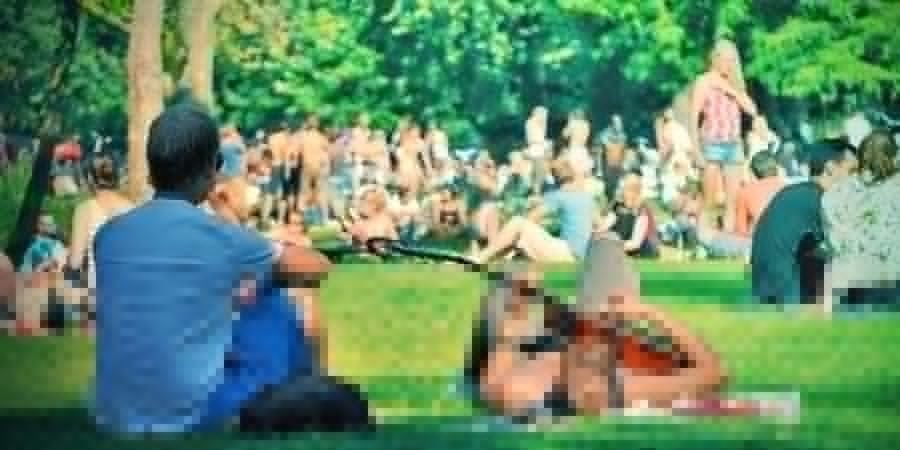 Fresh air. The sound of birds. Luscious plants. Peace and tranquillity. Not much beats a good park on a summer's day. Oh, and they're free! Amsterdam boasts a large selection of green spaces suitable for sunbathing, relaxing, and recreation.
Head over to Amsterdam's most famous outdoor space—Vondelpark—to soak in some nature. Located close to many of the main tourist sites, the lake, trees, and grass offer a breath of fresh air in the middle of the city. Check out Frankendael Park for a tranquil outdoor space filled with trails, paths, and bodies of water. Be sure to explore Huize Frankendael (the land house Frankendael) for the restaurant, exhibition rooms, and music space.
An idyllic place to spend a summer's afternoon, Sarphati park features quaint buildings, lots of vegetation, and beautiful water fountains. You'll also find a nice selection of bars and restaurants there.
Now that you've been empowered with a great list of stoned activities, don't hesitate to try out a few different ones during your stay. Have fun exploring!