Wedding Cake: Cannabis Strain Review & Information
3 min
Wedding Cake is an indica-dominant strain that is bold enough to stand out from the crowd. Offering an enjoyable flavour profile that leads seamlessly to a euphoric high, she is bound to satisfy every sweet-toothed connoisseur. Read on to find out just what makes this strain one to add to your shopping list.
Wedding Cake from Zamnesia Seeds is an indica-dominant strain that has some impressive parentage, high THC levels, and is overall just bursting with great flavour. But is it true love when it comes to her other features? Let's take a look.
Characteristics of Wedding Cake
Wedding Cake has plenty of features that are indicative of a high-quality strain. Take a look below at the most noteworthy characteristics.
| | |
| --- | --- |
| Genetics | Indica-Dominant |
| Parents | Triangle Kush x Animal Mints |
| THC | 22–25% |
| CBD | Low |
| Flavours | Sweet, Woody, Blueberries, Spicy |
| Effects | Strong, Euphoria, Relaxing |
Drawing upon superb parent stock in the form of Triangle Kush and Animal Mints, uniting the two in holy matrimony resulted in the stunning Wedding Cake. While other Wedding Cake versions are available from other seed banks, this unique combination offers something undeniably distinct and ferocious.
With an average THC content of 22–25%, this is one potent indica-dominant strain. Showcasing not only decadent flavours and aromas but also an enjoyable and relaxing high, Wedding Cake is sure to be on the radar of those seeking strains on the premium end of the spectrum.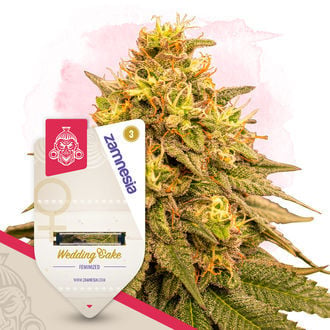 View
How to Grow Wedding Cake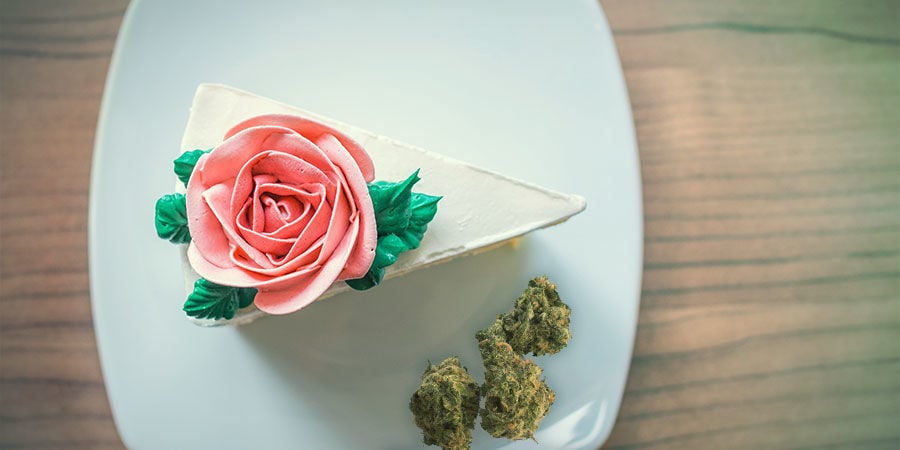 Wedding Cake is not an overly complicated strain to grow, but it may not be for complete novices either. A little experience growing feminized strains will go a long way with her. However, her fast flowering time and bountiful yields will more than make up for any growing difficulty. Let's have a look at the growing characteristics of Wedding Cake.
| | |
| --- | --- |
| Grow Difficulty | Intermediate |
| Best Suitable To Grow | Indoors / Outdoors |
| Climate | Warm And Sunny |
| Variety | Feminized |
| Height Indoor | Medium |
| Height Outdoor | Medium |
| Flowering Time | 65 Days |
| Harvest Period (Outdoor) | Mid-October |
| Yield Indoor | 400–450g/m² |
| Yield Outdoor | 450–500g/plant |
Wedding Cake is a strain of medium growing difficulty. Grown indoors or outdoors, the plant will reach a medium height, and it performs best in rich soil in a slightly humid environment. When grown indoors under a 600W light, yields of up to 450g/m² are possible after a brief flowering time of 9 weeks.
Outdoors, where the strain prefers a warm and sunny environment, she can yield up to 500g/plant in mid-October. As the strain can be somewhat picky, she may not be ideal for first-time growers.
Smoking Wedding Cake: Flavour & Effect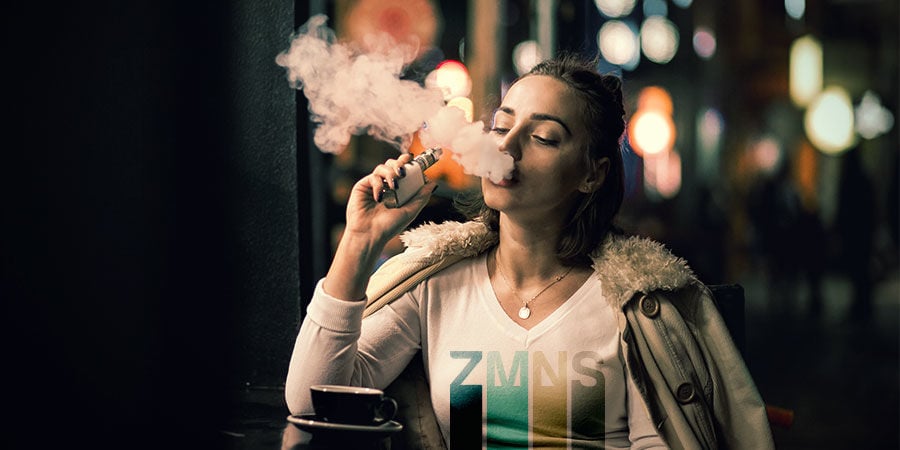 When smoked, Wedding Cake's flavours are bold and enjoyable. One pull will give you instant notes of sweet blueberries with woody elements rounded off with a hint of spice. While it may sound like a complex taste, it is a smooth blend that can be further savoured in a vaporizer set to a low temperature.
With THC levels sitting anywhere between 22–25%, Wedding Cake is a fairly potent strain with huge offerings when it comes to her high. A true indica through and through, you can anticipate a strong and euphoric high that settles into pure relaxation. While not couch-locking, the high will be welcome to those desperate for some downtime. However, it may not be a great place to start for beginners or those with a low tolerance for THC.
Wedding Cake Auto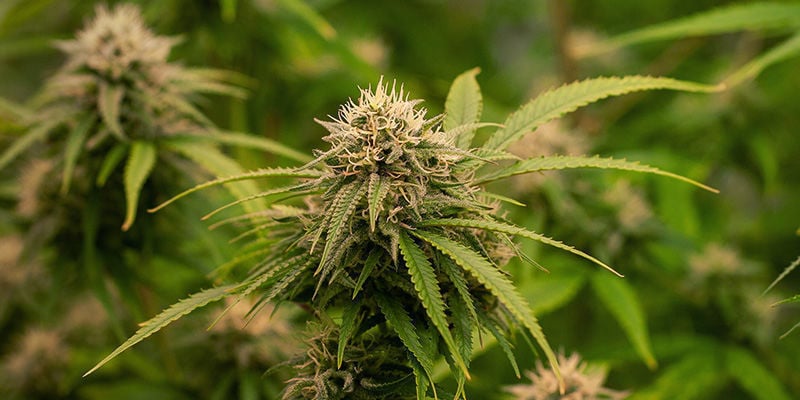 If you're looking for a slightly easier way to grow Wedding Cake, allow us to introduce you to Wedding Cake Auto. This variant is very true to the original, with some slight differences. Using the same parentage mixed with ruderalis genetics, Wedding Cake Auto is a robust and resilient plant capable of flourishing in many different climates and environments.
Wedding Cake Auto is a tall grower, reaching heights of around 120–150cm, so make sure she has ample room to spread out. Yields are slightly different from her photoperiod parent. Indoor plants will return 450–500g/m², very similar to the original Wedding Cake. However, plants cultivated outside will deliver a slightly reduced amount of 60–150g/plant. You can expect harvest to come around 65–70 days from seed.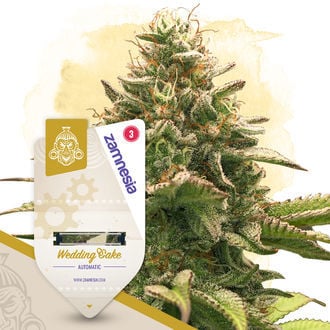 View
Otherwise, you can expect the same indica-dominant characteristics punctuated by sweet, fruity, and woody flavours with a hint of citrus and vanilla. The high is also very much the same, providing that strong, euphoric, and overall relaxing sensation that is the hallmark of this wonderful strain.
Conclusion: Wedding Cake Belongs in Your Garden
Wedding Cake is one flavourful and aromatic strain that offers a strong and relaxing high. While the feminized seeds may not be for the uninitiated grower, the autoflowering version can be a great choice for all cannabis enthusiasts, regardless of experience. This strain is truly a match made in cannabis heaven!