Runtz Auto: Cannabis Strain Review And Information
3 min
From the team at Zamnesia, Runtz Auto impresses with massive flavours and aromas, but also has plenty to offer when it comes to potency. Easy and pain-free to grow, even for the most novice of cannabis growers, Runtz Auto provides sizable yields you'll want to enjoy time and time again. Come and check her out!
Every now and again, a strain comes along that is just too special not to share; this is certainly the case with Runtz Auto. Any serious stoner will have heard of Runtz, but this cultivar takes things a little further. From the team at Zamnesia comes an autoflowering strain deriving from some hugely impressive genetics. If you're serious about sweet, satisfying flavours and aromas, as well as an uber-relaxing high powered by insane potency, this could very well be the next auto in your garden and your bong. Let's find out just why Runtz Auto is such a showstopper.
Genetics of Runtz Auto
The finely tuned parentage of Runtz Auto is no secret. The progeny of two massive cannabis strains, Gelato x Zkittlez, both are renowned not only for their standout flavours, but also for high levels of THC.
| | |
| --- | --- |
| Genetics | Auto Hybrid |
| Parents | Gelato x Zkittlez x Ruderalis |
| THC | 23% |
| CBD | Low |
Maximising the strongest attributes from the parent strains, Runtz Auto combines indica and sativa in equal measure, resulting in a deeply satisfying high (but more on that later). With high levels of THC, often peaking at around 23%, this auto is no joke.
With both parents being so strong on flavour and aroma, you'd be forgiven for thinking this blend would be overwhelming. But that's not the case! Not only does Runtz Auto go hard on taste, but she also has the looks, and the hybrid vigour, to back it up! Her dense, forest-green buds will be brimming with resin come harvest, and the foliage can take on a beautiful purple hue that makes her a knockout in any setting.
Couple these attributes with a super quick growing time, and you'll find very few reasons not to pick up Runtz Auto. Big on flavour, aesthetics, and potency, this strain already ticks a lot of boxes.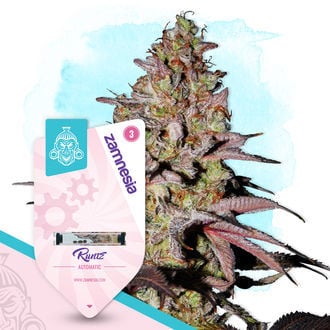 View
How to Grow Runtz Auto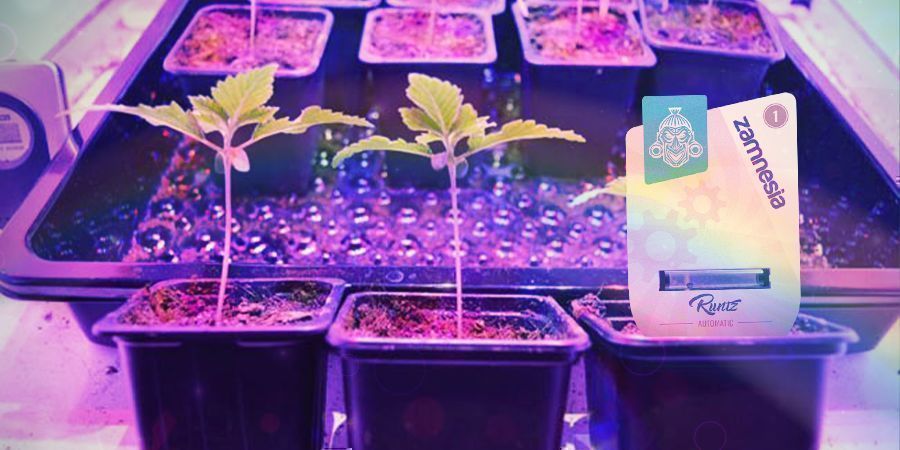 Growing Runtz Auto is an extremely rewarding and straightforward task. Given her autoflowering nature, effort on behalf of the grower is significantly reduced. So, whether it's your first venture into growing cannabis or you're a seasoned pro, you'll be in for an easygoing experience from seed to harvest.
Not massive in stature, Runtz Auto is unimposing and will happily grow almost anywhere, as long as she has access to adequate ventilation and light. This makes her a suitable choice for those seeking a little discretion with their plants. A little maintenance and upkeep will go a long way with her. She's not overly bushy, and just a bit of light pruning will keep her in good shape throughout the growing cycle.
| | |
| --- | --- |
| Grow Difficulty | Beginner |
| Best Suited to Grow | Indoor / Outdoor |
| Climate | Warm and Sunny |
| Variety | Autoflowering |
| Height Indoor | 0.7-1.2m |
| Height Outdoor | 0.7-1.2m |
| Total Life Cycle | 65-70 Days |
| Yield Indoor | 400-500g/m² |
| Yield Outdoor | 70-100g/plant |
After a lightning fast 65–70 days post-germination, Runtz Auto will be ready to harvest. Suitable for both hydroponic and soil setups, Runtz Auto is not only a pain-free growing experience, but also a productive one. Grown inside, you'll see returns of between 400–500g/m². Outside, you can expect up to 70–100g/plant.
Runtz Auto is a robust and resilient plant that can withstand almost any environment or climate she's placed in. However, sunny and warm surroundings will give her the best chance of flourishing.
Runtz Auto: crack the can and grow!
Runtz Auto is also available as part of the iGrowCan package. The iGrowCan with Runtz Auto seeds is an exclusive collaboration between Zamnesia and iGrowCan. It's never been easier to grow premium quality weed at home!
The iGrowCan includes everything you need to see an autoflowering seed through from germination to harvest. All you need to do is plant the Runtz Auto seed in the can, water and feed with the included nutrients and you're good to go.
Due to the nature of autoflowering strains, it can spend its whole life on a well-lit windowsill, or outside in the warmer months (though it will thrive the most under a dedicated grow light). And given the top-shelf quality of Runtz Auto, it's not just the easiest option, but one of the best too!
Smoking Runtz Auto: Flavour & Effects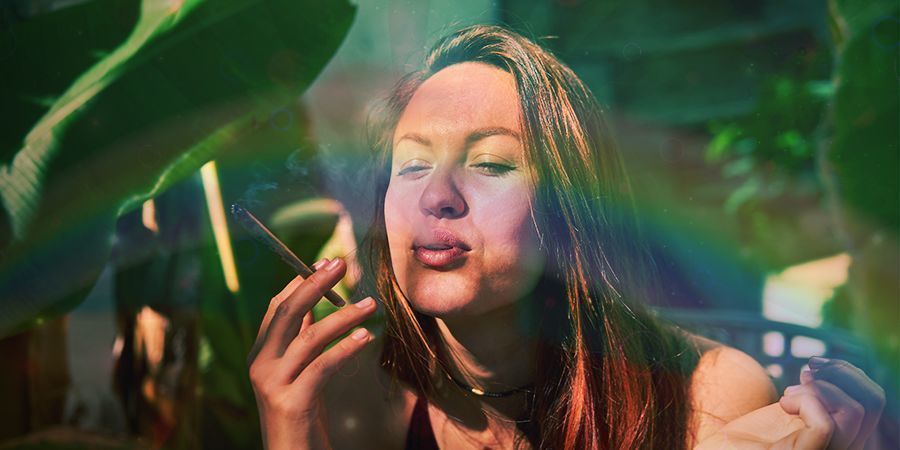 As mentioned, this hybrid powerhouse is packing both flavour and potency. The rich parentage of Zkittlez x Gelato is responsible for the great tastes and aromas she provides. Expect rich bursts of sweet tropical fruits backed up with earthy and creamy undertones that will satisfy all who try her. Whether smoked or vaporized, you can expect a flavour explosion with every hit. Given her fruity sweetness, Runtz Auto also incorporates well into all kinds of tasty edibles. The possibilities are endless.
The high that Runtz Auto delivers is fast-acting, long-lasting, and—in a word—relaxing. With an average THC content of 23%, she's certainly potent; perfect for those moments after a long day where you just want to chill out. No couch-locking vibes with this strain, though, so you can enjoy a casual session whether you're unwinding by yourself or with friends. In any case, Runtz Auto makes for great company.
Runtz Auto: Small in Stature, Big on Flavour and Potency
As you can probably tell, we think Runtz Auto is a cut above its autoflowering peers. This is a strain with so much going for it. She offers a fast and hassle-free growing experience, and the bountiful and tasty buds she produces are beyond worth any effort you do put in. Not just great-looking, she backs it up with potency and superb flavours that are sure to make you fall in love with her at first toke. Pick up Runtz Auto today! This is not one to miss out on.