Blog

6 min
Top 10 Purple Cannabis Strains [2023]
6 min
As cannabis growers, we're simply spoilt for choice when it comes to picking strains. However, one type has consistently been on the radar of many a connoisseur; purple strains. These colourful cultivars carry not only great looks, but also fantastic flavours, amazing effects, and impressive yields. Read on for 10 of the best purple strains.
There's plenty to love about purple cannabis strains. Not only are their colours stunning and unique, but these plants are also robust and productive, delivering large yields of buds teeming with THC and terpenes.
But where do their show-stopping looks come from? Well, the purple effect derives from a particular phytochemical process. While not unique to cannabis, a pigment known as anthocyanin gives plants their purple, blue, and red colours. Exposing cannabis to colder nighttime temperatures spurs the additional production of these molecules, causing certain varieties to display purple leaves, buds, and stems.
However, this is not a process that works for all strains of cannabis. Even when exposed to extreme temperatures (which is not recommended in the first place), such colour traits have to be genetically present in the strain to begin with. While the original method of inducing violet hues utilises cold temperatures, today, LED grow lights are harnessed to bring out these colours, resulting in reliable and resilient purple strains.
Top 10 purple cannabis strains
So, where do you start when looking for a purple strain to grow yourself? We've put together a selection of 10 of the finest purple cultivars to give you some inspiration. With both photoperiod and autoflowering feminized varieties to choose from, whether you're a complete novice or have plenty of growing expertise, we've got a purple strain for you.
Kalini Asia (Zamnesia Seeds)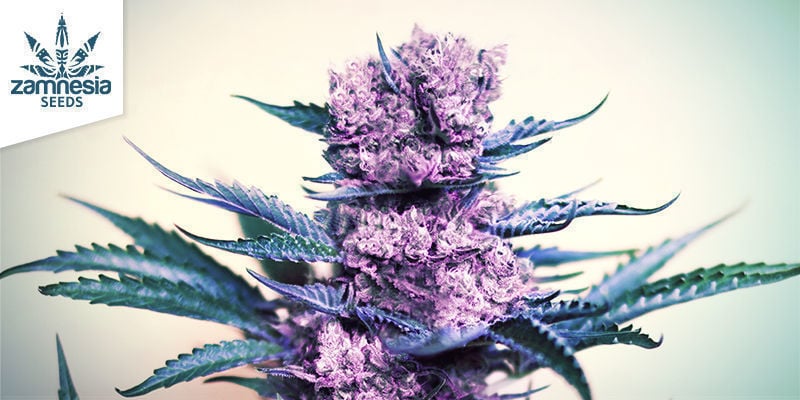 Starting off our list is a real vibrant beauty of a strain. Known as "the flower from the Hindu Kush", Kalini Asia is the result of crossing Black Domina with Purple Kush. This feminized photoperiod strain will brighten up any growing area with her soft lavender hues.
Rarely exceeding 1m in height, Kalini Asia still delivers large yields of around 500g/m² indoors and 700g/plant outdoors. Taking just 8 weeks to flower, growers won't be waiting long to sample her buds.
With around 22% THC, she's a very potent lady, showcasing a massive physical stone coupled with moments of energy and euphoria. Featuring rich Kush flavours with a slight lemon twist, Kalini Asia offers up a divine sensory experience for all to enjoy.
Purple Bud (White Label)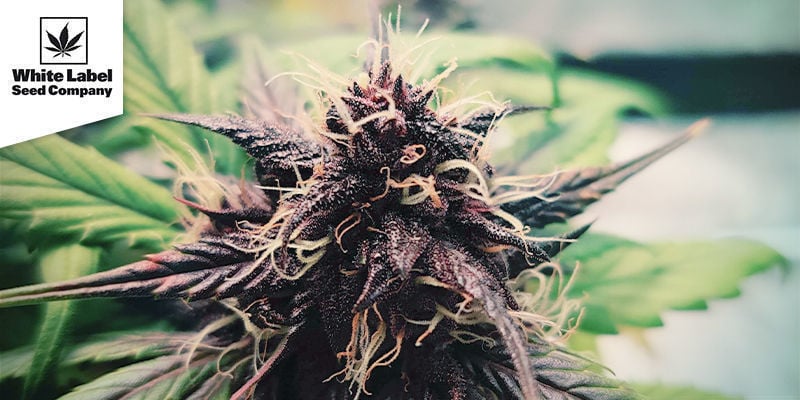 Purple Bud harnesses a strong genetic background comprising Hindu Kush, Purple Kush, an unknown Jamaican sativa, and Afghan. Boasting bright and attractive colours, Purple Bud is an indica-dominant strain with a short stature, making her ideal for smaller spaces.
Growers are spoilt for choice when it comes to Purple Bud. Not only can you cultivate photoperiod feminized plants, but there's also an autoflowering variant available for those who want an even easier growing experience.
Whichever variant you pick, one thing is for certain; Purple Bud has the potential to perform exceptionally well. She rewards caring growers with an abundance of pine and fruit-flavoured buds that produce a deeply relaxing effect.
Purple Bud (White Label) feminized
Parents: Unknown Jamaican Sativa x Afghani x Hindu Kush x US Purple Kush
Genetics: 75% Indica / 25% Sativa
Flowering Time: 9-10 weeks
THC: Unknown
CBD: Unknown
Flowering Type: Photoperiod
Purple Queen (Royal Queen Seeds)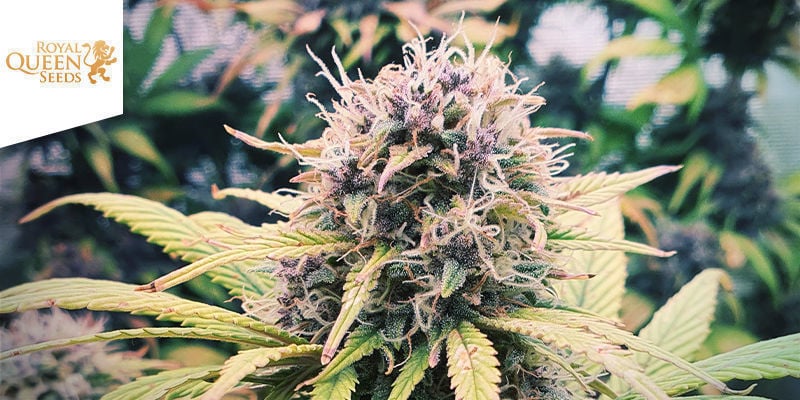 A true taste of royalty, Purple Queen is Royal Queen Seeds' take on classic Kush. A combination of Hindu Kush and Purple Afghan is responsible for her impeccable genetics. Another indica-dominant specimen, Purple Queen is robust, productive, and easy to maintain. Growers also have the option of cultivating both photoperiod and autoflowering feminized seeds. No matter which type you choose, Purple Queen will thrive, both indoors and out.
The photoperiod version is ready to harvest after just 8 weeks of flowering and yields up to 500g/m² indoors and 700g/plant outdoors. Purple Queen Auto provides a slightly smaller yield, but is quicker to finish (8–9 weeks from seed to harvest).
Purple Queen's buds contain around 22% THC, which bolsters her soothing, full-body stone. Mixing notes of spice and pine topped off with diesel and lemon, she's ideal for a smoke or vape any time you fancy.
Purple Lemonade (FastBuds)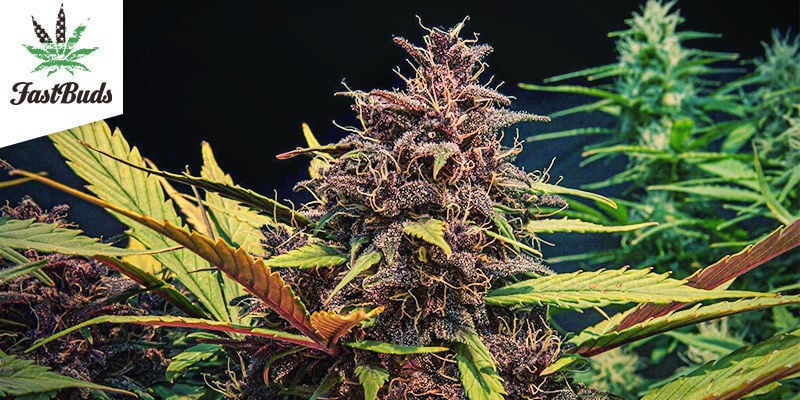 A strain that will stop you in your tracks in more ways than one, Purple Lemonade is a visually appealing autoflower that impresses long before you try her bountiful buds. But let us tell you, they're very much worth the wait.
Purple Lemonade flourishes in almost any environment. Rarely exceeding a height of 120cm, she takes around 9–10 weeks to go from seed to harvest. Once ready to yield, growers will receive up to 500g/m² indoors and around 250g/plant outdoors. A pretty sizeable yield from a plant of this stature.
Containing 22% THC on average, Purple Lemonade makes for a hugely potent smoke. She's exceptionally fast-acting and will have heads swimming in next to no time. As such, she's best reserved for the evenings when users can fully embrace her couch-locking stone. Combined with sweet citrus flavours, Purple Lemonade is a real treat.
Purple Punch (Zamnesia Seeds)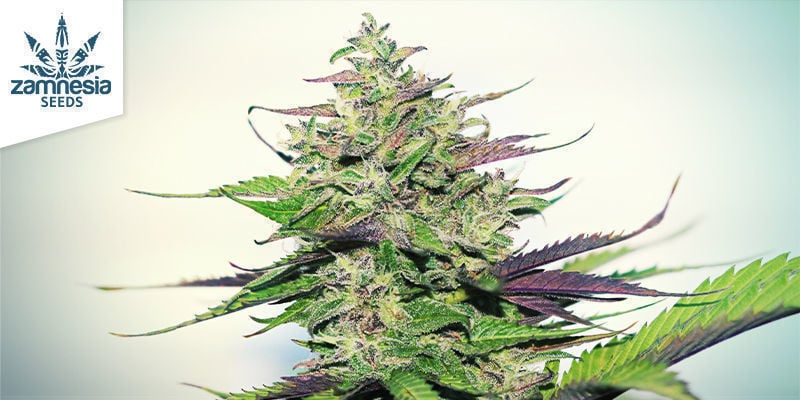 From the folks at Zamnesia Seeds comes a knockout purple strain you won't forget in a hurry. The progeny of Granddaddy Purple and Larry OG, Purple Punch is a robust and high-yielding indica hybrid.
In the grow-op, Purple Punch tends to max out at 150cm in height, but can provide some simply huge harvests after a flowering period of 9 weeks. Get your stash jars ready, as she can yield up to 650g/m² indoors and around 800g/plant outside—massive returns for a medium-sized plant that requires very little maintenance.
The buds are where Purple Punch's magic truly lies. With 21% THC, she's certainly no slouch in the potency arena, providing long-lasting effects that are best enjoyed with friends. Experience a one-two hit that will have you relaxed in no time. With sweet apple pie-like flavours mixed with a bit of spice, Purple Punch is a top choice for all levels of cannabis connoisseur.
Purple Punch (Zamnesia Seeds) feminized
Parents: Granddaddy Purple x Larry OG
Genetics: 90% Indica / 10% Sativa
Flowering Time: 8-9 weeks from seed to harvest
THC: 21%
CBD: 0-1%
Flowering Type: Photoperiod
Auto Blackberry Kush (Dutch Passion)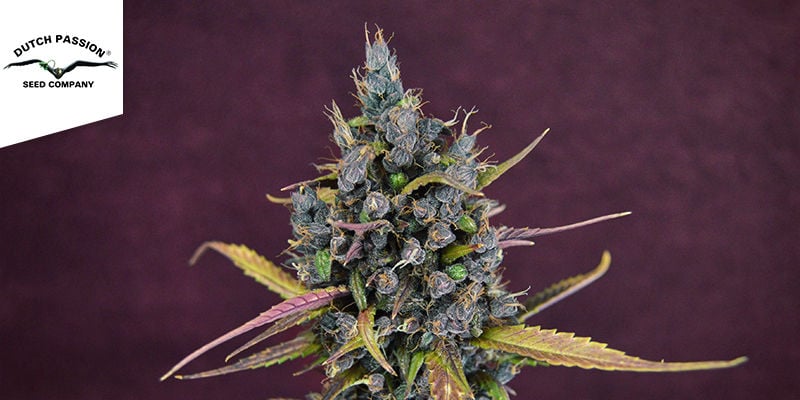 Leaning more toward a darker hue of purple, Auto Blackberry Kush is an award-winning autoflower derived from a trifecta of unique strains—namely, Blueberry, Hashplant, and an autofem variety.
Growing Auto Blackberry Kush is a simple yet rewarding task, as she is relatively compact and takes just 10–11 weeks from seed to harvest. Standing anywhere between 0.75–1m in height, she'll slot into practically any home grow-op with ease. At the end of her flowering phase, growers will be met with a large yield of potent buds.
Boasting fruity and sweet flavours with a hint of Kush, she's worthy of her blackberry namesake. A good resin producer, Auto Blackberry Kush is perfect for paper, pipe, and vaporizer, giving users plenty of options. Many even look to create edibles and concentrates to really bring out her phytochemical profile.
Auto Purple CousKush (Zamnesia Seeds)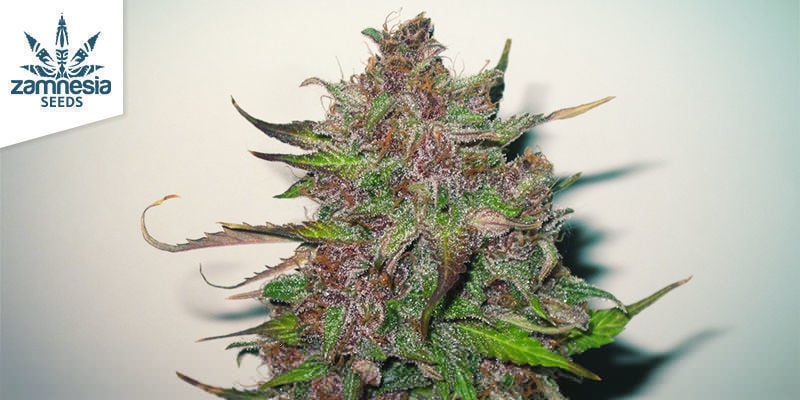 Another awesome autoflower, Auto Purple CousKush comes from the pairing of Purple Kush and a ruderalis variety. This pint-sized powerhouse is primed to impress, and takes just 9–10 weeks to show you what she's got.
Auto Purple CousKush is small in stature, very rarely surpassing the 1m mark. But there's plenty of beauty to be found in this strain. Growers are treated to dark purple colours mixed in with the greenery, making for an extremely majestic cultivar. At the end of her flowering stage, up to 300g/m² of potent buds are up for grabs indoors, with up to 50g/plant outdoors.
With a THC level of 20%, she certainly leans more toward the potent side of things, producing a fast-acting effect that is cerebral and uplifting. Coupled with fruity and sweet flavours, there's very little not to love about Auto Purple CousKush.
Purple Kush Auto (Buddha Seeds)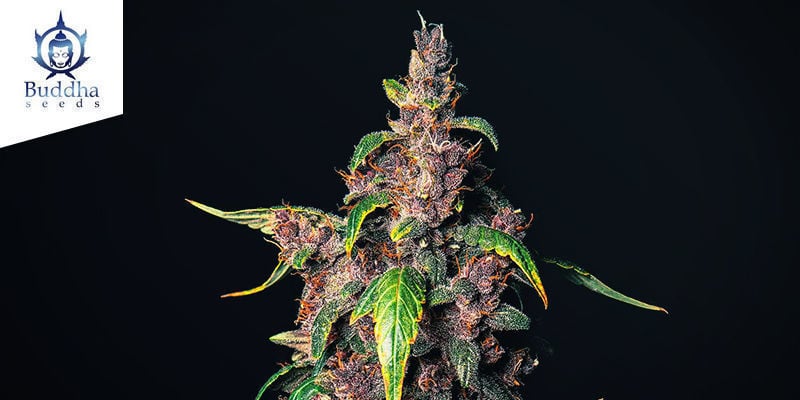 As a 100% purple variety, Purple Kush Auto is bound to brighten up your growing area. With buds showcasing exquisite deep purple colours tinged with lime green and orange, as well as a unique and intense Kush aroma, this strain stands out in a crowd, and we've not even discussed how she grows yet!
An autoflowering strain, Purple Kush Auto is ideal for both experienced and novice growers. Taking just 10 weeks from seed to harvest, she adapts well to both indoor and outdoor operations. Growers can anticipate respectable yields of up to 500g/m² indoors and 150g/plant outdoors.
When it comes to flavour, Purple Kush Auto treats users to a profile of pine, citrus, and sandalwood. With a rich, complex, but wholly enjoyable taste, she's perfect for both smoking and vaping. The experience is rounded off with soothing, relaxing effects that are ideal for indulging in at the end of a long day.
Purplematic CBD (Royal Queen Seeds)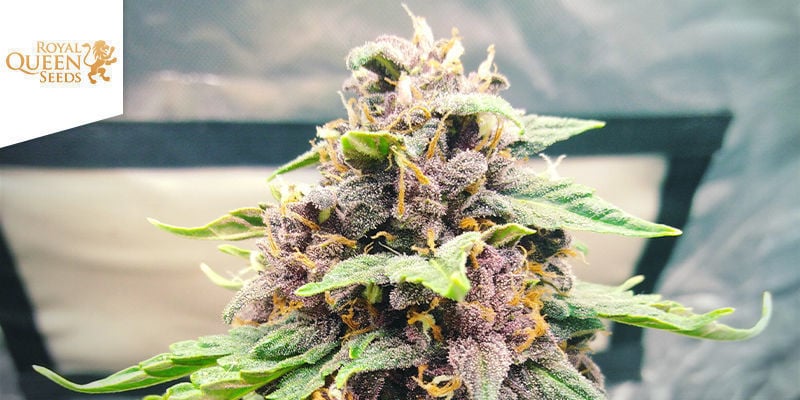 Who says purple strains have to be all about potency? Cue Purplematic CBD. Containing 17% CBD with a very nominal THC content, you get all of the visual appeal of a purple strain alongside the potential benefits offered by cannabidiol. Sounds like the perfect blend to us.
As an autoflowering strain, growers have truly lucked out with this one, as she's easy to manage and productive. After a lightning-fast life cycle of 8–9 weeks, she yields up to 450g/m² of CBD-laden buds indoors and 150g/plant outdoors.
Purplematic CBD's buds won't create a high like the other strains on this list. Instead, she boasts an array of effects that work more "behind the scenes". Still, you get to enjoy rich flavour notes of sweetness and earth.
Ayahuasca Purple (Barney's Farm)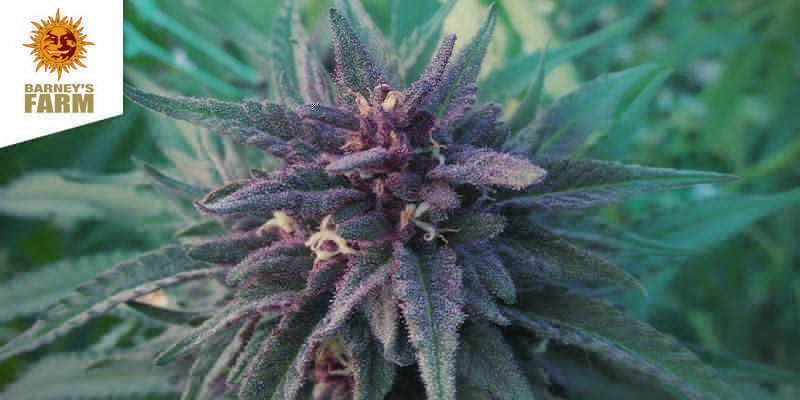 This 100% indica strain is the end result of crossing Red River Delta with Master Kush. Ayahuasca Purple showcases beautiful, colourful colas accentuated with broad, lush green leaves, making her purple colouring pop even more.
As a photoperiod feminized strain, she requires a little more of a hands-on approach compared to the autoflowers we've previously mentioned. But she's receptive and resilient, making for an easy step-up for growers looking to flex their skills a little more. Ayahuasca Purple takes up to 9 weeks to flower and provides some sizeable yields of around 650g/m² indoors.
With 24% THC, Ayahuasca Purple isn't playing around when it comes to potency. She offers up a strong stone that soothes the mind and deeply relaxes the body. Meanwhile, her flavour profile taps into rich hazelnut and fruit with some earthy and floral notes added for good measure.
Get yourself a piece of purple paradise
As you can see, there truly is a purple strain for everyone out there. The ones mentioned on our list merely scratch the surface of what's available. One thing is for sure, though; regardless of your preference, there's never been a better time to get into purple weed. So what are you waiting for? Brighten up your grow today!