Blog

3 min
The Top 5 Purple Cannabis Strains

3 min
Purple strains of cannabis are extremely popular. Why? They look beautiful for one thing. But they also deliver the goods when it comes to performance. Here is a list of our top five favourites. Have you tried them all?
Purple cannabis is just one of those things. Such oddly pigmented strains have long been favoured by connoisseurs. Now, they are breaking into the mainstream as commercial producers begin to cultivate them with greater frequency.
Yes, they look cool. But they also tend to sustain other characteristics that (mostly) come from indicas. These days, the purple strains available in many seed shops are actually hybrids. Most are also very potent from a THC perspective.
By the way, the purple effect derives from a particular photochemical process. This is not unique to cannabis. Pigment molecules called anthocyanins give plants their purple, blue, and red colours. Exposing cannabis to cold temperatures will spur additional production of these molecules. This will then turn the leaves, buds, and stems purple.
Not all cannabis can turn purple, even when exposed to extreme temperatures (which is not recommended in the first place). Such colour traits have to be genetically present in the strain to begin with. Further, stressing plants for any reason is not the path to an optimal yield.
Today's quality Purple is not exposed to the stress of cold to create a unique colour. LED grow lights can help bring out intriguing hues of cannabis plants without exposing them to chilly temperatures. So can the right nutritional strategy. It very much starts with the selection of the right strains and seeds in the first place.
This is our list of the top five Purple strains. Have you tried them all yet?
PURPLE 1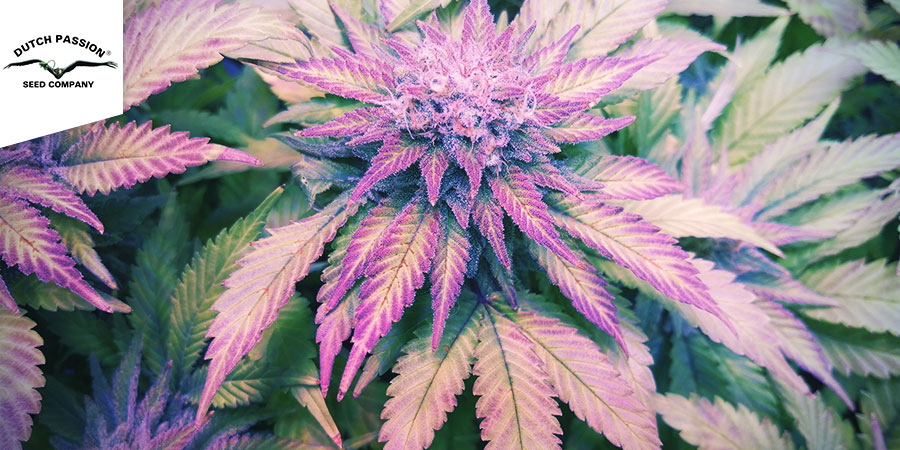 Purple 1 is one of the strongest purple strains currently on the market. It is also a 50/50 sativa/indica mix. Originally hailing from Afghani purple indica stock, it was bred in Europe with local sativas. It has become a fast-finishing strain capable of handling European winters. Its 11-12% THC content gives it a subtle punch. The sativa side, however, creates an upbeat, energetic high.
This strain has a mild and smooth taste and aroma, with a fruity aftertaste. It is also a sturdy plant with high mould-resistance. Most of the flowers turn purple by harvest time. Plants can reach upwards of 2.5 metres.
AUTO PURPLE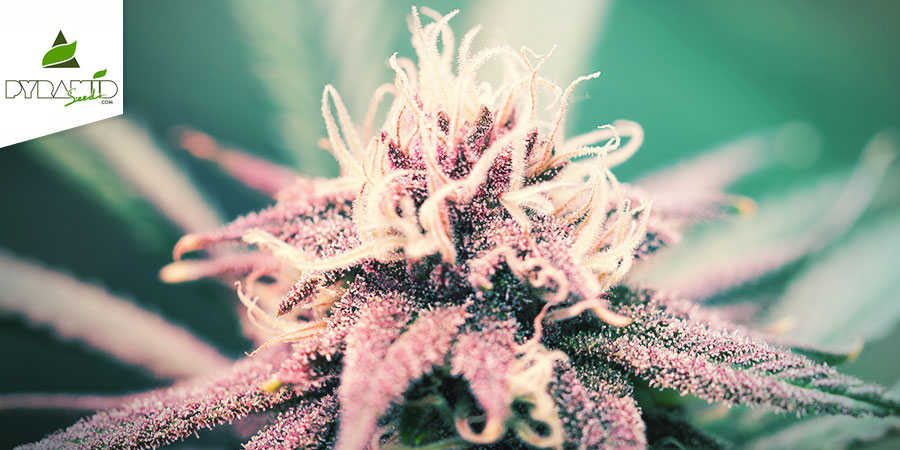 Auto Purple is one likeable plant. A cross between ruderalis and Purple, this is another hybrid strain. In fact, it is 65% sativa.
That said, this strain performs like the hybrid it was bred to be. The plant stays at a manageable height of at most 1.2 metres. It performs beautifully with ScrOG planting techniques. Plants reach maturity within 8-10 weeks post-germination. The THC levels range between 9-15%. CBD concentration is also fairly high, making this a prime medical strain.
AYAHUASCA PURPLE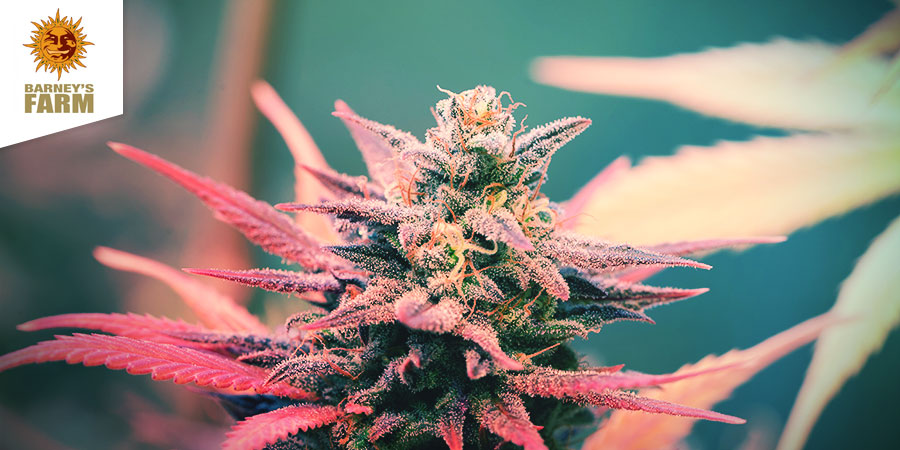 Ayahuasca Purple is a cross of Master Kush and Red River Delta. Perhaps it was the exotic locale of these plants that led to its name. Nobody knows. What is clearly evident, however, is that this Afghani-Vietnamese hybrid strain delivers.
This fascinating and really beautiful Purple strain is all indica. The plant itself is compact with a maximum height of 1 metre. It also reaches full maturity fast - between 55-65 days. The yield is also heavy. Plants can boast as much as 650g/m². On top of this, the THC content is a whopping 21%. CBD levels are relatively high at 1.4%.
And the aroma? Hazelnut and papaya are the primary flavours and influences. What is not to love?
PURPLE AFGHAN KUSH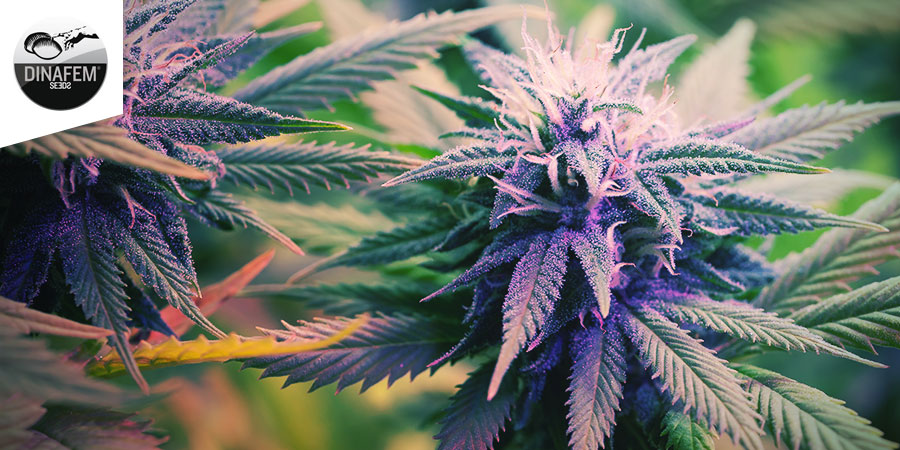 Purple Afghan Kush is an indica-dominant hybrid crossed from two other well-known strains. Purple Kush is one of them. This is already a good start. Purple Kush is one of the top 10 most powerful strains on the planet, at least according to High Times. It was crossed with Pre-'98 Bubba Kush, an almost pure indica with citrusy flavours and a strong stone.
The result of this pedigree is a fruity, pineapple flavoured smoke rich in THC. Indoor yields are fast to produce (60 days). A well-tended plant outside can yield between 600-800 grams per plant!
Be warned though. This is absolutely couch-lock territory.
BLUEBERRY AUTOMATIC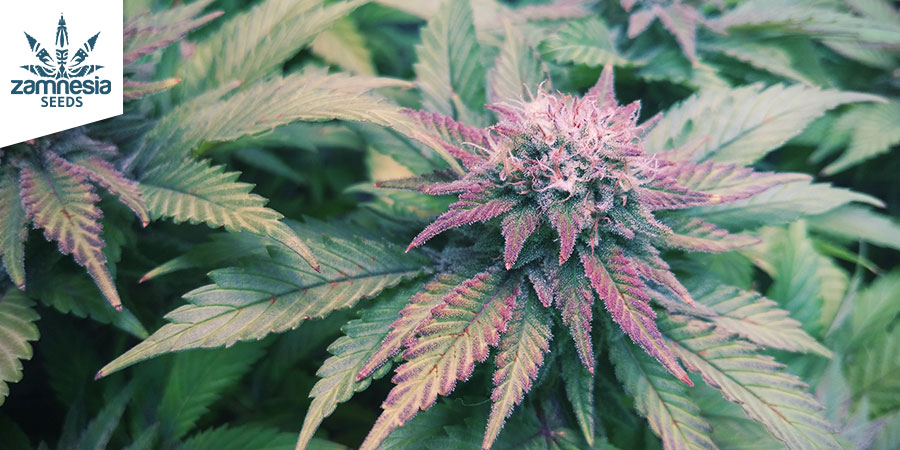 Blueberry Automatic is another Purple strain that is hard to go wrong with. This cross between Blueberry and ruderalis delivers a flavourful, potent package. It is also a great plant for beginners.
This strain is a hybrid of ruderalis, indica, and sativa. That said, it tends to display the physical characteristics of an indica. The plant grows no higher than 75cm. It takes between 8-9 weeks to harvest. Yields are also fairly high indoors, ranging between 425-475g/m². This is one agreeable, autoflowering hybrid to grow.
The aroma smells of sweet berries with hints of lemon. The flavour is indeed reminiscent of blueberries. And the smoke itself is smooth and enjoyable. Yes, you will end up with couch-lock. But you will enjoy the ride.
Written by: Zamnesia
Zamnesia has spent years honing its products, ranges, and knowledge of all things psychedelic. Driven by the spirit of Zammi, Zamnesia strives to bring you accurate, factual, and informative content.

Find out about our writers
---