Blog

11 min
Understanding The Importance Of Different CBD:THC Ratios
11 min
The CBD:THC ratio of your cannabis is an important factor to consider. Put simply, a CBD:THC ratio is the amount of CBD in your cannabis in relation to the amount of THC. It affects the way cannabinoids interact with your body, influencing nearly every aspect of the experience. Knowing the different common ratios and their effects can help you choose the bud that is right for you or a situation.
It wasn't long ago that users were stuffing an unknown bud into the end of a pipe and hoping for the best. Thanks to science that is all changing.
THC And CBD: What's The Difference?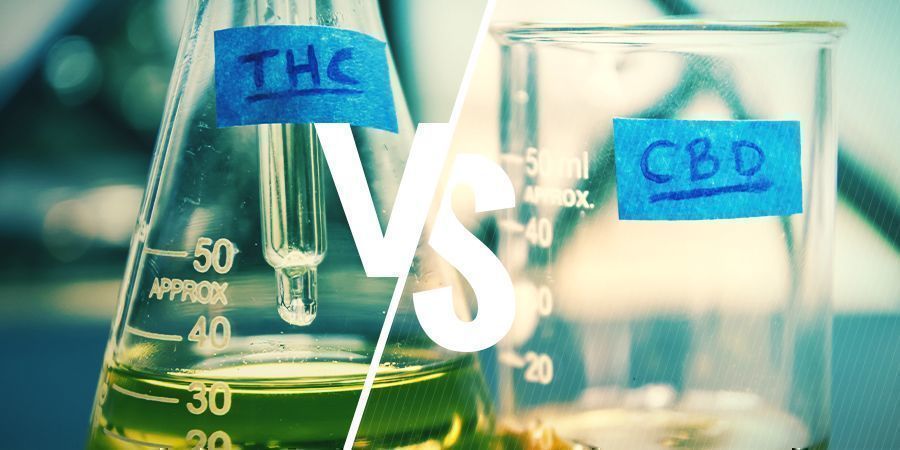 THC and CBD are the most thoroughly studied cannabinoids found in cannabis. Most of the research has been conducted on cell and animal models, although a handful of human trials have yielded promising results. Both molecules exert some of their effects via the endocannabinoid system, a series of receptors found on different cell types throughout the body. This system comprises two main receptor types: CB1 and CB2. Depending on the ratio they are present in, they can cause different effects as they work in tandem—a phenomenon known as the entourage effect.
THC primarily targets CB1 receptors, which are located mainly in the central and peripheral nervous system. By binding to these receptors, THC is able to exert its characteristic psychoactive effects. In contrast, CBD has a low affinity for both CB1 and CB2 receptors. This lack of affinity for CB1 is why CBD doesn't produce a high. CBD also produces its effects via serotonin, vanilloid, and other receptors. Through these mechanisms of action, THC and CBD have demonstrated some intriguing qualities.
Why CBD:THC Ratios Are Important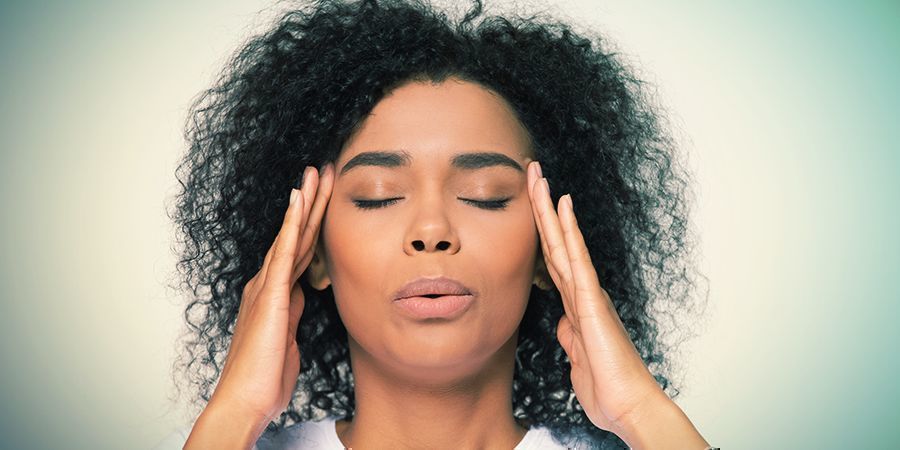 As touched upon, the ratio of CBD to THC in your cannabis is important as it affects the potential chemical response in your body. When it comes to the high, CBD can temper the psychoactive nature of THC. This means the more CBD in relation to THC, the more manageable the high is likely to be. At the same time, it reduces the severity of the potential side effects of THC, such as paranoia. Conversely, if the amount of CBD is low in relation to THC, the high will likely be more psychoactive. Any potential side effect associated with THC will also be stronger.
Each strain of cannabis features slightly different levels of THC and CBD, and the amount of each cannabinoid will change the overall effect of a given strain. CBD produces a non-psychoactive, clear-headed effect that helps to ease the mind and chill the nerves. In contrast, THC produces a psychoactive effect that varies greatly depending on the terpene content. The high can either be relaxing and soothing or energising and euphoric. THC can help to raise the spirits and has a pacifying effect on the body.
Popular CBD:THC Ratios
Cannabis with different ratios of CBD and THC are becoming more and more popular. Below is an explanation of some common ratios and what effect they may offer.
CBD:THC — 0:1 ("Full THC")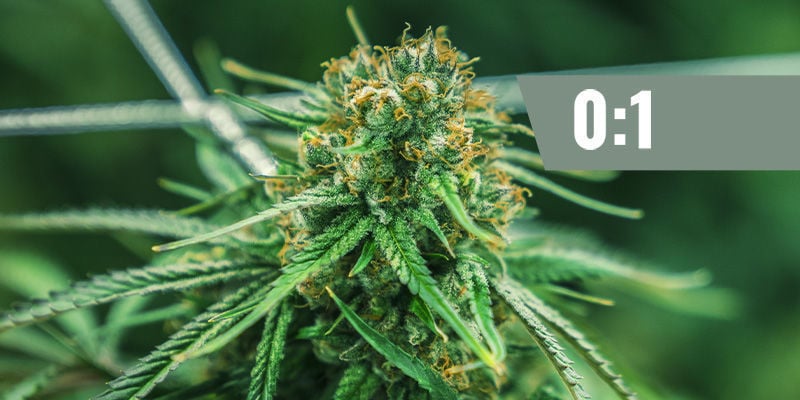 A 0:1 ratio of CBD to THC is not common. However, those strains close to it have made quite a name for themselves. Users opt for high-THC/low-CBD strains primarily for the psychoactive high. These strains often provide extreme uplifting and euphoric experiences, as well as couch locking stoned effects. For inexperienced users, it can be hard to remain functional.
Top 5 Full-THC Strains
Although these full-THC strains are extremely potent and powerful, this is exactly what some users are looking for. Here are some of the strongest strains around, which have even won awards for their potency!
Banana by Zamnesia Seeds
First up is our very own Banana. Straight from sunny California, this sativa-dominant strain will send you to tropical heaven within the first few puffs. A powerful 28% THC content—the highest on this list—combined with a peppery and lemony flavour is the perfect combo for an uplifting and mentally stimulating strain. Better enjoyed during the day, the indica side will still grant you a relaxing and soothing effect, with the bonus of stimulating your creative mind.
Bruce Banner by Zamnesia Seeds
Another one from the breeders here at Zamnesia, Bruce Banner is a mighty green powerhouse that will give your productivity a well-deserved jolt. After a flowering time of 10 weeks, growers can expect yields of between 350 and 400g/m² indoors. Winner of the "Most Potent Strain" at the High Times Cannabis Cup in 2013, the 27% THC level of Bruce Banner can hit newbies a little too hard.
Green Gelato by Royal Queen Seeds
Our good friends over at Royal Queen Seeds created an incredible indica-dominant cultivar inspired by the craft of Italian gelato makers. By crossing Sunset Sherbet and Thin Mint Girl Scout Cookies, the RQS team came up with Green Gelato, ready to harvest after 9–10 weeks of flowering and carrying a whopping 27% THC content.
Runtz by Zamnesia Seeds
We know, we are shameless. But how could we skip this marvellous strain? Runtz is a perfectly balanced hybrid, the lovechild of Gelato and Zkittlez. Still extremely high in THC (27%), this strain is very popular among growers, and for good reason. Imagine growing sugar candies on a plant; wouldn't that be something extraordinary?
Ghost Train Haze by Rare Dankness
Last, but not least, in the full-THC range, Ghost Train Haze is a masterpiece of sativa power. The parents are Original Ghost OG and Nevil's Wreck, so you can expect nothing but pure energy from this plant. With 25% THC, Ghost Train Haze even made it on High Times' list of the "Strongest Strains on Earth".
CBD:THC — 1:2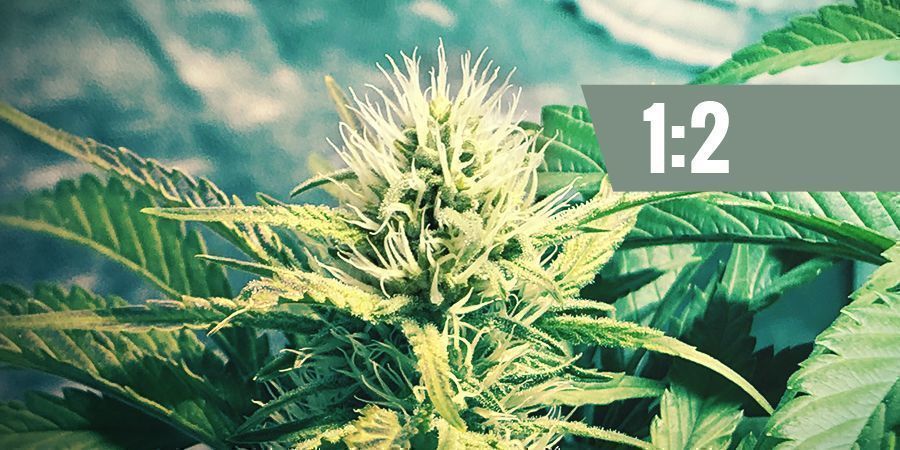 Cannabis strains that feature a 1:2 ratio are more common in today's market. They offer a psychoactive high, but in a much more mellow, manageable and gradual form. It means the build-up of effects is slower, with a relaxed and happier mood being more noticeable, building to euphoria and couchlock if use continues.
This 1:2 ratio allows for a great deal more control over the experience—especially for novice users—but can still result in an experience that makes it hard to function if you go overboard. The reason for this difference is that increased levels of CBD may work at CB1 receptors to mediate some of THC's psychoactive effects. It also means the side effects of THC are less likely.
It is worth noting that most recreational cannabis strains on the market fall somewhere between the 0:1 and 1:2 ratios—very few hit them on the mark. Those that hit a middle ground between the two are considered to be the classic stoner experience and are the most common on the market.
Top 5 Strains — 1:2 CBD:THC
Genetics with this ratio are perhaps the most sought-after on the market. We have selected 5 for you so you don't have to waste your time scrolling through pages and pages of results.
Amnesia Haze by Royal Queen Seeds
Haze genetics don't really need an introduction. Amnesia Haze is a famous cannabis strain around the globe, and one many growers and consumers reach for. The breeders at Royal Queen Seeds managed to create a cross between American Haze and Dutch Haze so you can get the best of both versions. The CBD:THC ratio is 1:2, so it still delivers a powerful high, but it's more mellow thanks to the medium CBD content.
Satin Black Domina CBD by Sensi Seeds
Satin Black Domina CBD is a perfectly balanced hybrid (50% indica and 50% sativa) resulting from a cross between Black Domina and a secret CBD strain. This strong background makes Satin Black Domina CBD quite easy to grow, and recommended to both new growers and veterans. Users can expect a mellow cerebral high and deep relaxation, thanks to 13–14% THC and around 7% CBD.
ICE by Royal Queen Seeds
ICE, aka Indica Crystal Extreme, is another creation from the breeders at Royal Queen Seeds. This time, they crossed Skunk, Northern Light, and Afghan to create an almost pure indica, which flowers in around 10 weeks and has a whopping 18% THC content. Dripping with resin, ICE is great for hash lovers.
Blue Power by Vision Seeds
Blue Power is probably the most beautiful plant you'll ever set eyes on. Promises of big yields and delicious fragrances are enough to turn anyone's head. The parent strains are Blueberry, White Widow, and Skunk #1, which give Blue Power incredible productivity. The high is potent, happy, and mildly euphoric.
OG Kush by Royal Queen Seeds
Predominantly indica (75%), OG Kush is very easy to grow. Resilient, strong, and quick, this strain is the perfect choice for growers who don't have much experience but still wish to grow some potent weed. The 20% THC content can feel overwhelming to some, but this will be balanced by the high CBD content.
CBD:THC — 1:1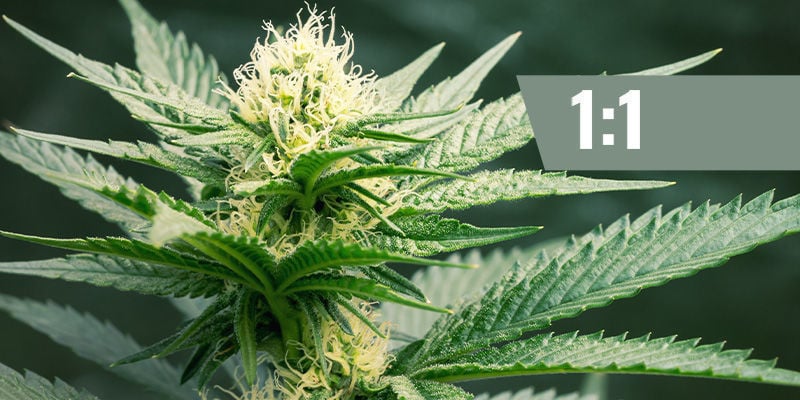 Cannabis strains with this ratio provide an equal amount of both CBD and THC. They offer a subtle psychoactive effect and provide a more comprehensive array of qualities from both molecules. The high is often described as functional and mellow. The aim with these cannabis varieties is not to get high, but to induce a gentle buzz while allowing the user to go about their day.
Strains with a 1:1 ratio are not as common when you consider the amount of "recreational" strains available, but are still easy to find. The demand for them is increasing as users look to include more CBD in their experience. There are even a few seedbanks actively focusing on developing 1:1 strains.
Top 5 Strains — 1:1 CBD:THC
The sweet spot is in the middle, at least for some. The strains listed here have that special 1:1 ratio to experience both THC and CBD in equal measure.
Dance World by Royal Queen Seeds
Dance World carries the legacy of one of the original commercial CBD strains. Combining the legendary Juanita la Lagrimosa with the well-rounded Dancehall, Royal Queen Seeds delivered this perfectly balanced plant. Expect quick flowering times, robust yields, and tasty, spicy aromas. Don't miss out!
CBD Sweet and Sour Widow by CBD Crew
As one ventures toward a higher CBD content, they will see CBD Crew quite often. Their CBD Sweet and Sour Widow combines the well-known traits of White Widow with an undisclosed CBD-rich cultivar. A mellow, relaxing body stone and excellent tastes are to be enjoyed with this balanced strain.
Painkiller XL by Royal Queen Seeds
Holistic users out there have plenty of choices in today's CBD market. Painkiller XL speaks for herself. A 1:1 CBD:THC ratio will give you a buzz, but your feet will never leave the ground. Perfect for an afternoon smoke, as the sativa dominance will infuse you with productivity.
Y Griega CBD by Medical Seeds
When Medical Seeds started this breeding project, they had one audience in mind: therapeutic users. Y Griega CBD is a sativa-dominant strain that will grow tall and produce medium–high yields. The low amount of THC is especially good if you want a break during the day, but still need to carry on with your chores afterwards.
Lemon Auto CBD by Philosopher Seeds
This feminized strain provides an easygoing growing experience and zesty citrus flavours that will have you coming back for more. Providing pleasant, balanced effects, with 8% THC and 8% CBD, there's plenty of fun to be had with this strain, without it being overpowering. Philosopher Seeds has done it again with this beauty of a hybrid.
CBD:THC — 2:1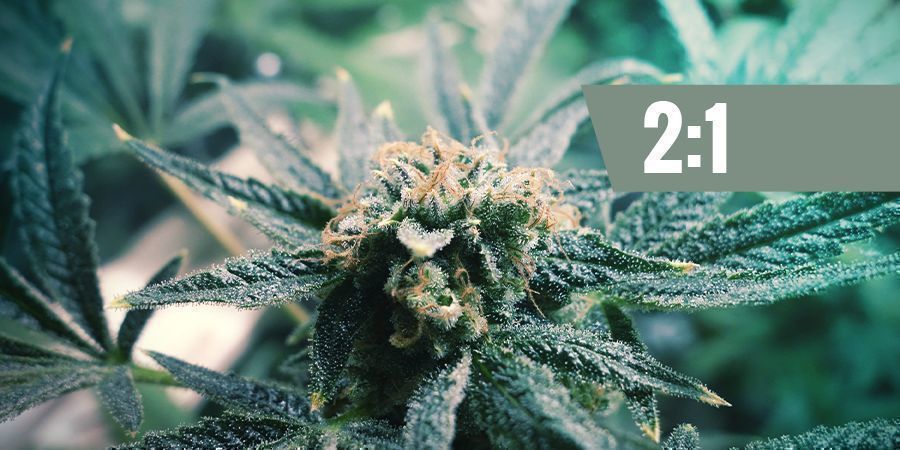 Cannabis strains with a 2:1 CBD:THC ratio will still induce a slight buzz, but it will be extremely minimal. They are more suited to sensitive users and those who still want both cannabinoids present in their cannabis, but don't want the more psychoactive effects of THC to be prevalent. Traditional recreational users do not often seek 2:1 strains.
The high of a 2:1 strain is truly functional, and the growing popularity of such varieties is allowing them to carve out a niche. You can even find strains with this ratio appearing in the occasional Dutch coffeeshop.
Top 5 Strains — 2:1 CBD:THC
For those seeking a CBD strain with just a bit of a buzz, or looking to harness the "entourage effect", we have selected the top 5 strains with a 2:1 CBD:THC ratio.
CBD Medi Haze by CBD Crew
CBD Medi Haze by CBD Crew brings 8% CBD to the table, with THC sitting at around 4%. This strain is especially useful if you need just a little bit of a head buzz, without impacting your day in the slightest. Yields sit at between 450 and 550g/m² indoors, so you'll have a good stash for the coming weeks.
CBD Lemon Potion Auto by Barney's Farm
CBD Lemon Potion Auto is an extraordinary creation by Barney's Farm and CBD Crew. With a 70-day life cycle and medium yields, this plant will surprise you with its fragrant and spicy lemon aromas, which are great in edible and concentrate form. The small percentage of THC still keeps things interesting!
Himalayan CBD by Sensi Seeds
This Hindu Kush x OG Kush blend is known for its versatility, which makes Himalayan CBD perfect for most growing conditions. The CBD percentage is around double that of the THC, making this a perfect plant to relax with, without the overwhelming high most Kush strains bring. Aromas of pine and sandalwood make for an earthy and rich smoke.
Cannatonic by Resin Seeds
Cannatonic by Resin Seeds is a productive plant—up to 500g/m²—whilst flowering in a very short amount of time. It's a perfectly balanced hybrid, and it offers phenotypes with as much as 5:1 CBD:THC ratio! The effects are mild and relaxing, evenly distributed between the mind and the body.
CBD Girl Scout Cookies by CBD Crew
Cookies genetics have conquered the cannabis market over the last decade. Promises of big yields and delicious fragrances are enough to turn anyone's head. This CBD-infused variant still delivers all of the above, but, with a 2:1 CBD:THC ratio, you won't completely melt into your couch after a few hits!
CBD:THC — 1:0 ("Full CBD")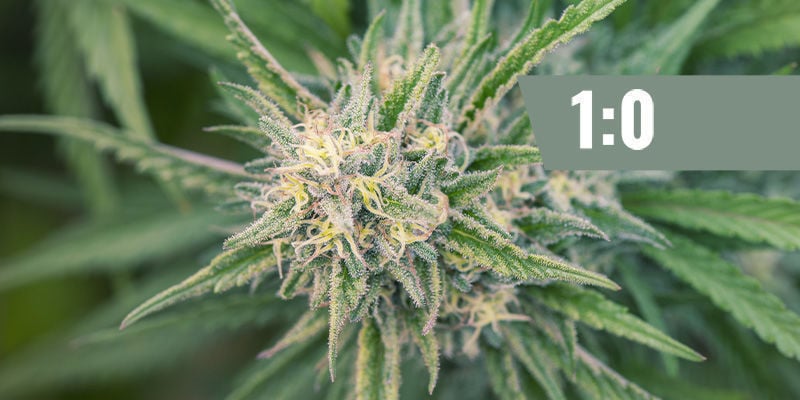 There are no strains out there that genuinely have 0% THC. Even hemp contains some—albeit not enough to get you high. However, breeders have developed weed with minimal THC values and have got extremely close to this 1:0 ratio. These cultivars offer all of the benefits of CBD, without any intoxicating effects. They are an ideal choice for those who are not concerned about THC in any way and want to enjoy some CBD.
Top 5 Full-CBD Strains
These last five genetics are the crème de la crème of CBD strains. No THC (or non-traceable amounts) for the ultimate CBD experience.
CBD Fix by Zamnesia Seeds
Zamnesia created this strain with the sole purpose of delivering high CBD levels and very low THC. They were successful, as CBD Fix boasts 7% CBD and less than 1% THC—guaranteed. The bonuses are great yields and a delicious taste.
Tatanka Pure CBD by Royal Queen Seeds
With a flowering time of only 6–8 weeks, Tatanka Pure CBD is fast and easy to grow. If you are looking for CBD (14%) and virtually no THC, this strain is the perfect one for you. It grows to a manageable height, so you can set up your grow-op anywhere you prefer.
Joanne's CBD by Royal Queen Seeds
The brilliant Juanita la Lagrimosa lent her genetics to the creation of Joanne's CBD. Extremely high in CBD and with little to no tetrahydrocannabinol, this strain by Royal Queen Seeds will be the perfect addition to your CBD collection.
CBD Auto Blackberry Kush by Dutch Passion
CBD Auto Blackberry Kush is a gorgeous plant. She grows to medium heights, both outdoors and indoors, and delivers average yields. Fruity notes of berries can be detected during flowering and upon consumption. A 15% CBD content, compared to 0–1% THC, delivers a lucid, non-psychotropic effect.
CBD Charlotte's Angel by Dutch Passion
And lastly, CBD Charlotte's Angel by Dutch Passion is super easy to grow, and will fill up your stash jars with aromas of herbs, pine, and fuel. The slightly longer flowering time—due to her sativa dominance—will be made up for by her sturdy nature and good yields.
As The Cannabis Industry Evolves, It Will Consider The Nuances
The cannabis industry is still young. Breeders and product manufacturers will pay more attention to the relationship between CBD and THC ratios as more high-quality research is conducted. Products and strains with evermore tailored CBD and THC ratios are on the horizon, offering users a wider range of cannabis to suit their needs and situations.