Blog

3 min
Strawberry Cough: Cannabis Strain Review & Information
3 min
Found yourself in a bit of a jam? Not sure which strain you should be growing next? Well, we've got something berry special to introduce to you. Strawberry Cough from Zamnesia Seeds showcases great genetics, resulting in an amazing growing experience for all. With massive yields, fantastic flavours, and elevating effects on offer, take a look now.
Now for something berry special. Strawberry Cough from the team at Zamnesia Seeds is here to bring a fresh blast of fruity flavours into your life. Not only boasting an impressive flavour profile, Strawberry Cough also showcases an effortless growing cycle that results in some massive yields. But we're just scratching the surface here. Read on to find out why Strawberry Cough deserves that space in your grow-op.
Characteristics of Strawberry Cough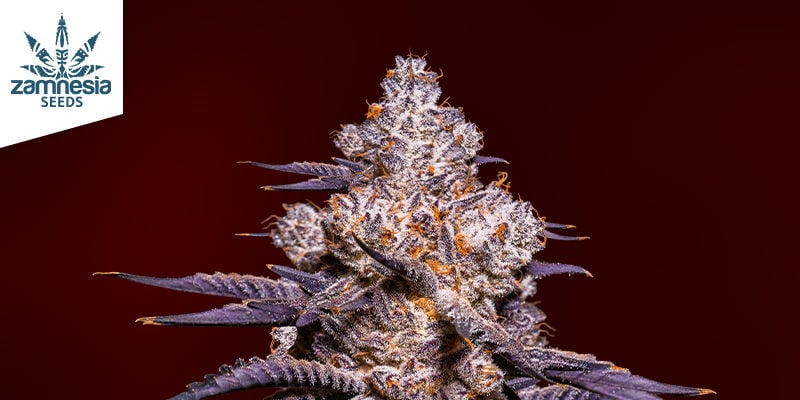 Derived from the combination of Strawberry Fields and Haze, Strawberry Cough is a sativa-dominant strain that has the potential to return hefty hauls of potent and flavourful buds. She does have a tendency to stretch out a little during the growing process, so some extra space may be required.
| | |
| --- | --- |
| Genetics | Sativa-dominant (70% Sativa / 30% Indica) |
| Parents | Strawberry Fields x Haze |
| THC | 19–20% |
| CBD | Low |
| Flavours | Berry, Fruity, Sweet |
| Effects | Energetic, Uplifting, Bright |
Invoking the finest parts of her heritage, Strawberry Cough highlights plenty of sought-after nuances in her flavours, aromas, and effects. However, how does she fare in the grow-op? Cultivators will be pleased to learn that this, too, is a rewarding and easygoing affair.
How to grow Strawberry Cough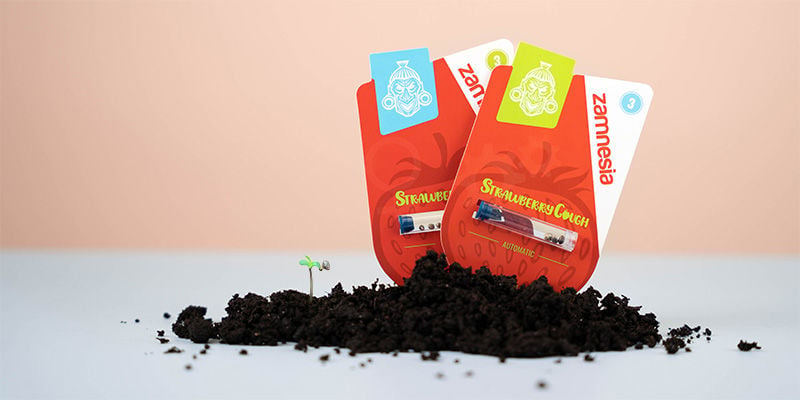 Aimed at newcomers and the more experienced alike, growers are in safe hands with Strawberry Cough. This is a resilient, robust, and, most of all, cooperative cultivar to grow. With the choice of cultivating indoors, outdoors, or in a greenhouse, the options are plentiful for growers. While she can flourish in almost any location, Strawberry Cough responds best to warm and sunny climates. All that's needed is a decent level of care and attention, and she'll reward effortlessly.
| | |
| --- | --- |
| Grow Difficulty | Beginner / Intermediate |
| Best Suited to Grow | Indoor / Outdoor |
| Climate | Sunny, Warm |
| Variety | Feminized |
| Height Indoor | 120-150cm |
| Height Outdoor | 150–180cm+ |
| Flowering Time | 9-10 Weeks |
| Harvest Period (Outdoor) | October |
| Yield Indoor | 550–600g/m² |
| Yield Outdoor | 700+g/plant |
Throughout every stage of the growing process, Strawberry Cough makes for an easygoing plant partner. As mentioned, she requires a good level of care and maintenance, but it's not going to be a tall order for most growers. However, reaching heights of up to 150cm indoors and 180cm outdoors, she has the potential to take over small grow spaces, if not trained. Fortunately, through some simple LST, or by growing in a ScrOG, growers can keep Strawberry Cough a little more grounded if they so choose.
After an average of 9–10 weeks of flowering, Strawberry Cough will be ready to yield indoors, and what a yield it is! When grown in the best possible conditions, plants will return around 550–600g/m² of bud! Outdoor projects tell a similar story, producing about 700g/plant in mid-October. This is one high-performing plant that definitely delivers the goods.
Strawberry Cough Automatic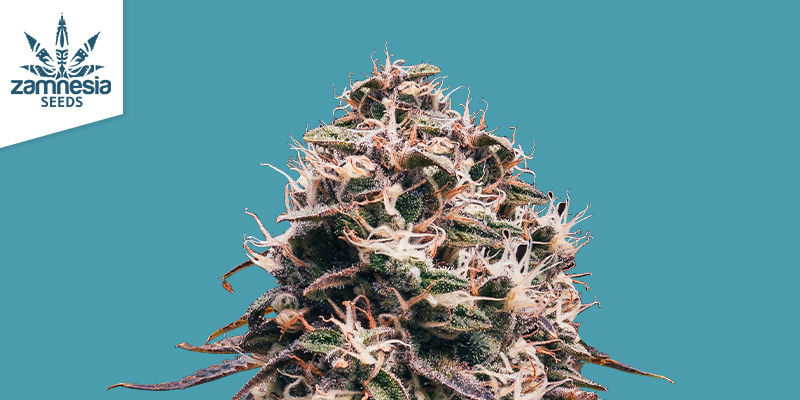 While the original feminized version of Strawberry Cough is unlikely to cause any headaches in the grow-op, there's an even more straightforward solution for growers. That's right; no hugely popular strain should be without its autoflowering counterpart. Cue Strawberry Cough Automatic. Taking only 10–11 weeks from seed to harvest, she won't make any compromises on flavour or effects, and is an accessible option for all.
Strawberry Cough Automatic stands slightly shorter than the feminized version at 110–150cm in any setting. As such, she is potentially more suitable for those who are a little tight on space or looking for a more discreet project. Once ready to harvest, growers will see a return of around 450–550g/m² indoors and 80–120g/plant outdoors. A pretty decent return for a zero-fuss plant.
True to her roots, Strawberry Cough Automatic exhibits the same sweet berry-like flavours you'd expect. With THC levels of around 15%, she might not seem like the most potent option on the market, but there's plenty of strength behind her. Users can anticipate an uplifting and euphoric high that is fast-acting and long-lasting.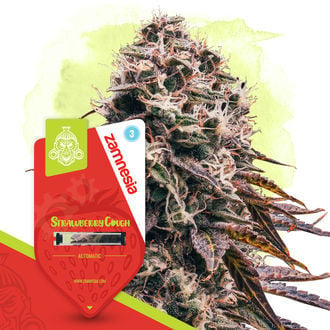 View
Strawberry Cough: Flavour and effects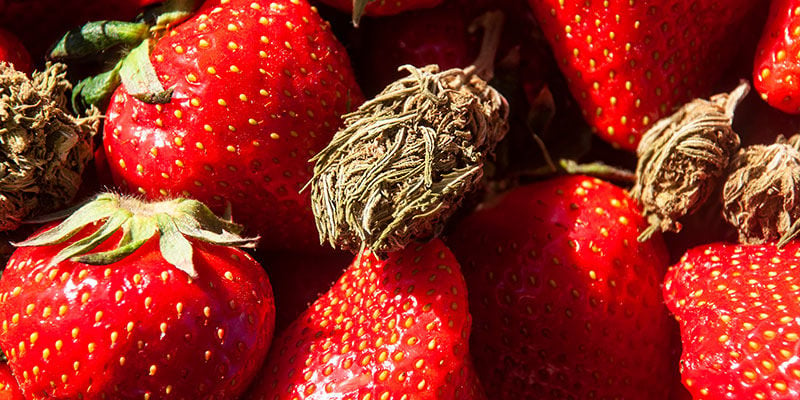 With a name like Strawberry Cough, you might be thinking that her taste is a little harsh and "cough" inducing; however, this couldn't be further from the truth. With an array of fruity terpenes in her favour, Strawberry Cough offers rich, sweet berry notes reminiscent of the finest strawberry cakes and jams. Whether smoked or vaped, these flavours shine through flawlessly.
With THC levels around the 19–20% mark, Strawberry Cough has a decent level of potency to her name. However, she's not a couch-locking and mind-melting strain; instead, she provides a more energetic and uplifting high. All it takes is just a couple of hits, and she'll quickly get to work treating you to a long-lasting, blissful effect. And ideal smoke to share with friends!
Strawberry Cough: Get yourself the berry best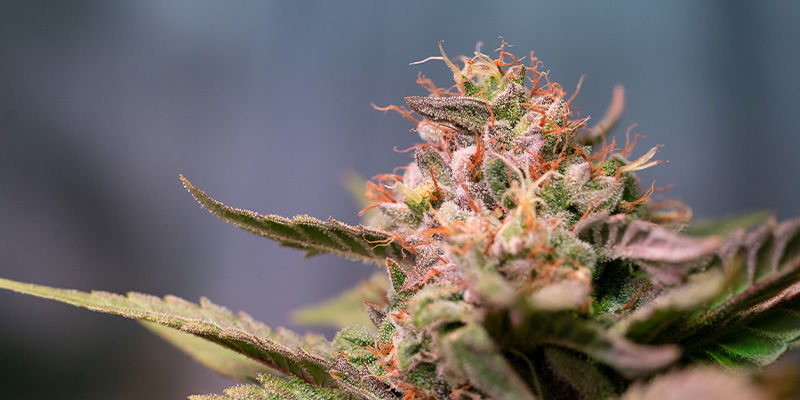 Overall, Strawberry Cough is an ideal strain for beginner and intermediate cannabis enthusiasts. She showcases great genetics and provides an accessible growing experience that's unlikely to cause many issues. Whereas more advanced cultivators can test her limits with various training techniques, novices can get good results with just the basic maintenance. Of course, if you're on the fence, you can always pick up Strawberry Cough Automatic for a genuinely effortless growing project.
There's so much to Strawberry Cough that cannabis users will absolutely love. Prepare yourself for decadent berry flavours and uplifting effects. This is definitely one you don't want to miss out on!