Blog

3 min
Pink Rozay: Cannabis Strain Review & Information
3 min
Harnessing powerful genetics from the USA, Pink Rozay is here to help you kick back, relax, and socialise. Learn how this strain came to be, what it's like to grow and smoke, and how the autoflowering version holds up against the original. 
Love US strains? Pink Rozay by Zamnesia Seeds combines top-shelf genetics from some true American favourites. Whether you're growing indoors in a small tent or on a large outdoor terrace, Pink Rozay will reward you with beautiful buds laced with pink hues, a rich aroma reminiscent of rosé wine, and a similarly intoxicating effect that's ideal for social gatherings, parties, and nights out.
Characteristics of Pink Rozay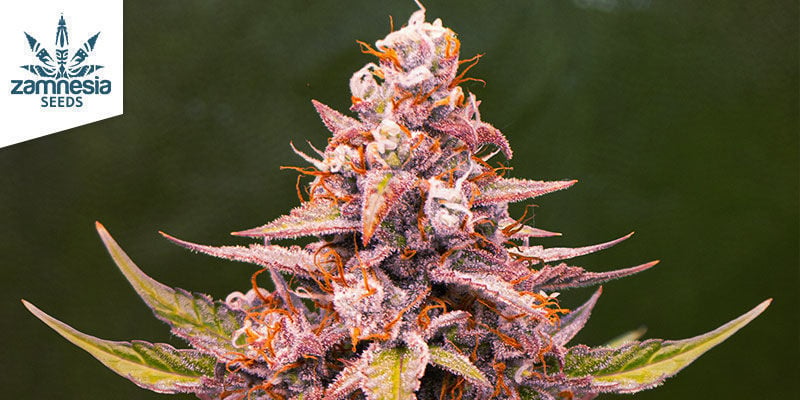 Pink Rozay by Zamnesia is a slightly indica-dominant hybrid strain. Originally bred by the Cookies Fam in San Francisco, Pink Rozay combines Lemonchello and London Pound Cake genetics. The result is an exquisite hybrid with luxurious aromas, a stout build, and exceptional yield potential indoors and out.
| | |
| --- | --- |
| Genetics | Indica-dominant |
| Parents | Lemonchello (Original Lemonade X Cherry Pie) X LPC (Sunset Sherbet X unknown indica) |
| THC | 25% |
| CBD | N/A |
| Flavours | Sweet, Tart, Fresh, Floral |
| Effects | Uplifting, Social, Relaxing |
Pink Rozay's first parent, Lemonchello, is a cross of the Original Lemonade and Cherry Pie. Renowned for its beautiful purple flowers and delicious aroma that combines citrus overtones with underlying hints of sweet cherries, Lemonchello is also loved for its mellow, relaxing stone. Pink Rozay's second parent, London Pound Cake, is a unique Cookies cut with a phenomenal, balanced high and a delicious aroma reminiscent of freshly baked cake.
With its powerful, social effect, exceptional growth traits, and delicious aroma, Pink Rozay strikes the perfect balance between both its parents, while also bringing some unique qualities to the table. The result is a super pleasurable and exciting smoke, ideal for novice cannabis users and experienced connoisseurs alike.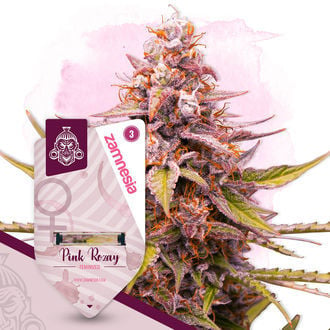 View
How to grow Pink Rozay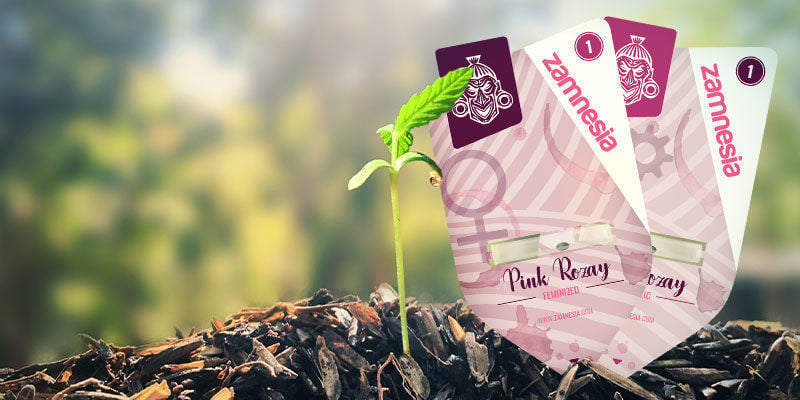 Pink Rozay is a pleasure to grow. Thanks to its slight indica dominance, Pink Rozay stays nice and short, making it ideal for indoor growers working with limited space. Given the robust genetics it inherited, Pink Rozay also responds really well to training, defoliation, and other forms of human intervention.
| | |
| --- | --- |
| Grow Difficulty | Beginner |
| Best Suited to Grow | Indoor / Outdoor |
| Climate | Temperate |
| Variety | Feminized |
| Height Indoor | Up to 120cm |
| Height Outdoor | Up to 170cm |
| Flowering Time | 8–9 weeks |
| Harvest Period (Outdoor) | Mid-October |
| Yield Indoor | 400-450g/m² |
| Yield Outdoor | 450g/plant |
If you're planning on growing a few larger plants indoors or outdoors, we recommend growing Pink Rozay in 30–40-litre pots (space permitting, of course) and topping them early to encourage the growth of multiple colas. Then, as they continue to grow, we highly recommend trimming, pruning, and defoliating your plants regularly to help thin out their canopy; this strain can get quite bushy due to its short internodal spacing and vigorous vegetative growth.
On the other hand, if you're working with a smaller space, we highly recommend growing several small Pink Rozay plants in a sea of green setup. Given their short stature, uniform growth, and short flowering stage (just 60–65 days), these plants perform really well in a SOG.
While it's not a stretchy strain, Pink Rozay can also be subjected to ScrOG to maximise light exposure in small tents or rooms. While yields obviously vary based on growing style and experience level, Pink Rozay can deliver 400–450g/m² indoors and up to 450g/plant outdoors.
Pink Rozay is a super versatile and robust strain, meaning it can grow well indoors, and outdoors in a variety of climates. In colder conditions, Pink Rozay will develop beautiful pink hues and may also go slightly purple—like its Lemonchello parent.
Pink Rozay is very resilient and pest resistant, meaning it will generally hold its own against thrips, spider mites, caterpillars, etc. However, as with any strain, we highly recommend performing weekly pest control when growing Pink Rozay.
Pink Rozay Automatic: Rozay in a flash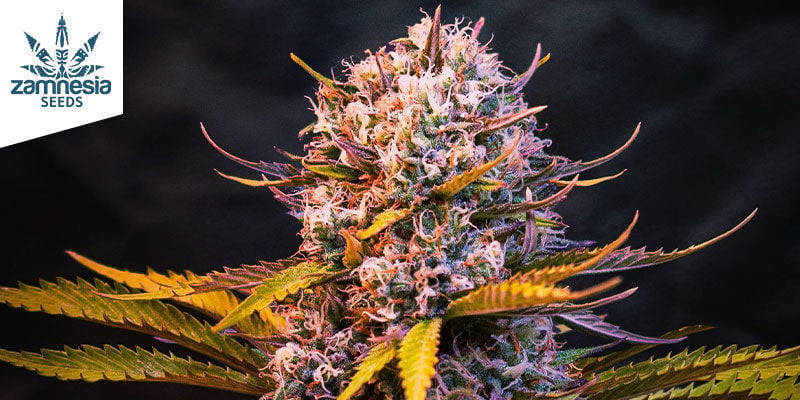 Many growers love the speed of autoflowering strains. If that's you, you're in luck; Zamnesia's Pink Rozay Automatic packs all the goodness of the original Pink Rozay into a fast-growing autoflowering seed. As is to be expected, Pink Rozay Auto plants naturally grow a little smaller than their feminized photoperiod counterparts, and therefore their yields also tend to be a little lighter.
Nonetheless, after just 80 days from germination, Pink Rozay Auto will reward you with top-shelf flowers boasting the same luxurious aroma and potency (23% THC) as the original Pink Rozay. Pink Rozay Auto typically yields between 70–120g/plant outdoors and up to 400g/m² indoors, depending on the skill of the grower.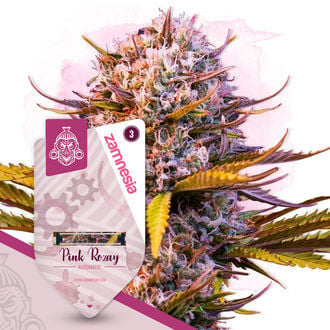 View
Pink Rozay: flavour and effects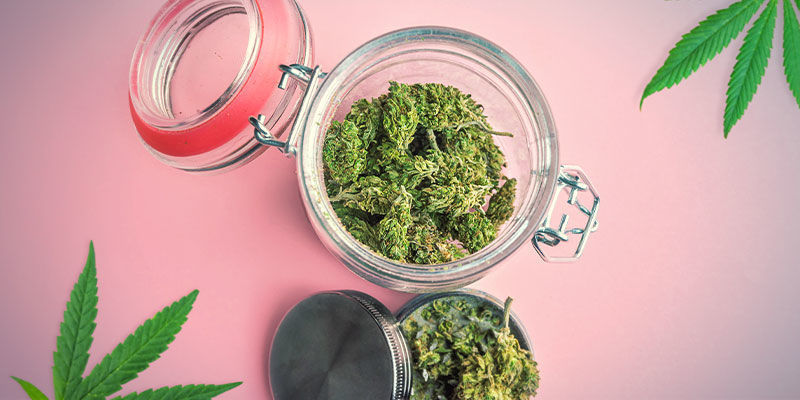 While Pink Rozay is an indica-dominant strain rich in THC (up to 25%) and low in CBD, this isn't one of those overwhelmingly strong indicas that'll leave you glued to the couch. Pink Rozay is extremely well-balanced and boasts delicious aromas and flavours to accompany its relaxing, social high.
After drying and curing, buds take on a very complex scent that's initially very sweet, fresh, and fruity. As the flowers continue to cure, however, their aroma changes to one bearing tart, almost sour qualities with underlying floral hints. Take a whiff of a bag of Pink Rozay buds, close your eyes, and you'll think you're dipping your nose into a glass of fine wine.
The effects of Pink Rozay are just as unique as its aroma. A few tokes of this strain will leave you with a heady, social, and giggly high, similar to the effects of being tipsy. Expect to feel relaxed and uplifted, and just a little less inhibited than normal. Then, as the high mellows down and settles in, Pink Rozay will leave you relaxed and clear-headed—but still "buzzed"—making it ideal for parties, dinners, or nights out.
Pink Rozay: Pour yourself a glass of something good
If you're looking for a unique US strain to add to your garden, Zamnesia's Pink Rozay is here to satisfy. Whether you grow it indoors or out, in large or small pots, this versatile, adaptable hybrid will reward you with top-shelf, THC-packed buds.