Zamnesia x Bomb Seeds: Bomberry Glue Auto (Limited Edition)
4 min
Zamnesia and Bomb Seeds put their best breeders to work to achieve a new milestone in auto genetics. Bomberry Glue Auto boasts enormous levels of THC, fruity terpenes, and impressive yields. She defies all of the stereotypes surrounding autos and easily outperforms many photoperiod cultivars. With only 500 packs available, you need to act fast.
Here at Zamnesia, we're proud of our extensive archive of cannabis genetics. Our skilled team of breeders and creative visionaries have fuelled our rise to become Europe's largest seed bank. Although we work spectacularly well as a close-knit team, sometimes we like to leave our precious growing rooms and team up with other botanical masterminds.
This time, we jumped at the opportunity to join forces with the skilled horticulturalists over at Bomb Seeds. By merging the minds of our best breeders, we managed to tease out a very special limited edition strain: Bomberry Glue Auto. This groundbreaking strain currently stands out as one of the most potent autoflowers ever created, with THC levels topping out at 25%.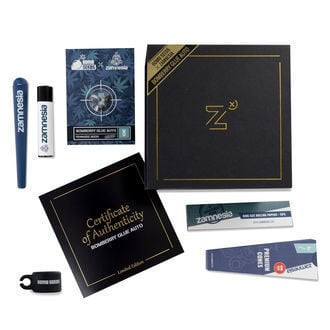 View
However, she won't be available for long. With only 500 packs available, you'll need to act fast to add this mind-melting cultivar to your collection. Keep reading to find out more about Bomberry Glue Auto.
Zamnesia and Bomb Seeds: A Legendary Collaboration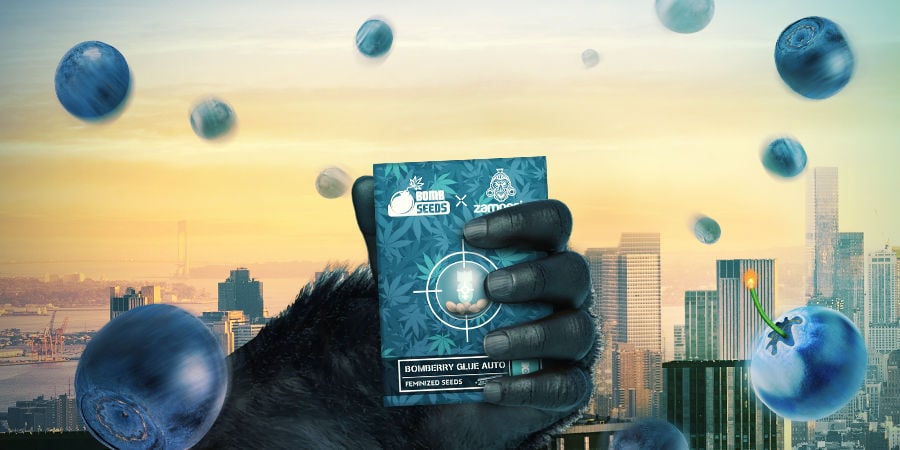 Both Zamnesia and Bomb Seeds call the Netherlands home. As the cannabis hotspot of Europe, our nation serves bud to millions of tourists every year. Not only does the country provide a unique experience for weed lovers, but it has served as the launching pad for many world-famous cannabis strains.
Like our friends at Bomb Seeds, we are dedicated to pushing the boundaries of breeding to bring about a range of new-school cannabis genetics. After several fruitful meetings, breeders from both companies agreed upon a set goal for our shared project: to raise the bar for autoflowering strains.
Long have cannabis growers attributed small yields and reduced potency to our speedy ruderalis friends. Not anymore. Through a process of careful selection and intensive crossbreeding, our joint efforts successfully created an autoflowering variety that outperforms most photoperiod strains across the board.
Before we delve into the details of this potent and productive cultivar, let's find out more about our partners.
What's Included in the Bomberry Glue Auto Pack?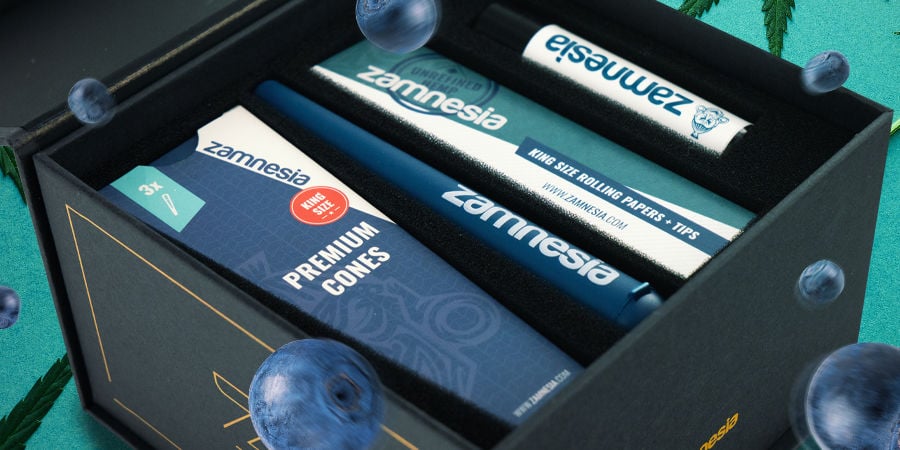 No special collaboration would be complete without a limited edition collector's pack, and this teaming up of Zamnesia and Bomb Seeds needs to be celebrated. This exclusive premium package includes 5 Bomberry Glue Auto feminized seeds so you can get started immediately with your home growing project. Meanwhile, any doubts of authenticity will be put to rest as a unique numbered certificate is included in every pack.
Once you've grown Bomberry Glue Auto, you're going to need the finest smoking accessories to sample it. That's why we've included Zamnesia branded rolling papers with tips, a 3-pack of cones that provide ample space for your herb, and a Clipper lighter to get the party started. If you want the hands-free approach, Bomb Seeds has included a silicone smoking ring to keep your fingers free. If your smoking session is interrupted, there's even a saverette to save your joint for later. If that's not enough, this package is presented in a premium box that offers ultimate protection.
What's included:
Premium box
5 Bomberry Glue Auto feminized cannabis seeds
Certificate of authenticity, each with its own unique number
Zamnesia saverette
Zamnesia Clipper lighter
Zamnesia rolling papers with tips
Zamnesia premium cones (3-pack)
Bomb Seeds silicone smoking ring
Get to Know Bomb Seeds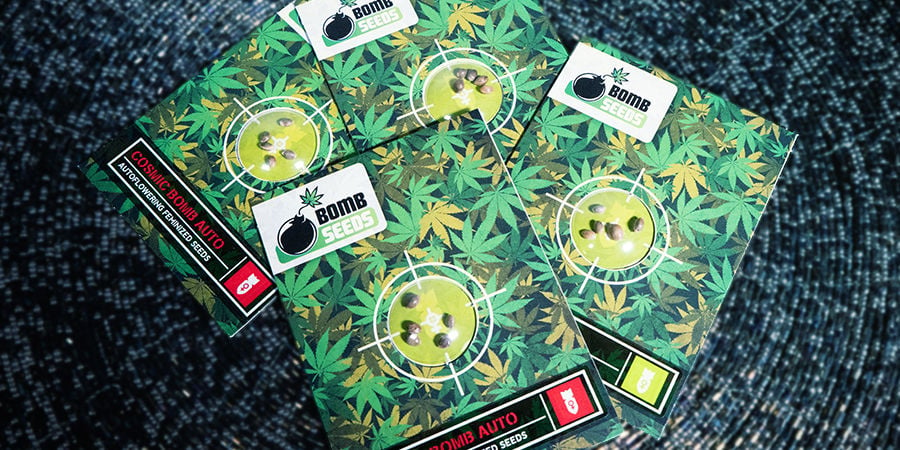 Bomb Seeds takes pride in their strain library. They have consistently produced high-quality genetics over the years, always keeping four goals in mind: strength, power, quality, and yield. If you've ever grown their seeds, you'll agree that all of their varieties meet these demands. The company also goes the extra mile to abide by organic cultivation practices. All of their seeds derive from organic mother plants raised in chemical-free environments to ensure the health of their crop.
When their plants begin to bear seeds, the company hand-selects only the best-looking specimens to ensure maturity and viability, a practice that results in an impressive germination rate of over 95%. These traits drew us towards Bomb Seeds for a collaboration, but the potency of their strains sealed the deal. A brief scan through their selection will unveil cultivars boasting THC levels of 25% and over.
The Result: Bomberry Glue Auto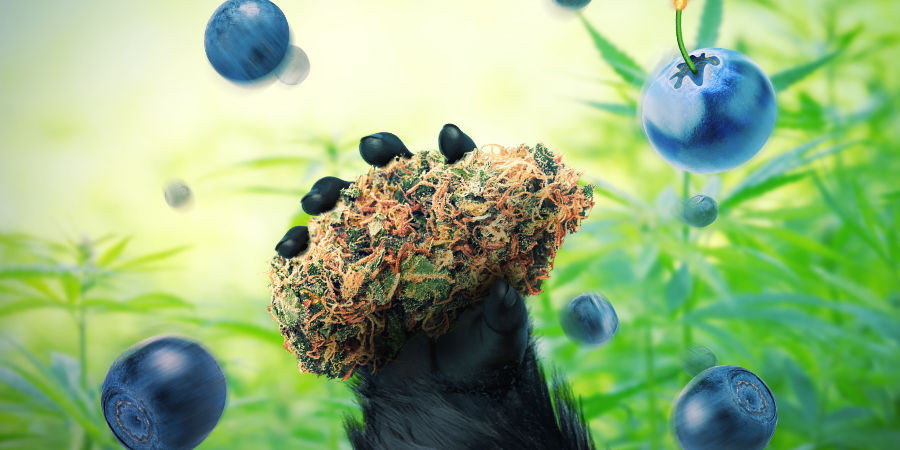 After setting our sights of raising the standard for autoflowering strains, we needed to carefully consider what genetics to utilise to make the magic happen. It turned out, each company had a perfect candidate to put forth.
Over at Zamnesia, we decided to contribute Blueberry Automatic. This hardy auto descends from the legendary and terpene-rich Blueberry. She features an indica-dominant genetic profile, a modest THC content of 15%, and CBD values of around 3%. She remains at an easily manageable height and boasts stunning shades of dark green and bright purple.
After informing our buddies at Bomb Seeds of our decision, they decided to pull out the big guns in the form of Gorilla Bomb. In short, we bought the autoflowering magic, and they bought the cannabinoids. Gorilla Bomb received a massive THC level of 25% from equally formidable parent strains Gorilla Glue and THC Bomb. We started to see the signs of success after the initial crosses, and it didn't take long to produce a stable and reliable phenotype.
Growing Bomberry Glue Auto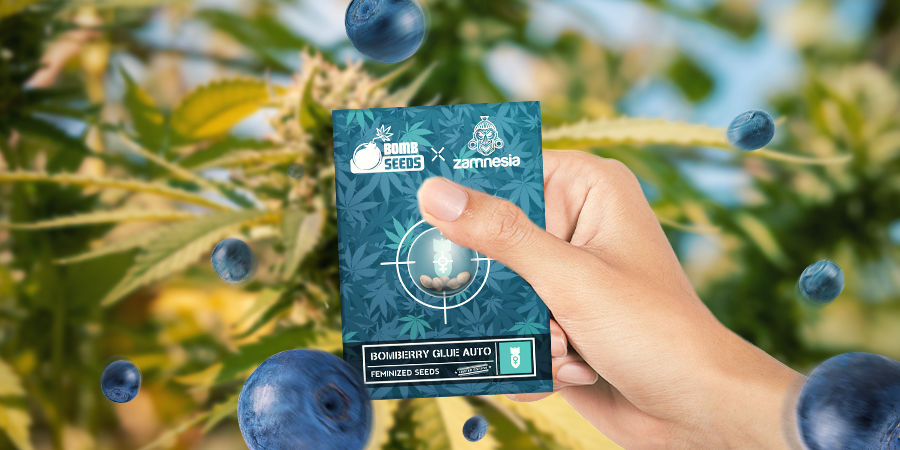 Bomberry Glue Auto inherited the very best traits from each parent strain. Blueberry Automatic passed down her stealthy size and fruity taste, and Gorilla Bomb delivered immense levels of cannabinoids and terpenes.
The progeny offers superb results in almost any environment. Indoor plants peak at a height of 100cm and are suitable for small grow tents and even modified boxes and cupboards. The use of low-stress training will keep this strain even closer to the ground (at around 60cm).
She'll explode from seed to harvest in as little as eight weeks, and begin producing dense and resinous buds at around the four-week mark. Growers can expect between 550–650g/m² indoors, given that her needs are met with enthusiasm, of course.
Although she enjoys a regulated indoor environment, Bomberry Glue Auto also thrives outdoors. Drop her seeds in small containers or directly into garden beds and watch her break through the soil in several days. It won't take long until you're looking at mature canopies loaded with stinky flowers.
Effects of Bomberry Glue Auto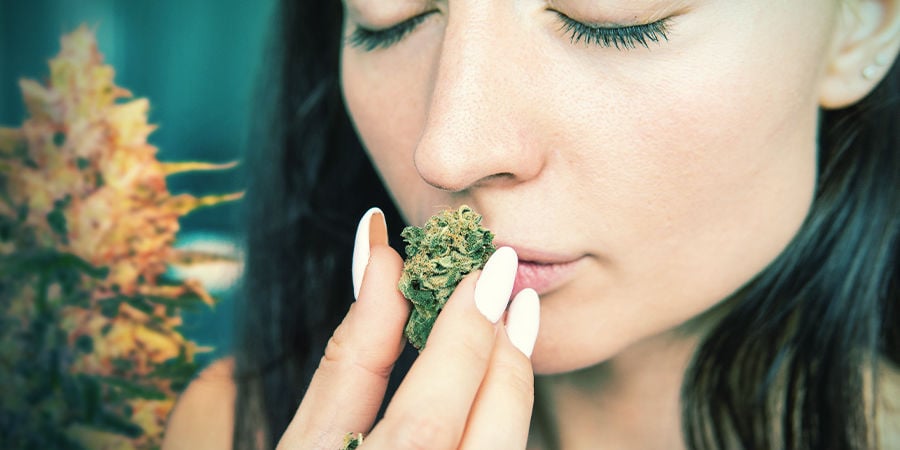 The flowers of Bomberry Glue Auto appear small and somewhat innocent, but they pack a potent secret. These buds are loaded with THC levels of 22–25% and deliver a thumping high within seconds of inhalation. You'll experience a wave of euphoria light up your body and mind as tastes of chocolate, fruit, and hints of sourness light up your taste buds.
Her high comes on instantly and lingers for hours. Make sure you have no commitments or deadlines to meet before enjoying these buds. Free up your afternoon and bask in the good vibes to truly experience this strain.
Limited Special Edition Strain
These seeds are set to fly off the shelves. Make sure you act fast and secure this variety before the available 500 packs sell out. Add Bomberry Glue Auto to your collection and own one of the most powerful and productive autos ever conceived.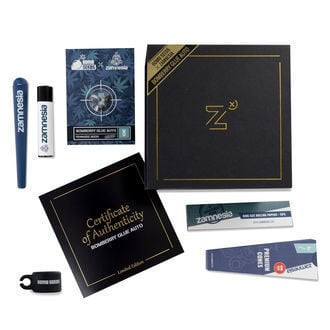 View