Zamnesia x Royal Queen Seeds: ZZ Punch (Limited Edition)
3 min
Zamnesia and Royal Queen Seeds are two of the top seed banks in Europe. We've formed an alliance to bring you ZZ Punch, a limited edition indica that will blow your mind and set your taste buds on fire.
Two of Europe's most iconic seed banks have joined forces to bring you ZZ Punch. Her soothing indica high will have you wondering why you were taking life so seriously in the first place!
Expert breeders from both companies carefully combined traits from Sweet ZZ and Purple Punch to bring this cultivar to life. Before we get down to the nitty-gritty, there's something we need to tell you. There are only 1,000 packs of ZZ Punch available! Discover more about this botanical collaboration below, and grab some seeds before it's too late.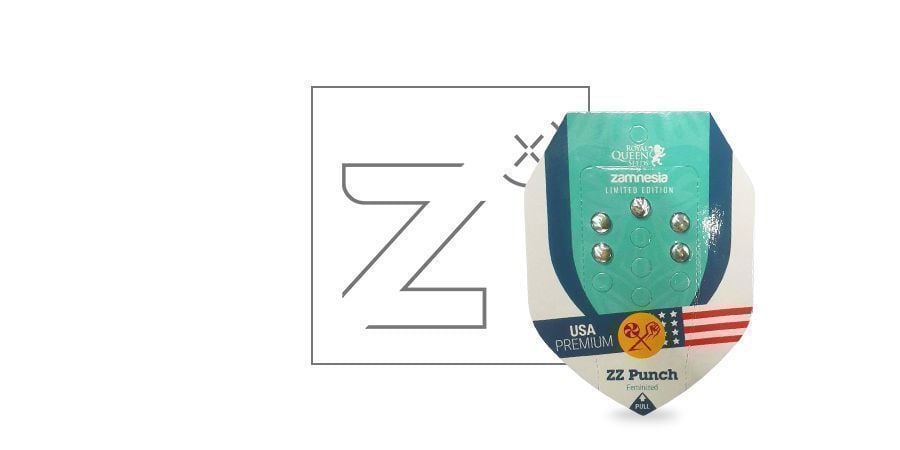 View ZZ Punch
ZAMNESIA AND RQS: A MATCH MADE IN HEAVEN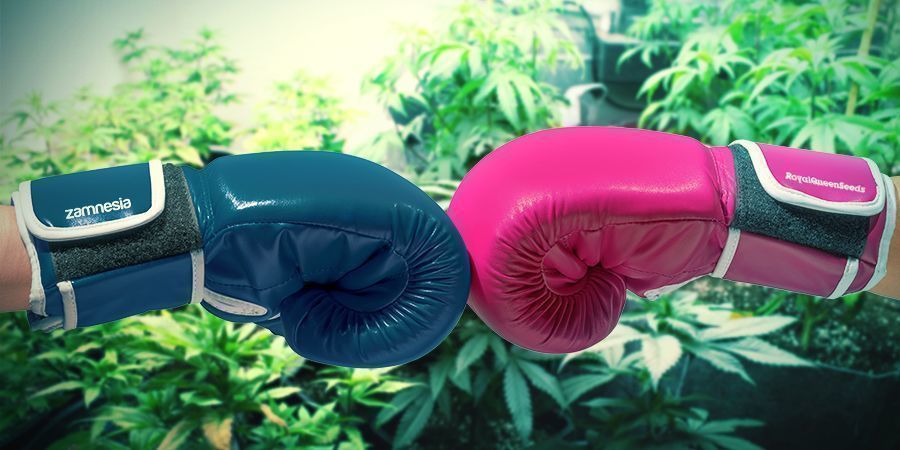 Zamnesia and Royal Queen Seeds are two cannabis industry titans. Both companies have decades of experience breeding top-tier cannabis genetics that have gone on to scoop up prestigious awards, and have become the obsession of growers and smokers everywhere.
Combined, the genetic archives of both companies contain thousands of high-quality feminized, autoflowering, regular, and high-CBD specimens.
Merging their skills, Zamnesia and RQS set out to create a fresh and fierce new indica with sky-high THC levels and a terpene profile that would inspire envy among breeders.
Before we introduce you to ZZ Punch, let us tell you a little bit more about our partner in crime!
INTRODUCING ROYAL QUEEN SEEDS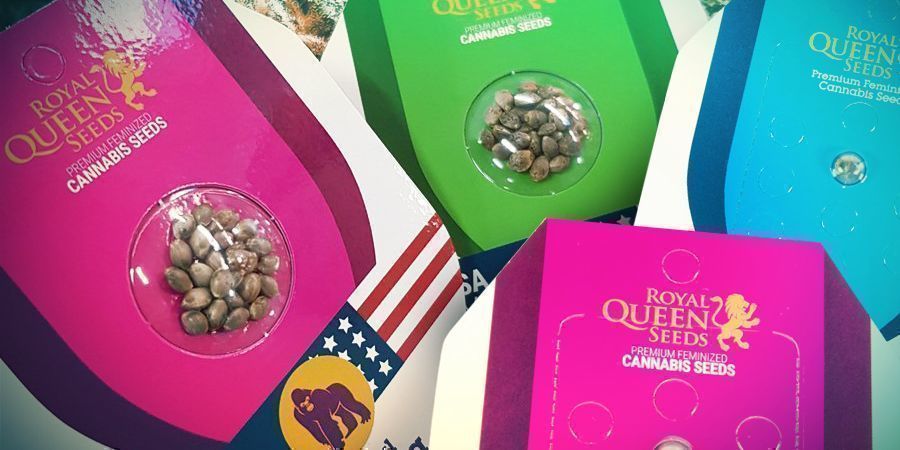 Royal Queen Seeds comes from humble beginnings. What started as a group of passionate Dutch cannabis growers soon evolved into one of the biggest and most esteemed seed banks in Europe. The initial team knew they were onto something, and it didn't take long for them to develop their own line of award-winning feminized, autoflowering, and medical seeds.
All RQS seeds are organically grown, hand-selected, and regularly tested for quality and germination rate. It's safe to say that RQS is one of the finest seed banks out there. That's precisely why we chose to team up with them!
But don't take our word for it; just browse their array of awards, including wins at Soft Secrets Plant of the Year, the Highlife Cup, and Spannabis, where they were named Best Seedbank of 2019!
THE RESULT: ZZ PUNCH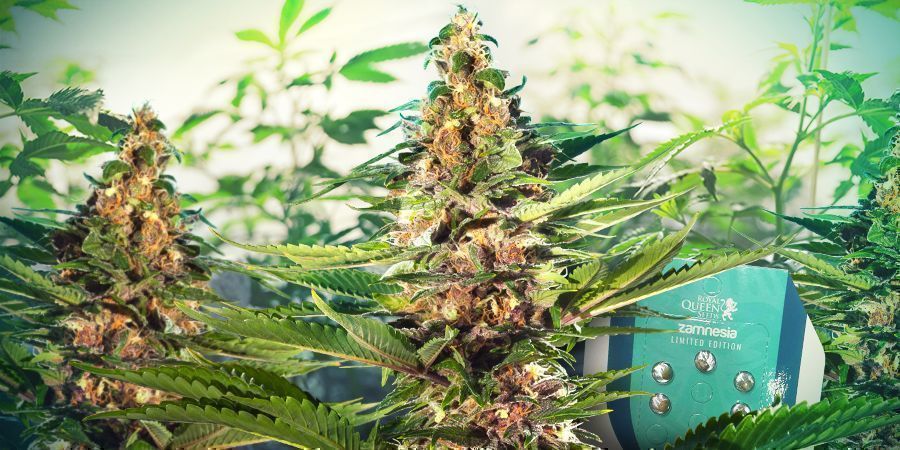 After several brainstorming sessions, breeders from Zamnesia and RQS built a vision of what they wanted to achieve; namely, a new indica with enormous THC levels. They desired a strain that would completely relax the body while keeping the mind relatively engaged.
The team also wanted their new creation to be known for its taste. She needed to attack the taste buds with abandon and leave smokers wanting more! With a clear goal in mind, it was time to select the right parent strains for the job.
The team turned to Sweet ZZ, an RQS cultivar, as the first port of call. After all, it already had most of the traits the breeders were after. It's a vastly indica-dominant strain that stems from terpene-rich parents Grape Ape and Grapefruit. Its large yield, brief flowering time, and THC level of 22% made her an easy choice for the project.
Then, we at Zamnesia introduced one of our own premium specimens. We opted for Purple Punch to bring even more indica potency into the ring.
Our breeders created Purple Punch by crossing Granddaddy Purple and Larry OG. Boasting a genetic profile of 90% indica and only 10% sativa, it produces dense, tapered buds decorated with patches of purple. These beautiful buds produce a THC level of 21% and high levels of the therapeutic terpenes caryophyllene, limonene, and pinene.
After crossing Sweet ZZ and Purple Punch over several generations, ZZ Punch emerged as the progeny! Its trichome-laden buds and massive THC content made it an instant hit at Zamnesia and RQS. And now, we're offering the world 1,000 packs of these limited edition seeds!
EFFECTS, FLAVOUR, AND AROMA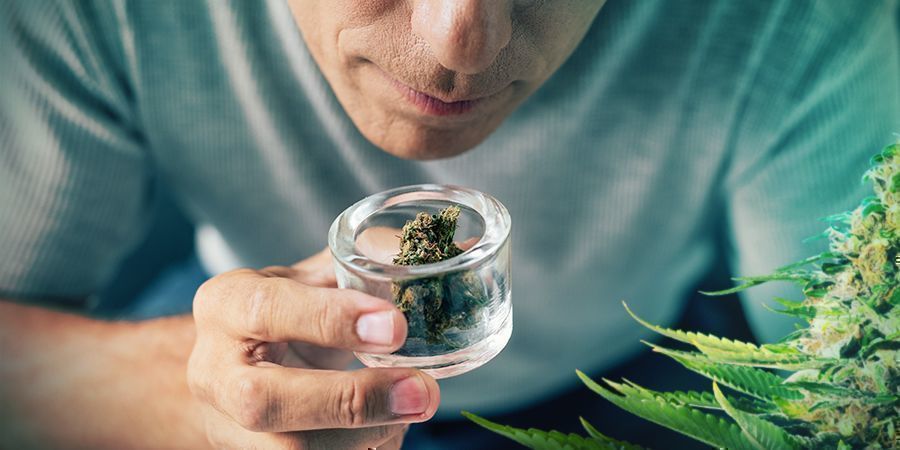 ZZ Punch's indica dominance and THC level of 22% guarantee a fast-acting body high. It only takes a couple of tokes to feel the effects course through every muscle fibre in the body. Say goodbye to tight spots and physical tension!
This is a superb recreational strain for low-key sessions with friends, or evenings spent alone. She'll detach your mind from the outside world and introduce it to the stillness of the present moment.
Flavours of fruit, candy, and berries will fill your mouth with every hit. Use these delightful notes to craft edibles—we recommend blueberry muffins—to blast your mind higher into the stratosphere!
GROWING ZZ PUNCH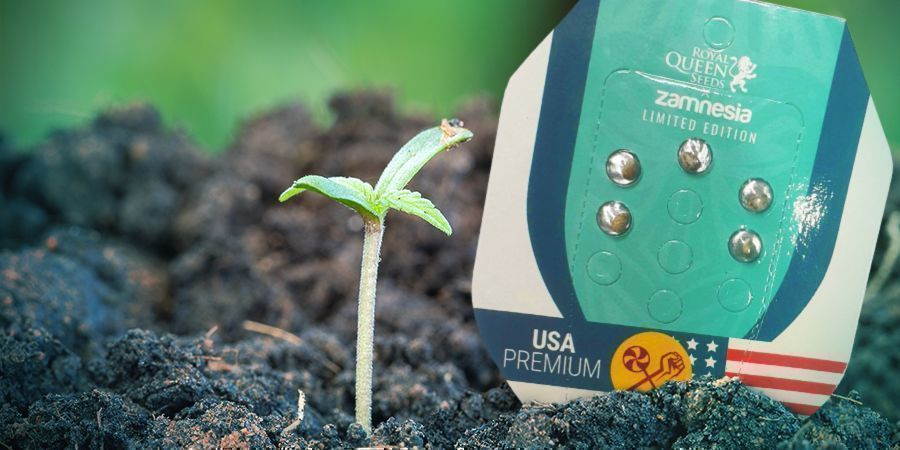 ZZ Punch doesn't disappoint in the grow-op. Both indoors and outdoors, you can expect large yields of compact, frosty buds. Expect a harvest of 500g/m² after a flowering time of 65 days.
ZZ Punch's appearance is characterised by a typical indica growth pattern. Left to its own devices, it will develop a bushy profile and one central cola. Alternatively, top your plant to prompt more lateral growth and increase the number of primary bud sites.
What more are you waiting for? Take advantage of this iconic collaboration before all the seeds are gone!