Blog

6 min
Top 10 Cannabis Strains By Royal Queen Seeds [2022]
6 min
As one of the most popular seed banks around, Royal Queen Seeds offers a wide variety of top-quality strains to home growers. With dozens on offer, it's tough to nail down just 10 of their finest, but we've managed it. Check out our top picks, and get growing today!
As one of the most renowned seed banks in the world, the origins of Royal Queen Seeds can be traced back to 2007. It was in this year, in the Netherlands, that a group of cannabis breeding experts set about creating a seed company to provide high-quality strains to the masses. In 2010, they opened their first brick and mortar store, and in 2011, they launched what is today an extremely successful online seed bank. Since this point, RQS has become one of the largest and fastest-growing seed companies in Europe. Operating in over 17 countries and offering well over 90 unique strains, Royal Queen Seeds has cemented itself as a force to be reckoned with in the cannabis community.
But don't just take our word for it; RQS has scooped up numerous awards for their strains, and for their seed bank as a whole. Not only do they specialise in creating novel cultivars, but they also offer high-quality iterations of classic strains, putting their own spin on varieties such as White Widow, Northern Light, and Amnesia Haze, just to name a few. Simply put, there's never been a better time to check out what Royal Queen Seeds has to offer. With that in mind, we're here to point you in the right direction when browsing their seeds.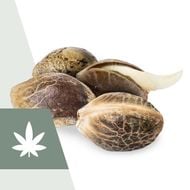 Seedshop
Click here to browse countless varieties of regular, feminized, and autoflowering cannabis seeds from the best banks in the world.
View category
Top 10 cannabis strains by RQS
With so many strains on offer, which ones should you go for first? Read on for a list of 10 of the seed bank's top cultivars. There's something for all here; whether you're new to growing or a seasoned pro, you'll find a cultivar that will impress you from seed to smoke!
Fat Banana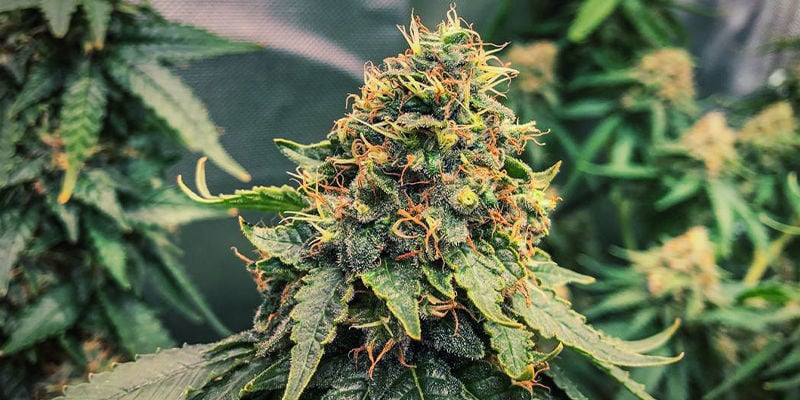 Providing chunky buds full of potency and sweet, fruity flavours, it's got to be Fat Banana. This matchup of Banana and OG Kush treats users to a truly remarkable experience few other strains can match. Complete with around 25% THC, this heavy-hitting cultivar delivers a substantial physical stone alongside a rush of mental bliss. Highly enjoyable—just go easy!
In terms of cultivation, Fat Banana is a resilient and receptive growing project that, while requiring a bit more of a hands-on approach than some strains, will reward growers handsomely. However, those looking for an easier, autoflowering alternative are in luck, as Fat Banana Auto is also available to grow. The photoperiod version churns out up to 400g/m² indoors and 500g/plant outdoors in just 7–8 weeks of flowering; the auto version takes just 9–10 weeks total, and yields 400g/m² and 250g/plant, respectively.
Royal Dwarf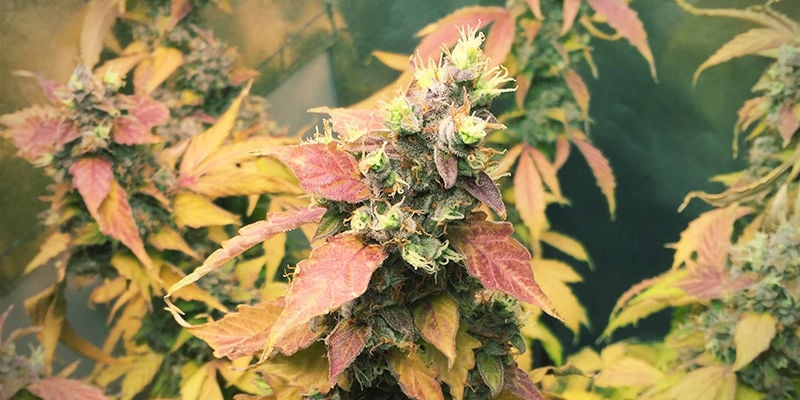 Standing somewhere between 60–80cm tall, Royal Dwarf might be short in stature, but she performs with the vigour of a beast. The result of pairing Skunk with ruderalis, she takes just 9–10 weeks to race from seed to harvest, and manages to stay discreet the entire time.
Yielding up to 200g/m² indoors and 100g/plant outdoors, users are in for a treat when it comes time to smoke or vape Royal Dwarf. While not providing immense potency, often teetering around 15% THC, the strain offers intense aromas and great flavours that segue into a pleasant social high and a relaxing physical stone. Whether enjoyed as a wake-and-bake, a midday pick-me-up, or a nightcap, Royal Dwarf will give you what you need.
Purple Queen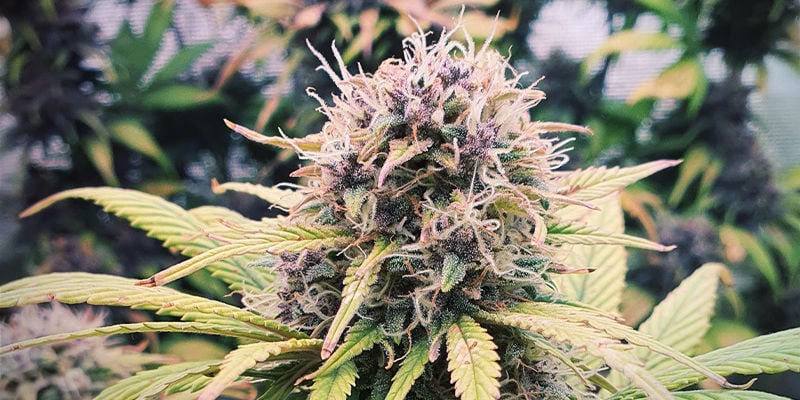 Offering an authentic taste of aristocracy, Purple Queen has everything going for her. Pairing Hindu Kush with Purple Afghan, the strain flaunts divine purple hues during the flowering phase. And with 22% THC on average, her effect is robust and multifaceted. A cerebral surge commences the experience, before a soothing body high takes over. With flavour notes of pine, Kush, and lemon, each hit is tastier than the last.
When it comes to cultivating Purple Queen, growers can choose either the photoperiod feminized or autoflowering feminized version. The more easygoing growers may opt for Purple Queen Auto, which still delivers good potency, but not as much as the original. The photoperiod version, aside from being richer in THC, is also capable of producing larger harvests of 500g/m² indoors and 700g/plant outdoors, compared to 400g/m² and 150g/plant with the auto version.
North Thunderfuck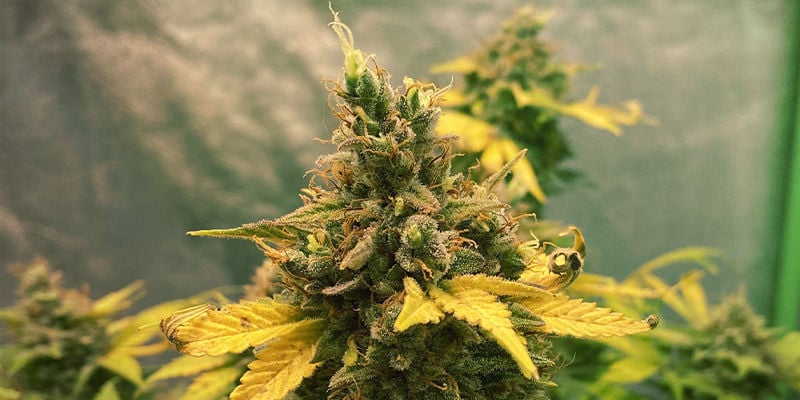 With such a provocative name, North Thunderfuck is bound to get your attention. However, she also has the goods to back up such a bold moniker. From the get-go, this strain is effortless to cultivate. With just a little maintenance along the way, you'll be met with around 500g/m² of buds indoors and 550g/plant out. These buds are teeming with THC, clocking in at approximately 23% on average, and have a distinctive spicy flavour and aroma. North Thunderfuck is perfect for any time of the day, thanks to her relaxing and uplifting high.
Those looking for an even easier ride can opt for the autoflowering variant of this strain. North Thunderfuck Automatic takes just 12 weeks from seed to harvest and has the potential to yield the same amount indoors as its photoperiod predecessor, and up to 140g/plant outdoors.
Green Gelato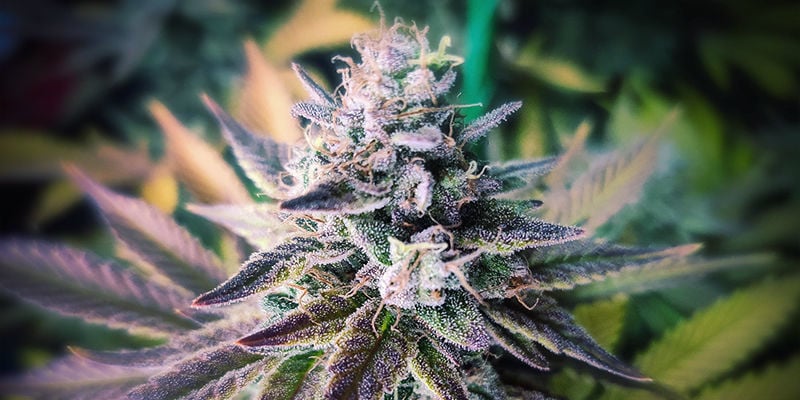 Available in both photoperiod and autoflowering variants, Green Gelato delivers on the promise of mouth-watering flavours and great effects. She's a unique strain geared to those with a sweet tooth. In terms of her heritage, all you need to do is look to her name for clues. As the end product of pairing Sunset Sherbet and Thin Mint Girl Scout Cookies, Green Gelato showcases sugary, minty flavours mixed with a bit of citrus for good measure.
A hugely potent strain bearing a THC content of up to 27%, Green Gelato showcases powerful effects that are both stimulating and relaxing at the same time. The icing on the cake? Huge yields of up to 700g/m² indoors and 800g/plant outdoors are achievable. For the autoflowering version, the yields and potency are slightly lower, but so is the overall grow time (9–10 weeks total compared to 8–10 weeks of flowering for the photoperiod version)!
Royal Gorilla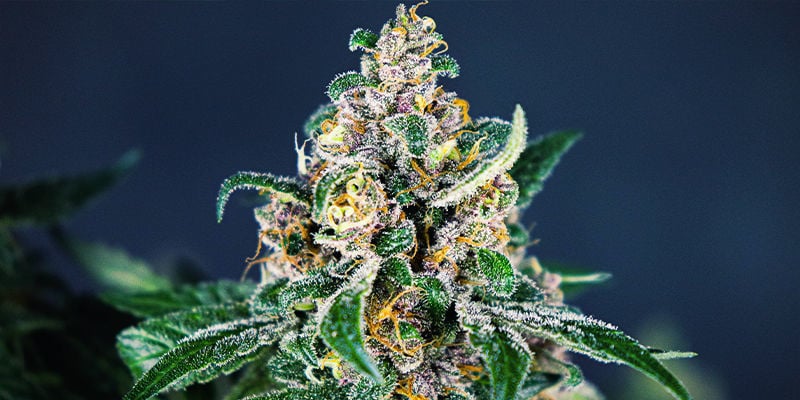 Royal Gorilla is the result of crossing a trio of potent powerhouses: Sour Dubb, Chem's Sis and Chocolate Diesel. This multi-award-winning strain offers up plenty of potency, huge yields, and classic "gorilla" flavours. After a period of just 8–9 weeks of flowering, Royal Gorilla can yield up to 550g/m² indoors and 600g/plant under the sun.
Once the buds have been collected, dried, and cured, users can really experience what Royal Gorilla has to offer. She boasts earthy and sweet flavours with lemon and pine notes that are simply mouth-watering. When it comes to her high—prepare yourself, as a mighty THC content of 26% combines with various terpenes to induce deep, euphoric relaxation, which will likely glue you to your bed or favourite piece of furniture for the day.
Quick One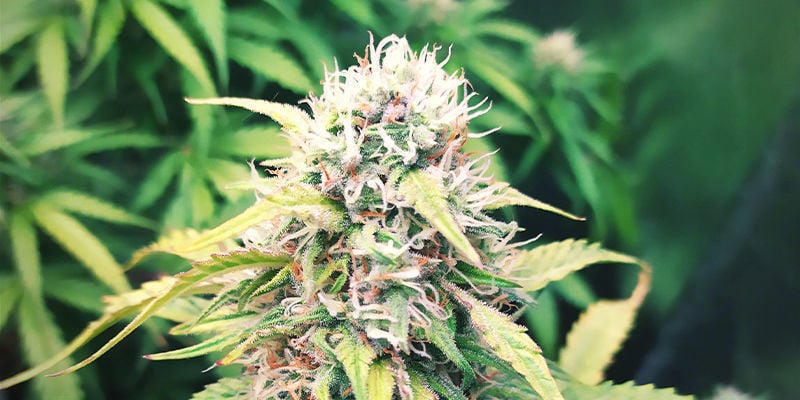 There are no prizes for guessing why this autoflowering masterpiece was given its name. That's right, taking just 8–9 weeks from seed to harvest, Quick One automatically blooms into a robust, productive, albeit short, plant. Reaching heights of around 60–100cm, Quick One is the perfect cultivar for more pokey and restricted environments. Once she's ready to harvest, growers will be met with about 325g/m² of bud indoors and 150g/plant outdoors—pretty decent returns for a plant of this size.
Quick One has a mild flavour led by notes of citrus and earth. With 13% THC, she's not going to provide an overwhelming stone, but it's enough to relieve any moments of tension—making her the perfect end-of-day strain.
Sweet ZZ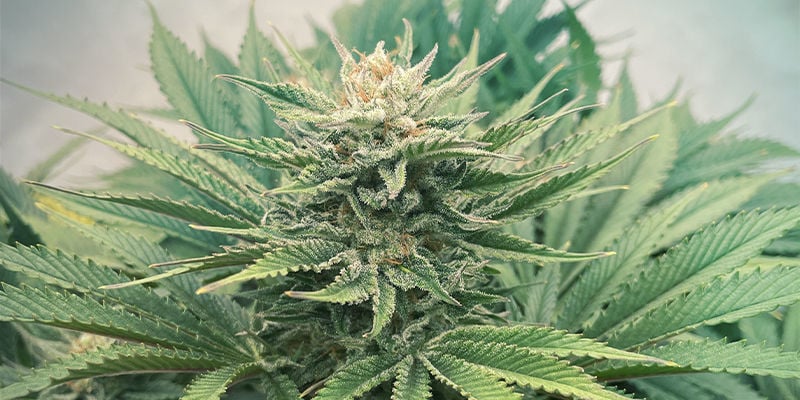 What do you get when you cross Grape Ape with Grapefruit? Well, you get Sweet ZZ, of course! This indica-dominant feminized photoperiod strain contains roughly 22% THC, setting users up for a relaxing smoking session. She'll ease the mind and stone the body in a matter of tokes, making for an enjoyable smoke or vape, whether solo or with friends.
To get to this point, though, you'll have to show Sweet ZZ a bit of love in the garden or grow room. Whether you're a complete novice or have some experience, this is a more or less effortless endeavour. She's not overly demanding, and is right at home in both outdoor and indoor settings. Taking an average of 8–9 weeks to flower, she rewards growers handsomely with up to 600g/m² of beautiful, resinous buds indoors and 550g/plant outdoors. Perfect.
Amnesia Haze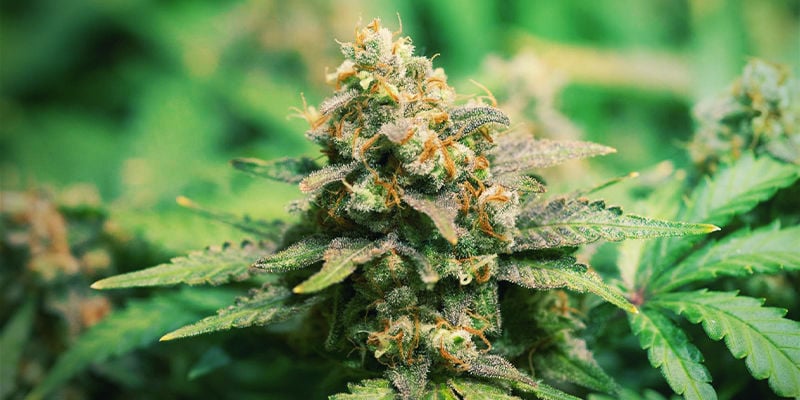 Amnesia Haze is a true classic among the cannabis community, and for some great reasons. As a mash-up of American and Dutch genetics, Amnesia Haze is a multi-award-winning strain that provides strong cerebral effects ideal for when you have no other obligations. Complete with a moreish flavour profile highlighting pine, citrus, and earth, this all-rounder can be found in almost any Dutch coffeeshop you come across.
Growing Amnesia Haze is a straightforward affair. While she's medium-sized, at around 1.2m in height, she flourishes in grow tents, greenhouses, and gardens alike. With adequate care and nutrients, Amnesia Haze will yield in the region of 650g/m² inside and 700g/plant outside. Those looking to cut down the 10–11-week flowering time to just 12–13 weeks from seed to harvest can opt for Amnesia Haze Automatic. Though her yields are somewhat lower, she retains all of the previously mentioned features.
White Widow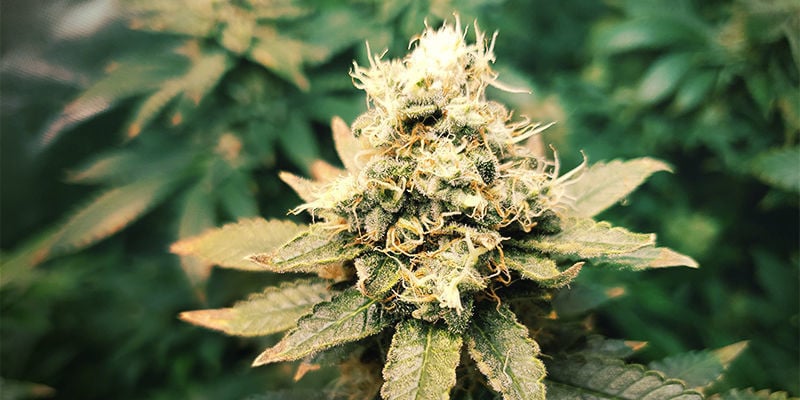 Of course, we couldn't talk about a classic like Amnesia Haze without mentioning White Widow. This strain needs very little introduction, but if you've not heard of it, she's an all-time bestseller in Dutch coffeeshops, and many a stoner's first introduction to cannabis. White Widow has an old-school flavour accented with fresh pine notes and effects that soothe both the body and mind. You'll be hard-pressed to find someone that doesn't hold White Widow in high regard; let's put it that way.
But surely she falters in some way? Not so! White Widow is adaptable, resilient, and robust, making for the perfect project inside or outside. She doesn't take up much room, only reaching a height of around 100cm. After 9–10 weeks of bloom, White Widow yields up to 500g/m² indoors and 600g/plant outdoors. Want an easier entry into the world of White Widow? Check out RQS' autoflowering variety. White Widow Automatic takes 10–12 weeks from seed to harvest and rewards growers with 450g/m² of great-tasting buds indoors and 250g/plant out. Don't sit this one out!
Seeds fit for royalty — Raising the bar with RQS
There you have it—the top 10 strains from Royal Queen Seeds. As mentioned, whether you're "green" when it comes to growing cannabis or regard yourself as a bit of an expert, strains from Royal Queen Seeds will see you right. Suitable for all settings, budgets, and preferences, take the plunge today and check out the seeds that caught your eye—and you'll be enjoying high-quality yields in no time!