Blog

7 min
The Top 15 Drug Movies Of All Time (2020 Update)
7 min
There is something riveting about watching drug-related movies, whether it's a tale of corrupt cops looking to benefit, or an emotional and visually stunning story about addiction. They can be light-hearted, or deadly serious, but drugs are a central theme in modern cinema either way. With that being said, we think these are the best in the genre.
Are you looking for an entertaining and intriguing tale for a drug-themed movie night? Whether you're just looking for one, or enough to fill up your next two weeks, we've got you covered! Some offer laughs, others will bring you to tears, and many will have you on the edge of your seat. Either way, we think they're classics, and we're honored to introduce you to them.
Top 15 Drug Movies
From underground cult classics to the Hollywood blockbuster, drugs have long been a recurring theme in movies. They, more or less, are part of their own unique genre. Some glamourise the effects of drugs and the lifestyle of addicts, while others don't hold back on portraying the unflattering reality. However the film is made, or whichever approach they've taken, they can be entertaining and thought-provoking. With that in mind, in no particular order, we've put together our top 15 picks of drug movies we think you should check out.
1. Waking Life
If you're looking for a trippy tale, look no further than Waking Life. This highly stylised movie centres around an unnamed protagonist who we find dealing with an existential crisis. While this sounds fairly plain at first, the story offers interesting perspectives and different philosophies on life throughout, making for a perfect substitute for those late-night high conversations.
It also boasts an engaging art style, utilizing rotoscoping to make the live-action-character appear hand-drawn. There's certainly plenty to experience visually, as well as inwardly, with Waking Life.
2. Easy Rider
Seen as one of the quintessential American movies, Easy Rider stars Peter Fonda and Dennis Hopper as Wyatt and Billy, respectively. The film tells the story of their road trip from Los Angeles to New Orleans after smuggling drugs from Mexico. The ensuing tale shows all their lows and highs (and believe us, there are plenty of highs).
From the depictions of marijuana and LSD use, to the core of the plot, drugs are the foundation of Wyatt and Billy's story. They find themselves in some tricky situations as a result, and they ensure it's gripping from start to finish. With all that, plus a 60s soundtrack that holds up to this day, we recommend you don't miss out on Easy Rider.
3. A Scanner Darkly
From the mind of prolific science fiction writer Philip K. Dick, A Scanner Darkly tells a story of America in the near future. Having lost the "war on drugs," the movie shows both sides of drug use, as well as those that attempt to curb it.
Bob Arctor (played by Keanu Reeves) finds himself in the middle. As an undercover agent tasked with finding the supplier of a mysterious drug called "Substance D", Arctor treads the line between his mission and dealing with being an addict himself. It's visually impressive, too, using a similar rotoscoping technique as Waking Life. So, while we could describe it all day, A Scanner Darkly is a movie that has to be seen to be believed.
4. Spun
Spun is a dark comedy that focuses on a group involved in a methamphetamine drug ring. The ensuing story is a strange experience, showing the dangers of all involved, from the people responsible for making the drugs, the dealers, and those that use them.
While hard-hitting and visceral in places, there is also some quality dark humour to be found here. With a soundtrack of some of the best metal bands (there's even a cameo from Judas Priest's frontman Rob Halford), Spun offers a thrilling, non-stop cautionary tale.
5. The Wolf of Wall Street
Based on the memoir by Jordan Belfort, The Wolf of Wall Street is the shocking semi-true story of excess, drugs and stockbroking in the late 1980s. With a fantastic cast (Leonardo DiCaprio, Jonah Hill, and Margot Robbie) led by legendary director Martin Scorsese, you know you're in for a great movie before it's even started.
Sit back for the 179-minute runtime and watch Jordan Belfort (Leonardo DiCaprio) as he rises from being a no-name junior stockbroker to the head of the shady Stratton Oakmont brokerage. The Wolf of Wall Street is a rise and fall story like no other; It's hilarious from start to finish, and, if you ask us, completely unforgettable.
6. Limitless
In Limitless, Bradley Cooper plays Eddie Morra, a struggling writer who is frustrated by his life. That is, of course, until he is introduced to the new drug "NZT-48," a pill that can unlock all of the hidden potential in his brain. This allows him to become "limitless" in his intelligence and ambitions. While everything seems much better for Eddie on the surface, the reality is not what it seems, and his struggles escalate beyond belief. A fascinating science fiction thriller, Limitless subverts expectations to offer a gripping and memorable experience.
7. Trainspotting
If there was ever an advert to show the effects and the unglamorous lifestyle of heroin addiction, Trainspotting would be it. Based on the book of the same name by Irvine Welsh, this is a visceral movie that tells the story of addict Mark Renton (played by Ewan McGregor). It's set in 1990s Edinburgh, Scotland, and follows Mark's numerous attempts to become clean.
Things are not that easy though. With some truly striking moments, Trainspotting has become one of the most popular drug movies in history.
8. Training Day
A multi-award-winning movie, Training Day follows the story of narcotics detective Alonzo Harris (played by Denzel Washington) and his task of evaluating officer Jake Hoyt (Ethan Hawke).
The result blurs the lines between law and crime, as it becomes clear Alonzo is a reckless and corrupt cop who's heavily involved with the Russian Mafia and local street gangs. He manipulates and blackmails Jake throughout, driving him further to the edge with every moment. If you love action-packed crime stories, this is nothing short of a must-watch.
9. Sicario
Depicting the "war" aspect of the war on drugs, Sicario is an action-packed movie that focuses on a government task force's efforts to fight Mexican drug cartels. They enlist FBI agent Kate Macer (played by Emily Blunt), who learns that the government's methods are not exactly legal.
This is confirmed when they bring in the mysterious and foreboding Alejandro Gillick (Benicio del Toro). See, Alejandro has a history with the cartel and may have some ulterior motives for his involvement. As it all comes together, it offers some amazing bits of action coupled with some claustrophobic and often brutal scenes.
10. Fear and Loathing in Las Vegas
Seen by many as the ultimate drug movie, Fear and Loathing in Las Vegas is based on the semi-autobiographical book of the same name by acclaimed author, Hunter S. Thompson, and directed by Terry Gilliam. The iconic story follows a road trip taken by journalist Raoul Duke and his lawyer Dr. Gonzo. Aided by some intense psychedelic drugs, there are some truly trippy scenes and hilarious moments to be found throughout. Thought-provoking at times, but always bizarre, Fear and Loathing in Las Vegas is a film that demands your attention.
11. City of God
City of God is a no-holds-barred, and often brutal, story set in Rio de Janeiro. Spanning several decades, the movie shows a group of friends rising to power from their beginnings as petty street criminals. While some movies look to glamourise the use of drugs and the crime syndicates behind them, City of God shows an unflinching illustration of life in the favelas during these times. Gang warfare, police corruption and drug cartels are a consistent presence, making for a captivating viewing that will stay with you long after the credits roll.
12. Lock Stock and Two Smoking Barrels
Guy Ritchie's major directorial debut, Lock Stock and Two Smoking Barrels is the quintessential British crime movie. After losing a rigged card game, Eddie must come up with £500,000 to cover his losses. He and his friends hatch a plan to try and rob their criminal neighbours after overhearing they have acquired a large quantity of cannabis.
Of course, as you could suspect, not everything goes to plan, and there are hilarious scenes that ensue. These are also offset with some nail-biting tense moments—all making for a movie that is considered to be a true classic.
13. Pulp Fiction
After the release of Quentin Tarantino's debut, Reservoir Dogs, the world was wondering what this critically acclaimed director would do next. Just a few years later, Pulp Fiction arrived.
This is a non-linear movie that plays with your expectations of what a crime movie should be. Sharp humor is offered in spades, but there are also many unforgettably intense scenes, including an overdose depiction that perfectly captures the panic and regret of the moment. No matter what it's discussing, the film pulls absolutely no punches.
Considering all this, it's no wonder that university dorm rooms across the world have Pulp Fiction posters hung up on the walls.
14. Scarface
As screenwriter Oliver Stone's "farewell love letter" to his cocaine addiction, Scarface is a remake of the 1932 movie of the same name. In case you've somehow missed out, the movie follows Cuban refugee Tony Montana's rise to the top.
As the film progresses, you can see his use of cocaine ultimately undermines his hunger for power and success. With plenty of on-screen violence and drug use (apparently powdered milk was used as a substitute), it all culminates in one of the wildest showdown scenes ever filmed. Scarface, as a result of the gripping subject matter and near-perfect execution, has retained its cult classic status and prestige for decades.
15. Requiem for a Dream
Requiem for a Dream is an unwavering look at addiction and the circumstances that surround it. Each character has unique personalities, aspirations, and dreams, making their harrowing story of heroin dependency and downward spiraling far more potent.
Depicting incarceration, prostitution, and everything in between, it's clear the director and writers refused to hold back in presenting the subject matter. With an impressive cast (including Jared Leto), Requiem for a Dream is seen as one of the most depressing yet thought-provoking movies ever made.
Best Cannabis Strains to Smoke While Watching Movies
So now you know what to watch, but now you're probably wondering what to smoke during the movie. Keeping that in mind, we've put together a short guide that will show you which one to pick for each genre. It's all subjective, of course, but we think these specific pairings are worth your consideration.
Girl Scout Cookies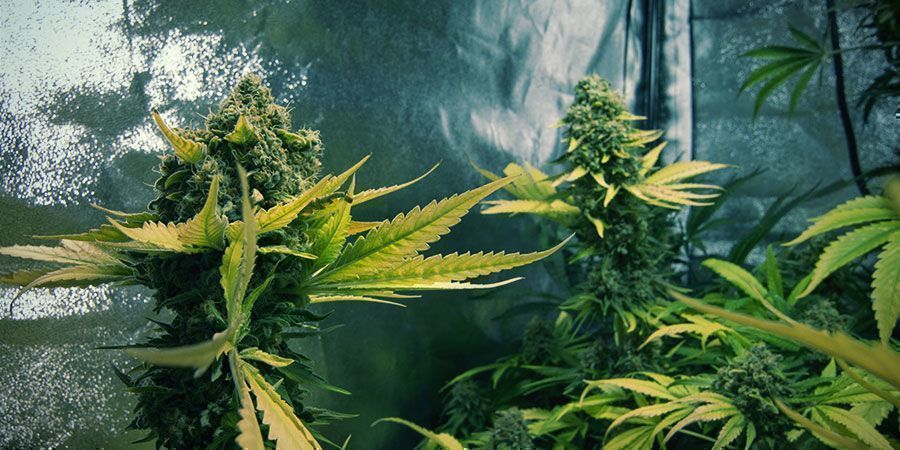 If you're looking for a full-body, cerebral high that will complement any movie night, look no further than Girl Scout Cookies. There's no need to stock up on sweet treats and popcorn, as this strain features earthy sweet flavors and aromas that'll offer pure bliss.
Coupled with an average of 23% THC, this indica-dominant strain will offer a relaxing high that won't put you to sleep. So you can sit back, sink into your chair and enjoy the movie. Sounds like a perfect combination to us.
White Widow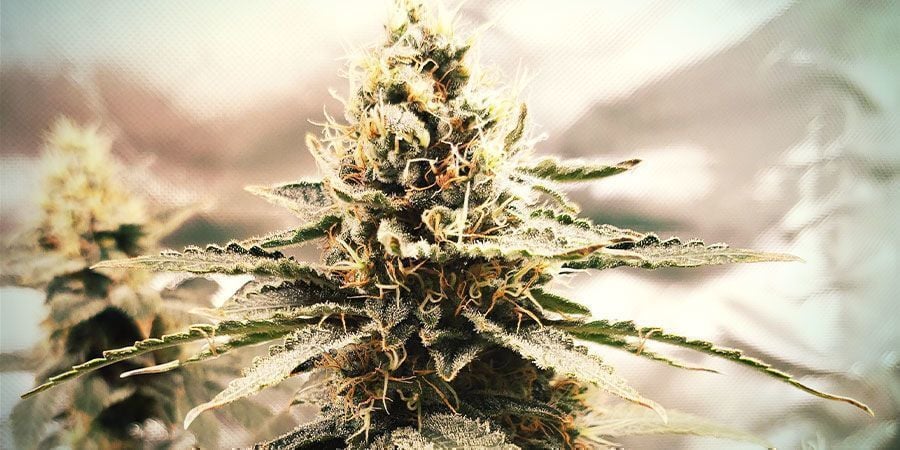 Seen as one of the most famous strains around, we couldn't make this list without White Widow. This sativa/indica hybrid strain comes highly recommended from us, along with all those that try her. With a refreshing pine and citrus flavour and aroma, along with an average THC content of 18%, White Widow offers a delicious and soothing experience.
But take it easy with her! Despite the sub-20% THC content, she can pack a punch that can knock you out if you aren't careful. Just take a few hits and make sure you're awake for the end of the movie!
Purple Kush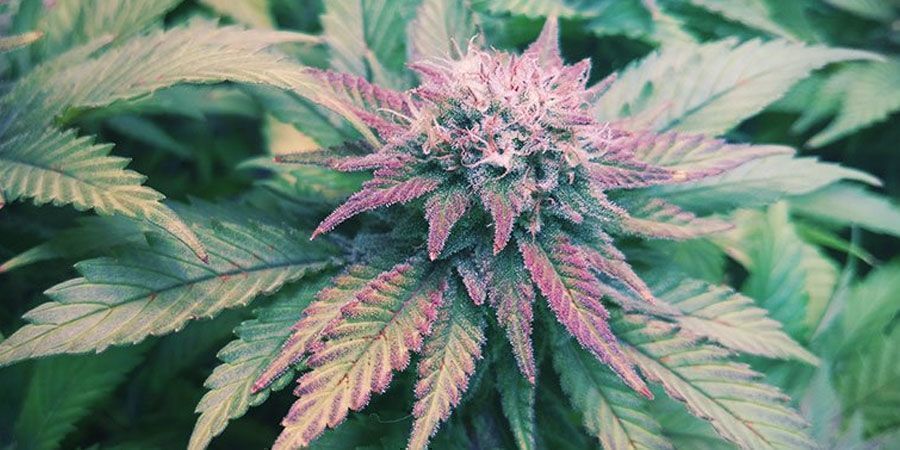 Not just beautiful to look at, Purple Kush is an indica-dominant strain with effects that're just as striking as her looks.
Starting with her subtle, sweet and herbal aroma and flavours, she is sure to put a smile on your face. That smile will only grow wider as you feel the full soothing sensation of her 22% THC nugs. All that goodness is wrapped together in each powerful hit, perfect for indulging while you put your favourite movie on.
Dim the lights, light up your favourite flower, and enjoy your movie night!