Blog

4 min
Frosted Guava: Cannabis Strain Review & Information
4 min
The result of crossing Guava and Frosted Skywalker, Zamnesia's Frosted Guava is an indica-dominant hybrid that boasts delicious aromas, plenty of THC, and a super-balanced high perfect for enjoying at any time of the day.
Looking for a new indica powerhouse to add to your garden? Frosted Guava by Zamnesia is packed with THC and exotic terpenes, producing a big, sweet tropical aroma alongside an inspiring, creative, and physically relaxing high.
Characteristics of Frosted Guava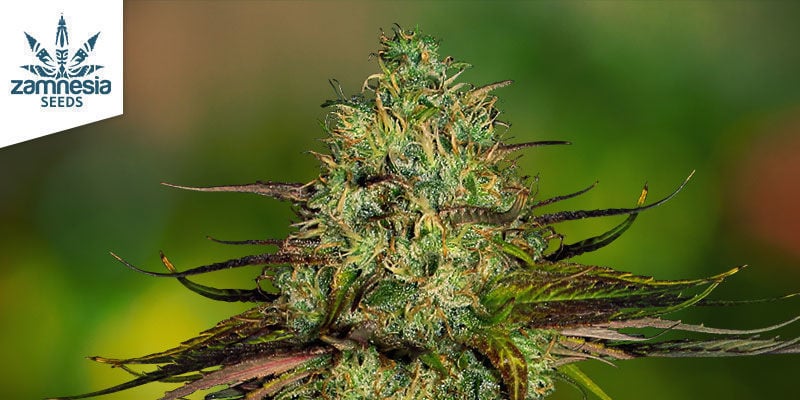 Frosted Guava is the result of crossing two top-shelf strains from the US: Guava and Frosted Skywalker. The sweet progeny exhibits a robust indica-dominant character and bears high levels of THC and fruity terpenes with a hint of petrol.
| | |
| --- | --- |
| Genetics | 70% Indica / 30% Sativa |
| Parents | Guava x Frosted Skywalker |
| THC | 22-25% |
| CBD | <3% |
| Flavours | Sweet, Tropical |
| Effects | Uplifting, Social, Creative |
Frosted Guava's first parent, Guava, is a unique Gelato phenotype with bold, fruity aromas and an uplifting, energetic high. Originally bred by the geniuses at Cookies Fam (who brought us Girl Scout Cookies, London Pound Cake, Cereal Milk, and many other exotic strains), Guava also boasts a great THC concentration.
Frosted Guava's second parent is Frosted Skywalker, a boutique strain from Mosca Seeds that combines Skywalker OG and Frosted Zin genetics. Its strong indica dominance gives it a short stature, tight bud structure, and the ability to produce tons of resin packed with rich aromas and plenty of THC.
By crossing and stabilising Guava and Frosted Skywalker over several generations, the breeders at Zamnesia were able to produce an offspring that combines all the best traits of its predecessors. Frosted Guava's aroma, for example, combines the tropical notes of its Guava parent with the petrol-tinged, grapey aromas of Frosted Skywalker.
Plus, like both its parents, Frosted Guava is packed with THC (up to 25%, depending on environmental conditions and the skill of the grower) and delivers a long-lasting high that combines a creative burst of energy with subtle physical relaxation.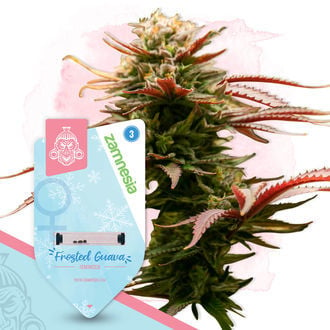 View
How to grow Frosted Guava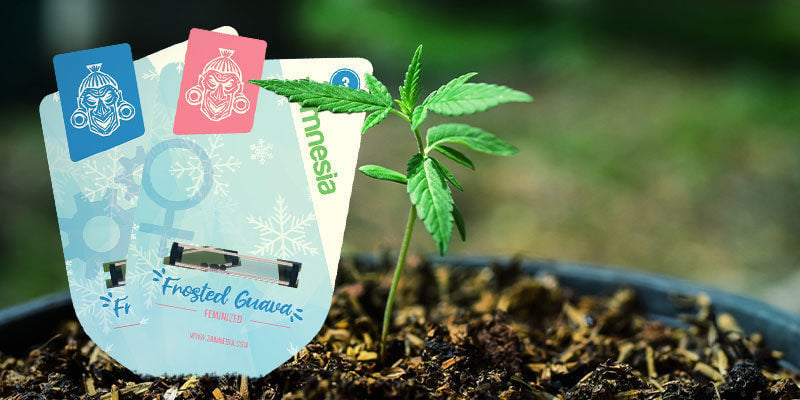 Given its stellar genetics, Frosted Guava is a pleasure to grow, and performs well both for rookie growers and veterans alike.
| | |
| --- | --- |
| Grow Difficulty | Beginner |
| Best Suited to Grow | Indoor / Outdoor |
| Climate | Temperate / Mediterranean |
| Variety | Feminized / Automatic |
| Height Indoor | 100 cm |
| Height Outdoor | 150- 200cm |
| Flowering Time | 10 weeks |
| Harvest Period (Outdoor) | Mid/Late October |
| Yield Indoor | 400-450g/m² |
| Yield Outdoor | 450-500g/plant |

Thanks to its balanced genetics, Frosted Guava thrives in a variety of situations. If you're working with a small tent or room, you can throw these seeds in 10–15l pots and still get great results. Thanks to their indica dominance and short internodes, Frosted Guava plants can stay fairly stocky and stretch only a small amount once you flip them over to bloom.
On the other hand, if you're an outdoor grower with plenty of space who loves to cultivate big, towering plants, Frosted Guava won't disappoint either. Sow your seeds in the biggest pots you can find, or directly in the ground, and these ladies will easily reach 180–200cm, or even taller in some cases.
Both indoors and outdoors, Frosted Guava responds extremely well to pruning and defoliation. As they are indica-dominant, these plants grow thick foliage characterised by big, broad leaves that are best pruned regularly to ensure maximum light penetration through the canopy. If you're an advanced grower, don't be afraid to use more stress-heavy techniques on this strain. Frosted Guava appreciates techniques such as lollipopping, main-lining, topping, and super cropping (the latter is great for opening up the canopy while also boosting nutrient uptake).
LST and ScrOG also work particularly well on this strain, promoting better air circulation and light penetration. Alternatively, the stable and reliable genetics of these plants means they stay uniform, which is exactly what you need in a successful SOG setup.
Frosted Guava plants need around 70 days in bloom to reach maturity. As they approach their final weeks of flowering, these ladies will fatten up notably, developing thick, dense buds that reek of ripe tropical fruit and petrol. Depending on the height of your plants, you may want to use stakes to help them support the weight of their flowers. Also, consider dropping the temperature and relative humidity in your grow space as you approach harvest time, to help the plants produce more resin and avoid running into issues with mould.
After these 10 weeks, Frosted Guava should reward you with yields of up to 400–450g/m² indoors and roughly 450–500g/plant outside.
Frosted Guava Automatic: Frosted Guava, faster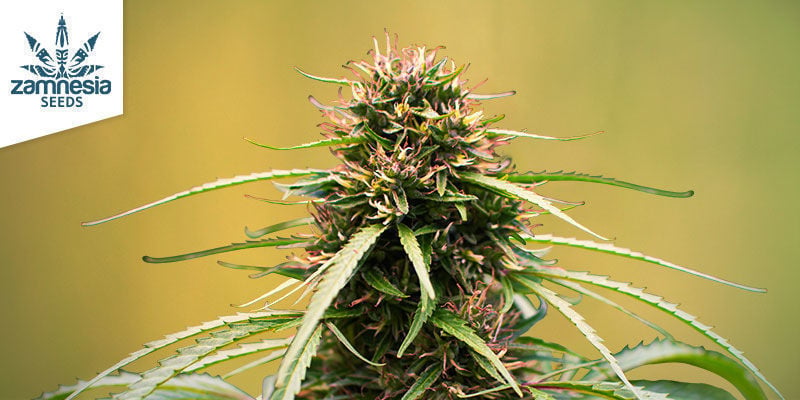 If you love the speed and size of autoflowering plants, you're in luck. Along with releasing Frosted Guava in feminized form, Zamnesia has also made the strain available in a super-fast, reliable auto seed.
Frosted Guava Automatic packs the aroma, potency, and amazing high (described in more info below) of the original Frosted Guava in a simple auto package. Thanks to their ruderalis genes, Frosted Guava Auto plants grow a little smaller than their photoperiod-dependent cousins, and hence may also yield a little less—although an experienced grower will know how to push these plants to their maximum potential (which is roughly 500–550g/m² indoors or 60–100g/plant outdoors).
Best of all, Frosted Guava Auto takes just 75 days to go from seed to harvest, at which point it'll reward you with delicious, fruity, and potent buds—just like its photoperiod counterpart.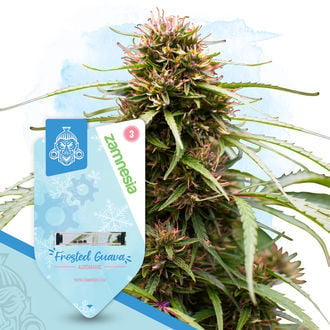 View
Frosted Guava: flavour and effects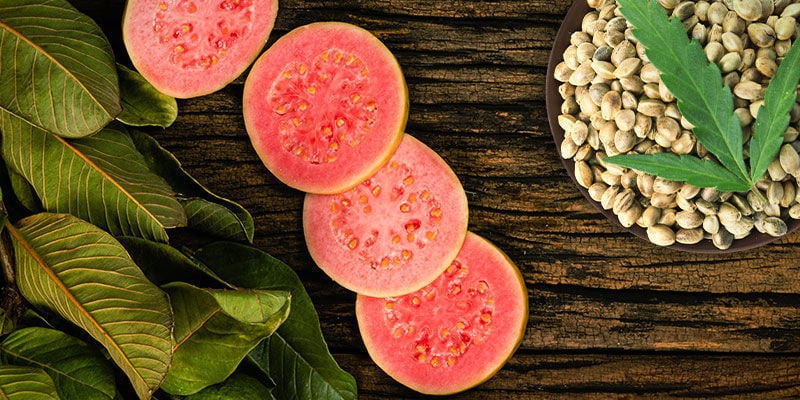 Thanks to its genetics and the handiwork of Zamnesia's expert breeders, Frosted Guava makes for a delicious smoke and delivers an exceptional high. Given its indica dominance, the strain produces thick, resinous buds that lend themselves extremely well to hash or rosin production.
Frosted Guava is mainly a THC-rich strain, producing 22–25% THC and low levels of CBD and other secondary cannabinoids. A complex mix of terpenes gives Frosted Guava a very rich aroma that combines sweet melon and guava overtones with hints of red fruit (reminiscent of cherries and berries) and fuel. As you inhale your first toke of Frosted Guava, you'll notice its sugary sweet flavour and an almost-instant rush of energy.
As its effects continue to build, you'll likely experience a boost in mood, creativity, and sociability, coupled with an underlying physical relaxation. Thanks to its balanced effects, Frosted Guava makes for an exceptional smoke during the day (in moderation) or at social gatherings.
Frosted Guava: A tropical treat perfect for any time of the day
Looking for a new hybrid or auto to add to your garden? Zamnesia's Frosted Guava boasts exceptional aromas, potency, and stable US genetics. Whether you're a first-time grower or a seasoned veteran, Frosted Guava is sure to be a great addition to your setup, meeting your highest expectations come harvest time.