Blog

3 min
How To Make Cannabis-Infused Bath Bombs
3 min
A bath can be made so much more soothing with a bath bomb. It is now possible to make your own cannabis-infused bath bombs at home. Our step-by-step guide will point you to the best strains and ingredients to use for this experience.
With the cannabis industry boom, people have found more and more innovative ways to use the plant. It is even possible to absorb cannabinoids through the skin. Cannabis patches provide a slow release much like nicotine patches, and topical oils and creams deliver cannabinoids locally through the pores of the skin. Reportedly, this method makes CBD 10 times more permeable than THC. So, taking cannabis through the skin may be great for a soothing, wholesome experience. Combining it with a bath is delightful. There are now cannabis-infused bath bombs that can actually give you two-in-one! Our guide will show you how to make your own at home.
BENEFITS OF BATH BOMBS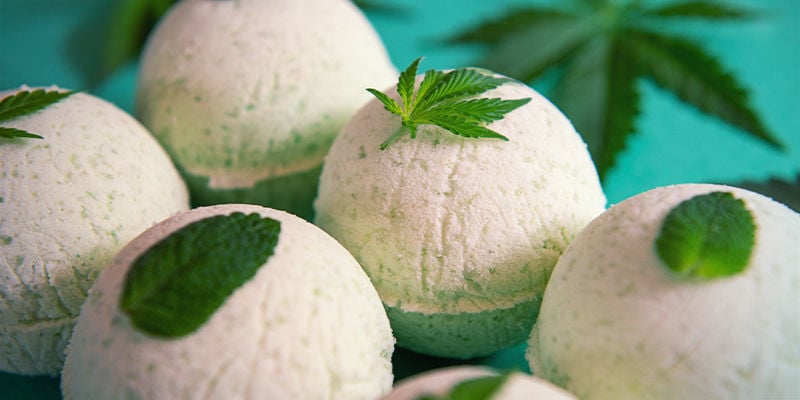 You may know that a bath bomb is a ball of dry ingredients that fizzes in your bath to create a tranquil effect, but you may not have heard about incorporating cannabis into the mix. Taking cannabis this way won't just make for a relaxing bath that releases melatonin and aids sleep; you will also receive the benefits of the cannabinoids contained within—without getting high in the process. This is because the psychoactive cannabinoid THC can be absorbed into the skin, but does not pass the blood-brain barrier to get you stoned.
Bath bombs are multifunctional; there are chemicals that cleanse and repair the skin, leaving it with a pleasant fragrance. Plus, the steam of the bath decongests your lungs and sinuses. The pores opening up will take in the cannabis infusion. Given that baths are great for circulation, your blood flow will distribute cannabinoids quite nicely. To have this calming experience for yourself, get started with our vegan recipe for your own homemade cannabis-infused bath bomb below. Here is what you will need once you have prepared cannabis-infused coconut oil.
IDEAL CANNABIS STRAINS TO USE IN YOUR BATH BOMB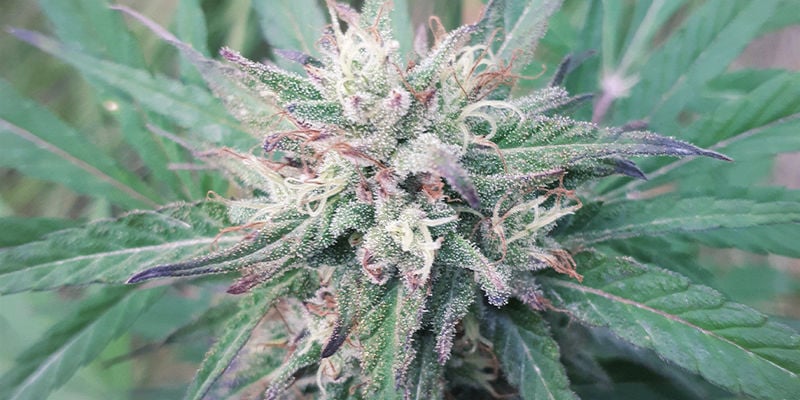 Even before preparing your cannabis-infused coconut oil, it matters a great deal which strain you choose. We have three recommendations for cannabis strains, all of which work really well as part of this recipe. Each has been developed for therapeutic purposes to a high standard of quality.
CBD Fix Auto is the result of combining Northern Lights Auto with an undisclosed, super CBD-rich cannabis variety. This is a sativa-dominant hybrid with an negligible amount of THC (0.8%) and 7–15% of CBD. Using this in your bath could be a very soothing experience. Relax, light some candles, and enjoy the pampering that a bathtub full of CBD Fix Auto will provide.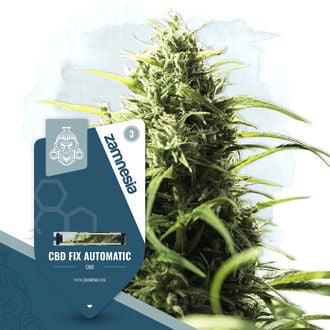 View
Candida (CD-1) holds distinction for containing some of the most CBD and least THC in a cannabis plant. If you are looking for a bath bomb that boosts CBD's properties, this is your best shot in the world. The CBD:THC ratio can sometimes exceed 20:1. THC content rarely reaches over 1%, whereas the CBD content of Candida (CD-1) can range from 10.6–20.6%.
As the name suggests, BCN Diesel CBD has a diesel aroma of sweet citrus with spicy notes. The name also alludes to its impressive CBD content. The THC:CBD ratio is roughly 2:1. CBD content usually measures around 7%, with THC around 13%. This leads to a dynamic CBD experience rarely found in other plants.
INGREDIENTS
20 drops of essential oil (whichever scent you want for your bath water and skin)
5 drops of food colouring (whichever colour you want for your bath water)
3 tbsp cannabis-infused coconut oil
HARDWARE
2 small Dixie Cups or shaped cups
Measuring cups and spoons
INSTRUCTIONS
Use a sieve to mix the baking soda, citric acid, and cornstarch in a bowl.

Get another bowl to mix the wet ingredients: witch hazel, essential oil, food colouring, and your cannabis-infused coconut oil.

Gradually add the wet ingredients to the first bowl, while kneading the mix with the rubber gloves on your hands.

Knead slowly until you are left with a damp powder with minimal foam. Kneading too quickly creates more fizz. Once the colour from the dye is evenly distributed, you're ready to start moulding.

Take a ¼ cup of the powder and pack it tightly into your Dixie Cup, or whichever cup you're using.

Flip the cup and place the newly-formed bath bomb onto a wax paper-covered cookie sheet.

Repeat steps 5 and 6 until you have used all the mixture.

Leave your bath bombs to dry out over 1–3 days.

When dry, wrap the bath bombs tightly and store them in the fridge.

Chuck one into your next bath and enjoy.
OTHER USES FOR BATH BOMBS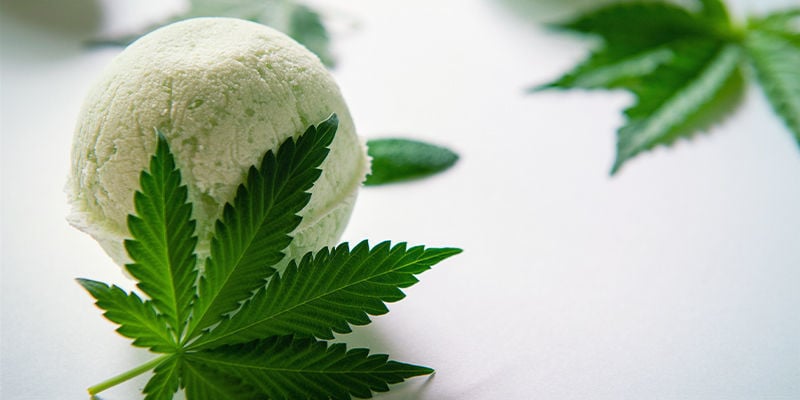 There may be something strange afoot if this experience is not for you. Such a relaxing bath bomb should make for a great soak. You could certainly prepare these as a thoughtful gift for the bath-loving stoner in your life. But maybe that's not what you want to do with this mixture.
Just because they are called bath bombs doesn't mean they don't have other useful applications. You know that they fizz in water and release a pleasant aroma, right? Why not break off a chunk, dissolve it in water, and then bottle that water to use as a refreshing and cooling skin spron hot summer days?
You could also simmer water in a large pot, drop some of the bath bomb in, and let the cannabinoid-rich vapour fill your house.
As a final recommendation, why not take the substance and use it as a body scrub? Crumble chunks onto your skin as you shower and rub it in well. Or use the substance to make a sugar body scrub. There really is so much you can do with these, so get cooking.