Blog

4 min
How To Dry Magic Truffles
4 min
While magic truffles can be consumed fresh, those looking to store their haul for the short or long-term need to dry their truffles. But just how do you do it? In this article, we delve into everything you need to know about drying truffles. Whether you're looking to trip or schedule microdoses, we've got you covered.
When it comes to growing magic truffles at home, cultivation is only half the challenge. Once they've been harvested, unless you plan on eating all of them in one go, you'll need to dry out your truffles first to extend their longevity. This small task brings out the best in your psilocybin nuggets and ensures you experience the best trips possible. But how do you go about doing it? Allow us to show you everything you need to know about drying magic truffles.
Why is drying magic truffles important?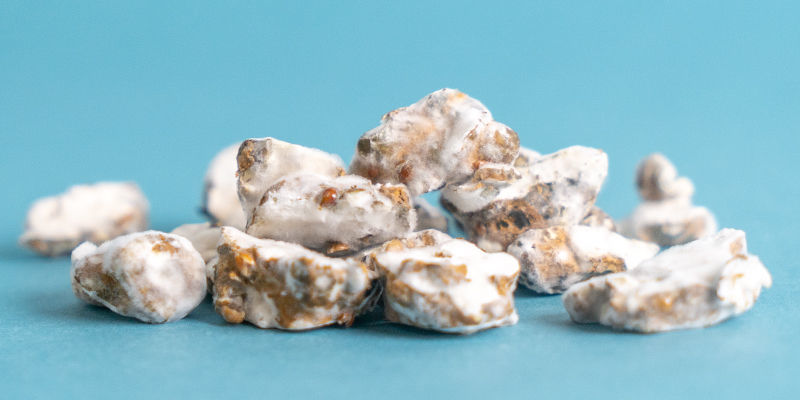 First things first; why is it so important to dry your magic truffles, aka sclerotia, in the first place? Does it serve any real purpose other than aesthetics? Despite fresh truffles containing significantly less water than fresh magic mushrooms, the presence of even a small amount of moisture still poses a threat to the viability of your stash, and can cause the growth of mould, rendering your truffles useless. Furthermore, by drying magic truffles, not only do you extend their shelf-life indefinitely, but by reducing the moisture content by around 60%, you also increase their potency, gram for gram, compared to fresh truffles.
Pre-drying magic truffles
Before thoroughly drying your magic truffles, it's advised to "pre-dry" them. This is the process of removing the lion's share of the moisture content, and is incredibly simple to achieve. Once you've collected your haul, place your truffles onto a sheet of newspaper, some kitchen towel, or a piece of card, with about a 1cm gap between them.
If you want, you can slice or break up your truffles into a more manageable size. In smaller pieces, they are more likely to pre-dry much faster and consistently compared to full-sized sclerotia. Overall, it takes just a few hours for the pre-drying process to be completed. From here, you can choose a method to thoroughly dry them out and remove any lingering moisture.
How long do magic truffles take to dry?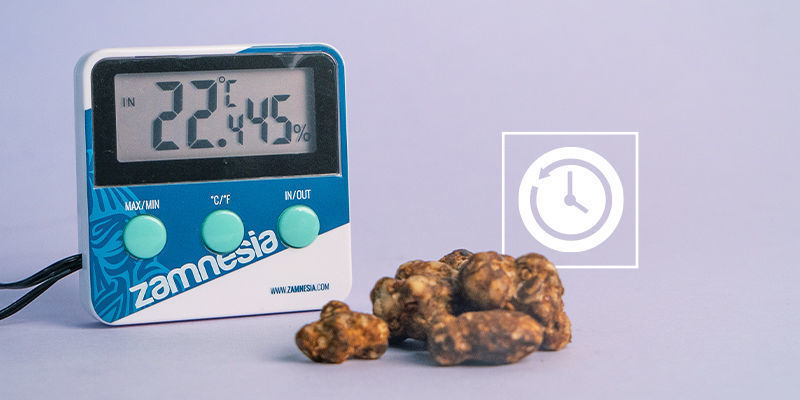 So, just how long does it take for magic truffles to become sufficiently dry? This depends on the method of drying, as well as other factors, such as temperature and relative humidity. That said, it can take as little as 12 hours and as long as one week to get your hands on some perfectly dried truffles.
Truffles will shrink and harden as they dry out, so you'll know they're ready if you cut one open and the inside is bone-dry. To make life easier for you, we'll provide an expected drying time for each method below.
How to dry magic truffles
There are numerous ways to effectively dry your magic truffles at home, and none of them require much equipment or hassle. From heat mats to dehydrators and even some simple items found around the kitchen, excess moisture is no match for you. With that in mind, here are the top ways to dry your truffles.
Air drying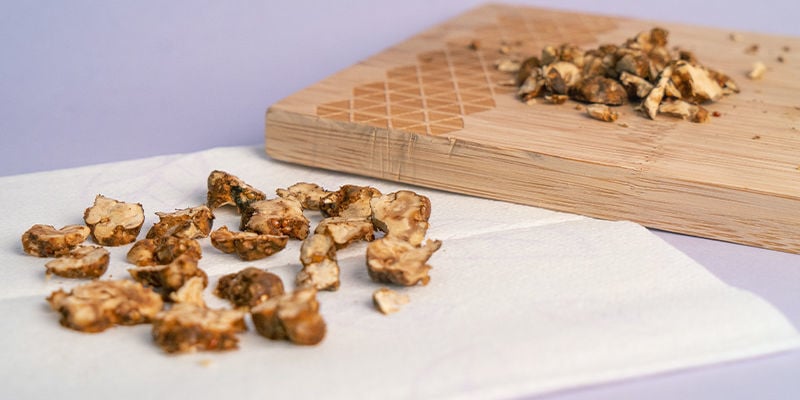 Similar to the pre-drying method, you can actually leave your truffles out in the open and continue the drying process without intervention. However, it's worth noting that, while this is arguably the cheapest and easiest way to dry your truffles, if the environment you're drying in has high humidity levels, your truffles may never dry out fully.
With this in mind, you can always bring in a dehumidifier and run a fan to keep things on the dryer side. Furthermore, be sure to keep your truffles out of direct light. Air drying can take several days, up to a week, to render your truffles thoroughly dry.
Dehydrator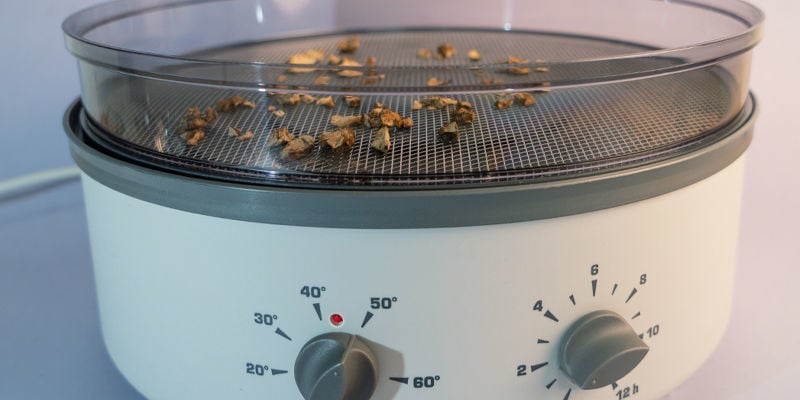 If you have a dehydrator at your disposal, you can definitely use that to dry your truffles. This device provides a constant but gentle heat source that is easily controllable. Although they can be relatively expensive to purchase, dehydrators offer an excellent way to dry your truffles evenly and fairly quickly.
All you need to do is dial in a low temperature of around 50°C and set the timer for 8–12 hours. This will provide an ample amount of time for the truffles to sufficiently dry. An excellent way to test if they've ready is to give them a little pinch. If your truffles still have a little give and feel soft, they're not done just yet. If they're solid and begin to crumble or break in your fingers, you've got some high-quality truffles that are good to go.
Heat mat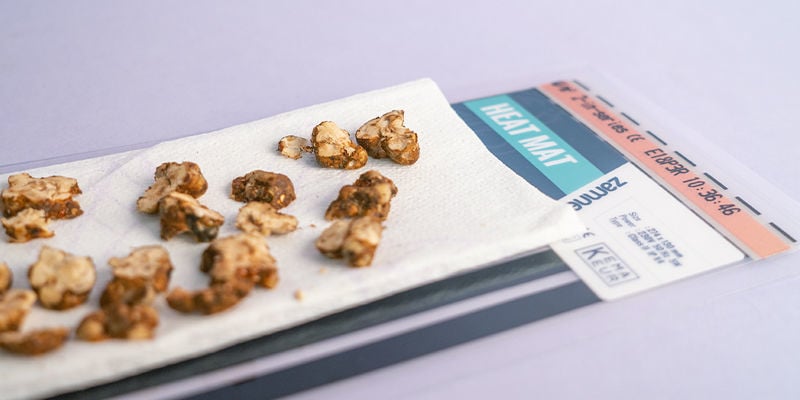 Any magic mushroom or truffle cultivator worth their salt will undoubtedly have a heat mat in their arsenal of growing gear. And while it provides the perfect temperature for your mycelium to form, did you know that, with just a little tinkering, you can also use it to dry out your truffles?
Simply dial it into a lower heat setting, rest your magic truffles on a piece of paper towel or card, and place it over the heat mat for around 12 hours. Be sure to keep the humidity in check, and to periodically move your truffles around on the towel or card, and your stash will be dried and ready before you know it.
Sushi mat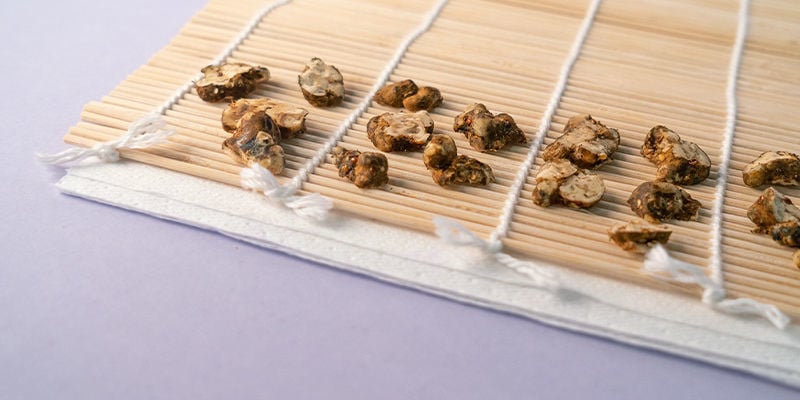 That's right, avid sushi chefs can also use their mats to dry their truffles. Place your sushi mat on a couple of sheets of paper towel to catch any excess moisture, then arrange your truffles on top of the mat. It's as simple as that. Note that this drying method takes around 3 days to complete. Again, keep the humidity under control and place your sushi mat in a dark environment for best results.
How do you know when magic truffles are dry?
As mentioned, your biggest clue that your truffles are dry is a tough and hard exterior. By giving them a small squeeze, or even cutting into them, they should react like small stones. If they are soft to the touch, your truffles need a little longer to dry out. So be patient and make sure to give your stash the time it needs to fully dry out. The last thing you want is to discover mouldy truffles a few months down the line.
Storing magic truffles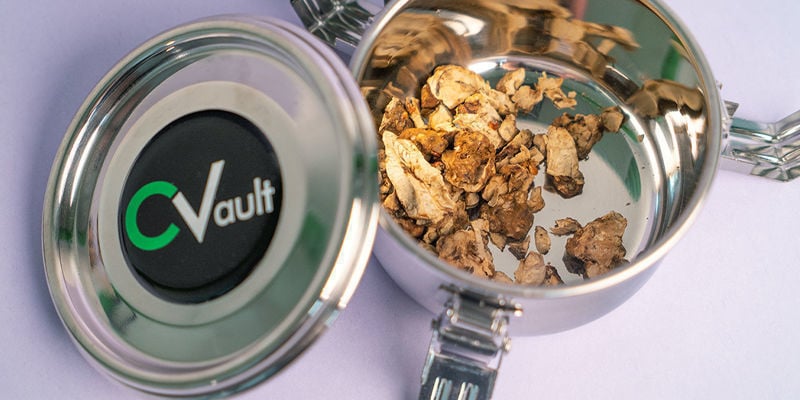 Now that they are dried, what do you do with your abundance of psilocybin truffles? Well, if you're looking to use them straight away, it's worth noting that due to their hardened exterior, you can't consume them like you would fresh magic truffles or magic mushrooms. So it is best to mill them using a coffee grinder or dedicated truffle grinder to make the most of your sclerotia.
Also, note that the recommended doses differ with dried truffles compared to fresh ones. So adjust accordingly. If you're unsure, consult our magic mushroom and truffle dosage calculator for an accurate dose.
However, if you're looking for a short-term or long-term storage solution, thankfully, there are plenty of options. While your dried truffles can be vacuum sealed and kept in the fridge for up to 2–3 years, you can also simply store them in an airtight container or jar and place them in a cool, dark place; they'll offer up untainted potency for around 6 months.
And if you're looking for your dried truffles to really go the distance, you can place them in a ziplock bag and store them in the freezer. Here, they can last indefinitely. These are just a few ideas to consider when looking at storage solutions; in fact, we've created an article detailing every step you need to take to guarantee proper storage for your truffles and shrooms.
Regardless of how you're looking to store your magic truffles, there's no doubt that drying them thoroughly beforehand is the best way to preserve them for a long time to come.