Blog

1 min
Find A 'Higher' Calling With Your Cannabis Cookies

1 min
Cannabutter is the best "secret ingredient" to give your cuisine that extra special "zing". Give this recipe for choco-coconut logs a try and share with your friends in the know.
Baking with cannabis can be an engaging, if not creative, way to express your canna-obsession. Just be careful about who you share your baking secrets and final product with.
As a 74-year-old resident of Bloomington Indiana and regular at St. John's Apostle Catholic Church, identified only as "Mr. Jones", found out when he shared his secret recipe with fellow parishioners last year, forewarned is always better. Several congregants aged 12–70 years old ended up in the hospital complaining about adverse effects including lethargy and nausea after sampling Jones' contribution to the collection plate. Apparently, congregants did not notice anything unusual about the taste except that the cookies tasted a bit "salty".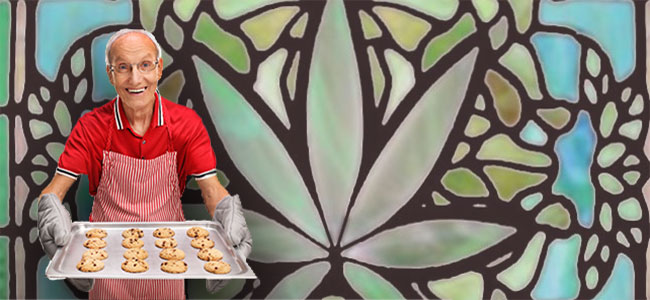 Now accused of lacing his homemade cookies with cannabis, Jones denies adding anything "illegal" to his concoction, although all congregants tested positive for cannabis and police found an orange pill bottle containing marijuana oil capsules at his house. Jones turned himself in after a warrant was issued for his arrest. The congregation is "praying for everyone involved" according to Father Daniel Mahan of the church.
BAKE IT OFF LIKE MR JONES
As long as your recipients know what is in store for them, cooking cannabis goodies can be a labour love, and a much-appreciated gesture. It is also pretty easy to do if you are prepared and practice a bit. The following is a recipe for guaranteed, choco-canna goodness.
REQUIRED INGREDIENTS
½ cup (120g) cannabutter or ingredients and tools to make the same
1 package (2 cups/480g) chocolate chips
1 package (2 cups/480g) marshmallows
1 teaspoon vanilla extract
1 cup (240g) chopped walnuts
2 cups (480g) flaked coconut
1 saucepan
1 baking sheet
Melt the butter and chocolate chips in a heavy saucepan over medium heat until smooth and creamy. Add the vanilla and fold in the marshmallows and walnuts.
Sprinkle the baking pan with flaked coconut to completely cover the surface of the pan and then pour your chocolate mixture over it in two long oblong "log" shapes. Sprinkle the remaining coconut over the top of the mixture.
Refrigerate until the logs are firm (about an hour) and then cut logs into several centimetre wide slices.
Written by: Marguerite Arnold
With years of writing experience under her belt, Marguerite dedicates her time to exploring the cannabis industry and the developments of the legalisation movement.

Find out about our writers
---