Watermelon Candy: Strain Review and Information
3 min
Her name is no happy accident; Watermelon Candy is set on providing candy-sweet flavours tinged with berries and citrus. However, her effects and ease of growth will win over even more fans! Take a look at what she's about before picking her up for yourself. This is one easygoing plant that all will enjoy.
Sometimes a strain comes along that encapsulates everything a cannabis grower is after. From an easygoing and rewarding cultivation experience to the eventual harvest of sugary, sweet-tasting buds teeming with superb effects—it has to be Watermelon Candy. This unforgettable cultivar is bound to adorn many a grow room in the near future, and for many years to come. Read on to find out everything you'll be in for once you get hold of these seeds.
Characteristics of Watermelon Candy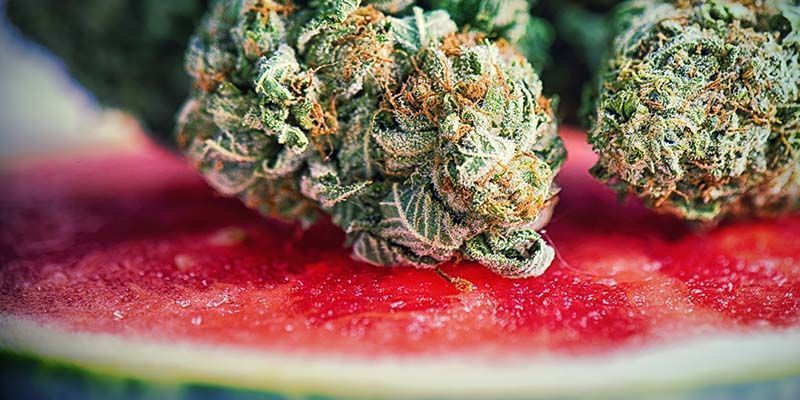 Watermelon Candy is perhaps most notable for her fruity-sweet flavour and aroma. But by no means is she lacking in other areas! She's a 50/50 sativa/indica hybrid that truly offers the best of both worlds in terms of effects, and she's an effortless growing project that will perform in almost any setting or environment you can think of.
| | |
| --- | --- |
| Genetics | 50% Indica / 50% Sativa |
| Parents | Watermelon x Candy Kush |
| THC | 21% |
| CBD | Low |
| Flavours | Sugar, Berries, Citrus, Earth |
| Effects | Uplifting, Relaxing, Happy |
As a passion project from the good folks at Zamnesia Seeds, Watermelon Candy was born out of a potent pairing of Watermelon and Candy Kush—two flavourful heavy-hitters and legends in their own right. Watermelon Candy takes the finest points of her heritage to offer an undeniably satisfying smoke, sure to wow everyone who has the pleasure of trying her. With a moderate THC content of around 21%, her uplifting high is certainly one to turn to after a long day.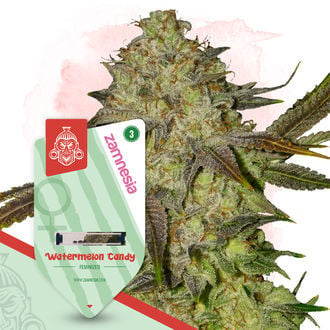 View
How To Grow Watermelon Candy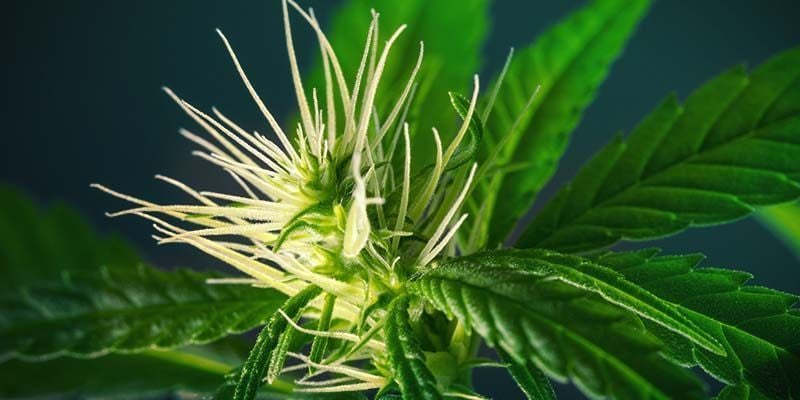 Thanks to some solid feminized genetics, growing Watermelon Candy is a fairly straightforward task suitable for all levels of expertise. So newcomers and seasoned cannabis growers alike can rest assured they're getting a cooperative and receptive plant in Watermelon Candy.
| | |
| --- | --- |
| Grow Difficulty | Beginner / Intermediate |
| Best Suited To Grow | Indoor / Outdoor |
| Climate | Warm, Temperate |
| Variety | Feminized |
| Height Indoor | Medium |
| Height Outdoor | Medium |
| Flowering Time | 8 - 9 Weeks |
| Harvest Period (Outdoor) | Late September / Early October |
| Yield Indoor | 400–450g/m² |
| Yield Outdoor | Large |
Giving the grower plenty of options, Watermelon Candy flourishes both indoors and outdoors. As she's a modest, medium-sized plant, she's unlikely to take up too much room. All that's required is a little TLC and maintenance along the way to keep her in check and productive. However, those looking to implement LST and other training and pruning methods will find that Watermelon Candy reacts favourably.
When cultivated indoors, all that's needed is a suitable growing room, tent, or closet space. Coupled with a consistent light source and plenty of ventilation, Watermelon Candy will easily settle in for her growing cycle. With an average flowering time of around 8–9 weeks, she certainly doesn't hang around long, but still churns out rewarding yields of up to 450g/m².
If you're fortunate enough to have a reliable outdoor space, balcony, or even a greenhouse to grow her in, you'll be blown away by just how well she performs. Watermelon Candy is a resilient and robust plant that is well-equipped to the conditions of the great outdoors. As a rule of thumb, position her somewhere where she can get plenty of light, and come late September or early October, you'll be golden.
Watermelon Candy: Flavour & Effects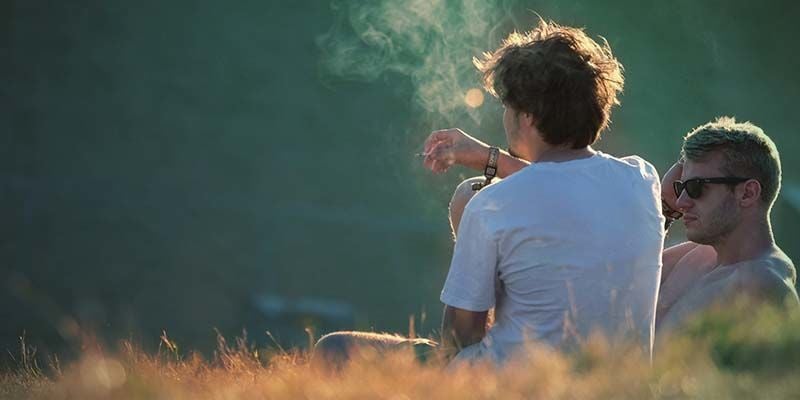 While Watermelon Candy is an awesome growing project, her flavours and effects are where she really shines. With a name like hers, what else would you expect? Whether smoked or vaporized, users will instantly get a hit of sugary-sweet berries coupled with some invigorating citrus tones, rounded off with an earthy note that keeps the flavour complex yet grounded.
With an average THC content of 21%, Watermelon Candy showcases a potent high that is equally uplifting as it is relaxing. After just a few pulls, users can anticipate a strong, upbeat rush of energy that is jovial, and will perhaps inspire socialising. While the high is rich throughout, it eventually settles into a deep relaxation that aims to soothe after a long day. With great flavours, aromas, and effects, let Watermelon Candy take over, and bask in everything she has to offer.
Watermelon Candy Automatic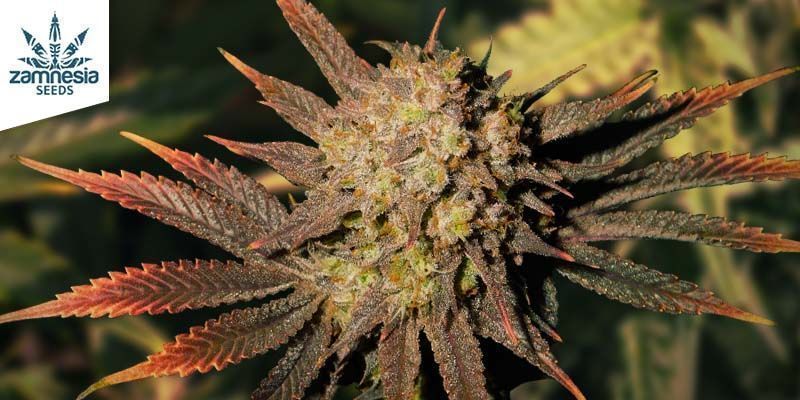 While the original Watermelon Candy provides an easygoing home growing project, there is an option for those that want an even easier, and faster, ride. The team at Zamnesia Seeds combined the original strain with some quality ruderalis genetics to create an autoflowering variant that is truly effortless to cultivate.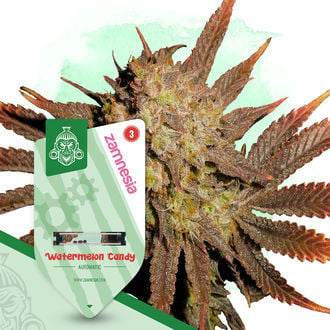 View
While she is more or less a copy of the feminized version, a few subtle differences set Watermelon Candy Automatic apart. For example, she takes only 9–10 weeks from seed to harvest, and with no light cycle changes to worry about, she'll automatically progress into her fruitful flowering cycle. Although she'll grow to a similar height, her yields are a little less abundant. Expect to harvest 350–400g/m² indoors and around 50–100g/plant outdoors. Her THC level is slightly lower at 20%, but she still provides the outstanding effects and flavours her parent has become known for.
Watermelon Candy: Ripe for the Picking!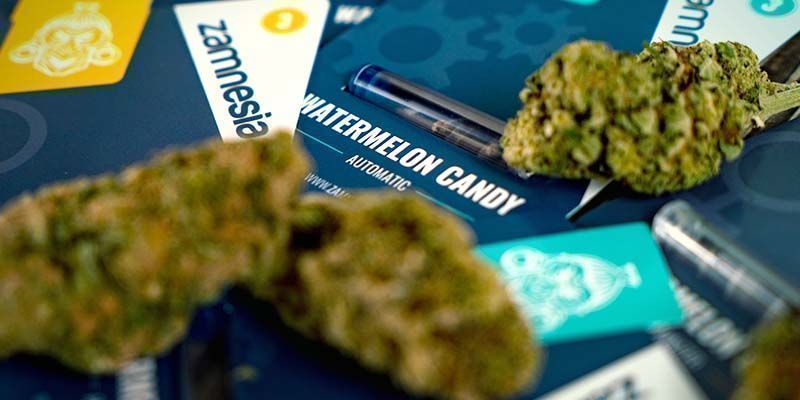 If you're looking for a no-fuss growing project that requires very little in the way of maintenance, opt for the autoflowering variant of Watermelon Candy. However, you really can't go wrong with either choice! The original strain has been fine-tuned to perform to a high standard, and features slightly better productivity and potency. It all comes down to what kind of operation you're running. But in any case, Watermelon Candy's dazzling aroma and flavour will permeate every grow.