Top 5 Most Expensive Bongs (And Zamnesia's Affordable Alternatives)

5 min
Lookout all you glam-stoners; here are five of the most expensive bongs ever, as well as five affordable alternatives from Zamnesia.
As cannabis becomes more popular, people are constantly on the lookout for better, more glamorous ways to enjoy it. And one sector that's attracting a lot of attention is bong manufacturing.
Top-shelf glass artists have identified a unique, cashed-up market of weed connoisseurs who are willing to drop big (and we mean really big) bucks for customised bongs.
And it's not hard to see why. I mean, what better way is there to enjoy weed than by ripping it through a $100,000 bong, right?
In this article we're going to shed light on five of the world's most expensive bongs. And don't worry, we're also going to show you some affordable alternatives that you can order from our headshop today.
Note: We've done our best to source some cool, yet affordable alternatives to some of these extremely expensive bongs. Some of our suggestions might seem like a stretch, so feel free to order the original if you've got $15,000+ you're willing to part with. And if you do, please tell us about. We would love to hear about your first-hand experience with one of these beasts!
5. ROOR EXCALIBUR - $15,000 USD (APPROX. €12,600)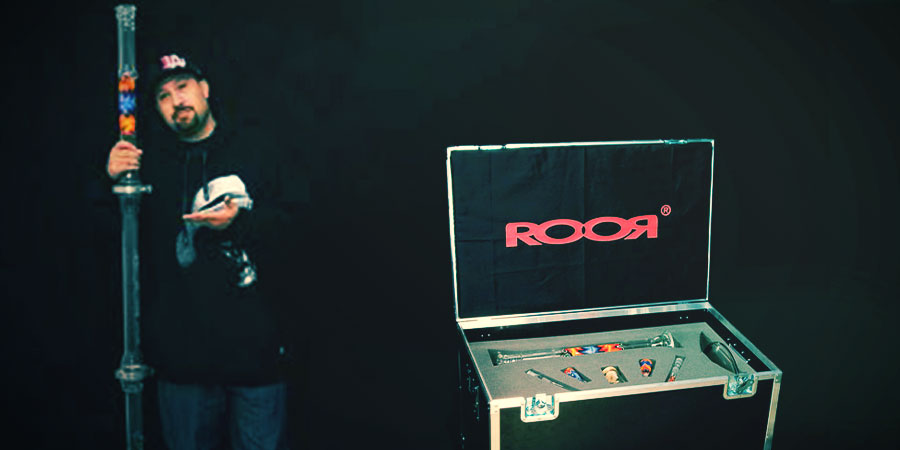 ROOR is a renowned bong and glassware company based in Germany. Using high-quality lab-grade glass, ROOR produces top-shelf glassware treasured by smokers all across the globe.
The Excalibur is a special ROOR piece, winning 1st prize in the glassware category at the 2009 High Times Cannabis Cup in Amsterdam. It is blown from 9mm glass and features unique Fire and Ice colour sections, as well as matching bowls and diffusers.
It stands over 6 feet (182cm), with a massive 33cm-wide base. There were apparently only two of these ever made; one is currently owned by B-Real (Cypress Hill), while the other is owned by Liquid Chrome, a renowned tobacco/glassware shop in Canada.
OUR AFFORDABLE ALTERNATIVE: THE ROOR Dealers Cup
Luckily, you don't need to fork over $15,000 USD to own a quality piece of glass by ROOR. The ROOR Dealers Cup is a top-shelf bong that's not only cheaper than the Excalibur but also more user-friendly. After all, who can really get away with carrying around a 6ft bong except B-Real?
The Dealers Cup is made from 7mm thick borosilicate glass and stands 55cm tall on a round base. It is a heavy piece of equipment (a testament to its quality). It's not exactly the cheapest bong at Zamnesia, but will easily please any experienced smoker looking for a bit of exclusivity.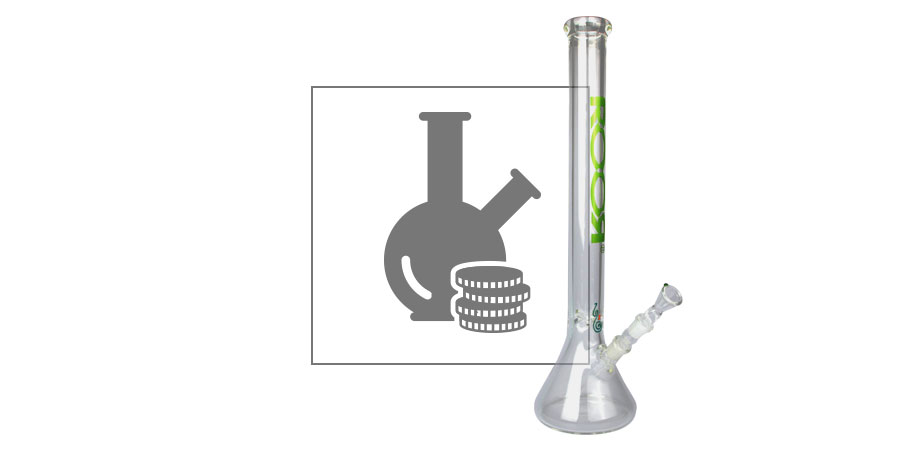 View product
4. PIRATE SHIP BUILDER - $30,000 USD (APPROX. €25,300)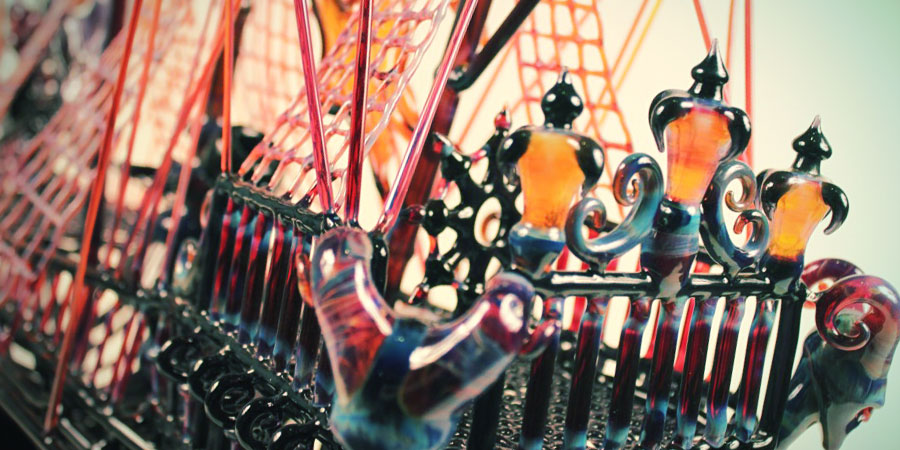 If you're looking for a bong that looks nothing like a bong, look no further. As the name suggests, the Pirate Ship Builder (also known as Buck's Pirate Ship) is an extremely detailed piece of glassware that replicates an old pirate ship.
This crazy piece of glassware was featured in Degenerate Art, a 2011 documentary on the art and culture of glass pipes, directed by renowned glass artist Marble Slinger. After feasting your eyes on this piece, it becomes instantly clear why the Pirate Ship Builder deserves a close-up.
The pipe was constructed in 2010 by Buck, LaceFace, and Joe O'Connell, three renowned glass artists from the US. The main functioning piece of the bong serves as the ship's mast and is removable for extra usability (if you're crazy enough to actually smoke from this thing).
It also features six cannons that serve as individual glass dry pipes. The piece is currently on display at Illuzion Glass Galleries in Boulder, Colorado, where it'll probably remain until Jack Sparrow decides to light up.
OUR AFFORDABLE ALTERNATIVE: Tsunami Glass Bong Donut Recycler
Unfortunately, we don't stock crazy pirate ship bongs at Zamnesia. Our warehouse is located far beyond the outskirts of reality, and getting exclusive pieces of glassware through the space/time portals to your doorstep - withought it cracking into a million pieces - would be quite the challenge.
Nonetheless, we do stock an awesome Tsunami Glass Bong Donut Recycler. What it lacks in creativity and intricacy, it makes up for in quality. This bong offers an extremely smooth smoking experience that even the most pretentious stoners will enjoy.
It's a mere fraction of the price of Buck's Pirate Ship, and a whole lot more portable and user-friendly. So, satisfy your inner physicist and try the awesome Tsunami Glass Bong Donut Recycler

.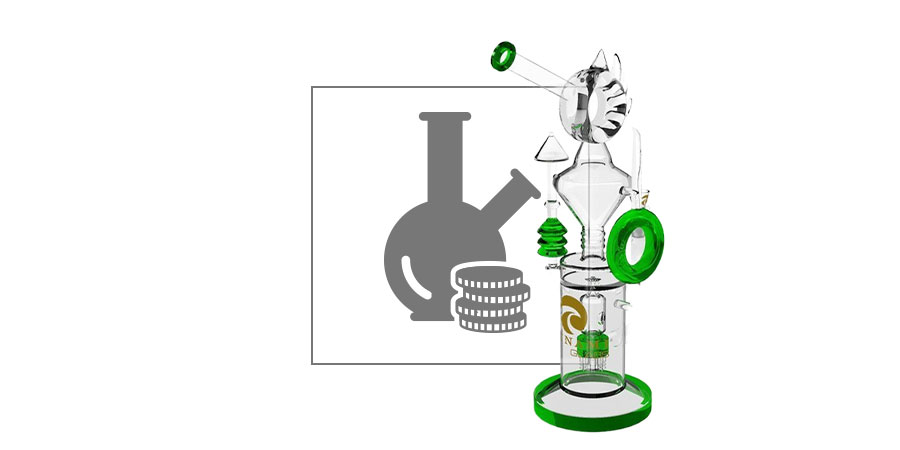 View product
3. THE DOUBLE RAINBOW - $33,000 USD (APPROX €27,800)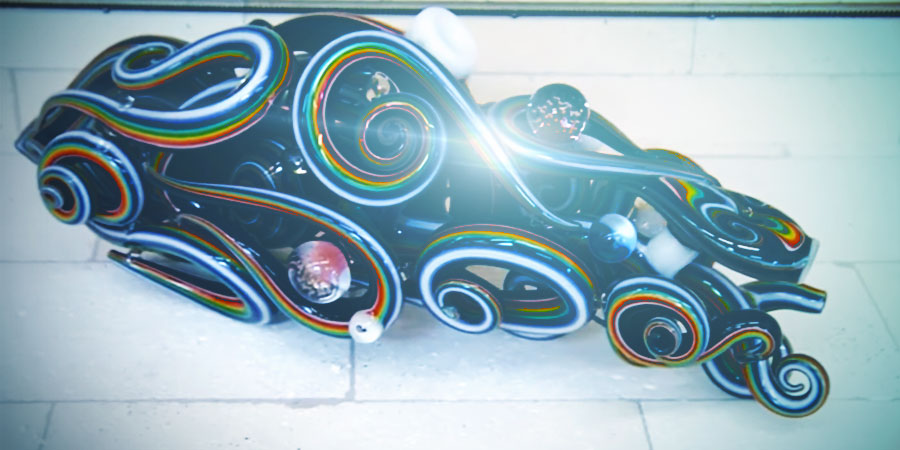 Inspired by the Double Rainbow viral video by YouTube user Yosemitebear62, this custom hand-pipe/bubbler is the perfect piece of glass for, well, any stoner with a spare $33,000 in the bank.
It was created by Buck's Glass (the same artist behind the Pirate Ship), as well as fellow glass artists Adam G., Darby, 2BA, and Eusheen. It was first made in 2010 and actually combines two pipes; a stemless bubbler and a dry pipe, both with their own glass bowl.
After listening to the radio at Buck's studio and hearing an audio cut of the famous Double Rainbow video, the team of artists began working with some rainbow-coloured glass pieces. Everyone began making their own, which they eventually combined to create the iconic Double Rainbow Tribute Pipe.
You can even watch the Double Rainbow get made!
OUR AFFORDABLE ALTERNATIVE: THE CANON BONG
If, for some bizarre reason, you don't have $33,000 to drop on the Double Rainbow Tribute, don't stress. Our Acrylic Bong Canon is an extremely stylish acrylic pipe, featuring great colours and a two-chamber filter that guarantees a smooth smoke every time.
And don't be put off by the fact that it's made from acrylic; this piece will surprise even the biggest bong snob with its stylish design and high-quality finish. Plus, the pipe is completely demountable, making for easy cleaning. At its price, you won't find much better value.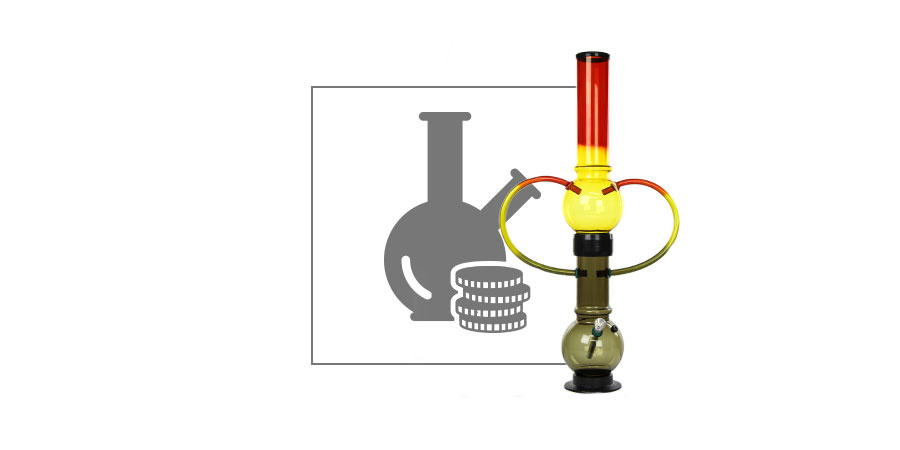 View product
2. ROOR SKULL GUN - $90,000 USD (APPROX. €75,800)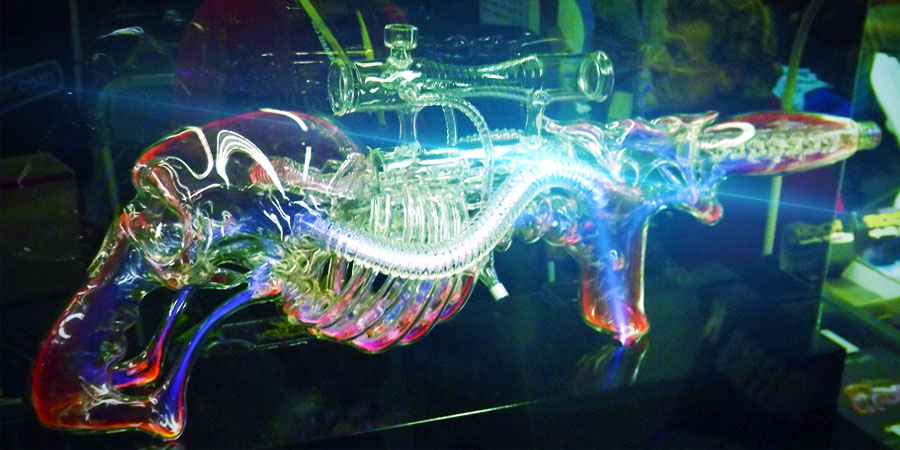 The Skull Gun is another famous glass pipe by ROOR. It is a crazy, $90,000 limited-edition piece that looks like it came straight out of a science-fiction film.
It won 1st prize in the glass category at the 2011 High Times Cannabis Cup, and it's no surprise. Its crazy design combines the shape of a human skull, ribcage, and spine to form a crazy alien space gun. The bong is also filled with neon gas so it glows with beautiful neon colours.
It has been on display in various glass galleries and exhibitions, where it will likely remain unless we get an unexpected visit from space visitors or B-Real decides he wants another over-the-top ROOR piece.
OUR AFFORDABLE ALTERNATIVE: THE jet-flash
If you're dying to have a gun-shaped bong, but have the financial power of a university student, you're in luck. With our simple, yet beautiful Jet-Flash Smoking System, you can feel nothing like B-Real, but still get ridiculously stoned.
This piece has a single chamber which filters smoke before it passes through the mouthpiece, which is located at the end of the barrel. Despite its simple design, this little bong makes for a fun, enjoyable smoking experience and easily fits into a bag or backpack.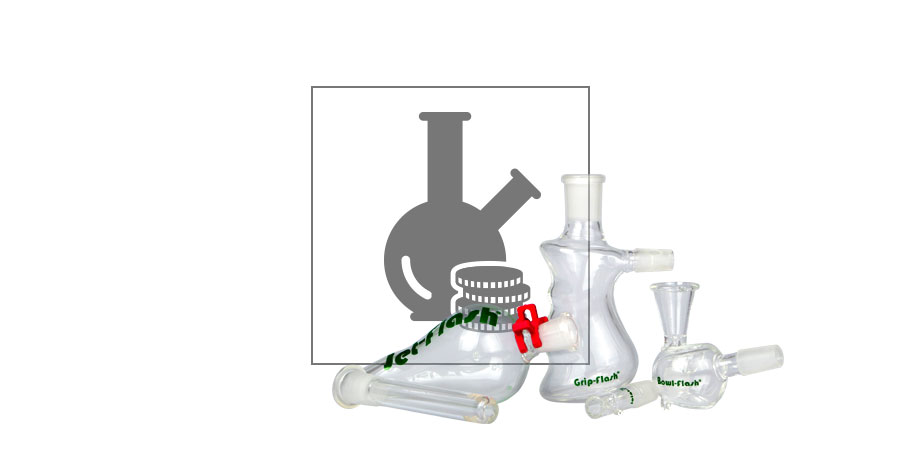 View product
1. SCOTT DEPPE'S GOLD ENCRUSTED SKULL BONG - $100,000 USD (APPROX. €84,250)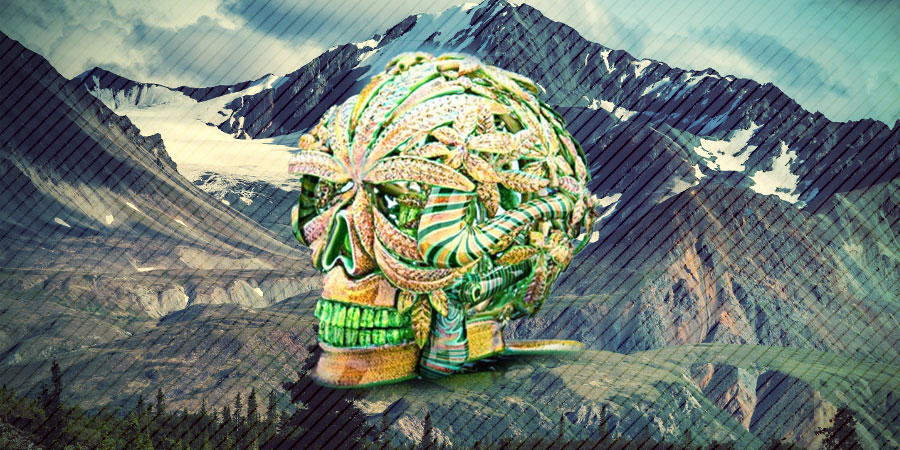 Let's be honest, this bong makes the Excalibur look like a children's toy. Scott Deppe is a renowned glass artist, often mentioned as one of the best in the industry. He has created countless memorable pieces, many of which fetch huge prices. And this Skull Bong is no different.
Designed to resemble a human skull made from cannabis leaves, this piece embodies countless hours of extremely delicate work. And, just in case the extreme detail of the pipe wasn't enough, Scott went ahead and coated it with real gold.
This is the kind of pipe you'd expect to find on the mantelpiece on some billionaire rapper's mansion. However, it seems no one has animated themselves and rustled up $100,000 to splurge on this baby. And, to be honest, we doubt anyone ever will.
OUR AFFORDABLE ALTERNATIVE: THE CERAMIC ALIEN HEAD
Luckily, you don't have to drop six figures to experience the pleasure of smoking weed through a head. At Zamnesia, we stock an extremely affordable Ceramic Alien Bong which willl do the trick just as well.
Combining a big bowl, a single chamber, and four separate acrylic pipes, this bong might be a bargain, but it'll get you and three of your mates stoned out of your minds. And hey, isn't getting high all about the camaraderie, after all?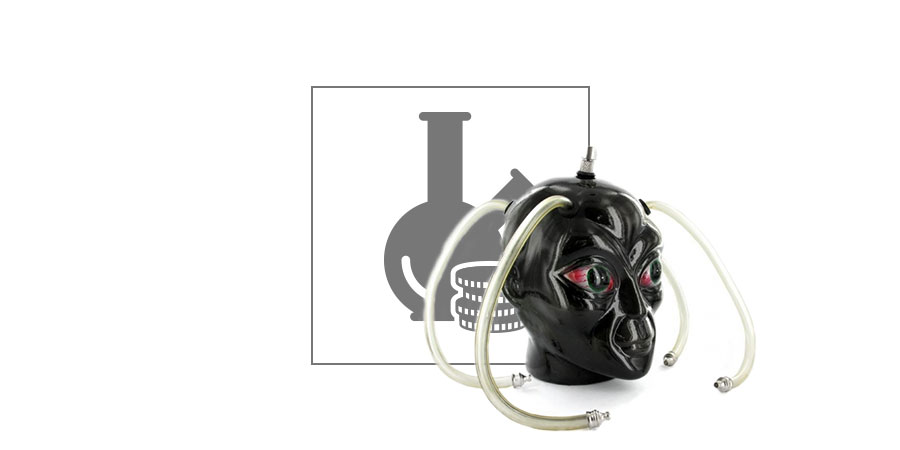 View product
HONORABLE MENTIONS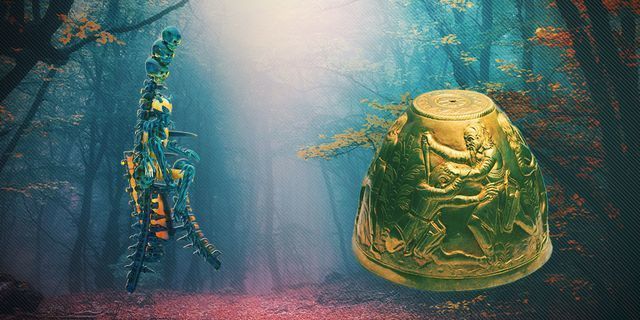 So there you have it; a countdown of the world's most expensive bongs, followed by five simple, yet affordable alternatives. In case you're still interested in viewing some breathtaking, albeit expensive bongs, here are two honourable mentions that barely missed the cut.
1. The Throne Bubbler By Illuzion Glass: As a collaboration between Clinton Roman, Scott Deppe, Darby Holm, and Banjo, The Throne currently retails for a whopping $1,000,000 USD.
2. 2,400 Year Old Scythian Solid Gold Bong: Discovered among over 3kg of gold, this ancient Russian bong was found to still contain the resin of cannabis and opium.
Written by: Steven Voser
Steven Voser is an Emmy Award Nominated freelance journalist with a lot of experience under his belt. Thanks to a passion for all things cannabis, he now dedicates a lot of his times exploring the world of weed.

Find out about our writers
---