Blog

1 min
Strain Review: Casey Jones
1 min
Named after an American railroad worker who died in a train wreck, Casey Jones lives up to its name: It is a sativa powerhouse that hits you like a train.
Jonathan Luther "Casey" Jones' attempt to stop his train and save lives made him a hero - first in a ballad sung by his friend Wallace Saunders and later in a cannabis variety named in honor to him. Sure enough, Casey Jones was bred using the Trainwreck strain, along with a Thai Sativa and East Coast Sour Diesel. Further, a female crossing of Trainwreck and Thai Sativa (aka Billy Goat Seed's Oriental Express) was pollinated by an outstanding male from Rezdog's Sour Diesel v3 line.
Casey Jones is a particularly resinous and sticky variety - after drying and curing the buds will all be welded together as if you had put one big lump of weed in the jar. But this also means she is a very good candidate for BHO and other concentrates. The medium to dark green fluffy flower clusters with their bright orange to pink hairs have a sweet and floral aroma, making your mouth water in anticipation of the smoke.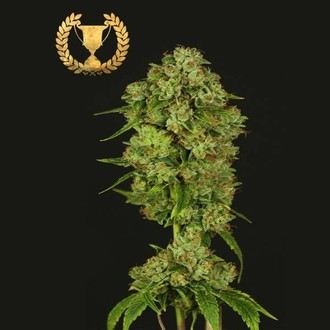 View
The smoke has a very sweet flavor, mixed with the citric sour touch of Diesel and induces a very heady, transcendent high. It takes only one or two rips to be carried away by a squall of creativity - be careful though, if you are not used to its potency you might end up a little scared watching your consciousness getting whirled around in the white crest of untamed sativa power. But once you get used to the mental boost, you are all set for creative activities and mental wandering. Casey Jones buys you a ticket to ride - on a derailed train of thought!
Casey Jones is not overly picky in regards to growing skills, the novice grower as well as the sweet-toothed connoisseur of all the ins and outs will be rewarded with a good yield. This 80% Sativa responds very well to LST and accurate trimming, making her a perfect contender for SOG and ScrOG setups. The Sativa dominance calls for some training, as she stretches quite a bit during the flowering time. Send her into flowering when she reaches a height of 30-40cm and you will end up with a final height of around 100cm after 56-63 days of flowering, giving you plants yielding around 100 grams each.