Vaporizer Review: Flowermate Aura
3 min
The Aura Flowermate presents a highly affordable venture into the world of portable vaporizing. With supreme battery life and a simple approach, it takes the ethos of portability and runs with it.
When you think of the ideal vaporizer what springs to mind? For many its affordable price, being discreet and lasting longer than a few uses. If all those traits sound like the type of vaporizer you might be in the market for then the Flowermate Aura is an ideal choice.
Produced by Chinese-based company Shenzhen Smiss Technology Co Ltd, it goes some way to removing that stereotype of cheap Chinese goods. A well thought out portable vaporizer with some state of the art tech, only let down by some minor build quality issues.
Size And Build Quality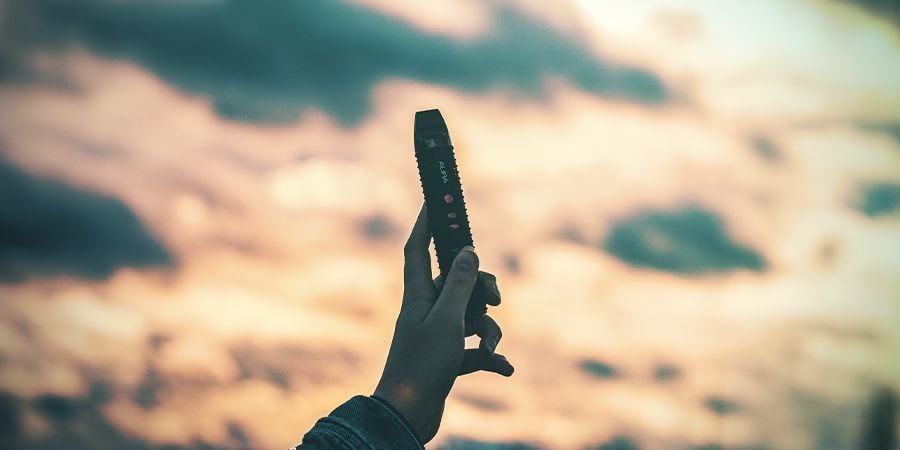 Sized between an e-cigarette and some of the more traditional vaporizers the Flowermate Aura excels at portability. Featuring a ridged plastic outer body the vaporizer fits easily in the hand, measuring just under 6 inches tall its size making it ideal for slipping into a jacket pocket or side compartment on your bag when not in use.
The pen-like design also keeps appearances discreet, weighing just 383g, I often found myself misplacing it more than anything! This lightweight feel is largely down to an all plastic construction with the ceramic heating chamber contained within. Despite this all plastic approach the Flowermate Aura doesn't feel cheap in the hand, nor does it fell like it might break or bend when stored away or left in a back pocket.
Ease Of Use
Simplicity is one of the Aura's excelling factors. 3 buttons and an LCD display are all that's needed to get you vaporizing on the go. The top button works simply as an on and off, taking just 5 rapid button presses within 2 seconds to power up. Holding down the power button once the Aura is on activates the ceramic heating chamber. Whilst the other two buttons adjust the temperature either up or down. Heating in less than a minute I never found myself waiting for a vape and with a temperature range anywhere from 40°C to 230°C there is plenty of room to find that ideal sweet spot.
The LCD display keeps you informed on how hot things are getting, with a steam symbol being displayed when it is ready to vaporize. It honestly is really simple to use, so much so I didn't consult the instructions before use and simply powered up and started using.
Another really simple feature is the charging aspect. Being able to be charged through a micro-USB cable makes taking it around with you really easy. Given that most phones or cameras use a micro-USB cable it can be easily charged at a friends house or when out and about. The loading method continues in the same vein, simply twist the plastic cap off from the top to reveal the herb chamber. Fill with your choice of herb and you are ready to go. One final point to note is that the Aura Flowermate does support concentrates, waxes and liquids although during the course of the review only dried herb was used.
Vapour Quality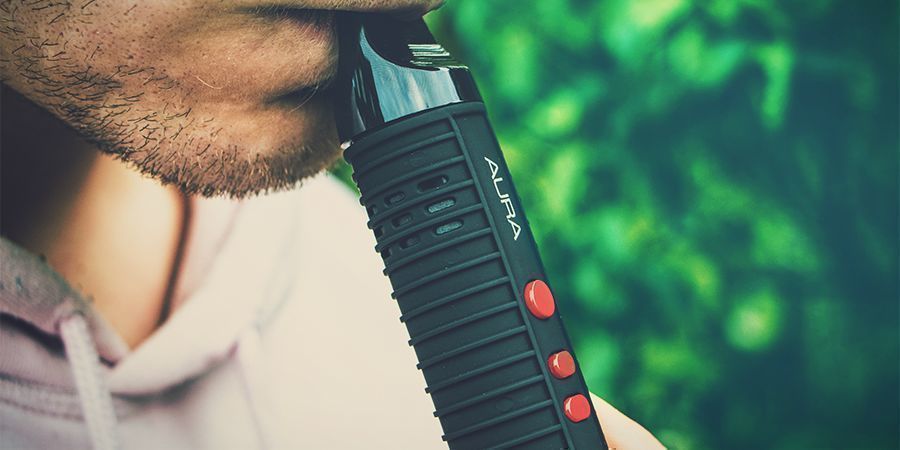 All that simplicity of use means nothing if the vapor quality is sub par. Overall I would say the vapor quality was above average but behind some of the well known established vaporizer manufacturers, Storz and Bickel etc.
Having said that there was no taint to the vapor from the all plastic construction or plastic cap. The Aura has an isolated air path so that the vapor remains clean and this was evident when using it. Typically the first few draws hit pretty hard until the 3rd or 4th draw. This isn't a negative point but one to be aware of. I found myself being rather conservative on the first use to save any embarrassing spluttering.
Battery Life
This is the Aura's crowning glory. The features list boasts up to 2 hours of continuous use, and I'm pleased to announce that it lived up to the hype. Whilst I didn't quite manage the full 2 hours, at over an hour it was still going strong with no sign of waning. This really is one of it's strongest selling points as even when traveling around I never felt the need to keep putting the Aura on charge, nor did I feel I had to do this after every session. It fits nicely with the ethos of portability and helps maintain that discrete nature as excessive charges or putting it on charge every time you use it are just not needed.
Additional Observations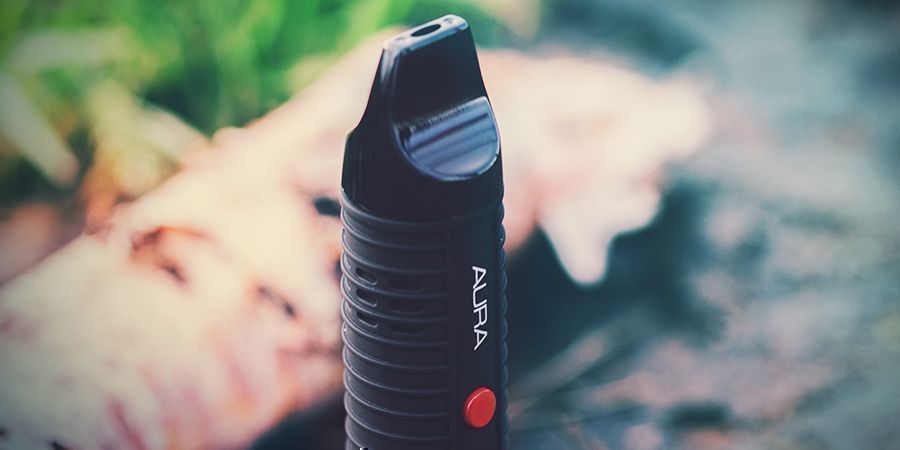 I made a point about build quality issues earlier in the review. Whilst the all-plastic construction does feel firm in the hand, the plastic cap at the top that you draw on is also made of plastic. In the short period of use, the combination of use and heat generated by the vaporizer caused the plastic cap to crack slightly. A short internet search revealed this was also the case for the majority of users. Smiss have remedied this by making replacement caps readily available costing only a few pounds.
Also included with the vaporizer is all the accessories you might need. Cleaning brush, packing tool, additional screens and a liquid chamber that can be used if you are not using dried herb. For the price, I found this very competitive. The Aura covers all bases without breaking the bank. Finally, only a minor point to note but the temperature reading on the LCD display can be changed between °C and °F dependent on preference.
Conclusion
Despite the small issue with build quality, the Aura Flowermate presents an affordable, highly portable means into vaporizing on the move. Its simplicity is a welcome factor whilst the battery life really does blow a lot of other vaporizers out of the water. A welcome addition to the portable vaporizer market from Miss Technology it serves as a great "around town" vaporizer.
Whilst the vapour quality was good for a vaporizer in this price bracket, it doesn't quite beat some of the (only) slightly more expensive options. Overall the trade off in vapor quality is well matched to its longevity and discretionary nature.