Blog

5 min
Non-Stop Psychedelic Festival Hopping Part 1: April - May 2014

5 min
The beat never stops! With festivals stomping on throughout summer 2014, why not jump from one to the next?
Psychedelic trance festivals are a parallel universe on planet earth. Breaking out of the square daily schedule, festivals allow for free and largely unrestrained expression of individuality. Weekend parties are a wonderful, yet short lived celebration of the spirit of creativity, but it is really the outdoor festivals where the mind goes flying far. If you have ever participated in a festival you know how gloomy it can feel when returning to the sterile tick tock world. But there is a solution: Festival hopping. Given the time and energy, there is no shortage of festivals that keep up the spirit. With no more than a few days pause (just enough to let your brain recover) you can spend all summer jumping from festival to festival. Some are even connected by shuttles! In this 3 part series we are presenting a festival schedule from the end of April until September - for the psychedelic diehards.
April
Forest Sound Festival • April 30. - May 1. • Serbia

The Forest Sound open-air festival takes place in Dobraca, Serbia (former Yugoslavia) and is jam-packed with live acts and several DJs. Expect cutting edge music with gigs from Burn in Noise, Liquid Soul, Sonic Entity, Talamasca and many more. There are places prepared for fire and barbecue and there is a shop to provide sustenance, so don't worry about food. Don't try to bring your own beverages - you will be searched at the entrance, but again, don't fret, they sell all sorts of drinks at very reasonable prices. Talking about prices, admittance costs only €10! And remember, it takes place in a forest - keep the nature clean and use the trash cans on the site! For more information please visit https://www.facebook.com/events/205365772993595/?fref=ts
May
Hai In Den Mai • May 01. - 04. • Germany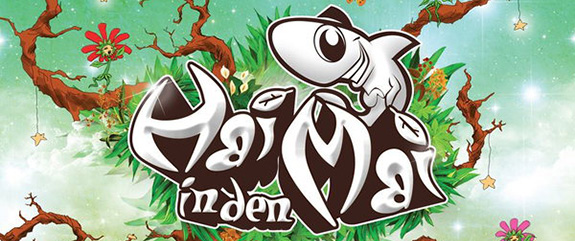 "Hai in den Mai" can be translated into "high into May", and surely the festival will deliver. The "Forest Peace" Festival will take place in Stemwede - Wehdem, Germany and begins with a warm-up party. There will be over 12 live acts and around 36 DJs from around the world already got confirmed. There is a chill-out area for the more tranquil moments and a healing area at the lake, which is illuminated in the evening, inviting you to dream and relax. Large and small surprises will unexpectedly show up at every corner, such as the insane fire machine "Sir Henry Hot" or the magical Bubble Man. Visit their indoor club for a 3D world or watch the forest sparkle at night. There will be a cocktail lounge, a market area and even a barber near the showers at the lake. At the speakers corner you can share your opinion and the "Drug Scouts" and "Eve & Rave" will inform about responsible drug use. Enjoy an enchanting weekend in the forest with lots of activities for only €60 (€65 at the gate). For more information please check here: https://wald-frieden.de/index.php/hai-in-den-mai/festival-tickets
Moon Tribe 2 • May 9. - 14. • Turkey

The Moon Tribe 2 festival will be held at Boncuk Bay near Marmaris, Turkey - a picturesque place with palm trees along the coast and a spotlessly clean sea where you will be able to watch sand tiger sharks. Boncuk Bay is under protection of the government and car parking along the road and in the forest is not allowed in order to keep the natural environment clean, so you must use the seaway to get there. Park your car at Gökova - Akyaka and use the free shuttle service departing from the antique port of Akyaka. During the festival there will be live acts from Austria, Germany, Italy, Switzerland and Turkey performing on stage and 29 DJs from Germany, Greece, Turkey, Austria and Israel will make your time there as elevating as possible. The price for a ticket is about €45 (130 TRL). For more information please check www.goabase.net/78592
ZAGOA Festival • May 14. - 19. • Morocco

The ZAGOA Festival in Oulad Edriss, M'Hamid El Ghizlane, Zagora, Morocco will be a celebration of the "Full Moon Ceremony" in the Moroccan Sahara region. This exceptional gathering will offer a top class show full of lighting and musical performances. During 5 days and 5 nights you will be able to watch and listen to performances of over 100 artists in an alluring place offering tranquility, clear skies, bright stars, beautiful vistas, intense colors, big dunes and the feeling of a magical experience in the desert. Visual arts, multimedia, electronic music, DJs, dancers, jugglers, fire breathers, painters, filmmakers and much more will make this event an absolutely unique experience you won't forget. The desert can not be told - it must be experienced! Ticket prices (access is limited to 1000 people!): February 28. - April 30.: 99€, May 14th (at the gate) - 119€ For more information please visit www.zagoa.com
Schallkonflikt • May 16. - 18. • Germany

The 9th Schallkonflikt festival with lots of psychedelic and progressive trance by numerous national and international artists will take place in Wendisch, Germany. Apart from live acts from Macedonia, Germany, Serbia, Israel, United Kingdom, Russia, Italy, Denmark and Greece there will be more than a dozen DJs to shake the ground and to keep you dancing the days and nights away. It's finest electronica around the clock: Egorythmia, Protonica, Ectima, Flegma, Lifeforms and many more. If you feel the need to rest your legs for a while, you can have your body painted or simply relax in the chill-out area. In addition to that you can watch fireworks or fire performances or participate in workshops. If you need a shower, no problem, there are showers on the site and if your tummy rumbles, hop over to the shops and get something to eat to make it stop talking. The price for a ticket is €45 (€50 at the gate). Check https://www.facebook.com/events/176698272492793/ for more information
Psychedelic Experience Open Air 2014 • May 23. - 25. • Germany

The Psychedelic Experience is a fine open air festival in Germany; it takes place in Lübz - Ruthen, in the picturesque backdrop of beautiful Mecklenburg-Vorpommern, the German equivalent to Minnesota, USA but with less lakes - there are only 2033. The opening act on Friday will be Etnoscope from Sweden, followed by 48 hours of non-stop music by artists and DJs from all over the world: Brainiac, Flowjob, Hux Flux, Liquid Soul, Zyce, E-clip, and many more. Visitors from many different cities and countries around the world contribute to the exceptional atmosphere of the festival with an international flair. For the more tranquil phases there is a comfy chill-out area as well as workshops and UV body painting if you ever get tired of dancing. Moreover, you can expect a great laser show, video animations and a huge firework. Tickets cost €52 (on presale until May 10. - free camping included) or at the gate: Friday - €65, Saturday - €45, Sunday - €20. Visit www.psyexperience-festival.com for more information.
Spring Wiggle, Mo:dem Uk Teaser • May 23. - 26. • Uk

The Spring Wiggle in London is a foretaste of the Mo:Dem festival and features the most talented artists and professional DJs. More than 30 live acts and DJs deliver the finest psy-trance, progressive, ambient and folk music at a place with mind-blowing decorations and visual shows, pushing the limits for a weekend in a magical forest to remember! In order to provide security and health service, there is professional security staff and paramedics on the site. To provide sustenance there is a restaurant and café and you surely won't run short on drinks, for there will be a bar where cold drinks are served. There is a visionary art exhibition and you can participate in workshops if you get tired of dancing. A camping area with facilities, including toilets and showers is on the site as well. A ticket costs about €77 (£63.50). For more information: https://www.facebook.com/events/708728909145032/
Tomorrow Festival / Psytrance Circus • May 29 - June 1. • Austria

With more than 80 international acts, the Tomorrow festival is one of the larger music festivals in Austria. In the spirit of sustainability, the festival is dedicated to organic food, ecological waste management and the presence of various political NGOs. Musically, the festival is diverse: there are three stages playing Hip-Hop, Electronica and Psytrance. Although this festival is on the commercal side ("sponsored by Media Markt") there are a number of big names coming up: Ace Ventura, U-Recken, Rinkadink, Zen Mechanics, Protonica and more. On the mainstage acts such as Deichkind, Cro, Donots, and Jennifer Rostock will be playing. Situated right next to a nuclear power plant that was never turned on, the festival itself is a statement against nuclear energy and will make creative use of the building. Tickets are 90 Euros without caravan camping. For more information please check www.tomorrow-festival.at
---