New Zamnesia Strain: Auto Purple CousKush
3 min
Presumptuous growers have often rolled their eyes at autoflowering strains. Incapable of matching the highly desirable attributes their photoperiod counterparts provided, that was, until now. Auto Purple CousKush throws the autoflowering rule book out the window. Experience a new age of autoflowering dominance.
The dominance, potency and yield potential of autoflowering strains has come leaps and bounds since the early days of cannabis breeding. Armed with industry-leading expertise and a desire to create a delightfully easy to grow, yet rich and complex strain has culminated in the incredible Auto Purple CousKush strain being created. Embrace her subtly aromatic nuances, her deep purple hues and her dank, bountiful yields.
PERFECTLY PAIRED CANNABIS GENETICS MEETS PERFECTLY PAIRED ALLITERATION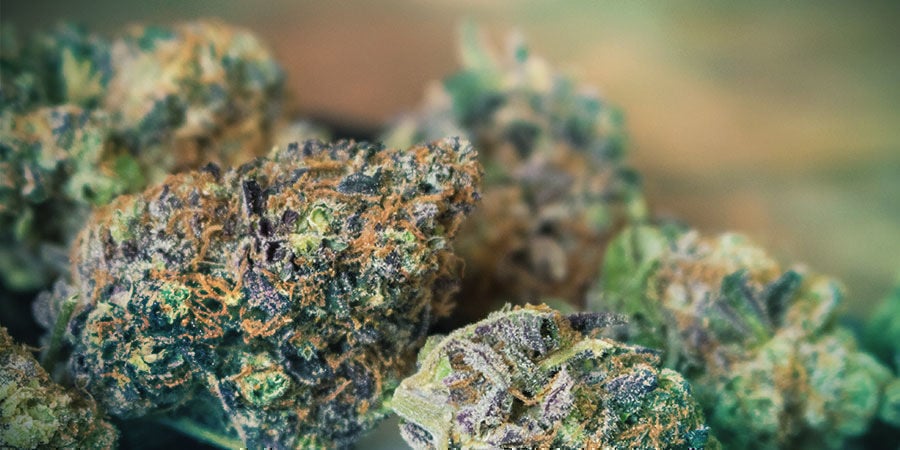 The tongue-twisting title comes from a jovial yet iconic line from the Pineapple Express movie:
"Couscous the food so nice they named it twice."
It seems fitting for the well-balanced mix of cannabis genetics that has gone into creating Auto Purple CousKush. By hybridising Purple Kush with ruderalis genetics, it has been possible to take two uniquely intense indica strains and combine them in near perfect ratios of indica, sativa, and ruderalis.
Visionary breeding is at the very heart of the process that has gone into creating Auto Purple CousKush. To have such close ties with a movie synonymous with cannabis lovers the world over shows how in tune the creation is with the desires of new and experienced cannabis connoisseurs. You can rest assured that the pleasant, uplifting euphoria enjoyed by moviegoers is replicated when they discover the profound nuances of this magnificent autoflowering strain and her enveloping high.
THE HISTORY BEHIND AUTO PURPLE COUSKUSH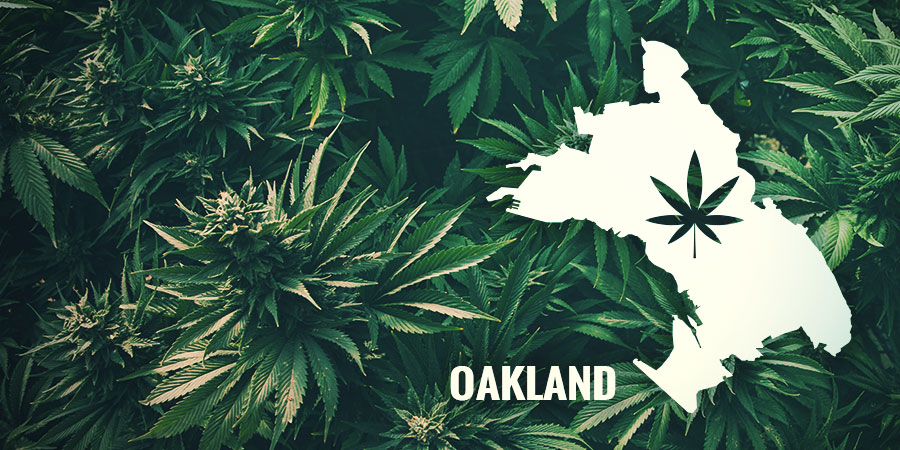 To understand the diverse yet fascinating history behind Auto Purple CousKush, we first need to go back to where this masterpiece first began.
Derived from the Oakland area of California, the genetic foundation for Auto Purple CousKush came from a now seemingly obvious pairing of Hindu Kush and Purple Afghan. Hindu Kush is a pure indica strain originating in the mountainous regions of Pakistan and Afghanistan, while the latter, Purple Afghan, adds further indica ingenuity to the concoction; the result of years of highly desirable indica attributes being inbred until one true leader emerged.
Experienced cannabis breeders, enthusiasts, and indica advocates were incredibly content with the subsequent creation of Purple Kush. However, it is the tenacity and desire for creating something new, and something unique that drove the delicate hands of breeders to add a little extra to the already near-perfect Purple Kush formula. The missing component was ruderalis genetics, the final piece of a long established history that would see Auto Purple CousKush crowned the new queen of autoflowering strains.
THE GROWING TRAITS OF PURPLE COUSKUSH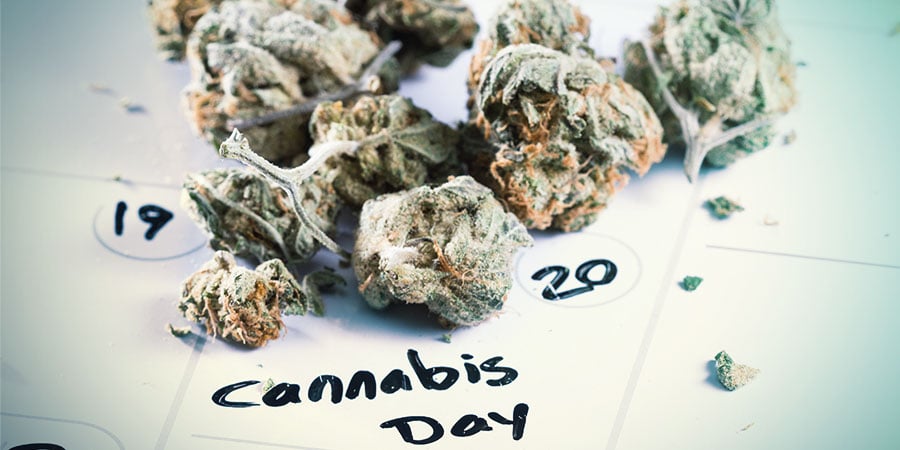 With the teasing of her carefully selected genetics out of the way, green-fingered gardeners are bound to be fraught with anticipation, how does this work of genetic cunning develop and grow?
Autoflowering strains are renowned for their simplicity and undemanding nature; we are pleased to confirm that Auto Purple CousKush operates under the same principles you've come to know and love from market leading auto strains. From unassuming seed to fully-fledged goddess takes a mere 9-10 weeks. The telltale signs she is ripe for harvesting? Deep purple hues develop in her copious buds. The extraordinary collection of purple, brown, and green shades act as a visual indication of how meticulously entwined Auto Purple CousKush's genetics have become.
Short and unassuming in stature, Auto Purple CousKush is well suited to the stealth grower or a cannabis enthusiast who is limited in space. Despite either restriction, she thrives, reaching 80-90cm when grown indoors and if the environment allows, stretching slightly further at 100-150cm outdoors.
It would be easy for sceptics to assume that subpar yields or weaknesses against infection and disease are trade-offs for the masterful blend of genetics and her superior growing attributes. Auto Purple CousKush continues to prove doubters wrong by delivering a highly respectable 300g/m² when cultivated indoors. Her 30-50g/plant is equally impressive when growers take this visual beauty into the great outdoors.
AUTO PURPLE COUSKUSH - A SENSORY SENSATION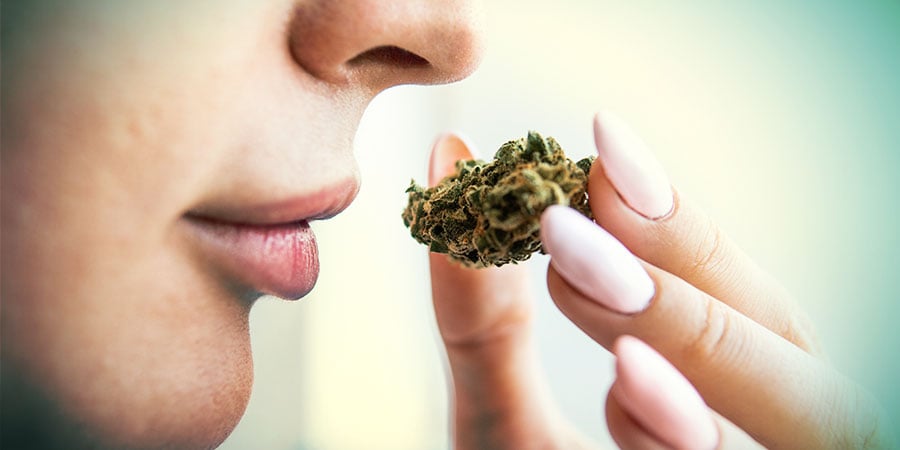 Visual appeal is only part of the framework that makes Auto Purple CousKush so desirable. The real power and prowess of this confident strain lie in the sweet, fruity flavours that engage a smokers sense of smell and taste. From the point she is planted, to when she is harvested, dried and cured, to the moment she is delicately ground to form the basis of an expertly rolled blunt, Purple CousKush delivers an aromatic sensation.
Sweet, sultry undertones are enough to the lure curious passersby, an attribute that can be difficult to overcome especially when choosing to grow outdoors. While such a delight for the nostrils should be celebrated, the act of developing this potent beauty is not honoured and revered equally in all parts of the world. Each intake of her intoxicating smoke leaves a lasting fruity taste, a welcomed outcome compared to some of the bitter flavours poorly developed autoflowering strains leave behind.
AN EXPLOSIVE THC CONTENT WITHIN AUTO PURPLE COUSKUSH
The final jewel in her autoflowering crown? An incredible THC content, backed by the support of fellow cannabinoid, CBD. The former can reach up to 20%, a previously unimaginable figure for an autoflowering strain. The latter, while not reaching the dizzy heights of 20%, does take on superior qualities even at a subtle 0.9%. The phenomenon known as the entourage effect helps both cannabinoids play off each other harmoniously.
LET AUTO PURPLE COUSKUSH'S WELL ROUNDED HIGH EXPAND YOUR MIND
Every attribute, every smell, every flavour, even the winning combination of THC and CBD culminates into one overriding quality: an explosion of euphoric feelings that envelop the mind.
Throughout the duration of her high, users flit between uplifting sensations that seemingly pulse from the centre of your body through to your extremities and hypnotic mental stimulation. Between the waves of exhilarating happiness, feelings of calm keep smokers firmly grounded. As powerful as she is, there is no fear your mind will be lost to the cosmos. Auto Purple CousKush can be enjoyed at any time of the day.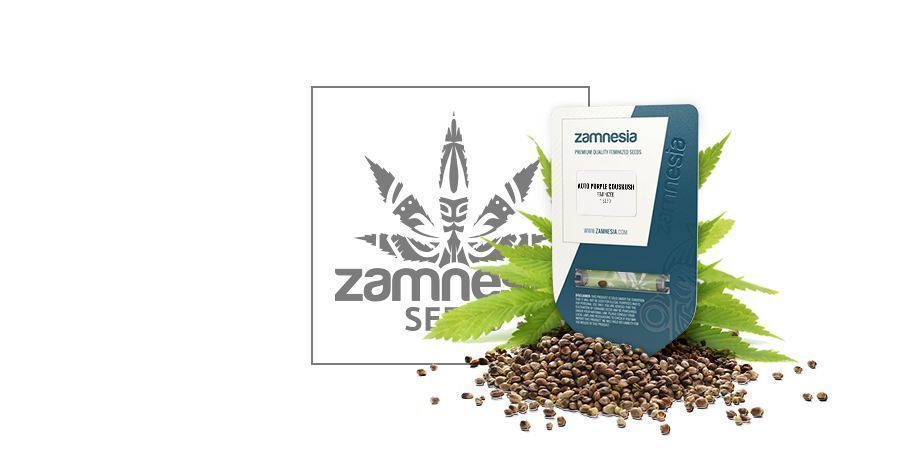 View Auto Purple CousKush
IS AUTO PURPLE COUSKUSH RIGHT FOR YOU?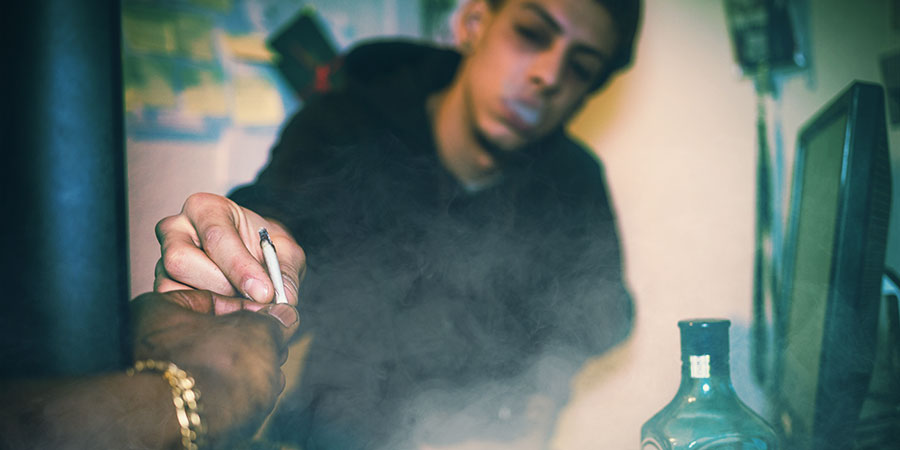 Those that wish to experience a visual and sensory overload would be strongly advised to make Auto Purple CousKush the next candidate for their cannabis cultivation. Growers will see their wide-eyed smile grow and grow, much the same as their delicate beauty will. If you are only interested in enjoying the fruits of your labour, sharing might be difficult. Her sweet, fruity flavours and delicate balance of indica, sativa and ruderalis genes make the high incredibly well rounded. You will be so intoxicated with her charm, try as they might, friends and family are going to struggle to get some Auto Purple CousKush for themselves.