Do-Si-Dos Automatic: Cannabis Strain Review & Information
3 min
Steeped in some rich heritage, Do-Si-Dos Automatic isn't just another average autoflowering strain. Quite the opposite, in fact. Easy to grow, rewarding, and low maintenance, there's plenty to like about this strain. Read on to find out exactly what she has to offer.
Do-Si-Dos Automatic is an indica-dominant powerhouse resulting from a careful cross of the feminized Do-Si-Dos with some high-performing ruderalis genetics. This pairing makes for a great-tasting strain that is sure to exceed expectations, especially when grown in ideal conditions. Do-Si-Dos Automatic takes the finer points of her heritage to deliver a premium cannabis experience that is sure to impress all smokers, from the casual to the more seasoned.
Characteristics of Do-Si-Dos Automatic
This autoflowering strain is a superb performer by design. While the genetic combination may not initially seem as complex or adventurous as other strains, this is a true case of "less is more"—meaning she's reliable and high-yielding, with plenty to say for herself.
| | |
| --- | --- |
| Genetics | Indica / Ruderalis |
| Parents | Do-Si-Dos x Ruderalis |
| THC | High |
| CBD | Low |
| Flavours | Earthy, Sweet, Citrus |
| Effects | Uplifting, Relaxation, Strong |
Leaning on her original Do-Si-Dos heritage, Do-Si-Dos Automatic highlights some great flavours and aromas, which, combined with a hearty THC content, culminates in a highly enjoyable smoking or vaping experience.
She is definitely on the more potent end of the autoflowering spectrum, encouraging a high that is completely indicative of her indica-dominant side. You can expect some welcome euphoria, which eventually settles into a heavy relaxing sensation. There's truly something for everyone when it comes to Do-Si-Dos Automatic.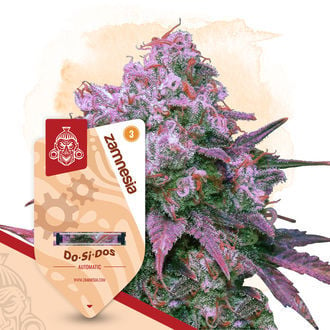 View
How To Grow Do-Si-Dos Automatic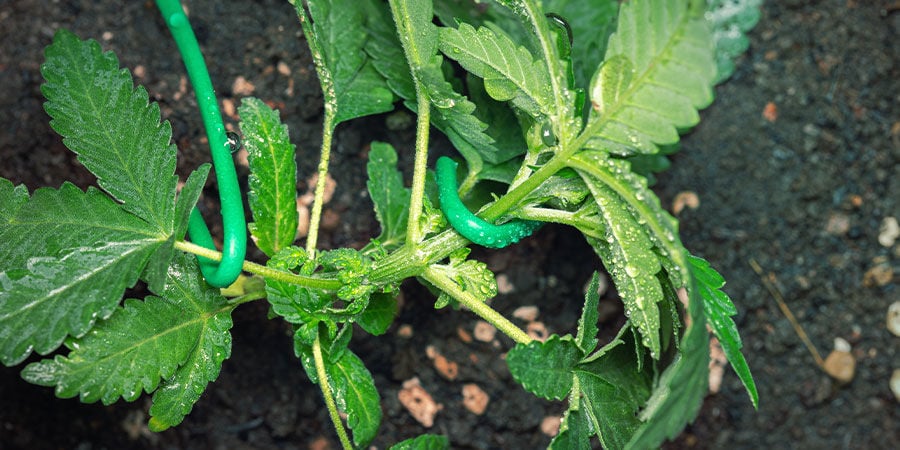 When it comes to cultivating Do-Si-Dos Automatic, there are plenty of factors in your favour. She's not an overly fussy strain, and requires just a little TLC along the way to get the best out of her. Her ruderalis influence makes her resilient, and she can flourish in most environments, making her ideal for those with growing limitations.
| | |
| --- | --- |
| Grow Difficulty | Beginner |
| Best Suitable To Grow | Indoor / Outdoors |
| Climate | Warm, Sunny |
| Variety | Autoflowering |
| Height Indoor | 100cm |
| Height Outdoor | 140cm |
| Harvest Date | 60-75 Days Post-Germination |
| Yield Indoor | 600g/m² |
| Yield Outdoor | 120g/plant |
While growing Do-Si-Dos Automatic is an accessible task, she still requires the same level of attention that you'd give to other autoflowering strains. She responds well to a little pruning and some LST early on in her growing cycle, especially if you want to restrict her height. At 100cm indoors, she's entirely suitable for a discreet growing project, even when positioned in a confined space.
With a short life cycle of 65–75 days (post-germination), plants will be ready before you know it. Allowed to flourish in the proper conditions, you're likely to see some extremely prosperous returns. You can expect yields in the region of 600g/m² indoors—a huge harvest for a plant of this size.
Plants allowed to prosper in the great outdoors will certainly feel the benefit of natural sunlight and warmth. Just be sure to keep her well-fed and watered, and you'll be rewarded with harvests of around 120g/plant.
Overall, she's a beautiful plant to behold. Although she's reasonably short in stature, she's simply gorgeous to look at. Boasting dazzling colours of purple, green, orange and yellow, she's a real showstopper. During her flowering phase, you'll see a rich, frosty layer of trichomes form all over the plant, hinting at her suitability for extracts.
Do-Si-Dos Automatic: Aroma, Flavour, and Effects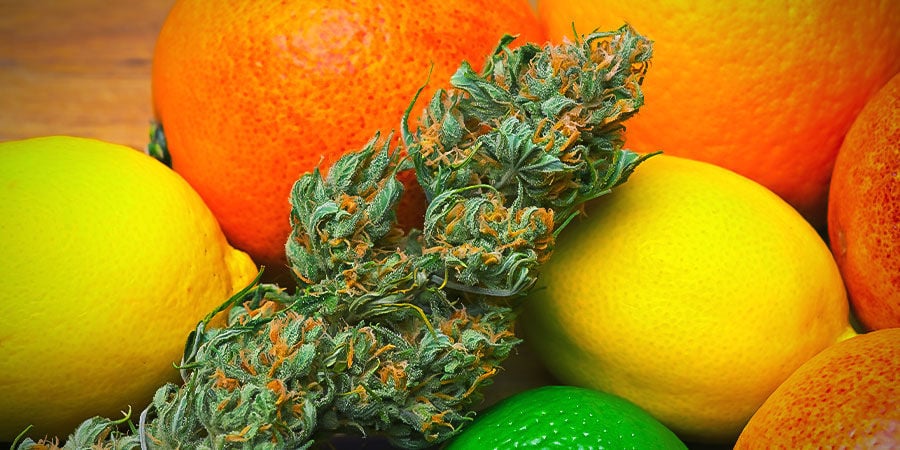 It's certainly no secret that Do-Si-Dos Automatic is simply teeming with great aromas and flavours. Whether you regard yourself as a casual cannabis enthusiast or a veteran of the herb, you're in for a treat. Once her potent buds have been dried and cured, you can really see what she's all about.
Rich in terpenes, as soon as you open your stash jar, you'll be met with an intense wave of earthiness, sweetness, and citrus notes. The flavours carry effortlessly over to her taste. Whether smoked or vaped, Do-Si-Dos Automatic provides a well-rounded experience.
Not only bountiful in terms of flavour, she also packs a mean punch when it comes to her high. Fans of relaxing strains will be in heaven when they try her. For beginners, a few hits will provide a long-lasting euphoric high that settles into a soothing body stone. Those more seasoned smokers may find themselves taking a few more pulls to achieve the same buzz. She's easy to enjoy and is ideal for any time of day.
Do-Si-Dos Automatic: One for All
With plenty of positives, it's easy to see why Do-Si-Dos Automatic is sure to become a hugely popular choice for all types of cannabis enthusiasts. Her robust ruderalis genetics make her perfect for first-timers and those that want an easy ride with a satisfying haul. With big yields, great flavours and aromas, and a powerhouse high, there are simply no factors that aren't in Do-Si-Dos Automatic's favour.