Blog

4 min
How To Dry Cannabis Fast And 3 Alternatives For Wet Buds
4 min
Need to speed-dry some cannabis? Scroll down for 6 ways to dry weed super-fast. And if you want to preserve or even improve the flavour and potency of your fresh buds, check out our three easy recipes for live extracts.
So, you know that patience is key when growing cannabis, and that properly drying buds can take up to (or sometimes even more than) 2 weeks. But what if you haven't got that kind of time?
We've all been there; maybe you started packing your jars while your buds were still moist, and now need to speed-dry them in order to avoid losing your harvest to mould. Or perhaps you're all out of weed and want to have something to smoke while you slowly dry the rest of your buds.
Whatever the reason, below we'll show you some extra-fast ways to dry your weed.
Consider yourself warned: These methods damage the potency, aroma, and flavour of your bud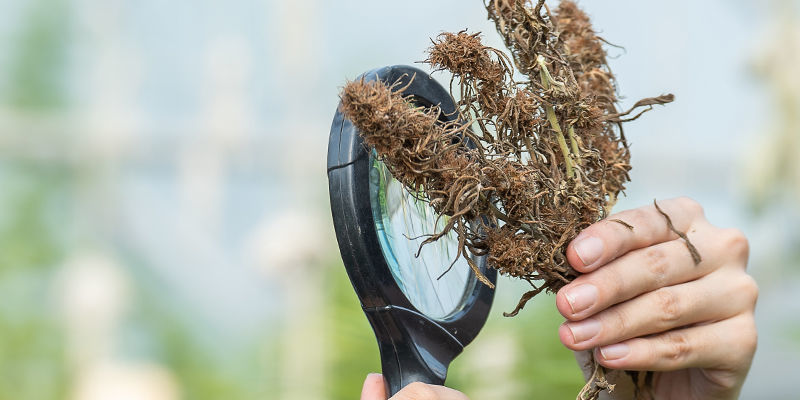 Before we walk you through some express ways to dry your buds, it's important to come to terms with the following: all of the quick-drying methods listed in this article will inevitably degrade the final quality of your buds, to varying degrees. The only way to dry your weed without damaging its aroma, flavour, and potency is to allow it to dry in a dark place, at the ideal temperature and humidity, for up to 2 weeks (or more). So don't write to us if your weed doesn't smoke, taste, or smell the way it should after following one of the methods described below.
Drying weed in paper bags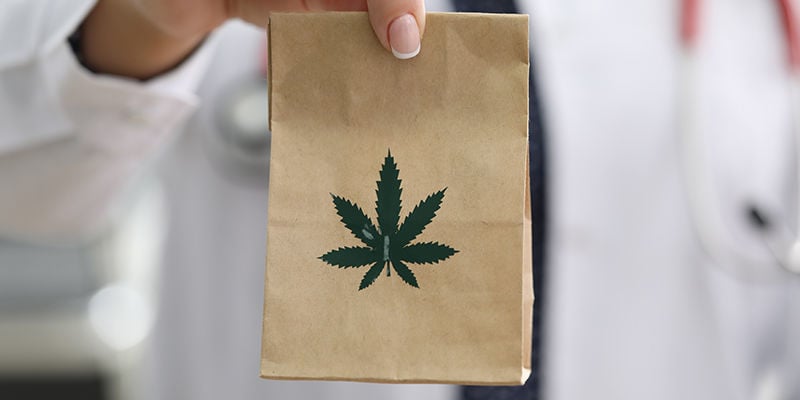 One of our favourite ways to quickly dry weed, particularly popcorn buds like those found at the bottom of many cannabis plants, is to use brown paper bags. Place roughly a handful of buds in the bottom of the bag, and slightly close the opening. Set the bag aside in a dark, dry place, and wait roughly 7 days. Small buds may dry in less time, while larger ones might take a little longer.
Drying weed using computer fans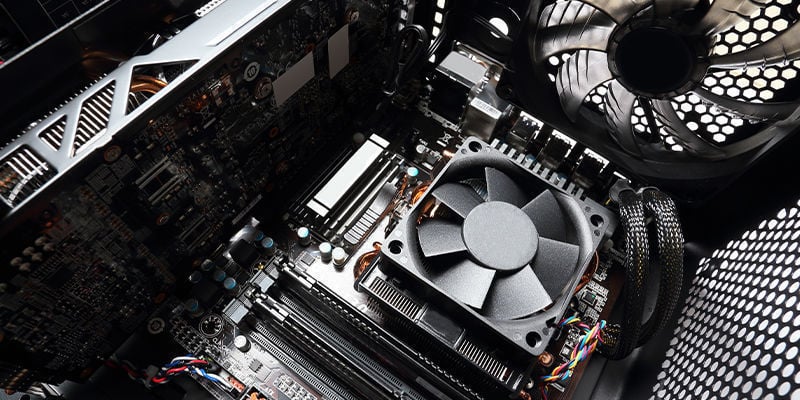 If 7 days still isn't fast enough for you, try this next method. Place a piece of kitchen towel over the cooling fans of your computer. Place your buds on top of the paper towel, and turn them regularly (every 10 minutes or so) until they're completely dry. Computer fans are designed to expel warm air from the inside of computers to keep their internal components from overheating. By placing your buds on top of or beside a computer fan, they'll be fan-dried with warm air and, depending on their size and moisture content, can be ready to smoke in a matter of hours. Keep in mind that this method also works best when drying popcorn buds.
Drying weed in a boiler room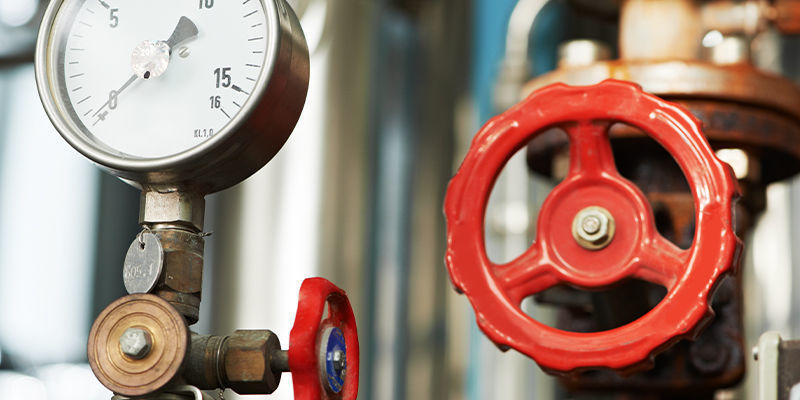 If you're willing to cover a spike in your utility bills for some dry weed, consider drying your buds in the boiler room (if you have one). Water boilers produce a lot of heat when in use, and the rooms (or cupboards) where they are installed are typically nice and dry, creating a perfect environment for speedy weed drying. Keep smaller buds in a paper bag while hanging larger buds from a piece of thread or a coat hanger as you would normally. Depending on the temperature in your boiler room and the size of your buds, your weed could be ready in as little as 3–5 days (larger buds or colas might take roughly 1 week to dry this way). Keep in mind that water boilers only produce heat when in use, so you'll have to keep your warm water running in order for this process to work.
Drying weed next to a heater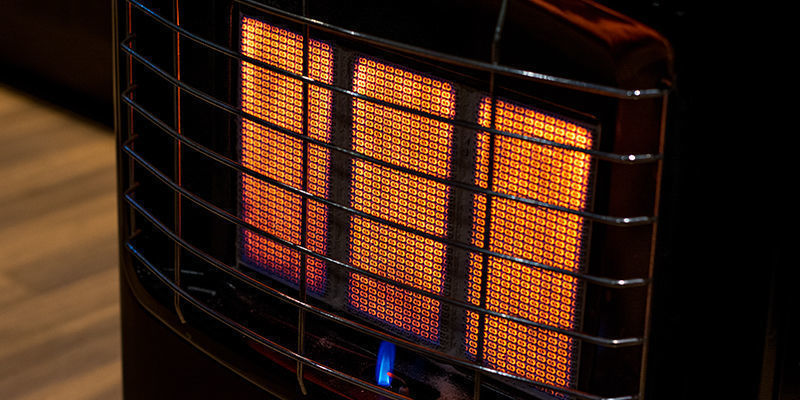 Placing an electric heater in your drying room is a reliable way to speed up the process. And of all the methods described here, it is likely one of the least damaging to your weed (when done properly). If possible, place your heater in the middle of your drying room and hang your plants around it at a distance of at least 1m. Try to keep temperatures in the room from rising above 25°C to avoid destroying the THC and terpenes in your weed.
Drying weed in the sun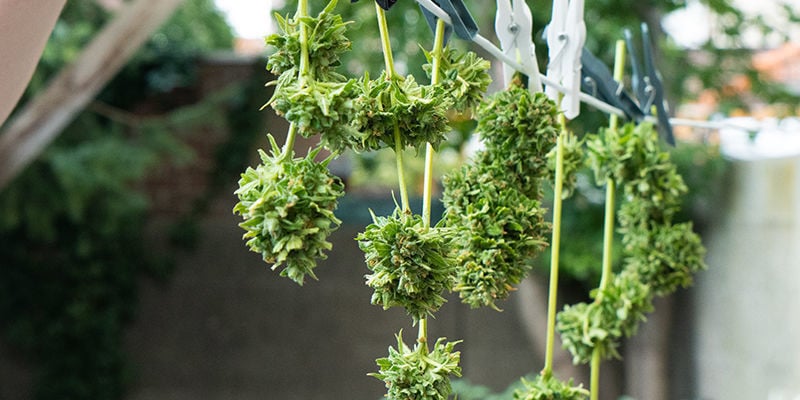 Low-quality cannabis (such as pressed brick weed) is often dried in the sun. However, we do not recommend hanging your plants to dry outside in the sun, as THC and many terpenes naturally degrade in the presence of light and high heat. If you have no other way to dry your weed, at least hang it under a sheet of tarp to keep your buds out of direct sunlight.
Baking weed in the oven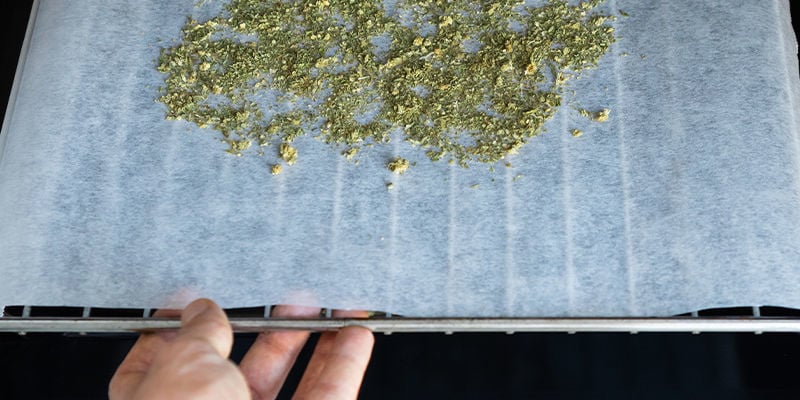 This is by far our least-recommended method for quickly drying weed. While baking weed in an oven is probably the fastest way to dry your buds, the high heat from your oven will destroy most of the terpenes and cannabinoids in your flowers. What you'll be left with is a harsh smoke that lacks potency and likely tastes like dry lettuce.
Alternatives to speed-drying weed: Use fresh weed to make live extracts!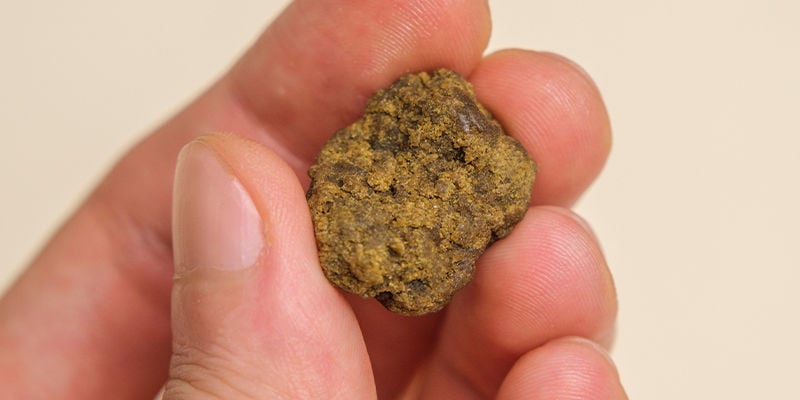 As you can probably tell by reading this article, we're not huge fans of speed-drying weed. So, what can you do with a bunch of moist cannabis, that won't destroy its flavour and potency? One of our favourite alternatives is to make live extracts.
Fresh, or "live", cannabis has a chemical composition notably different to dry cannabis. By turning fresh buds into live extracts, you'll be able to preserve some of the unique aromas of your live plants, while increasing potency dramatically.
How to make charas or finger hash from live cannabis buds
Charas, also known as finger hash, is likely one of the oldest forms of extracted cannabis known to mankind. It has a rich history across the Indian subcontinent in places like Nepal, India, and Bangladesh. And unlike other cannabis extracts, making charas is super simple and safe; all you have to do is repeatedly roll live cannabis buds or whole branches between the palms of your hands. Over time, the resin from the plants will form a brown/black, sticky coating on your hands, which you can collect and smoke.
How to make top-shelf bubble hash with live cannabis
Bubble hash is a true delicacy. And bubble hash made using fresh-frozen bud is arguably the crème de la crème of all solventless extracts. To make this delicious extract at home, you can follow any of the three methods described in our bubble hash tutorial; just replace the dry flower or trim with fresh, flash-frozen cannabis buds (that is, fresh buds that you freeze immediately after cutting them from your plants). What you'll be left with is not only a higher yield of hash, but a far superior product with delicious aromas and a clear, uplifting high.
Turn fresh cannabis buds into mind-altering live rosin
Last but not least, one of our favourite live extractions to make at home is live rosin. Just as its name suggests, live rosin is a sticky, high-potency concentrate made using fresh cannabis buds. And the easiest way to make it at home is as follows:
Harvest your flowers, trim away the fan leaves, and immediately freeze them.
Make bubble hash using the flash-frozen buds.
Take your dried bubble hash and press it into rosin using a professional rosin press or a hair straightener.
So there you have it. If, for whatever reason, you've got some fresh cannabis on your hands that you want to dry as quickly as possible, this article details a few methods to do exactly that. Just keep in mind that speed-drying renders a subpar product; consider making one of the live extracts mentioned here instead for a high-quality product with even better potency, aroma, and flavours.