Blog

4 min
Top 6 Valentine's Day Cannabis Strains
4 min
Chocolates and roses have become cliché on Valentine's Day. Why not try a bouquet of cannabis flowers and a box of infused brownies to impress that special someone? These six cannabis strains will put you in the mood this Valentine's Day.


Anyone who's smoked cannabis will know that the herb opens the heart. It has a special way of enhancing our connection to ourselves, our loved ones, and even nature. Smoking a bowl often makes us more understanding, willing to listen, and puts us in the mood for a cuddle! These qualities make the herb ideal for Valentine's Day! Smoke up with your significant other and enjoy a day (and night) of romance.
Are you wondering which strain to treat your sweetheart to? The six varieties below are perfect for inducing a cuddly, warm, and loving mood. Alright, let's spread some love!
Top 6 Valentine's Day Cannabis Strains
These six strains feature unique tastes and varying potencies, but all share one thing in common: a warm, fuzzy high! No matter which one you choose, it will hit the spot this Valentine's Day.
1. Serious Happiness By Serious Seeds: Happily In Love!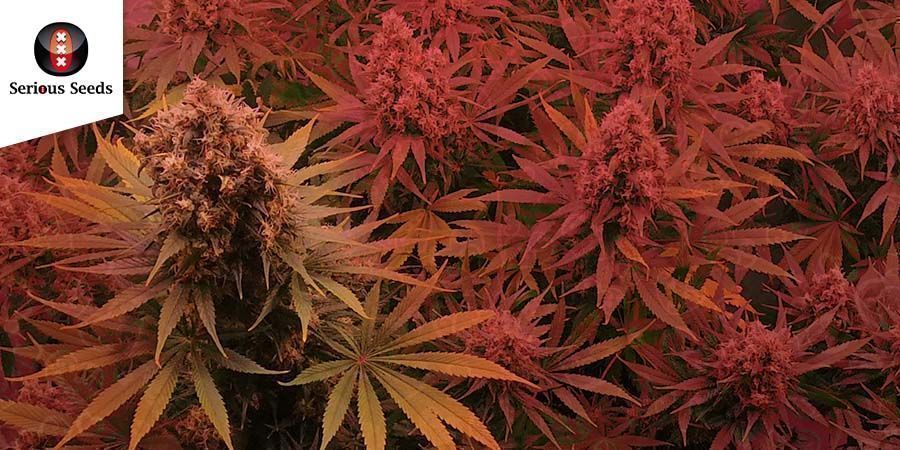 When you feel happily in love and want to share the emotion, there is actually a strain for this occasion too. Serious Happiness by Serious Seeds gives you pure happiness through her taste, aroma, and effect. The aroma and taste are fruity and sweet with a little spicy note and a sugary aftertaste.
The long-lasting buzz combines a nice body stone with an amazing head high. This one is just pure bliss! When you smoke this variety with your darling, the day will be full of lovely, tranquil happiness. What better feeling is there when celebrating Valentine's Day?
2. Sugar Black Rose by Delicious Seeds: Say it with flowers!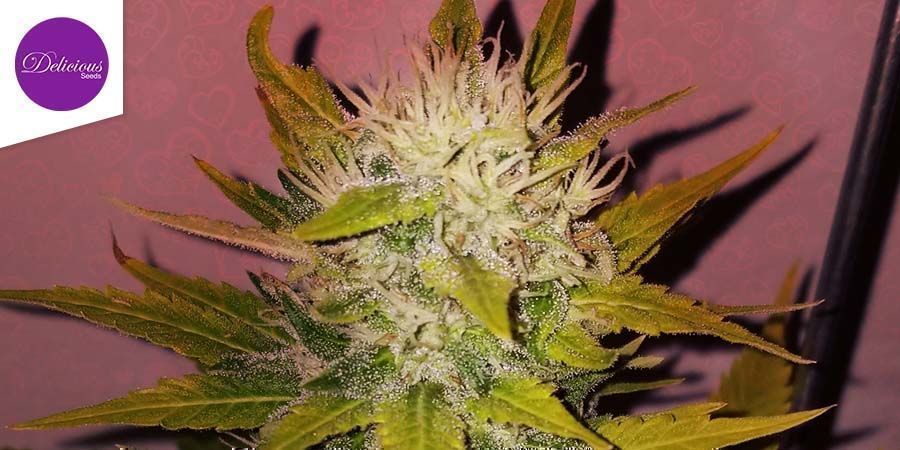 What's the thing everybody gets for Valentine's Day? Flowers. But what is way better for stoners than normal flowers? Cannabis flowers! Not only do they smell equally good (if not better), they also look great and make you feel greater than any regular rose ever could.
Sugar Black Rose is no exception here. This lady smells sweet and fruity like orange and other citrus fruits. The taste resembles mature grapes and flowers with an interesting touch of skunk. On the exhale, there are spicy tones present as well.
This one is for the indica lovers because she gets you stoned super long. The effect is almost narcotic and deeply relaxing. This strain is also good for medicinal use and is a real beauty. She is also the outcome of crossing famous strains Critical Mass and Black Domina. So, if you are thinking of a gift for your loved one, don't just go the easy route with some roses. Gift them some Sugar Black Rose. They will be very happy, guaranteed!
3. Jamaican Pearl By Sensi Seeds: Pearls!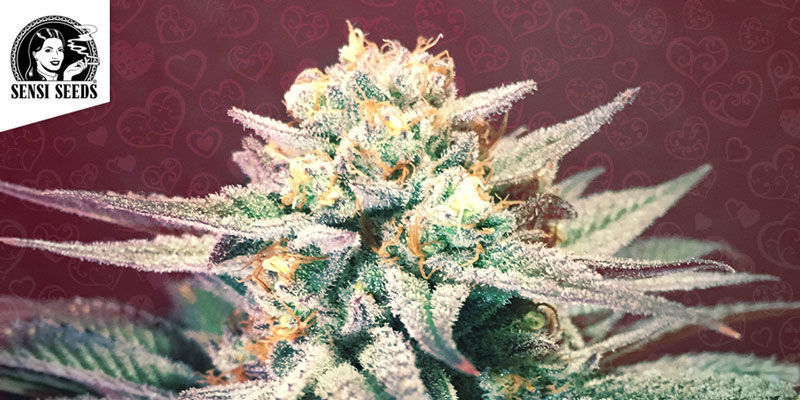 Besides flowers and candy, jewellery is a very popular gift, especially for women. Remember, "diamonds are a girl's best friend"? A stoner girl would be pretty happy about some shiny marijuana flowers as well.
If your loved one is more of a pearl person, then there is Jamaican Pearl. This classic is one of the best cannabis seeds from Sensi Seeds, and it will certainly cover that base. This tropical sativa is a very old strain. She is strong, tasty, and a real beauty. If you can't take your sweetheart to a tropical island, this strain comes close to the experience with its tropical aromas and flavours. Plus, she will get you very, very high.
Jamaican Pearl (Sensi Seeds)
Parents: Marley's Collie x Early Pearl
Genetics: 15% Indica / 85% Sativa
Flowering Time: 9-10 weeks
THC: Unknown
CBD: Unknown
Flowering Type: Photoperiod
4. Love Peace by VIP Seeds: A Cheesy Delight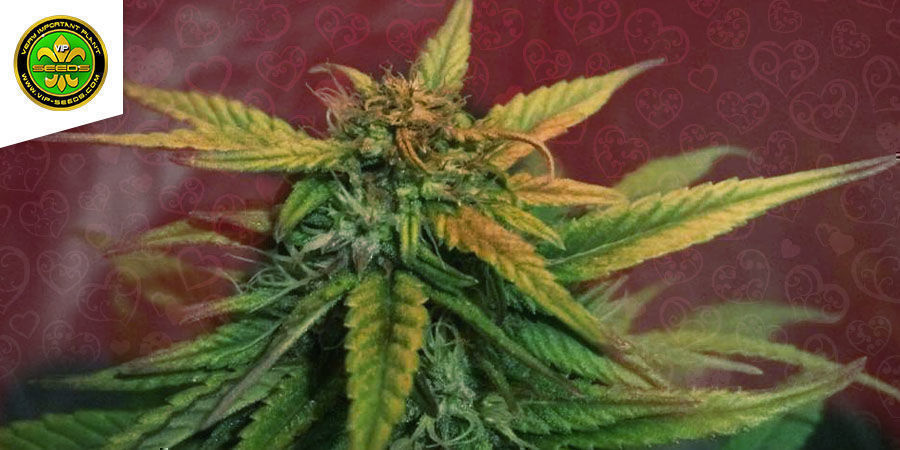 Love Peace is a classic Cheese strain with a twist. Bred by crossing an original Cheese cut from the English Exodus Collective (the original creators of UK Cheese) with a unique Afghani hybrid, Love Peace delivers a delicious Cheese aroma with subtle spice undertones. Its effects are potent and cerebral, helping to remove social inhibitions—an ideal strain to share with your loved one as you enjoy your special day.
If you're thinking of gifting your special someone a pack of seeds, Love Peace also makes a great Valentine's gift. This strain is a fast, luscious grower that's extremely hardy and can produce spectacular results both indoors and out. Come harvest time, it'll also reward your loved one with exceptional yields of top-shelf buds.
Love Peace (VIP Seeds) feminized
Parents: Cheese x Afghani Love
Genetics: 40% Indica / 60% Sativa
Flowering Time: 9-10 weeks
THC: High
CBD: Unknown
Flowering Type: Photoperiod
5. Green Love Potion by Samsara Seeds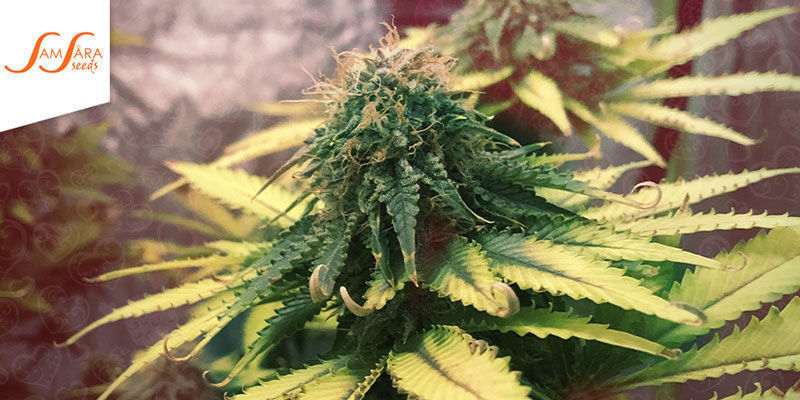 Samsara Seeds is renowned for its great genetics, and Green Love Potion truly does the bank proud. Combining genetics from Northern Lights, Ortega, Hash Plant, Afghan, Hawaiian, Korean, and American strains, this auto delivers super aromatic and eye-catching buds in just a matter of weeks. Its effects kick in very quickly, producing an introspective, calm high that's best enjoyed after dinner together with your favourite movie.
Green Love Potion is also super easy to grow. Reaching average heights of about 90cm, this strain needs nothing more than great soil and some TLC to grow into fruition. Roughly 55 days after germination, these plants will be laden with beautiful purple buds, coated in a thick layer of trichomes, and smelling of fresh mint and lavender.
6. Wedding Cake by Zamnesia Seeds: Will Keep You Happy For Many Evenings To Come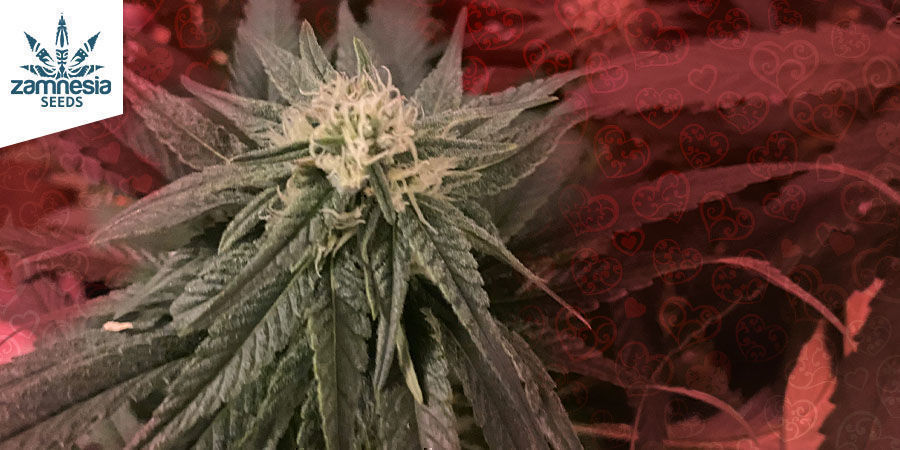 What better way to celebrate your love than with a nice slice of Wedding Cake? Now, we're not talking about a sweet, calorie-rich dessert; we mean an indica-dominant wonder that can be enjoyed on any occasion, especially Valentine's Day!
The result of some finely tuned parentage (in the form of Triangle Kush x Animal Mints), Wedding Cake is a THC-rich strain that is sure to put a smile on you and your partner's faces. With an impressive flavour profile, you'll instantly be hit by her sweet aromas with undertones of spice, blueberries, and wood. Her taste is very much the same, providing a super sweet affair that's bound to lead to some munchies. A good time to break out the Valentine's candy!
Boasting a high that starts with a strong euphoric rush and eventually settles into a relaxing inner body glow, Wedding Cake will keep you happy for many evenings to come.
Celebrate Valentine's Day With These Delicious Cannabis Strains
So, there you have it—a rundown of our favourite Valentine's Day strains. Whether you and you're loved one love toking on heavy indicas, uplifting sativas, or something somewhere in between, the strains listed here should help set the perfect mood for the two of you this Valentine's Day. So, what are you waiting for? Order your seeds today.