Blog

3 min
All You Need To Know About Spirulina
3 min
Spirulina is ancient, and it's packed with goodness. Find out all about this popular superfood below, including its nutritional and wellness benefits, and its potential side effects.
Many foods are touted as superfoods, and sometimes there's not much to it. But with spirulina, it's a different story. This algae has been consumed for many generations in various parts of the world, and contemporary scientific evidence suggests that these people had the right idea!
Find out all about spirulina below.
What is spirulina?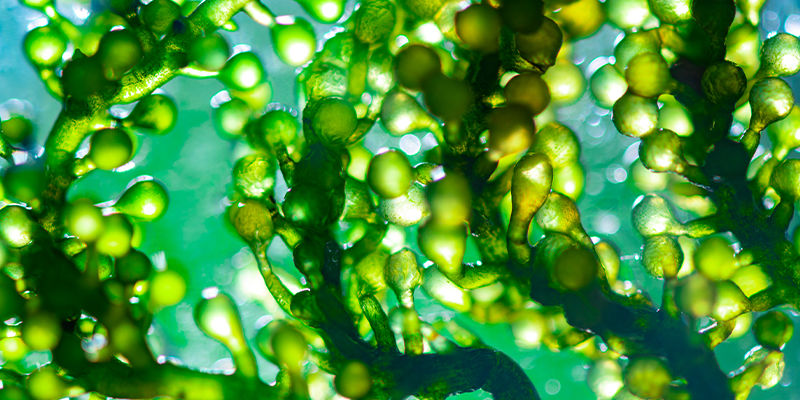 Spirulina is believed to be one of the oldest unchanged life forms on the planet. This green algae consists of cyanobacteria and can be found growing in both saltwater and freshwater. It is what's known as a biomass—similar to a colony. So spirulina growing wild is not an individual organism, but a collection of bacteria growing together. There are three different types of spirulina: Arthrospira platensis, A. fusiformis, and A. maxima.
Humans have consumed these cyanobacteria biomasses for millennia. Aztec cultures used to use it as an endurance booster, and messengers would supposedly consume spirulina in order to move faster for longer. Modern science supports the notion that this is in fact a superfood.
Nutritional value of spirulina
Spirulina is packed with nutrients and vitamins, all of which can contribute to a healthy diet. It contains:
Thiamine (vitamin B1)
Riboflavin (vitamin B2)
Copper
Iron
Magnesium
Phycocyanin
Not only is it rich in a high concentration of the above nutrients, but, given it's an algae, it contains a surprisingly large amount of energy. A single tablespoon contains 20 calories, 4 grams of protein, 1 gram of fat, and 2 grams of carbohydrates.
You may not be able to survive on spirulina alone, but if you're looking to get a lot of nutrition out of very little food, then supplementing your diet with spirulina is one of the best ways to do that.
Possible benefits of spirulina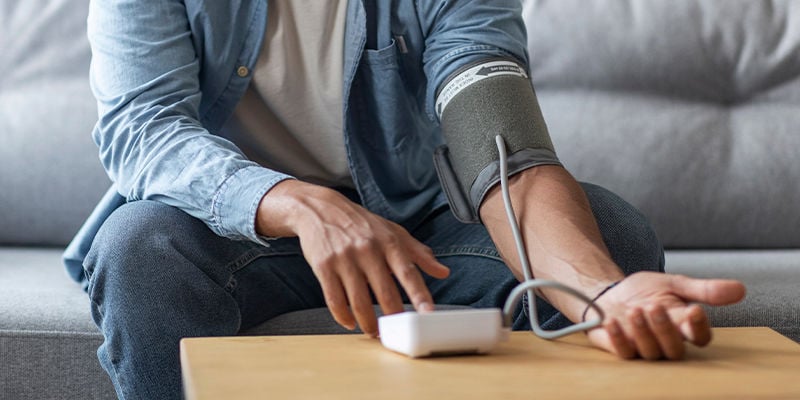 Due to the compounds contained within this algae, it is thought that regular consumption of spirulina may have a range of wellness benefits. It's hard to pin down exactly what these may be, but below we'll outline some of the research on spirulina's potential effects.
Antioxidant properties
The phycocyanin in spirulina (which also gives it its blue colouration) is a powerful antioxidant. This compound can help to prevent free radicals and thereby reduce inflammation (Bannu, 2019). Oxidative damage is linked to a number of health problems.
One effect of oxidative damage is lipid peroxidation, which is thought to be an important driver of a number of diseases. One study demonstrates that the antioxidants present in spirulina were particularly good at protecting muscles against exercise-induced lipid peroxidation, inflammation, and muscle damage (Chaouachi, 2022).
Potential antitumour effects
Most studies on spirulina's antitumour potential focus on oral/mouth cancer. Multiple studies have shown that patients suffering from oral submucous fibrosis (a precursor to oral cancer) who regularly took spirulina experienced a noticeable improvement in their condition (Mulk, 2013).
Other, more general animal studies have assessed spirulina's potential to reduce the occurrence and size of tumours (Subramaiam, 2021). However, this research is yet to be extrapolated to humans.
May reduce blood pressure
Spirulina is thought to increase levels of nitric oxide in the blood. This chemical helps blood vessels to relax and dilate. Studies have shown that, for people who suffer from high blood pressure, consumption of between 1 and 7 grams of spirulina a day is associated with significantly reduced systolic and diastolic blood pressure (Machowiec, 2021).
May increase haemoglobin levels
Reduced haemoglobin in the blood can cause anaemia, leading to feelings of fatigue and weakness. Haemoglobin helps red blood cells to carry oxygen around the body, leading to proper bodily functioning.
Some studies suggest that the regular consumption of spirulina may increase levels of haemoglobin in the blood, and may even reduce the effects of anaemia (Selmi, 2011).
May increase strength and endurance
Modern science promotes what the Aztecs seemed to learn from experience: that spirulina can increase both strength and endurance.
It is thought to do this via its antioxidant effects. By protecting muscles from oxidative stress, people are able to exert more power for longer (Gurney, 2022). For those who regularly perform exercise, this can be very beneficial, as it allows for quicker recovery.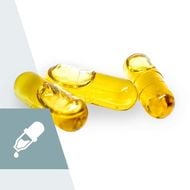 Healthshop
Our new Healthshop stocks a wide range of supplements and natural products to help you lead the healthy life you've always wanted.
View category
Possible side effects of spirulina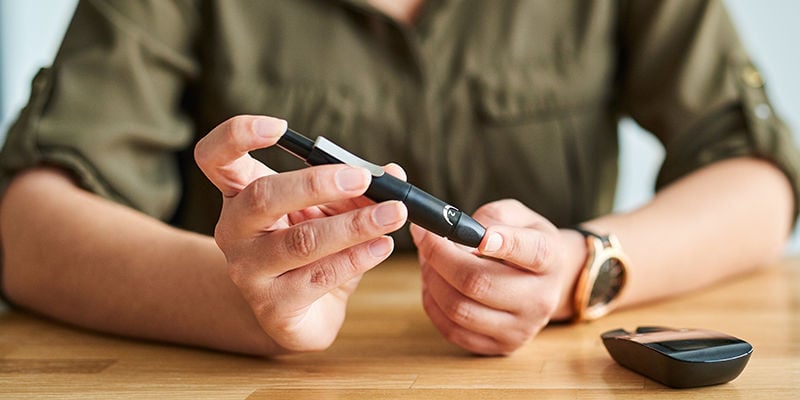 Though natural, spirulina is not without some side effects. These include:
Blood thinning: Spirulina may thin the blood and prevent blood clotting. For some people, this might be beneficial, but for those with bleeding conditions, it can make matters worse.

Blood sugar levels: Spirulina might affect blood sugar levels, meaning those with diabetes should consult a doctor and monitor their blood sugar levels carefully if they want to take spirulina.

Immune function: Spirulina can support immune function, which can worsen symptoms for those with autoimmune conditions.

Inaccessible B12: Spirulina is sometimes touted as being a good source of vitamin B12 for those on a plant-based diet. However, the B12 in spirulina is not bioavailable, meaning your body won't absorb it.
How to consume spirulina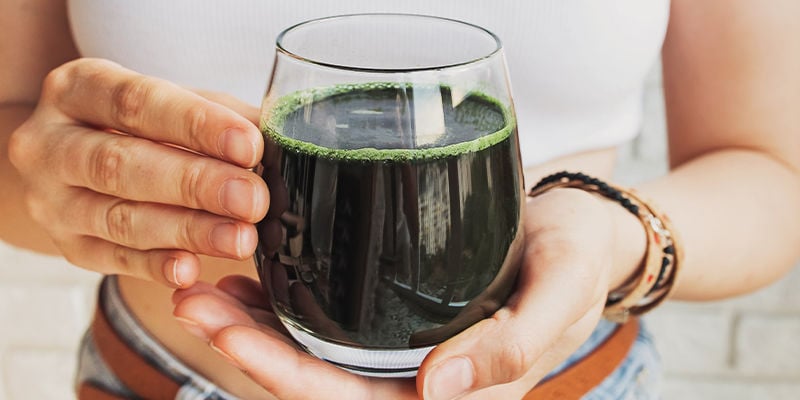 Most people use between 1 and 10 grams of spirulina a day for up to six months. Its safety after this time frame is not known.
You can consume spirulina in many forms, such as:
Powder (this can be mixed into food or drink)
Tablets
Paste
Spirulina: an ancient organism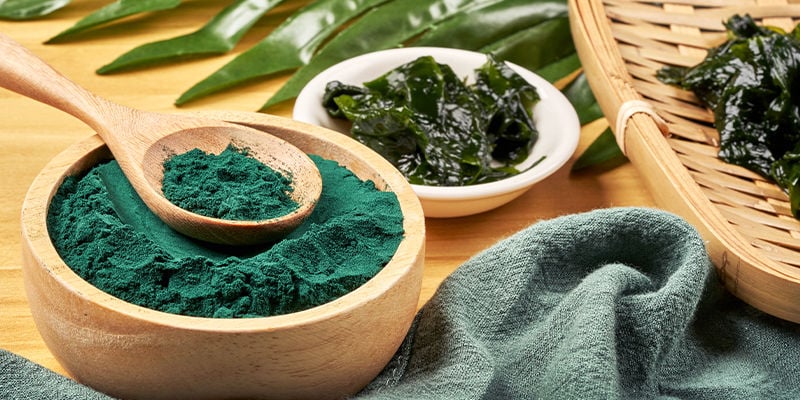 Spirulina has been around for a very long time, and it doesn't look like it's going anywhere. And for much of human history, it has been regarded as a beneficial superfood—and modern science doesn't disagree!
Spirulina is easy to consume and, for most people, safe. Packed with nutrients and potential wellness benefits, why not try it?