Blog

2 min
YouTube Deletes Pro-Weed Channels

2 min
There has been a lot of progress this decade in normalising cannabis. We still have a long way to go, however, and this latest move from YouTube confirms it. Here is the latest on the controversial deletion of pro-weed YouTube channels.
We all know how the rabbit hole of YouTube can hold your attention for hours. There is plenty of fun to be had on the video streaming site. For cannabis-lovers, it has been a spring of great content for reviewing and exploring the wide world of weed. It has provided a valuable resource for analysing the inner-workings of the industry, as well as offering cultivation, curing, and consumption advice. However, this resource may not last for long. More and more cannabis channels are disappearing from YouTube.
Popular vlogs like GreenGenes Garden, Greenbox Grown, and That High Couple have had their channels shut down. Canada's largest cannabis channel, UrbanRemo, was also taken down. Even big industry players are finding their YouTube channels deleted, from seedbank Dinafem to high-end Dutch coffeeshop chain Boerejongens. This is happening despite booming cannabusiness and more jurisdictions legalizing or decriminalising cannabis. So what gives? In short, YouTube's parent company Google has implemented new policies that target cannabis content.
WHY IS THIS HAPPENING?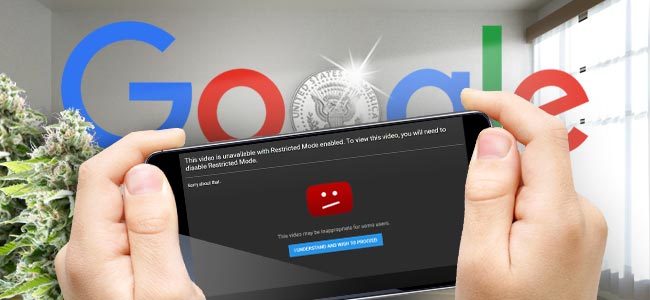 YouTube requires channels to follow Terms of Service that include "community guidelines". Three violations of these guidelines will result in all of the channel's content being erased. Videos which "encourage dangerous or illegal activities" are considered violations. YouTube's definition of such activities is broad, covering examples such as "bomb making, choking games, hard drug use, or other acts where serious injury may result".
International attitudes, at least in Europe and the Americas, are shifting towards considering cannabis as separate from hard drugs. YouTube channels around cannabis are often an educational resource. So why have they decided to clamp down so harshly?
A good rule-of-thumb in any situation is to follow the money. Ever since being acquired by Google, YT has been steering its content towards maximising traffic. Combining this profit-at-all-costs focus with an open access platform has thrown up a lot of problems for the modern world. For content creators on YouTube, it leaves them particularly vulnerable when trying to grow their audience. Making an income from the ads that play before their videos is difficult without millions of views. This has become even more difficult with recent controversial changes to YouTube policy, setting the bar higher before a channel is even eligible to be monetised.
Monetisation makes money for both the channels in question and for Google. When the content of a video can be perceived as controversial, this is another grounds for denying monetisation. This began to happen with a lot of cannabis content, which was often marked with age-restrictions. Age-restricted videos cannot be monetised. This may be part of YouTube's move towards maximising profitable clicks. This, however, is only one theory. It doesn't account for the timing of this targeting of the cannabis industry, especially when Canada is about to legalize on a federal level, with the United States possibly following suit.
ALTERNATIVE VIDEO PLATFORMS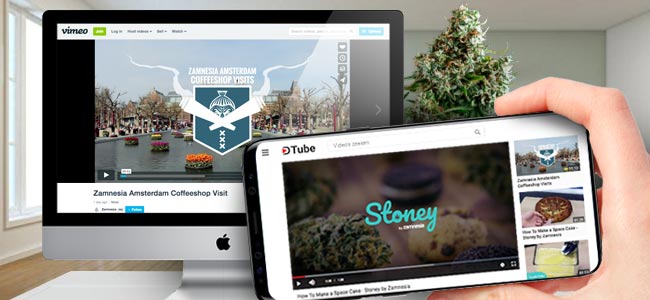 As we try to learn more about the reasons behind Google's move, what can you do if you're seeking great cannabis content on the internet? It is with heavy hearts that we must announce Zamnesia's own YouTube channel has also fallen victim to this crackdown. We must bounce back, and that's just what we've done thanks to other video platforms. Although YouTube dominates much of the internet's streaming content, there are now alternatives available to content creators who don't want to rely on the fickle whims of one of the world's most powerful corporations.
If you want to see great content from Zamnesia and Stoney again, our videos will be re-uploaded to Vimeo and DTube. Make sure to subscribe to these channels as we continue re-uploading all our content. There is plenty more to come! This shift could even justify a streaming site devoted exclusively to all things marijuana. Funnily enough, this idea already occurred to two cannabis vloggers, Mackenzie McCurry (Macdizzle420) and Arend Richard (TheGayStoner).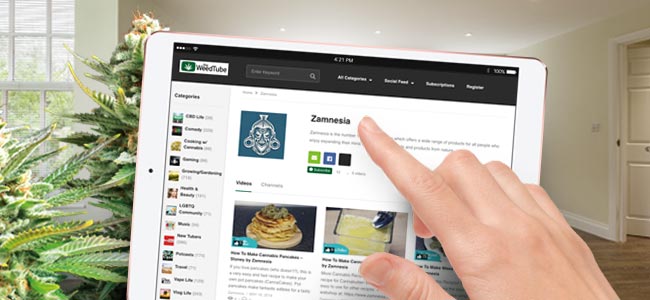 TheWeedTube is a site they launched to help fellow cannabis commentators find a stable platform. Through crowdfunding and their own investment, Richard and McCurry launched TheWeedTube earlier this year. This site gives content creators freedom to discuss cannabis as long as there's no explicit R-rated content. They can even monetise their videos. That would require them to get a lot of views, however, so we highly recommend watching the content on TheWeedTube right now. You should start by subscribing to Zamnesia's channel.
Written by: Zamnesia
Zamnesia has spent years honing its products, ranges, and knowledge of all things psychedelic. Driven by the spirit of Zammi, Zamnesia strives to bring you accurate, factual, and informative content.

Find out about our writers
---