Blog

7 min
Weird And Wonderful Cannabis Mutations
7 min
Every time a cell reproduces, there is a chance that it can mutate. Whether this does nothing, has terrible consequences, or directs a new evolutionary path is up to chance. There are many mutations that appear from time to time in cannabis plants. Here are our favourites.
Mutation brings to mind weird and wonderful changes to an organism. While it is a totally normal process, it can occasionally cause things to exhibit strange and fascinating characteristics, and cannabis is no different.
Below, we outline the most interesting mutations found in cannabis plants, and what effects they may have on the plant's growth. For some, it is little more than an aesthetic difference. For others, the whole plant changes dramatically!
What Are Cannabis Mutations?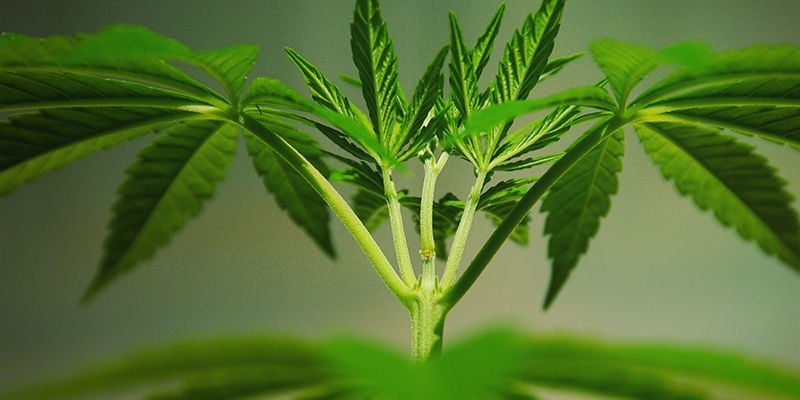 Genetic mutations occur continuously when cells reproduce, whether that's within an organism, or when two organisms create a new one. When cell reproduction leads to mutation, the results are either negligible or bad. However, when mutation happens in the creation of a new being, it can be good or bad. This is the process of evolution.
Due to the nature of recessive alleles, many mutations go by totally unnoticed. For instance, if a person has the genes for both blue and brown eyes, they will almost always get brown eyes—brown is the dominant allele and blue is recessive. The genetic makeup is the genotype; the genetic expression is the phenotype.
In terms of cannabis, many plants will carry the genetic code containing the mutations discussed below, but for the most part, they never find themselves expressed. However, once in a while, two plants will breed and the recessive alleles will become dominant, resulting in a mutant phenotype. It is those that we will be discussing below.
Cannabis Leaf Mutations
Cannabis leaves are, at least visually, perhaps the most recognisable and famous part of the cannabis plant. Even those who have never put a spliff to their lips before can recognise a cannabis fan leaf in a split second. So it's odd to imagine that, instead of those five serrated fingers, a cannabis leaf could look completely different.
Though rare, there are mutations that can cause cannabis leaves to look really quite different to how you'd expect. Among other things, these can be great for stealth and concealment.
Duckfoot Cannabis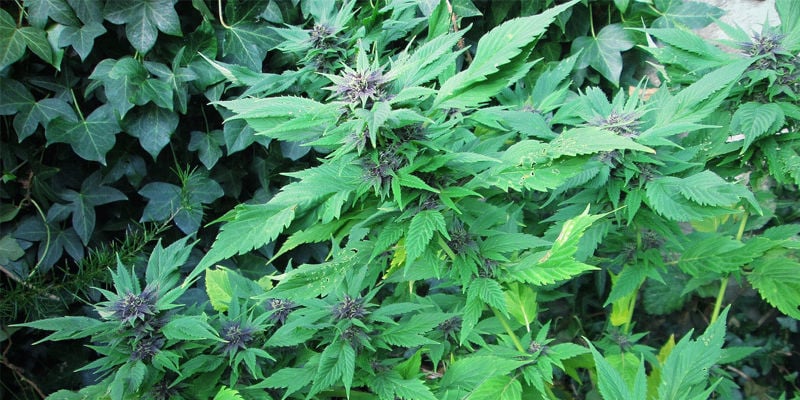 This mutation is so popular that we humans decided to keep it going. Through selective breeding, a few seed banks today are able to offer you the possibility of growing this intriguing trait—with one of the most famous examples being Frisian Duck.
"Duckfoot" is cannabis slang for pinnatifidofilla. It is also called "simple leaf mutation", "palmately lobed", or "webbed foot". It was first photographed in The Journal of Heredity in 1922 by Walter Scott Malloch, who investigated sex inheritance in species.
This mutation was stabilised in 1916. Lyster Dewey first isolated this recessive gene. The original strain was named Ferramington after its parents—Kymington (a select Minnesota #8) and a landrace that came all the way from Ferrara, Italy, which is where this mutation is thought to have originated.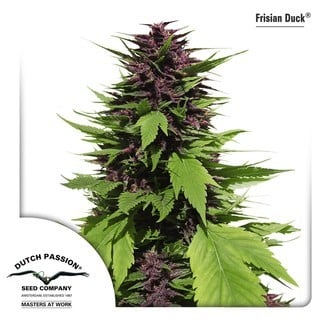 View
Australian Bastard Cannabis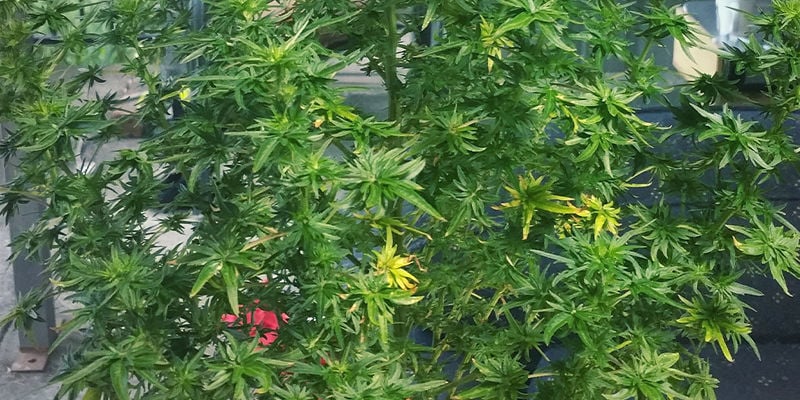 Australian bastard cannabis (ABC) is another great example of how a natural mutation is maintained and used to enhance cannabis for human consumption. As the name suggests, this cannabis mutation originated in Australia.
In mid-70s Sydney, Australia, this mutation began making waves through breeding circles. Short and stubby growth, a lack of serrated leaves, and an all around vine-like appearance made this mutation an excellent candidate for cannabis experimentation. Despite the low THC content, you could potentially breed it into a stronger variety while still retaining a very covert-looking plant. That is precisely what happened, which is why this mutation has become famous.
There have been several attempts to isolate these genes into a commercially viable strain, but more work needs to be done until stability is guaranteed.
Variegation and Albinism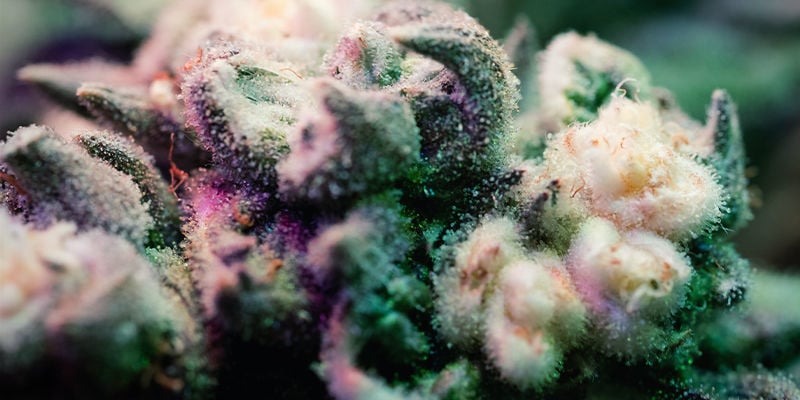 You probably know that marijuana plants can take on different colours. Purple, for example, is a hue that comes with many cool-weather-origin indicas. However, did you know marijuana can also be albino? That is, without pigmentation?
The technical term for this situation is called variegation. This phenomenon is caused by a genetic malfunction of the genes that regulate chlorophyll. These features can also be isolated to certain parts of the plant. For example, only the buds or leaves may be colourless. While they are pretty, these are not very efficient bud producers. They also tend to die quickly because they cannot synthesise light due to a lack of chlorophyll—an essential part of being a plant!
Two-Toned Leaves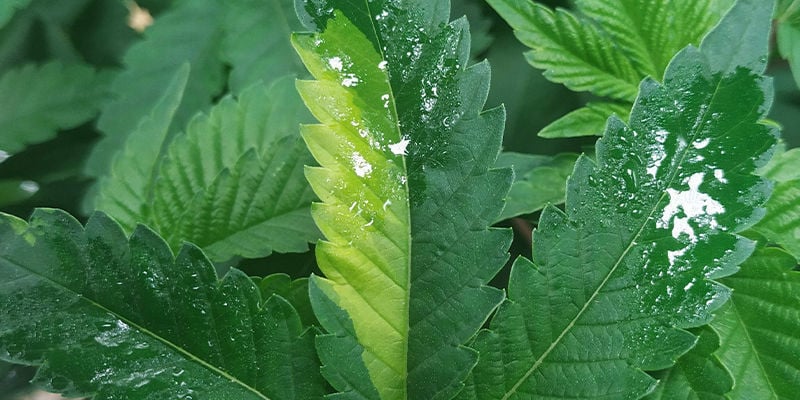 Two-toned leaves are themselves the result of variegation—likely of genetic chimerism—and essentially take on multiple tones on a single leaf. Sectorial chimeras are not something to fear in the grow-op, although two-toned leaves shouldn't be mistaken for signs of a nutrient deficiency (which will usually affect the majority of leaves on the plant). Two-toned leaves due to mutation, however, often only occur on one or very few leaves on the entire plant.
Cannabis Flower Mutations
It's not just cannabis leaves that can mutate into unusual and surprising forms. The flowers on the cannabis plant are also more than capable of displaying strange and unique expressions. Occasionally, these offer speciality effects and aromas for the inquisitive smoker, and once in a while it might be possible to manipulate them into producing a massive harvest. Sometimes, though, they can just be an interesting nuisance.
Foxtail Buds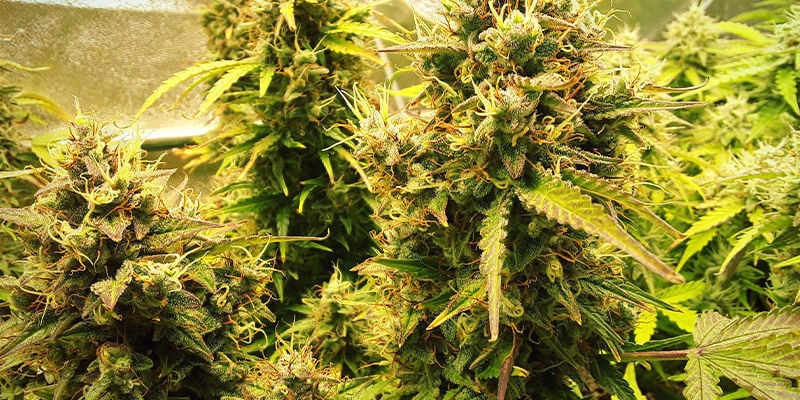 Foxtail is a sensitive subject to some. We now know it can happen for several reasons—from pure genetics to heat stress, bug attacks, nutrient boosters, and the best of hyper-dialled-in NPK. Foxtails can be described, in general terms, as sudden spurts of growth on top of the bud that spiral outward—just like a little fox's tail. A very typical occurrence in indoor grow rooms all over.
Foxtailing once had a bad rap, and to be honest, it is not the most prized of traits. It is visually quite odd, and can either have a positive or negative effect on productivity.
In some cases, the reduced visual appeal is compensated with incredible yields. In others, the exact opposite occurs. The best growers identify this phenotype and learn to dial in their feeding regimens and "hack" their grows for massive yields. If done wrong, the plant can become stressed and growth can be stunted from overfeeding.
No real hazard comes to the plant if foxtailing occurs, and actual bud quality is not affected concerning effects and taste. When it's the direct result of a genetic trait, this phenotype will produce flimsy, little plants with tiny bud sites. No one really likes this. On the other hand, certain phosphorus-tolerant strains may start foxtailing right after a PK boost in mid–late veg. Time it right, and you might end up producing baseball-sized colas that are essentially massive bundles of compact little foxtails.
Leaf Buds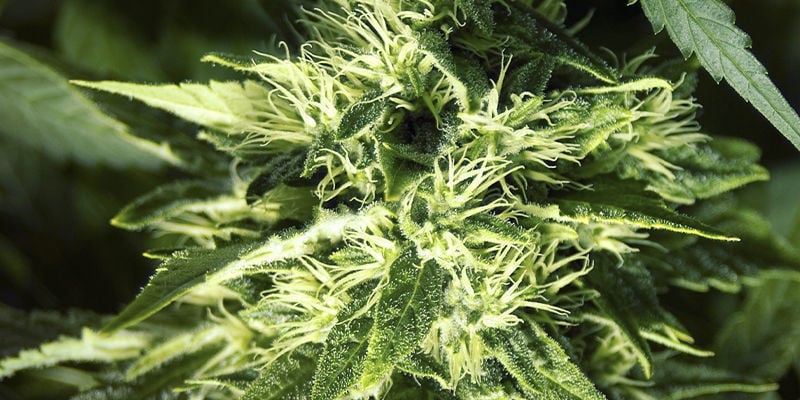 One of the stranger cannabis mutations allows plants to develop buds from the base of their leaves, where they meet on the stalk. These are never very big flowers. At present, no one is sure what causes this to happen. However, this mutation is also being explored as a way to increase yields. Time will reveal further information on this compelling variation.
Polyploidy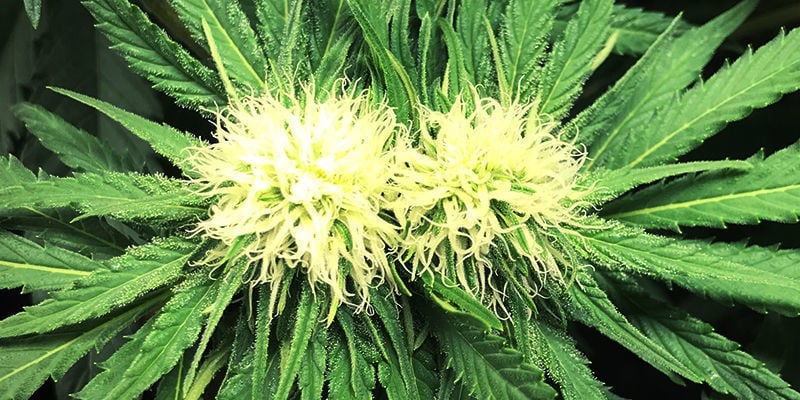 Polyploidy is the scientific term for plants with extra-developed areas; elephantiasis, in other words, for the plant world. In the case of cannabis, the plants are overall much bigger than their regular counterparts of the same strain. That said, this is not a trait that can be passed to other plants, nor does it seem to survive genetic crossings with other strains.
There is anecdotal evidence that this mutation can lead to wildly big yields and high potency, as there is double the amount of genes compared to a normal plant. However, this does not appear to be scientifically verified. If it happens to one of your plants, though, let it grow and see what happens!
Stringy Buds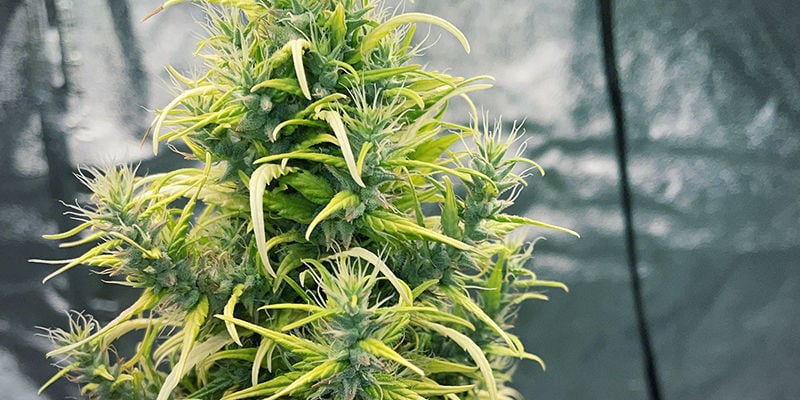 This is a mutation that has been made famous by the likes of strains such as Dr Grinspoon. When cannabis does this, the calyxes grow entirely separately from one another, rather than bunched together in tight flowers. Think of it more like a peppering of berries.
It is one of the more common mutations too, especially in South Asian and South American landraces. Compared to normal buds, these are fairly unproductive and take a long time to mature. So why have people isolated them and created commercially available strains?
Despite being less productive than others, strains with stringy buds offer unique psychotropic and aromatic qualities, making them highly sought after by those with a passion for exploring the many, many different phenotypes of cannabis.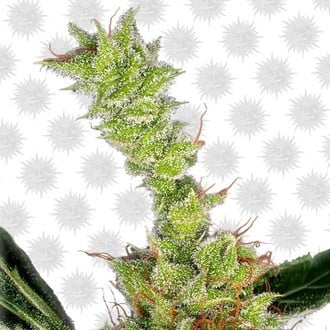 View
Cannabis Plant Mutations
Some mutations affect the whole plant, or the way it grows. These tend to be more extreme, and, rather than just changing a certain aspect of the plant, will actually cause the plant to appear fundamentally different. Particularly fascinating, for those interested in mutation, these could perhaps be some of the most exciting to see for yourself, even if they do negatively impact your yield.
Whorled Phyllotaxy (Three-Leaf Seedlings)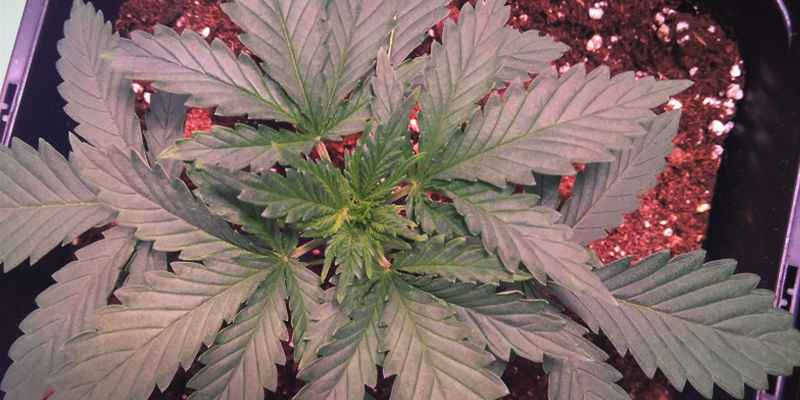 This is a mutation that causes a seedling to grow extra internodal leaves. This is also known as vertical phyllotaxis. A normal cannabis plant grows two internodal leaves. These little monsters, however, grow three or more. This phenomenon is also sometimes referred to as whorled phyllotaxy.
The bottom line? If your plant exhibits whorled phyllotaxy, cherish it. Most growers, however, do not like this kind of variant. While it can absorb more light energy than most plants, it also tends toward hermaphroditism—so keep an eye out!
Vine Cannabis
This is where mutations start to become more interesting, and even freaky. Vine cannabis is a spin-off of the aforementioned ABC—a rare occurrence that seems to pop up when it is crossed with a gene pool containing another unidentified mutation.
The result is cannabis that starts behaving like its close relative, the hop, which is a climbing plant. The hop, Humulus lupulus, is part of the Cannabaceae family. In this mutation, the cannabis plant will grow thinner, elongated stems that spiral around each other. This spiralling tendril behaviour is not native to cannabis at all and reflects deep ancestral characteristics.
It is, however, a very interesting and thought-provoking mutation.
Creeper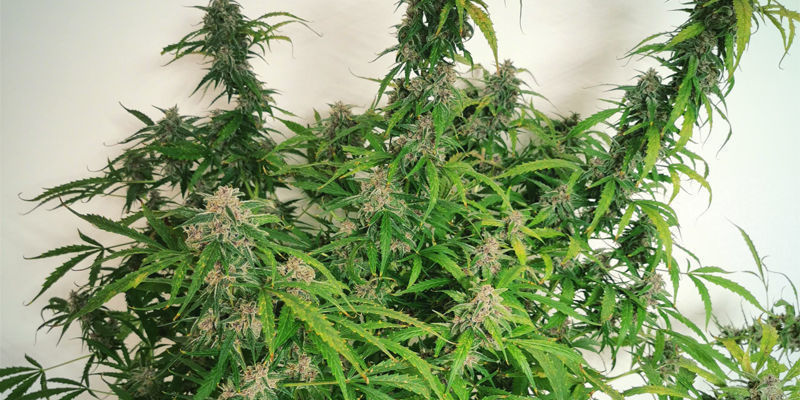 We are now entering the twilight zone of mutations. What if the plant was so huge, the side branches bowed all the way down to the ground and rooted out again?
That is exactly what has been found in the wild. In tropical regions that experience high humidity levels, there are certain sativas that display this bizarre trait. They will grow very elongated stems that look more like vines than typical cannabis stems. As they put on weight, they will topple over and eventually touch the ground and root out! As the rhizosphere grabs hold, new growth occurs with added vigour—almost as if it were growing tentacles and trying to move about.
Very little is known about this mutation, but it brings some exciting potential to the breeder's table.
Twin Seedlings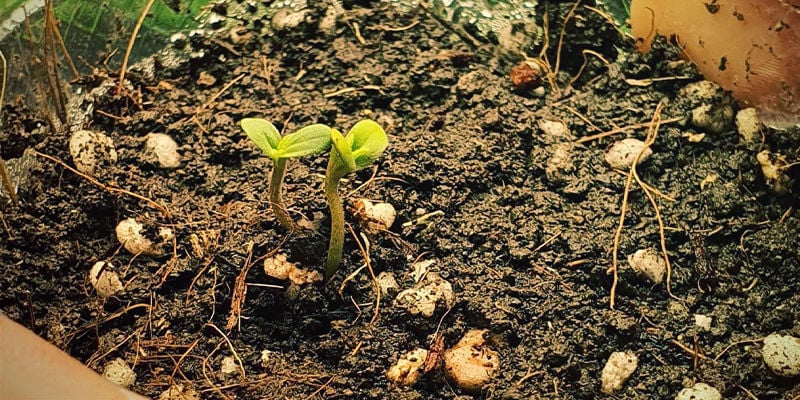 Some cannabis seeds (polyembryonic seeds) can germinate two plants. Technically, this is a phenomenon known as polyembryony. This happens just as in the human species. In this case, however, one plant will be normal and one will be a clone of the mother.
Like with human conjoined twins, you cannot separate these seedlings too early. They can be separated when they reach between 20–25cm in height. This phenomenon should not be confused with so-called "Siamese twin" marijuana, which is a mutation in which two plants share the same root.
Self-Topping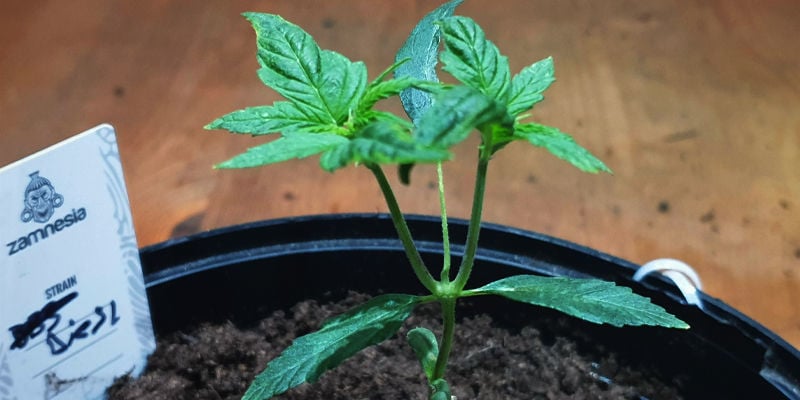 It's not entirely clear whether this is an unusual mutation or something every cannabis plant is capable of under certain conditions. It seems that it has something to do with getting the nutrients wrong at an early stage, causing the plant to redirect energy toward growing leaves outward, rather than upward.
Whatever the cause, the result is a plant that kills off its top. It's by no means devastating, and can still lead to decent yields. Depending on when it happens, you may not even lose the main cola!
Should You Worry About Cannabis Mutations?
You definitely shouldn't worry about cannabis mutations: they're in the very DNA of your plants. Therefore, in most cases, there is nothing you can do about them. A few mutations, such as foxtail buds, can be worsened by environmental stress. However, in this case, if it's managed properly, you can actually increase your yield by a significant proportion, even if its aesthetic is a little reduced.
For the most part, your cannabis plants will either be mutants or not. The main thing to watch out for is that some mutations seem to have a greater chance of causing hermaphroditism, in which case a plant could pollinate the rest of your crop and damage the harvest.
In themselves, though, most mutations are worth seeing through to harvest even if the results aren't that good. If you're a green-fingered individual that loves plants, watching something like vine cannabis at work will be wholly fascinating, rather than annoying. Who knows, spread it over a trellis and you might get a high-yield surprise.