Blog

2 min
Top 5 Cannabis Drinks You Can Make Yourself
2 min
Is your morning cup of coffee feeling monotonous? Check out these five recipes for cannabis-infused beverages. We'll cover tea, coffee, hot chocolate, milkshakes, and more! If you're looking for something to keep you warm in the winter, cool in the summer, and high all year long, you've come to the right place.
Everyone loves a good drink. During the summer, they keep us refreshed; and in wintertime, they keep us toasty. With these five recipes, you'll be able to enjoy your favourite beverage with a touch of cannabis goodness!
Cannabis drinks can be made in a few different ways: through the use of cannabutter, other edibles infusions, or with kief alone. When consuming cannabis drinks, it's important to proceed with moderation as these libations are strong and can be more potent than they appear.
We'll start where many great things do: with a hot cup of coffee.
FOR STARTING YOUR DAY RIGHT—CANNABIS COFFEE
Cannabis coffee is the wake-and-bake for the modern man or woman. If you're looking to start your day on a creative roll, cannabis coffee will bring you to where you need to be. It combines the "pep" of coffee with the mind-expanding creative energy of weed. Cannabis coffee is simple to make; for a milder brew, simply sprinkle flakes of kief into your morning cup and go from there.
When brewing cannabis coffee, you'll want to pick a strain that's uplifting, high-energy, and cerebral. Think sativa-dominant, rather than indica. A nice dose of CBD will help induce a "flow-state" to keep you going. Atlant CBD would fit the bill well.
ALL-TIME CLASSIC—CANNABIS TEA
If you'd like something a little more relaxed, consider cannabis tea. You can use this recipe with any kind of tea, from herbal teas to rooibos to green tea. Pick your favourite, choose a fat, and get ready to rock some tea!
Once again, strain choice is key. Pick a strain with effects that complement those of your chosen tea: a strain like Northern Lights would go well with a calming tea like chamomile, while an uplifting, cerebral strain like White Widow would suit a more peppy variety, like green or black tea. You can even make your own tea blend with the help of an herbal infuser.
PERFECT FOR WINTER—CANNABIS HOT CHOCOLATE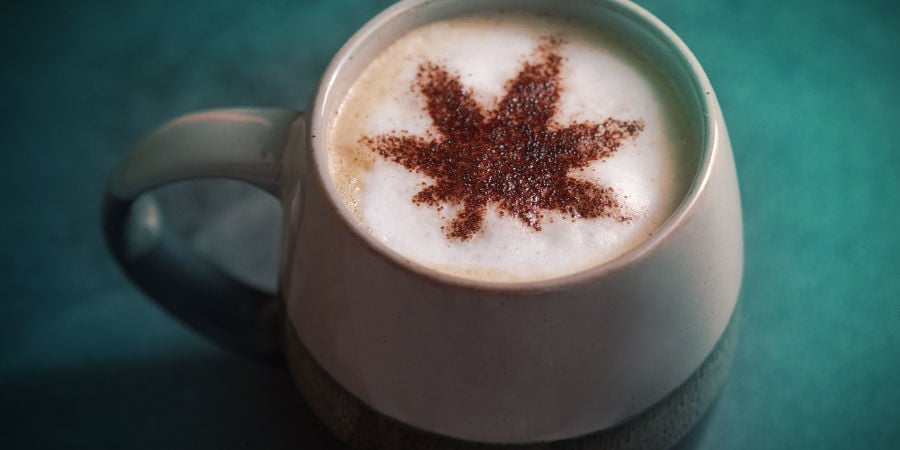 Need a beverage for those frosty mid-winter days? Cannabis hot chocolate is a delicious way to get a deep and relaxing high going during the coldest months.
Girl Scout Cookies is an excellent choice for cannabis hot chocolate. It matches on both the flavour and the effects: if you want to get cozy and relaxed, you can't do much better than a warm mug of OG Cookies-infused hot chocolate.
PERFECT FOR HOT SUMMER DAYS—CANNABIS MILKSHAKE
Our previous entry got you all set for winter, but what do you do if you need a beverage for summer? Enter cannabis milkshake. There's nothing more satisfying than a tall, cold milkshake on a hot day. Better yet, the recipe is highly versatile: you can make a fruity milkshake, a vegan one, or a chocolatey masterpiece. You can make cannabis milkshakes all summer long, without ever drinking the same one twice!
If you're going with a fruiter kind of milkshake, Fruity Jack is a high-quality choice. This Spannabis-award-winning strain will bring your summer day a sativa-dominant uplift, along with sweet flavourings to complement your milkshake's fruity profile. If you're more on the vanilla or chocolate end of the spectrum, Mr. Spice is a good choice. This balanced strain hails from Hawaii, and will bring some Pacific flavour to your summer fun.
FOR GETTING HIGH DISCREETLY—CANNABIS MILK
Sometimes, you just gotta keep it simple. For those ordinary days when you're looking for a bit of simple refreshment, why not pour a tall glass of cannabis milk?
Cannabis milk is a simple and delicious recipe made from cheaper ingredients than some other candidates on this list. It's good for everyday use, and its simplicity lends itself well to precise dosing. Cannabis milk is versatile, and should meld well with whichever strain you like best. If you're making a big batch, make sure to refrigerate to keep your cannabis milk fresh and delicious.