The Origin Of AK-47 Cannabis And The Top 3 AK-47 Strains
4 min
As if the original AK-47 sativa wasn't good enough, here are 2 other strains that some argue to be even greater. Prepare your grow room because you've found your next strains of choice.
In our The Origin Of series, we take a look at classic strains that forever changed the cannabis game. These groundbreaking genetics have spawned many of today's most popular strains, and continue to inspire old and new school breeders. If you are hungry for even more classic strain knowledge, check out our Origin Of blogs highlighting Haze, Gorilla Glue, and Blueberry.
ABOUT AK-47
If you're a consumer looking for a great combination of both mind and body high, your search has come to an end. Named after the popular weapon, the AK-47 strain is an amazing sativa-dominant hybrid (60%). It's not named after a rifle randomly. With THC levels as high as 20%, this bud will blow your mind with just one hit (as does the weapon). This great cannabis genetic comes from 4 strains: 3 sativas and 1 indica. Although its lineage might date back to the 1970's, it didn't exist as its own strain until 1992.
HIGH AND TASTE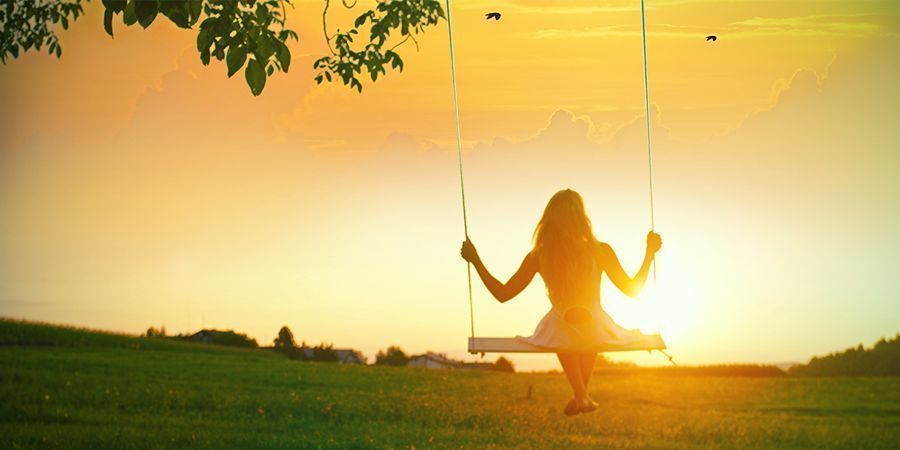 Unlike the weapon it's named after, with this high, you'll find yourself feeling extremely peaceful. You'll be mellow and calm, yet still aware and alert thanks to its sativa genetics. This mainly cerebral high will come fast and last for up to 3 hours, independently of your tolerance. Don't underestimate this strain.
Smoke too much and you might become a little too paranoid for the situation you're in. But smoke just enough, and you'll be left with a creative high that will pair extremely well with mellow music.
When it comes to the medical users, this strain won't disappoint you either. Some use it as a means of decreasing their chronic pain. Others use the AK-47 to increase appetite and reduce nausea and vomiting. But this "numbing" effect does not work only on the body. Insomniacs recommend between 1 and 3 hits before getting ready for bed.
They strongly testify by an increase in the number of restful nights as well as improved quality of these. The strain's relaxing effect works wonderfully when seeking relief for stress and anxiety. It will also help those patients seeking relief for symptoms of bipolar disorder and depression.
The taste and aroma of this cannabis strain are outstanding. The mixture of a sweet floral palate and a spicy Skunk smell will definitely meet your expectations. Look well enough and you'll even find hints of pine and sandalwood paired with a light citrus kick. These dark yellow and green nugs will surely satisfy your stoner needs. If grown properly, AK's buds will be full of trichomes and red hairs that will make your mouth water just by looking at them.
PRESENTING ZAMNESIA'S TOP 3 AK-47 CANNABIS STRAINS
#1 AK-47 - SERIOUS SEEDS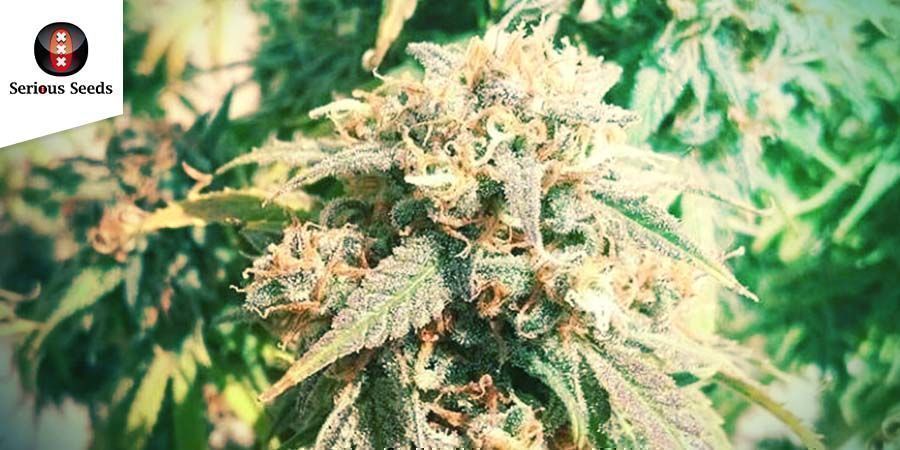 This is Serious Seeds' most popular strain because of her outstanding quality and how easy she is to grow. Although fast and easy to develop, AK-47 will not compromise your yield. You'll be finding yourself with powerfully-dense nugs covered with that delicious coat of trichomes everybody loves.
The only problem most growers will face with this plant is discretion. If you have annoying neighbours that don't support your lifestyle, this will be hard to keep secret. The AK's pungent odour will make sure everyone in your neighbourhood knows you're a stoner. Just make sure you take the necessary precautions regarding smell. This will become a problem mainly during the flowering stage, which is surprisingly short for a sativa plant. And the overall process will take you 50-60 days from seed to bud.
The AK's high speaks for itself; but if this wasn't enough, its 25 awards should suffice. In the 1999 Cannabis Cup, AK-47 was the strain with the highest THC percentage of all the entries. Its most recent award was in 2016 in the category of "Bio-weed" at the HighLife Cup in Amsterdam. This Serious Seeds bestseller is probably the most awarded cannabis strain ever.
With 16 prizes for this strain alone, Serious Seeds has won the 1st prize at Highlife in Barcelona and, in 2010, 1st prize at the Treating Yourself Expo in Toronto.
#2 ROYAL AK AUTOMATIC – ROYAL QUEEN SEEDS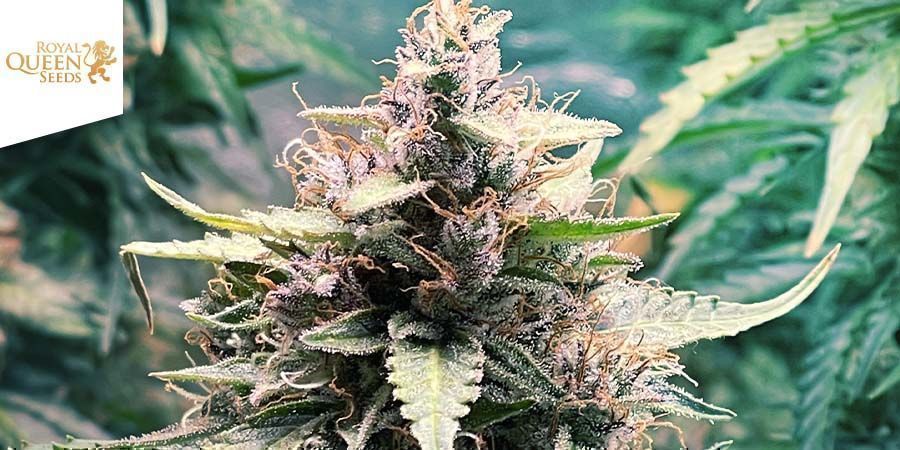 Upgrading this potent strain to a full-automatic created the Royal AK Automatic. The awesome guys over at Royal Queen Seeds crossed the classic AK-47 with their best autoflowering genetics. All their strains are feminized, so growing this beast of a plant could not be any easier. Although autoflowering, the aroma and taste will be very similar. Expect a musky and sweet smell as well as a somewhat spicy, sweet taste.
Much like the original, this auto beauty will produce extremely potent resin-covered buds. Just know it will be at the expense of your neighbours probably finding out about your grow room. This strain will take an average of 9 weeks to go from seed to bud. It will reach a maximum height of 100cm, allowing it to be grown almost anywhere. In the right conditions, these ladies will yield more than 150g of flowers per plant.
Royal AK Automatic is sure to meet everyone's expectations. She will smoke with a perfectly balanced body high and a transcendental mental stone. Royal AK Automatic's high is happy and active, as with most sativas. But it will still be strong and smooth just like the original. If you enjoy the original AK-47's high but find it hard to grow, this is for sure your best option.
#3 AK-420 – ZAMNESIA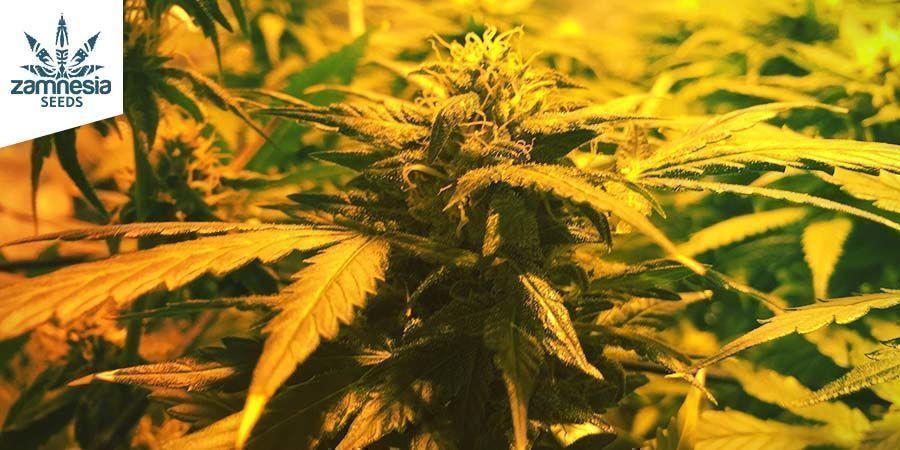 Much like the original AK, Zamnesia's AK-420 is a strain that came with force to change the game. This mixture of the rifle and the stoner's favourite time of day will blow your mind. This strain has a great high, is easy and fast to grow, and will give you abundant yields. Expect only good things with this beauty.
The AK-420 still has the Skunky flavour base, but brings an earthy aroma to the mix - something the ancestor did not. It's a very social strain. Being a sativa, this will be a great option when going out with friends. You'll be sure to meet a ton of cool people thanks to the euphoric high it brings. We only recommend treading lightly if you're a novice stoner.
This strain still gives the "one-hit" effect that distinguishes the AK from other strains. When it comes to medical users, this one-hit aspect of the strain might be a good thing. With just one puff, expect a decrease in your stress, anxiety, pain, and even depression.
This "420" twist to the AK does not take away any of its simplicity to grow. It's an extremely resilient strain that will survive in most conditions with just 8-9 weeks of flowering.
LEGENDARY LINEAGE
The AK lineage has been built on the best genetic foundations. It is an absolutely outstanding strain that will please anyone looking for the legend (or a variation of it). If you want a behemoth of the sativa world, the AK is your next seed to purchase.
Good luck with your crop and be sure to take good care of your plant. The more time invested in the growing process, the more time you will spend super-high, trying to smell colours.