Blog
1 min
Strain Review: Kali Mist
1 min
Kali Mist is among the finest sativas on the market today and is a top choice among connoisseurs. Looking at all the prices this strain won, you can rest assured this weed packs a punch.
Being an almost pure sativa (90%), the high from Kali Mist is very strong and euphoric, it can be even psychedelic at times - and that despite the rather moderate THC level of 14-16%. As with most strains, it's not just about the THC content - the balance among the cannabinoids and terpenes is what gives a strain its unique character. In this case, the effect is most uplifting and elevating.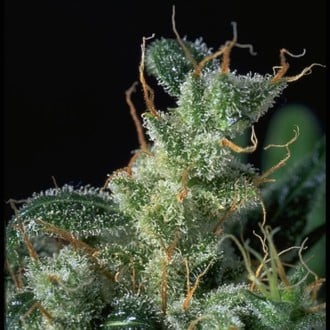 View
Kali Mist (Serious Seeds)
Parents: Kali Mist
Genetics: Sativa
Flowering Time: 10-11 weeks
THC: High
CBD: Low
Flowering Type: Photoperiod
Kali Mist has proven to be beneficial for medical users with chronic pain, multiple sclerosis, anxiety, depression and fatigue and particularly women like this variety, as it works against PMS symptoms and menstrual cramps. It's the perfect daytime bud; a few good puffs are positively energizing - but a little more and you'll feel its sheer sativa power.
Kali Mist is a perfect contender for indoor cultivation and performs great in both ScrOG and SOG setups. For optimum results the plants should be switched into flowering after 30-40 days of vegetative growth, to avoid difficult heights. The plants have an open structure, allowing for the light to reach even the lower branches which increases the overall yield.
If you lack patience, Kali Mist is not the best choice - typical for a sativa, the long flowering time of 70-90 days can be quite a challenge. But the long wait is generously rewarded with 300-500g/m² of outstandingly resinous flower clusters with a delightfully sweet and spicy aroma. Under natural light, expect a harvest by early November.
When cultivated outdoors, Kali Mist prefers warmer climates, such as Spain, Portugal, North Africa, California or Australia, where she will grow up to 3 meters high - and reward with corresponding yields. The strain is highly mold resistant and will do well even in very humid climates.
Kali Mist has won over 10 awards, among these are:
1st place at the High Times Cannabis Cup 1995 in the hydro category
1st place at the High Times Cannabis Cup 2000 in the Sativa category
3rd place at the High Life Spain 2004
1st place at the Seedcup 2008 in Bologna, Italy
3rd place at the Guerilla Cannabis Cup 2009 in Kent, England
1st place at the Cannabis Champions Cup 2012 in Barcelona, Spain, in the Best Hash category