Blog

3 min
K. Haring: Fusing Iconic Art With Quality Glassware
3 min
Although Keith Haring's life was cut tragically short, his impact on the art scene is still felt to this very day. With vibrant designs, bold colours, and broad strokes, very few artists are able to match his distinctive style. What better way to celebrate his life and art than with an officially licenced K. Haring glassware product?
Iconic and groundbreaking, Keith Haring's art style is instantly recognisable, and not just in the art community. Combining New York street culture with pop art in thought-provoking and vibrant pieces, now you can own a piece of his legacy thanks to the exclusive K. Haring Glass Collection. But this is no "cheap cash-in"; far from it. Curated and designed by the folks at Higher Standards, it keeps the spirit of Haring alive by introducing his work to a whole new audience.
Let's take a look at what's in store.
Introducing K. Haring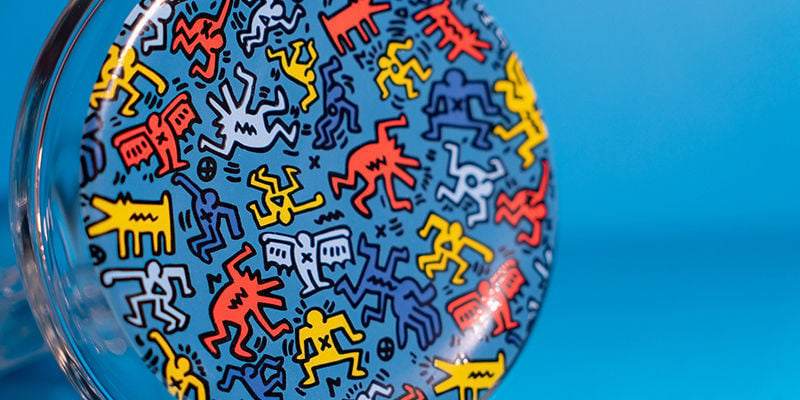 The K. Haring Glass Collection is where striking visual design and superb functionality meet. With portable and tabletop devices, this selection of officially licenced glassware is set on providing a great smoke every time. As a perfect way to honour the life and work of Keith Haring, each piece is carefully created by the Higher Standards team. From the iconic artwork featured on each piece to the high-quality deluxe box they are presented in, nothing is left to chance here, making for a premium experience.
Why choose the K. Haring Glass Collection?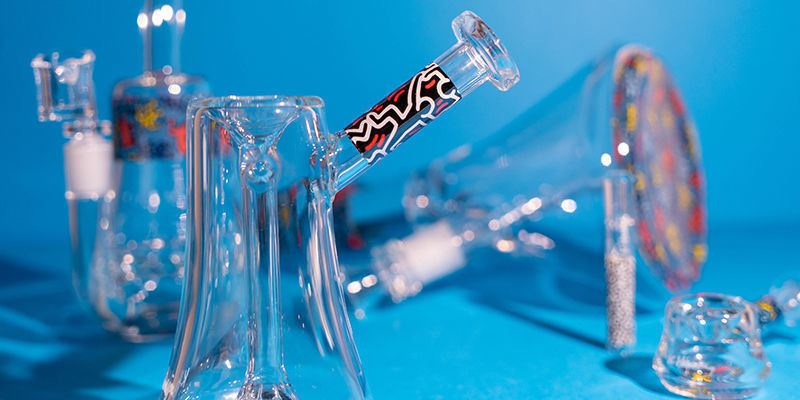 There's no denying that the glassware and cannabis accessories market is an over-populated one. However, not only does K. Haring stand out from the crowd by offering one-of-a-kind contemporary art designs, but each piece is made from highly resistant borosilicate glass, making for robust products that can withstand the occasional knock.
From spoon pipes to glass bubblers, there's a product in mind for all cannabis fans. The beauty behind K. Haring is that you don't need to be some high-class art snob to enjoy the products. The artwork is accessible, bold, and still as appealing as when it was first unveiled. However, that's not to say that these products won't be the talking point of your smoking sessions.
As each product features the unique, unmistakable artwork of Keith Haring, they are just as much collector's items as they are spellbinding smoking accessories.
K. Haring Glass Collection is now available at Zamnesia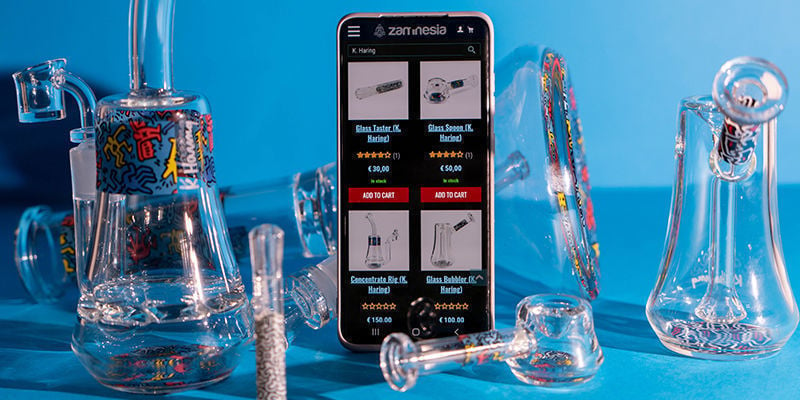 Without further ado, below are some of the leading K. Haring products available from Zamnesia. Each one is primed for a different kind of smoker, but all prominently feature Haring's artwork alongside the premium quality customers have come to expect from the K. Haring Glass Collection.
Glass Spoon
Boasting unrivalled portability, the Glass Spoon is a handheld smoking device that's eye-catching for all the right reasons. Constructed from tough borosilicate glass, this durable and light pipe excels in providing an accessible and effortless smoking experience. With a generously sized bowl, there's plenty of space for your finely milled herb. Complete with a flat mouthpiece and wide-rimmed base, superior airflow and a comfortable grip make for a leisurely smoke.
The neck and base of the Glass Spoon are adorned with hand-applied and heat-resistant Keith Haring artwork, giving the pipe a burst of colour that's easy on the eyes.
Glass Taster
With its cylindrical design, the Glass Taster is another highly rated portable smoking device from K. Haring. Measuring 3.3 inches (8.4cm), the Glass Taster slips effortlessly into the hand, making it the perfect pocket-sized companion. A simple twist is all it takes to unlock the Glass Taster's power. Load up your finely ground bud, light, and you've got an easy smoking solution whenever you need it.
The borosilicate glass material is easy to clean and maintain, as all parts are accessible. A simple, quick clean after each smoking session will keep your Glass Taster gleaming. And with the trademark K. Haring design emblazoned on the piece, you'll want to keep it spotless to appeal to your artsy stoner side.
Glass Bubbler
Bridging the gap between portability and more stationary smoking solutions is the Glass Bubbler. Measuring 14.7 × 14.7 × 16.5cm, it's larger than the aforementioned devices, but for a good reason. Chock-full of features, such as an 8-slit showerhead percolator and a fixed bowl and downstem, the Glass Bubbler has everything you need for a cool and smooth smoke when the mood strikes. Fill the chamber with water, load up the bowl, light, and take a hit from the mouthpiece. It doesn't get much easier than this.
You'll find eye-catching artwork on the neck leading to the mouthpiece, and at the bottom of the broad base. Perfect for admiring when you set your Glass Bubbler down between tokes.
Concentrate Rig
While the other devices mentioned are geared toward herb, the Concentrate Rig caters for resins, oils, and all kinds of extracts. Standing at 10.8 × 8.4 × 23.9cm, this sturdy borosilicate glass pipe embodies the contemporary designs of K. Haring, with a few added features that are perfect for newcomers and the experienced alike. Inside the pipe, you'll find a turbine percolator with cyclone action to cool your hits for an even smoother smoke.
This is an easy rig to get to grips with, and has a built-in splash guard, a 90-degree downstem, and a UFO-style directional carb cap to give you complete control when it comes to airflow. Enjoy the bold blue K. Haring artwork intertwined around the Concentrate Rig. This is a pipe that will really impress your friends.
Check out the full K. Haring range today
Looking to check out what K. Haring has to offer? If we've piqued your interest with our selections, you don't have to look far to try them out for yourself. K. Haring products are now available to purchase from the Zamnesia Headshop. So bring out your creative side and get paired with a device that speaks to you.