Blog

6 min
Top 15 Female Cannabis Influencers On Instagram [2021 Update]
6 min
Weed is a hot topic. And there's no shortage of funny, informed, witty, and sexy influencers out there making the most of it. Check out the list below for a look at some of the top women of weed on Instagram.
The international cannabis community is growing, and to demonstrate the diverse legion of cannabis-loving individuals out there, we'd like to shine a light on some of our favourite women in the game. These Instagram influencers offer a wealth of interesting and eye-catching content, so make sure to check them out and give them a follow.
Top 15 Women Cannabis Influencers You Need To Follow on Instagram
Whether you're seeking videos of huge dab rips, lifestyle-focused content, or giveaways, these women will inspire some major FOMO with their weed-centric profiles.
1. @Itsmiabeyer2.0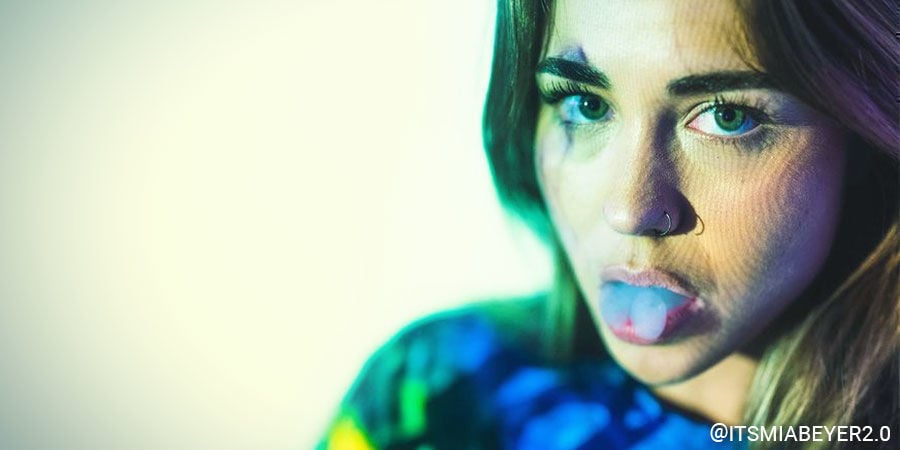 Based in LA but originally from Michigan, Mia Beyer makes no effort to hide her love for weed. Whether you follow her on Instagram, Twitter, TikTok, or Snapchat, you'll always find her sucking on a joint, bong, or a fat blunt (which seems to be her favourite). Occasionally, you'll also find her sharing short videos of her playing guitar, keyboard, or singing, chowing down on her favourite munchies, and shouting out some of her favourite cannabis brands and dispensaries. Through everything she does, Mia's passion for cannabis always shines, inspiring others to share their own love for the herb.
2. @Trippy.treez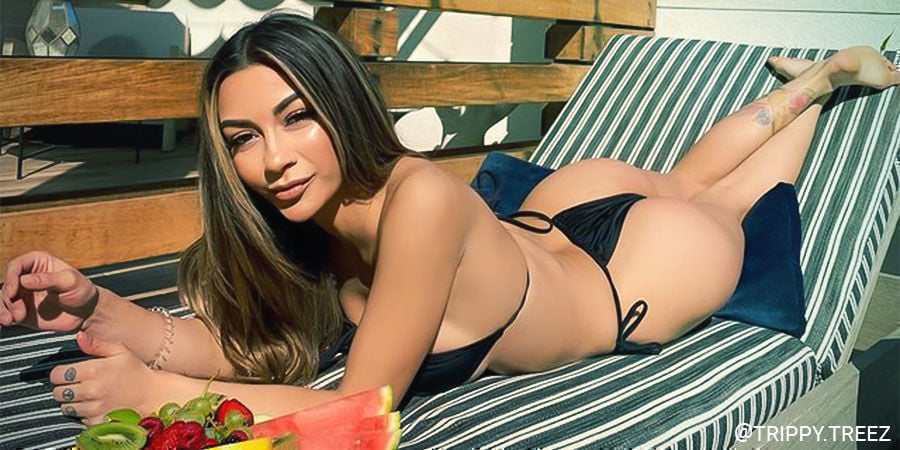 Trippy Treez is a long-time cannabis influencer and marketer also based in LA. With over 200k followers, her Instagram is laden with sexy pics, hilarious TikTok videos, and the occasional giveaway or promo. Meanwhile, Trippy Treez's YouTube channel is a goldmine packed with product reviews, regular giveaways, tutorials (on everything from how to roll a blunt to how to french inhale), travel videos, exclusive videos inside cannabis shops and smoke spots, and much more. Without a doubt, Trippy Treez is one of our favourite weed influencers out there. Oh, did we mention she is one of the few prominent vegan edible connoisseurs as well?
3. @sheflieshigh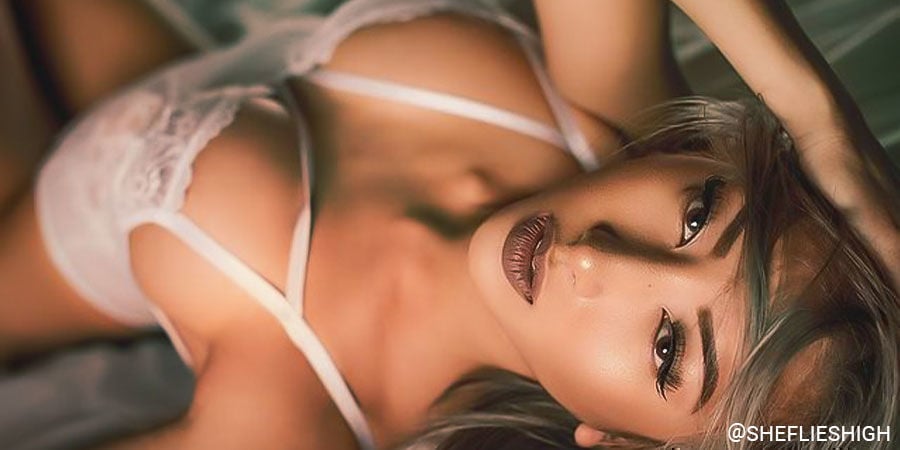 She Flies High (aka Jennie) is a stoner with a big attitude. Her Instagram consists mainly of her professional modelling pics, while her Twitter predominantly features brand shoutouts, promos, and funny tweets. She's also recently taken to YouTube, where she's started sharing product reviews, hosting Q&A sessions, and unboxing dispensary hauls. Some of the products she's featured on her channel include a $300 cannagar and $250 worth of concentrates, flower, edibles, and more. Finally, She Flies High also founded her own merchandise company, Tokin Asians, together with fellow weed influencer Merrica. Their merch line currently consists of different t-shirts and accessories.
4. @pothead.princess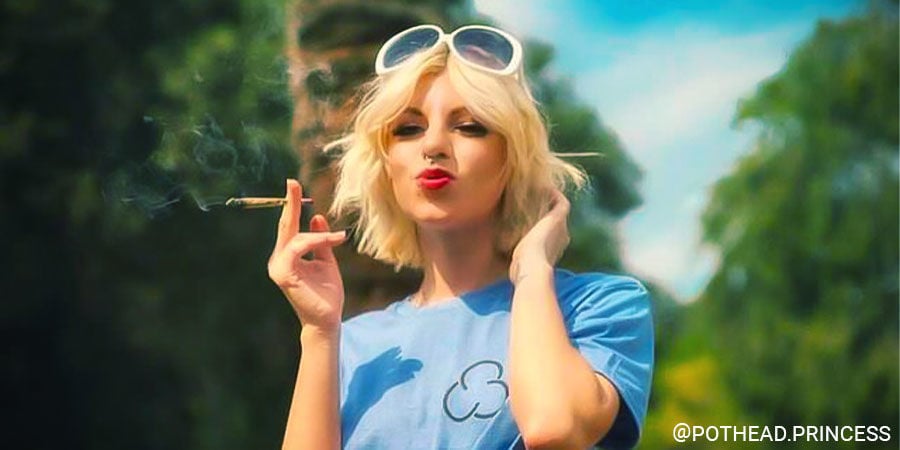 Pothead Princess is a real dab enthusiast. Her Instagram comprises a huge collection of content. Pothead Princess is also a huge foodie with a massive collection of Insta stories boasting some of the most mouthwatering dishes you can imagine. She regularly posts product promos from some of the most popular Californian cannabis brands, hosts giveaways, and is also a member of The Real Cali Connection, the second oldest legal seed bank in the US. With all this going on and more, Pothead Princess is one of the hardest hustlin' weed influencers out there.
5. @sarahjain420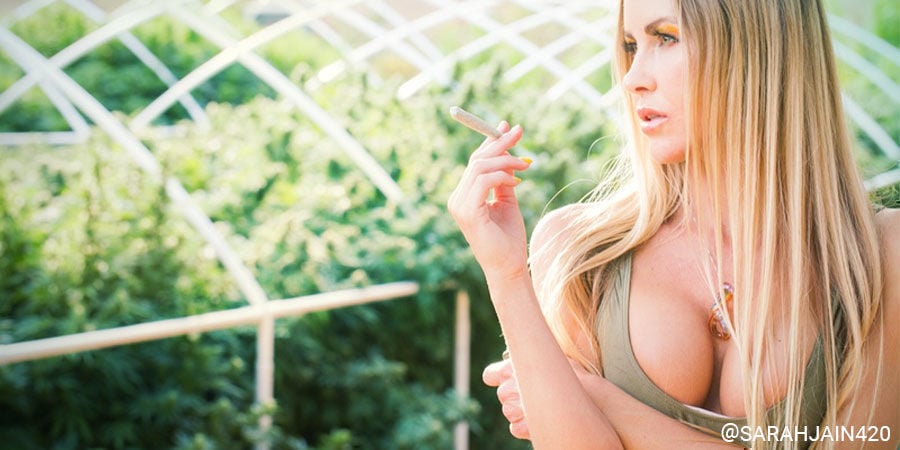 Sarah Jain is one of the weed world's most renowned cover girls. Despite her steamy photoshoots, she is a self-proclaimed hash sommelier who makes it her mission to constantly shine a light on the best dabs around. Based in San Francisco, Sarah's content features some beautiful West Coast scenery, as well as some of the biggest names in Bay Area weed. She is also a huge fan of psilocybin mushrooms, which she regularly features in her posts for their holistic properties and spiritual complexity. You'll find Sarah at all the latest cannabis events, and in the promotional shots of some of Cali's biggest weed brands.
6. @koala.puffss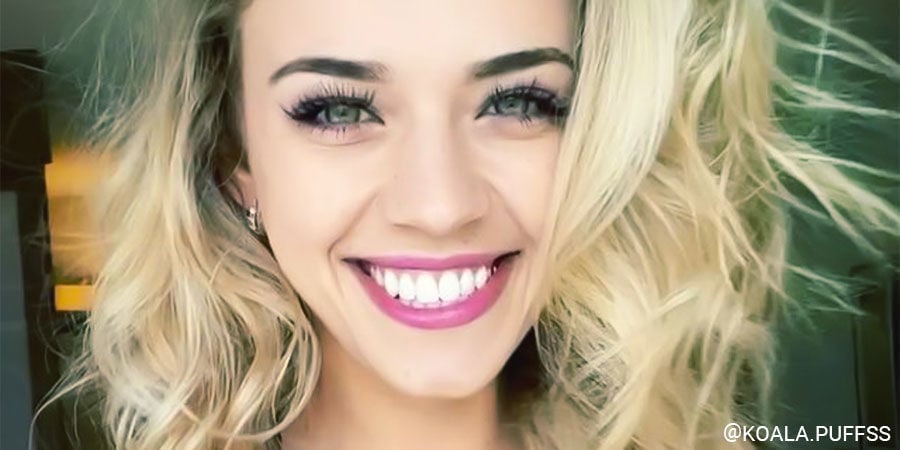 Koala Puffs is a standout on this list as her content is less focused on modelling. And her 680k followers seem to love it. Besides completely destroying on social media, Koala Puffs is also a legit entrepreneur; she runs her own lifestyle company that sells a ton of merch, including accessories (like pins, buttons, and tote bags), smoking equipment (such as dab mats, bongs, and lighters), and monthly mystery boxes that come packed with a unique variety of goodies (such as pipes, rolling trays, accessories, and more). Finally, Koala Puffs also produced a catchy single called Puff Pass that you can check out.
7. @muh_riah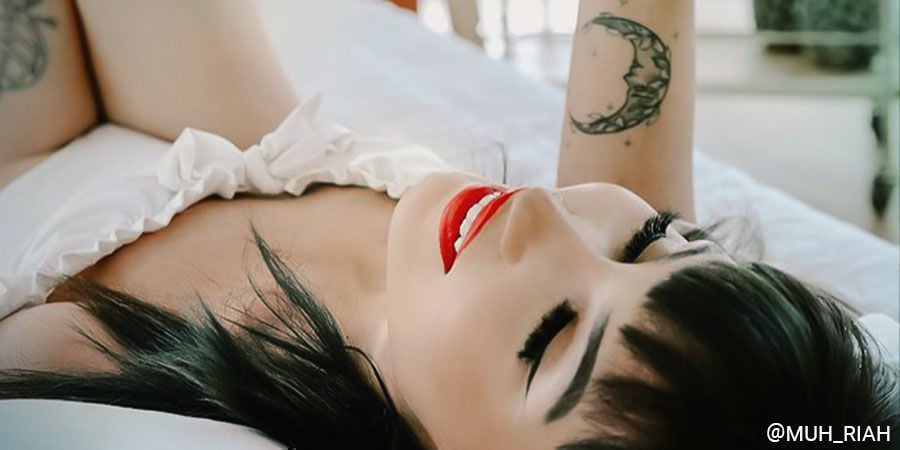 Muh Riah is another of our favourite weed influencers. She really stands out from the crowd due to the multiple facets of her work; she's a photographer, jewellery designer, and entrepreneur. Via her brand Uprise Collective, for example, Muh Riah creates authentic content for brands and other influencers, focusing particularly on travel, women's empowerment, and (you guessed it) cannabis. Her content has a really unique scope, and her eye as a photographer really sets her apart from some of the other influencers in the industry. If you're looking for truly creative, multifaceted content, make sure to follow Muh Riah on Instagram and all her other channels.
8. @lizzyjeff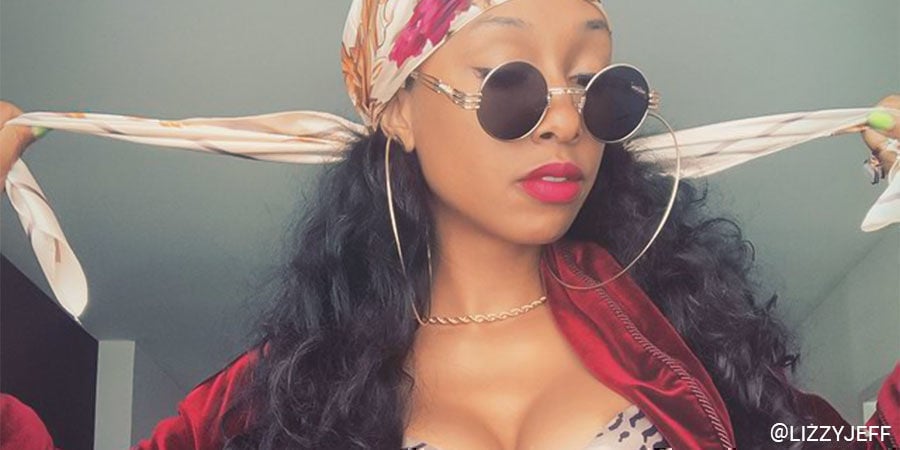 Lizzy Jeff's work encompasses many things. She's a self-proclaimed medicine woman, rap priestess, visionary curator, and much more. Her content is fresh, with a uniquely spiritual twist. Lizzy's brand Zen & Kush can best be described as an elevated lifestyle company that encompasses everything from music production and live event hosting to creative direction, brand consulting, and even personal one-on-one coaching/mentoring. Zen & Kush also hosts a weekly masterclass session called The Divine Assembly, which connects a unique group of alchemists, healers, creatives, artists, and much more. Make sure to check her out for yourself to better understand everything she does.
9. @sewkey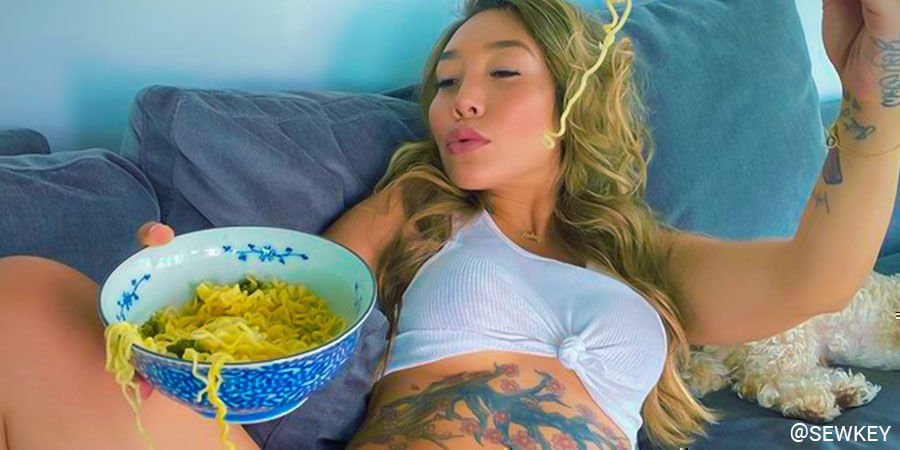 Sewkey Herrera is an American cannabis model, influencer, actress, content creator, and professional music artist that often draws from her Korean and Mexican backgrounds in her content and modelling. One of her most recent ventures is the creation of a new line of cannabis genetics called Ramen Strain. Together with Californian Genetics company Andretti Canna Co, Sewkey has created strains such as Ramen, Geisha, and Cherry Blossom. Oh, and just in case her pictures and videos weren't naughty enough, Sewkey also does XXX content via OnlyFans. Make sure to follow her on Instagram for links to all of her work.
10. @theashleydee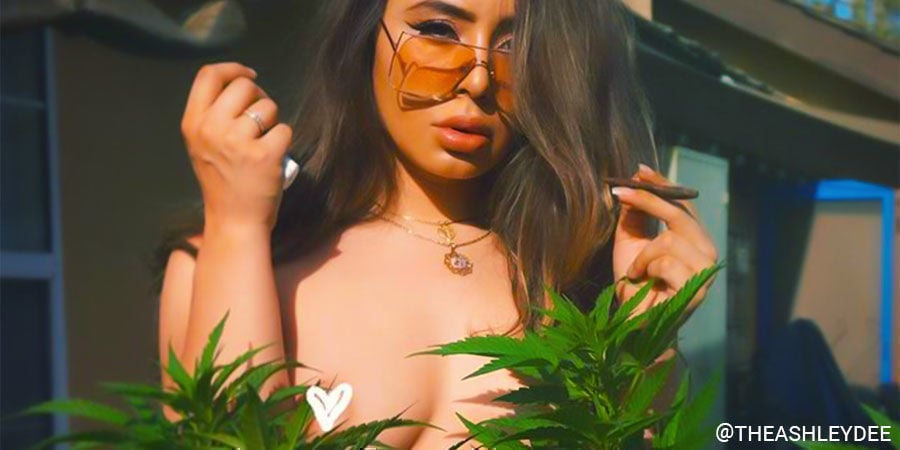 Ashley Dee describes herself as a vintage preservationist and pharm tech. Her Instagram mainly features her modelling shots, as well as the occasional promo post or contest/giveaway. On the other hand, Ashley offers more exclusive, uncensored content on OnlyFans, which includes private professional photos, candid selfies, and steamy videos. She also has her own retail shop, Rustic Angels, where she sells vintage furniture, collectibles, antiques, and much more. Some of the cannabis brands she's collaborated with recently include Jüüg, which specialises in top-shelf cannabis flower, and LA Kush, an insane dispensary carrying a constant supply of the best flower, dabs, edibles, and more.
11. @chasingbrandi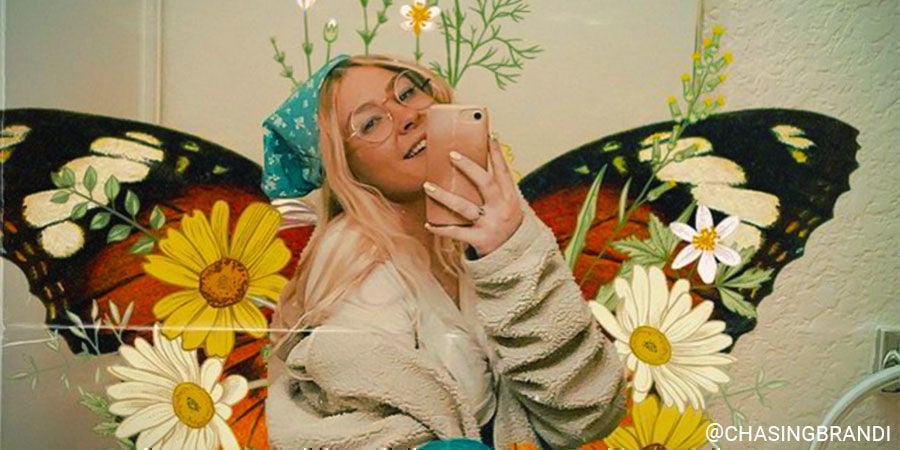 Brandi Kassidy is an up-and-coming model and cannabis influencer based in Colorado Springs. Her content has a unique adventure and outdoors twist, with a lot of her photoshoots and videos taking place outside on hiking trails, campgrounds, in the mountains, or in rivers and creeks. She also shows off some non-cannabis houseplants that give her Instagram a calming vibe. Make sure to check out her featured stories for regular updates from her outdoor adventures. Also, follow her on Twitter and OnlyFans or Snapchat for both free and paid exclusive content.
12. @natty_nuggs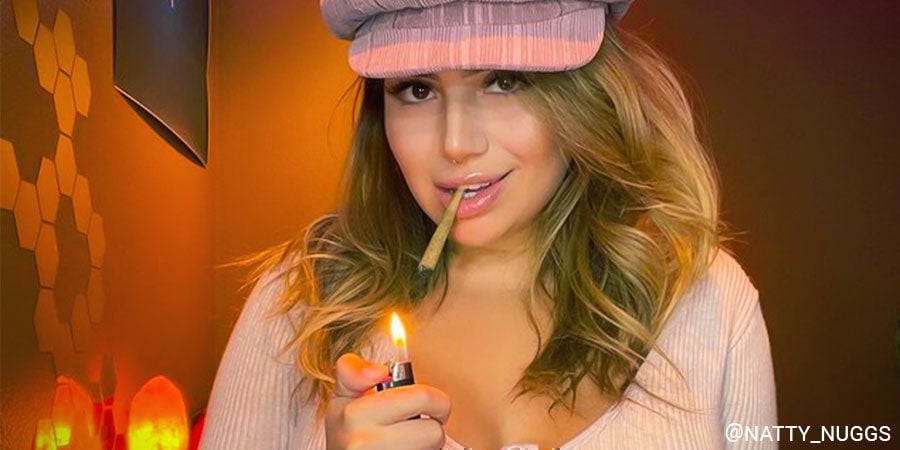 Natty Nugs, aka Natalie, is a cannabis model and creative. Her Instagram content features professional modelling shots, sexy selfies, and the occasional TikTok video. She is also very active on Twitter, where she candidly shares what's on her mind. While her profiles and portfolio of work might not be as far-spanning as that of some of the other cannabis influencers on this list, Natty Nuggs is definitely a cannabis model worth keeping your eyes on. Her love for weed, the outdoors, and having fun is evident—always inspiring when scrolling through drab post after post on Instagram.
13. @nikki.narvaez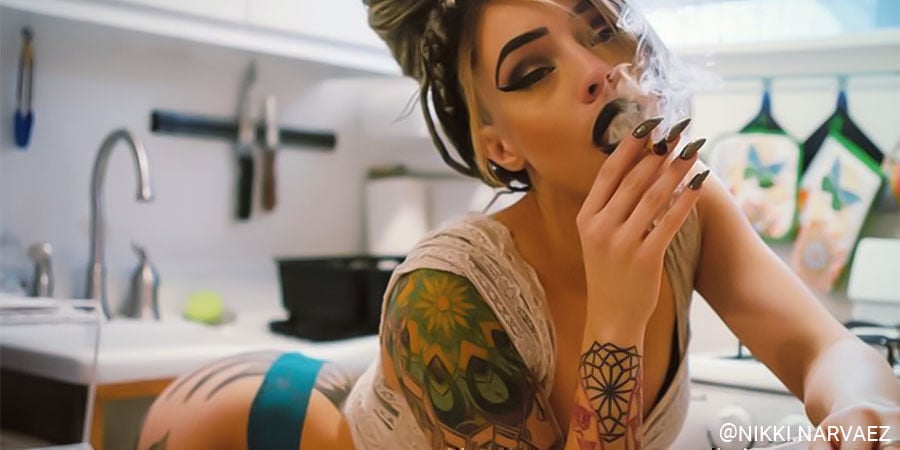 Nikki Narvarez is arguably one of the most unique cannabis influencers on this list. With her gothic clothing, dark hair, and sexy tattoos, she has an aesthetic that's hard to compare to the other influencers we've shared here. Her Instagram is also extremely well-managed, with great schematics and themes, and neatly organised content. Her bio, which reads, "doing whatever the f* I want" gives you an idea of the kind of attitude Nikki is riding on. Have a penchant for weed, motorcycles, and rave-wear? Make sure to check out her pictures, videos, and promos on Instagram.
14. @staybluntbri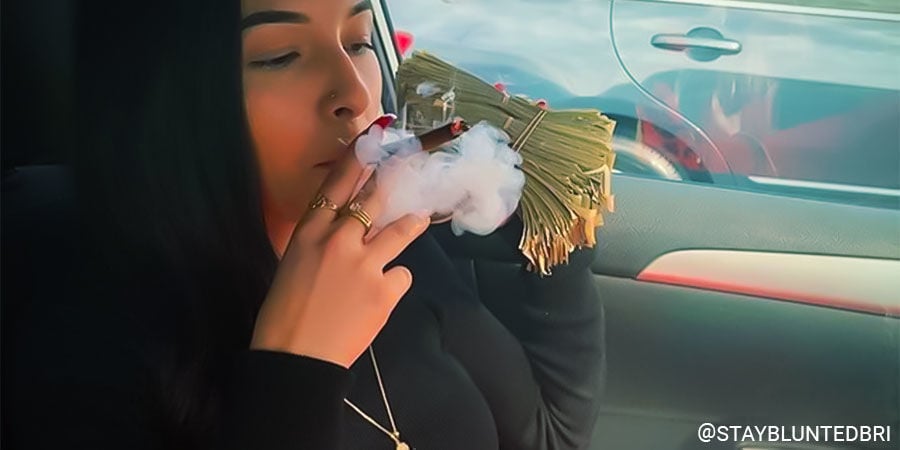 Stay Blunt Bri is a weed-loving blogger and influencer with a very loyal fanbase. While her following and social media presence aren't as large as that of some of the previous models, her content is great; it's genuine, lighthearted, and sexy. Based in LA, Stay Blunt Bri does a lot of work with local dispensaries and cannabis brands, including Burnin Budzz in Inglewood. Like Nikki Narvarez and Natty Nuggs, Stay Blunt Bri is one cannabis influencer you'll definitely want to keep your eye on as she continues her ascent on social media.
15. @chelynazario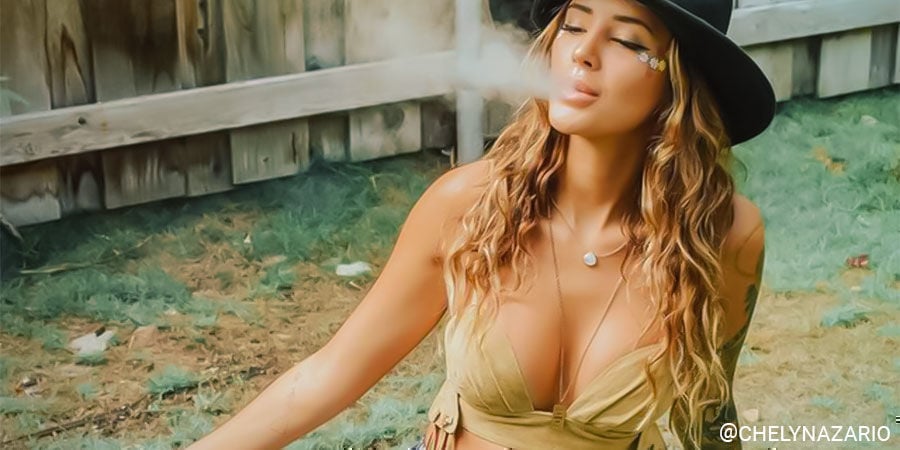 Chely Marie Nazario is one of the most unique and active models on this list. She reaches a huge community on Instagram (topping 370k followers) and delivers very exclusive content with a tropical twist that reflects her Hawaiian and Indonesian heritage. Her Instagram account features a collection of professional and personal pictures that touch on travel, food, lifestyle, and weed (of course). She is also very active on TikTok, has a great sense of humour, and manages an OnlyFans account for more exclusive, uncensored content.
Whether you're a cannabis industry professional looking for bright creatives to help you reach a wider audience or you're just a weed lover looking for content to keep you engaged online, make sure to check out the lovely ladies of weed featured here.