Blog

4 min
Getting Baked On Christmas: 4 Festive Recipes
4 min
Want to get into the Christmas 'spirit'? Then why not treat your friends to a festive three course cannabis banquet with these marijuana infused recipes!
Christmas is nearly upon us, and now is the time to bring your friends and families close. What better a way to achieve this than by inviting everyone around for a meal – a meal that will buzz and make enjoy each other's company on this festive occasion. With this in mind, here are four cannabis infused festive recipes for the holidays.
Before we get into the recipes themselves, it is important to acknowledge that every course of this meal has cannabis in it, so you will need to dose each meal very lightly to ensure yourself and your guests can eat plenty without going overboard.
You want to aim for a nice comfortable buzz that help bring you all closer together, not a full green out session – remember, ingested cannabis tends to have stronger, and longer effects than when it is smoked. So try and aim for 0.1 gram or less of cannabis per portion with each of the below dishes. A full dose per person is around 0.3g-0.5g, so when using 0.1g each person can eat one portion of each dish below.
It is also important to make sure each and every one of your guests is fully aware that some food is infused with cannabis, and exactly what is and isn't. Feeding cannabis to a friend without them knowing is a sure-fire way of making them a friend no longer - besides getting you potentially into trouble.
Appetizer: Bruschetta Indica
It's time to start the meal off with our tantalizing bruschetta - variety Indica!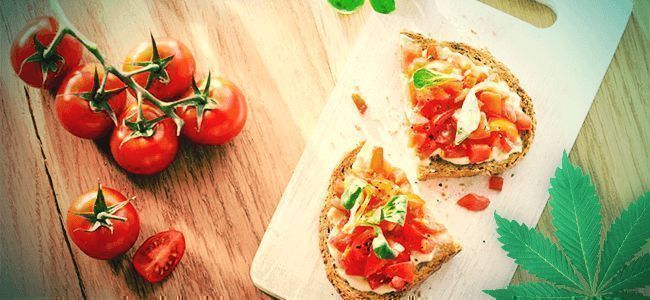 Ingredients
1 loaf of Italian sour dough bread

6-8 plum tomatoes

¼ bunch of fresh basil

3 cloves of garlic

½ cup of mozzarella
Instructions
Finely chop the tomatoes, basil, and garlic.

Put it all in a bowl and mix with cannabis.

Allow the mixture to infuse and mingle for a couple of hours.

Cut your Italian sour dough into 4cm slices and lightly toast them.

Place the tomato, garlic and basil on each slice.

Shred your mozzarella cheese and add a small amount to each slice of bruschetta.

Serve!
Main Course: Ganja Lasagne
For the main course we have a special cannabis laced lasagne!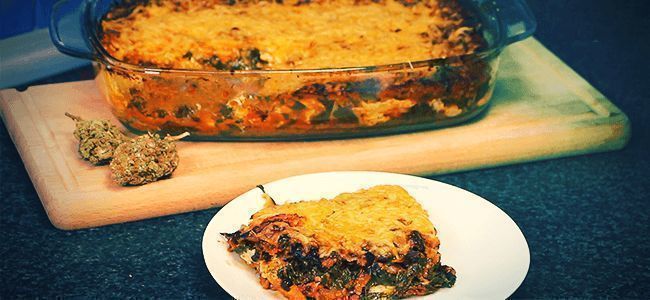 Ingredients
Cannabis, finely ground

Lasagne sheets

680ml of Spaghetti sauce

450g of minced/ground beef

225g of mozzarella

Parmesan cheese

450g of ricotta cheese

1 egg

2 cups of spinach

1 cup of water

Salt and Pepper
Instructions
Place your beef in a saucepan and cook it over a medium heat until it is nicely browned.

Drain off the fat and then add in your cup of water and spaghetti sauce.

Bring the mixture to boil.

Beat the egg in a large mixing bowl.

Add in the ricotta, mozzarella, spinach, and cannabis to the bowl.

Now season with a little salt and pepper, then mix it all up.
Assembling the Lasagne
Now that all of the base components are assembled, it is time to put together the lasagne.
Take your oven proof dish and add a layer of your beef mixture (roughly 1/3 of the total mixture).

Place a layer of lasagne sheets over this.

Now make another layer with ½ of your cheese mixture.

Layer another 1/3 of your beef mixture on top of the cheese.

Place another layer of lasagne sheets on top of the beef.

Make another layer of beef mix with the remainders you have, followed by the final layer of cheese mixture. Grate some parmesan on top.

Preheat your oven to 200 degrees Celsius.

Cover the lasagne dish with aluminium foil.

Bake in the oven for 40 minutes.

Remove the aluminium and bake for another 15 minutes to crisp up the cheese.

Remove your lasagne from the oven and allow it to stand for 10 minutes before cutting it.

Serve!
Alternative Main Course (Accompaniment): Mashed Pot-Atoe
If you have another meal idea in mind, then our mashed pot-atoe could be the perfect accompaniment.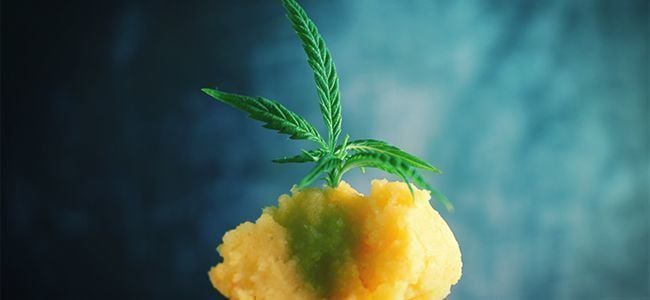 Ingredients
3 large potatoes

150ml of milk

170g of ricotta cheese

1 tbsp. of chopped thyme

Salt and pepper
Instructions
Cut your potatoes into evenly sized slices.

Boil the potatoes over a medium heat, in lightly salted water, until you can push a fork through a slice without much resistance.

Drain the water out and then mash the potatoes a little bit.

Add in the milk and then continue to mash.

Now add in the butter and continue to mash.

Add in the rest of the ingredients and mash it all up together until you have a nice even consistency.

Serve!
Dessert: Cannabis Infused Cinnamon Rolls
Now onto your festive dessert with these classic cannabis infused cinnamon rolls.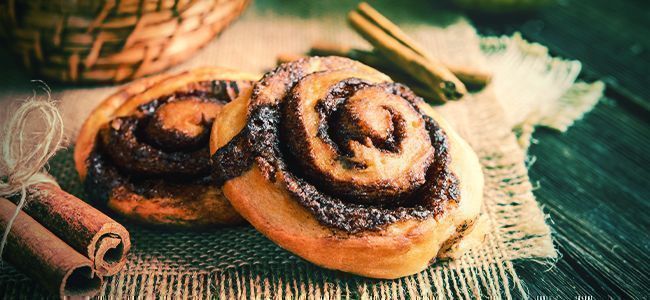 Ingredients
Dough:
3 Cups of all-purpose flour

3 tbsp. sugar

3 tbsp. of butter, melted

1 tsp. of salt

2 tsp. of yeast

½ cup of milk

1 egg
Filling:
¼ cup of cannabis butter, softened

½ cup of brown sugar

2 tbsp. cinnamon
Glaze:
¼ cup of cream cheese

¼ cup of butter, melted

1 cup of icing sugar

½ tsp of vanilla extract
Instructions
Mix together your sugar, salt, yeast, and 2 ½ cups of flour in a large mixing bowl.

Using a separate bowl, mix together the melted butter and milk, once this is done, add it into the flour mixture.

Continue to stir and mix this until everything is nicely meshed together.

Now add in your egg, followed slowly by the remainder of your flour – mixing it in until you have a consistent soft dough.

Place your dough on a lightly floured surface and knead it for 10 minutes.

Place the dough in a greased bowl and set it aside for a further 15 minutes in a warm, dry area.

Now place your dough on a lightly floured surface and roll it out into a 22 x 33cm rectangle.

Spread your ¼ cup of softened cannabis butter evenly over the dough, and then sprinkle your sugar and cinnamon on top of it.

Roll the dough lengthwise into a spiralled log. Cut the log into 10-12 equally sized pieces.

Place the portions into a greased baking tray, cover with aluminium foil, and allow the dough to rise for 1 hour – the dough should double in size as the yeast causes it to rise.

Preheat your oven to 190 degrees Celsius, then bake your rolls until they are lightly browned – this should take roughly 25 minutes.

Whilst the rolls are cooking, prepare your glaze. To do this, mix your icing sugar, cream cheese, melted butter and vanilla extract together. Continue to mix it until it has a smooth consistency.

Remove the rolls from the oven and glaze them.

Serve!
There you have it, a full 3 course cannabis infused festive meal to be shared with likeminded friends and family. Sitting around a table and enjoying the gentle buzz the food induces will make for a memorable Christmas experience, and bring everyone together in this time of celebration and festivity.