Blog

4 min
The Best Cannabis Strains For Experienced Smokers
4 min
Looking for massive highs with THC levels to suit? Explore our top 5 strain picks for experienced smokers. Take your high to the next level, or back to where it was when you first started smoking!
As stoners, we love our THC. We love the way it immediately lifts our spirits after a long day, and the way it lulls us to bed at night. But as we enjoy more of it, more frequently, we start to need more THC to give us that feeling we first experienced. Luckily, there are many ways to achieve this. You can switch to more potent intake methods like dabbing or edibles, you can take a tolerance break (t-break), or, you can simply smoke strains with higher THC levels.
Top 5 Cannabis Strains for Experienced Smokers
But do be aware, the following five strains are recommended for veteran smokers—those who have put in their THC time, as it were. On the other hand, novices may be able to benefit from the unique flavours and dazzling effects of these strains by taking just a hit or two—but proceed with caution.
Gorilla Glue (Zamnesia Seeds)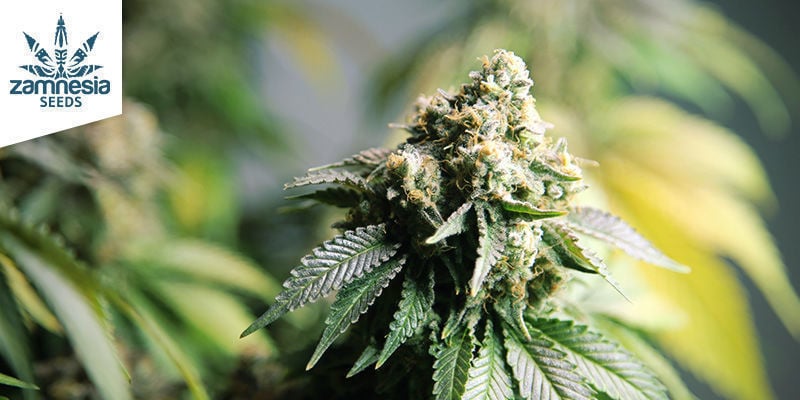 This heavy-hitting strain requires no formal introduction. As one of the bastions of high THC levels (containing anywhere between 24–30%), Gorilla Glue is a balanced hybrid with a lot to say. Refusing to tip the scale in either the indica or sativa-dominant direction, this 50/50 hybrid carries this notion of balance into her soothing and euphoric high. That rise in divergent thought that creative stoners seek upon lighting up is undoubtedly present, but the high eventually takes on a more relaxed and contemplative note. All the while, hints of pine, lemon, and sweetness take turns tempting the taste buds in perfect harmony.
Gorilla Glue is the alpha of any cannabis grow garden, displaying extreme hybrid vigour and proliferating an abundance of resin-encrusted buds. A flowering period of 9–10 weeks will ensure maximum trichome count on a return of up to 560g/m² indoors and 590g/plant outdoors. Hardened smokers looking to take things a step further can render these resinous nugs into some high-flying hash.
Ghost Train Haze #1 (Rare Dankness)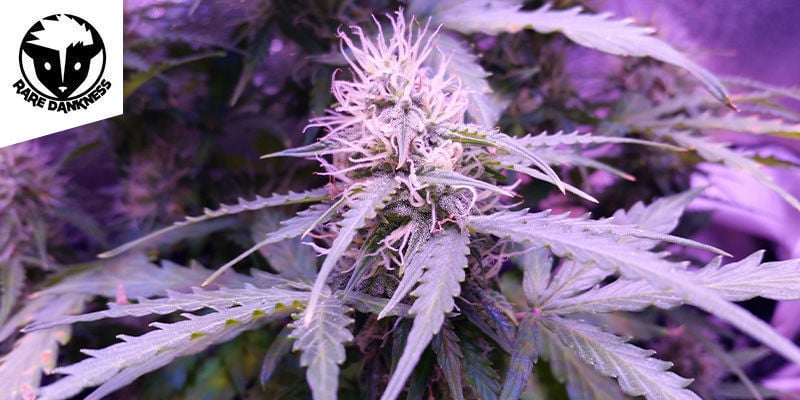 All aboard the ghost train! This sativa-dominant powerhouse clocks in with a huge 25% of THC. This is the result of a potent pairing between Ghost OG and Nevil's Wreck, both strains known for their knockout effects, and Ghost Train Haze #1 is not going to disappoint you. Instead, this is a hard-hitting species that has received recognition for its strong high. Even picking up the Annual High Times award of Strongest Strains on Earth in 2014 and scooping their top spot in the Cannabis Cup USA for sativa strains.
Even the most experienced of smokers will be surprised by Ghost Train Haze #1's abilities. It offers up a high that is incredibly cerebral and euphoric. This cultivar has the potential to inspire and will give many a burst of creativity and focus. However, its strength isn't just in its effects—the flavour is pretty powerful too. One pull, and you'll experience huge and intense citrus flavours mixed with some flowery and earthy tones.
White Fire OG (Growers Choice)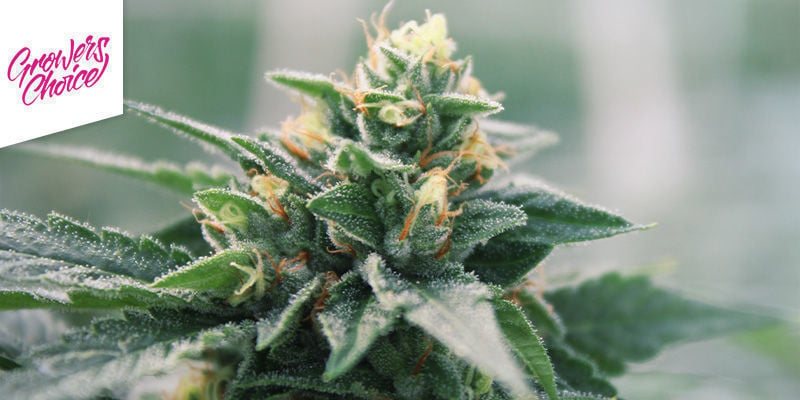 A colourful specimen that produces colourful highs, White Fire OG ups the ante with THC levels reaching 27%. Fusing Fire OG with The White, the practiced stoner will immediately embrace the massive yet balanced high produced by this slightly indica-dominant hybrid (60%). Led by a wave of warm full-body relaxation, the effect is not without a shining cerebral note that will have you pondering, researching, or just daydreaming (the latter of which is most likely after finishing a bowl of this strain). This wholesome experience is augmented by classic OG whiffs of spice, earth, and sweetness.
In the garden, White Fire OG impresses among the other species with its array of orange and green hues encased within an icy sheet of white trichomes. Who says cannabis isn't an ornamental plant? But White Fire OG isn't just pretty to look at; in just 8 weeks, she races through bloom to deliver up to 660g/m² indoors and 600g/plant outdoors. You'll be enjoying these dense buds for months on end.
Purple Punch (Zamnesia Seeds)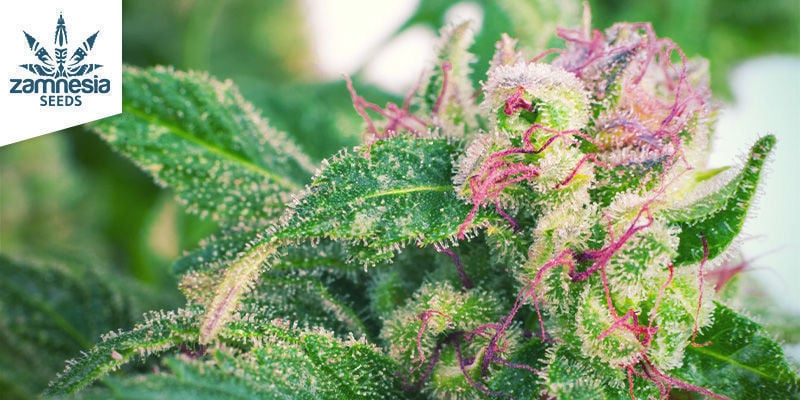 Purple Punch may have the lowest THC content on this list, but that has almost no bearing on the intensity of her effect. Plus, at 21% THC, she's certainly no slouch. With a divine combination of cannabinoids and terpenes, Purple Punch can inflict some serious relaxation upon those eager to reach a more serene state of consciousness. And, once you pick her up, she'll be hard to put back down as you devour her sweet and fruity nugs with abandon. But be aware: As you keep smoking, you'll just sink further and further into your couch, chair, or bed.
Aside from the quality of her buds, there are also some breathtaking aesthetics to consider. As her name suggests, the violet hues that grace her buds and leaves will inspire jealousy among your grower friends. Thanks to her 90% indica-dominant profile, you'll harvest her fruits in the blink of an eye—after just 7–9 weeks of flowering. From there, you'll dry and cure up to 650g/m² indoors and 800g/plant out.
Fat Banana (Royal Queen Seeds)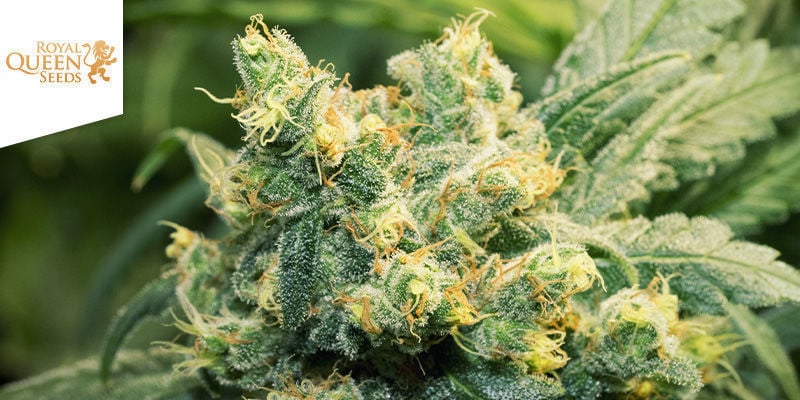 Fat Banana has it all: a fresh, fruity flavour profile, an ultra-fast flowering phase, and, of course, heaps of THC (25% to be exact). This Kush wonder is oh-so-refreshing and evokes the relaxed sensibility of those on holiday. The tropical fruit flavours are strong with this one. Just one puff will have you shutting your computer or putting your pen down. It's time to chill and focus on nothing! Experienced smokers can toke on Fat Banana as they please to extract her euphoria, while novices should exercise serious moderation.
Fat Banana is no joke in the grow-op. She surges through the flowering phase in just 7–8 weeks to liberate her bounty onto you—up to 400g/m² inside and 500g/plant outside. Do keep in mind that this banana tree can grow fairly tall for an indica, and thus will benefit from topping and training (which will also enhance her production potential). Still, caring for her is easy-breezy.
What Happens if You Smoke Too Much?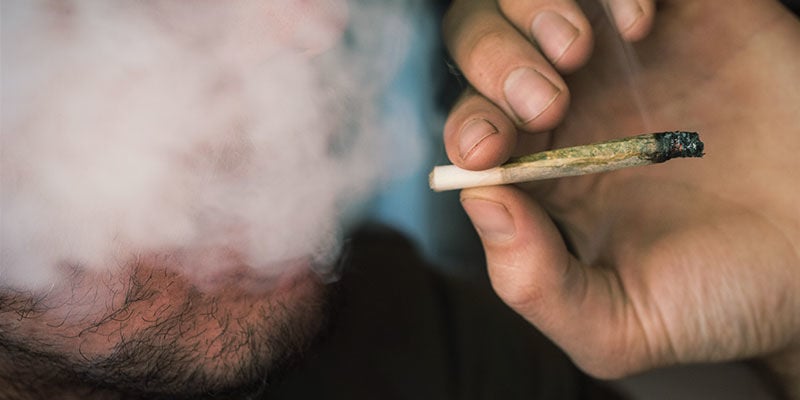 We hope the experienced smokers out there will be satisfied with this selection of top-tier marijuana strains—enjoy the giddiness and satisfaction that comes from being truly stoned once again. If you happen to overdo it, which can occur no matter your experience level, there's no need to worry. Though greening out can be uncomfortable in the moment, it's nothing to fear, and it can teach you a lot about how much THC is the right amount for you. If you happen to enjoy one of these strains a little too much, there are plenty of ways to overcome a weed hangover so you can get on with your life, uninhibited.