Blog
4 min
Cannabis Cura Sicilia: Changing Cannabis Perceptions in Italy
4 min
In this article, we take a look at one of the organizations leading the charge to challenge outdated stigmas and policies about cannabis in Italy.
Attitudes towards cannabis around the world are slowly changing. Over 30 countries around the globe and over 20 states in the US have legalized cannabis to some degree, and the movement doesn't show any signs of slowing down. The legalization movements are especially strong in Europe, where countries such as Germany, The Netherlands, Austria, and Spain all have relatively lax laws regarding cannabis. In this article, we take a look at one of the organizations leading the charge to challenge outdated stigmas and policies about cannabis in Italy – known as Cannabis Cura Sicilia.
Based in Sicily, Cannabis Cura Sicilia is a cannabis club dedicated to providing people with safe and reliable access to cannabis as well as more information about its use a medicine.
It is work like this that inspires us, so we thought we would take a look at how this burgeoning cannabis club is developing, what their mission is, and their history. If you live in Italy, keep an eye out for them – they are sure to make some waves.
CANNABIS LAWS IN ITALY

To better understand Cannabis Cura's mission, we first need to understand the current laws regarding cannabis in Italy.
Cannabis laws in Italy aren't completely clear. Recreational use is illegal, and possession of small amounts is considered a misdemeanour - subject to fines and the suspension of documents such as passports and/or driver's licenses. The cultivation and sale of cannabis is illegal and punishable by imprisonment.
Medical use is legal, but limited to only certain conditions. The cultivation of medical cannabis was decriminalized in January 2016.
Medical cannabis is produced at a secure military lab near Florence and is sold to pharmacies through the Ministry of Health (Ministero della Salute) for €15 per gram. The medical cannabis available through pharmacies contains roughly 7-8% THC and 9-10% CBD.
Over the last decade, Italy has seen a huge change in attitudes towards cannabis, both on social and political levels. In 2005, the country voted in a strict anti-drug policy under the Berlusconi government that cancelled any distinction between "hard" and "soft" drugs, meaning cannabis was treated the same as heroin and other more dangerous substances. However, today the country is seriously debating cannabis law reform.
Italy's pro-legalisation movement started in the 60s with the formation of the Radical Party. The party's leader, Marco Pannella, has been the face of anti-prohibition in the country for decades, even getting arrested for distributing marijuana as act of civil disobedience.
The aforementioned law brought in by the Berlusconi government was eventually declared unconstitutional in 2014. Since then, the debate regarding the legalisation of cannabis has been sparked, and the anti-prohibition argument is getting serious attention.
In July 2016, the Italian government kicked of discussions regarding a new bill that would allow people to carry up to 5 grams of cannabis, keep 15 grams at home, cultivate up to five plants and form social groups of up to 50 growers.
While there have been no reports of legislative changes since then, these debates suggest that Italy is slowly but surely challenging old stigmas around cannabis and outdated prohibitionist laws.
CANNABIS CURA SICILIA: CHANGING CANNABIS PERCEPTIONS IN ITALY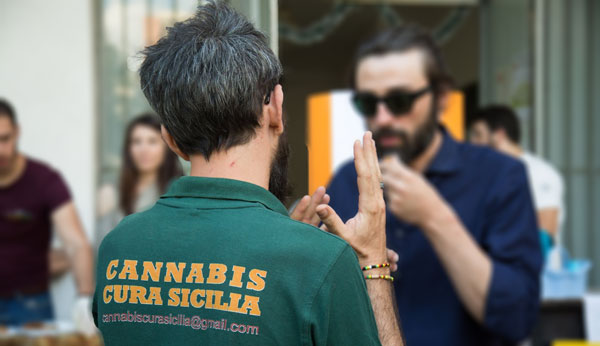 Cannabis Cura Sicilia is a new cannabis club set to open in Sicily on January 22, 2017. Lead by Alessandro Raudino, the club aims to become a leading figure in the fight to change Italy's stance on both medical and recreational cannabis use.
Raudino suffers from multiple sclerosis (MS), a crippling disease affecting the central nervous system and disrupting the flow of information between the brain and the body.
Upon being diagnosed with the condition, Raudino immediately began a two-year treatment with Cobaxone, a drug containing glatiramer acetate used in the treatment of MS.
Glatiramer acetate produces a long list of side effects, ranging from fevers, aches, chills, and anxiety to more serious problems involving the cardiovascular, digestive, hematopoietic, lymphatic, musculoskeletal, nervous, respiratory, and urogenital systems.
Raudino experienced many of these side effects and was also diagnosed with colon cancer. As an alternative treatment for both his MS and cancer, he began treating himself with Bedrocan, a medicinal cannabis strain from The Netherlands, roughly 3 years ago. In doing so, he quickly realized how difficult it was for patients to legally access medical cannabis at a reasonable price.
Article 32 of the Italian constitution states:
"The Republic safeguards health as a fundamental right of the individual and as a collective interest, and guarantees free medical care to the indigent. No one may be obliged to undergo any health treatment except under the provisions of the law. The law may not under any circumstances violate the limits imposed by respect for the human person."
Raudino is passionate that, while we may not yet fully understand the full medical potential of cannabis, Italy's patients have the right to have safe, reliable, and affordable access to medical cannabis, information, and more.
Cannabis Cura Sicilia aims to promote the rights of these patients. First and foremost, the club will serve as a safe place for patients to consume cannabis. However, it will also organize a variety of activities aimed at educating the Sicilian community and, eventually, the whole nation, on the many uses and properties of cannabis.
The club also promises to work closely with officials from the Ministry of Health and the Sicilian council to debate new strategies and approaches to making medical cannabis more affordable. One of the models it will be promoting is that currently enforced in Spain.
Countless clubs similar to Cannabis Cura have already been set up in Spain and have been opperating since the 1990s. These clubs are non-profit associations that grow cannabis and distribute it among their members.
Over 500 private cannabis clubs currently exist in Spain, with roughly 200 based in Barcelona. While the legality of these clubs is not quite clear in Spain, Cannabis Cura Sicilia aims to introduce a similar, better regulated system in Italy.
The club will obviously also advocate for cannabis law reform through peaceful protests, demonstrations, and information campaigns.
MEMBER BENEFITS AT CANNABIS CURA SICILIA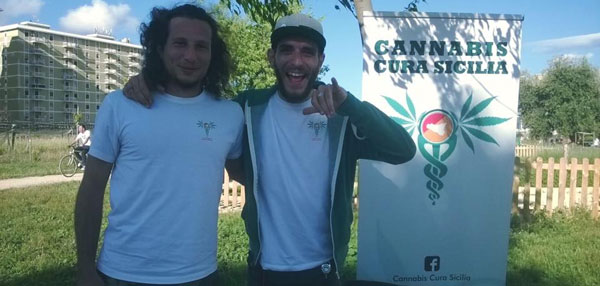 All members of Cannabis Cura Sicilia will receive exclusive access to the club where they can safely consume cannabis and have access to cannabis-related products at discount prices.
Members will also have access to a medical team of three licensed Italian doctors who'll always be on hand to answer questions about the effects of cannabis, its properties and compounds, and its medical uses.
Finally, the club will also provide legal support to all its members. As we saw earlier, there are plenty of grey areas in Italy's cannabis legislation, and all Cannabis Cura members will have access to a dedicated team of four lawyers specialising in drug policy.
As mentioned, we are fully supportive of their efforts, and hope to work with the club to achieve their goals. So keep an eye out on in the future, you may be seeing more of these guys from us!
For more information about Cannabis Cura Sicilia, be sure to visit their website and Facebook page.
For more information about cannabis, be sure to check out our blog and browse our store for seeds, accessories, and much more.