Blog

5 min
What Are The Benefits Of Hot Peppers?
5 min
Chilli peppers are a wonderful addition to many meals. But it gets even better. Capsaicin—the component of hot peppers responsible for their much-loved heat—is also great for our health.
Chilli peppers: for those who love them, they're one of the best things in the world. But as well as tasting incredible, did you know that they're thought to be pretty good for our health too?
Research is still very much ongoing into any potential effect. Here we look into these, and see what peppers can possibly do for our benefit, aside from firing up our cooking!
Are hot peppers good for you?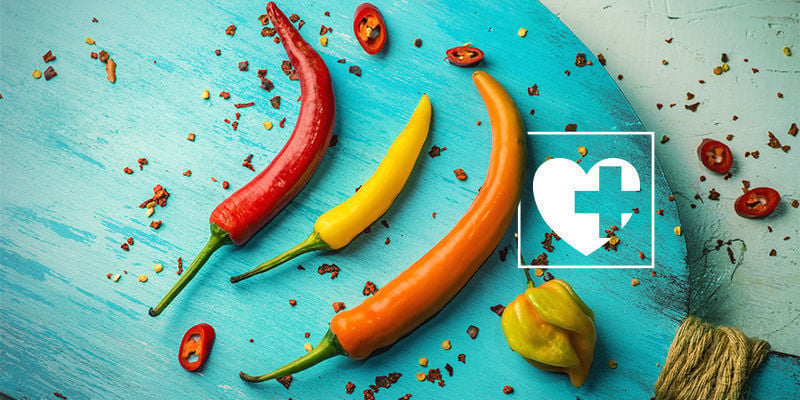 Chilli peppers contain a range of compounds, the most well-known of which is capsaicin. Capsaicin is the name given to the compound within chilli peppers that is responsible for giving them their famous burning sensations, and that provides the heat to spicy foods.
As well as being a culinary delight (or terror, depending on your preference), capsaicin is also known to have some health-related uses too. However, there's more than just capsaicin in hot peppers. Alongside a trove of vitamins and minerals, the following compounds are also present:
Capsanthin: a carotenoid responsible for the red colouration, and a powerful antioxidant
Violaxanthin: also a carotenoid, found most abundantly in yellow chilli peppers, and responsible for their colour
Lutein: responsible for the green colouration of certain peppers, and linked to improved eye health
Sinaptic acid: an antioxidant
Ferulic acid: an antioxidant
So in short, yes, hot peppers are good for you. Although, in practice, it's actually a little more nuanced than this. Chilli peppers are certainly full of healthy compounds but think about the quantities in which you eat them. For most people, one or two hot peppers across an entire meal is the maximum, with many people eating less than this.
So while they are good for you, you may not be eating them in big enough quantities to gain the potential health benefits. Nevertheless, below we will investigate the health benefits associated with the compounds found in hot peppers.
7 hot pepper benefits
Here we'll look at seven fairly common health conditions, and assess the impact that chilli peppers (or the active agent capsaicin) may be able to have in either treating, or relieving symptoms from.
Cold and flu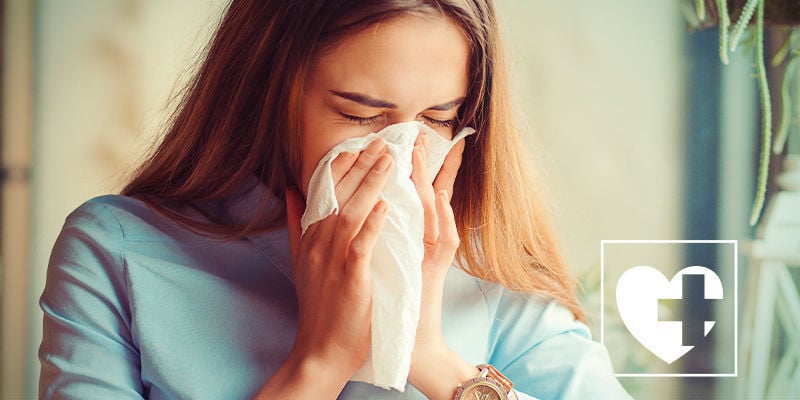 Chilli peppers are thought to help treat cold and flu. The benefits are twofold. First, they are full of beta carotene, vitamin C and other antioxidants, all of which are known to help treat infection ("Antioxidants: In depth," 2013). In fact, it is thought that some chilli peppers might contain up to 3 or 4 times as much vitamin C as oranges, which is helpful, as you probably don't want to eat an orange's worth of hot peppers!
In terms of treating the symptoms of a cold or flu, capsaicin can temporarily clear congestion—or non-allergic rhinitis (Gevorgyan, 2015). Whereas in certain other cases, capsaicin-derived medications may be necessary to reap the full rewards, clearing a blocked nose can certainly be achieved with a spicy meal! Although the effects won't last too long, they can offer some temporary respite from a frustrating symptom.
Pain signalling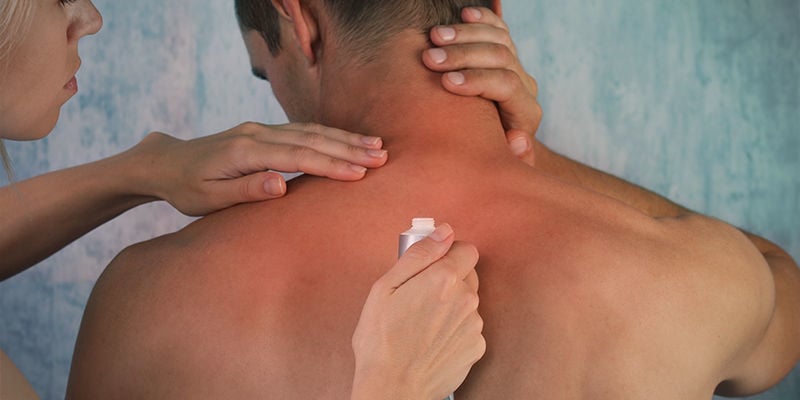 Capsaicin is also known to affect, scramble and numb pain signalling (Gašparini et al., 2020). Even in doses available when eaten, there is some degree of effect. This knowledge has already long been put to use in medicinal treatment. Those hot creams that you rub on sore muscles to relieve aches and pains—they contain capsaicin as their active ingredient.
Though topical creams are where capsaicin is mainly put to use for the treatment of muscular and joint pain, there is scope for even greater uses. One study looked into a capsaicin-based cream for the treatment of migraines. It found that over 50% of participants had their symptoms relieved, significantly more than the control group, who used vaseline (Cianchetti, 2020).
Nutrition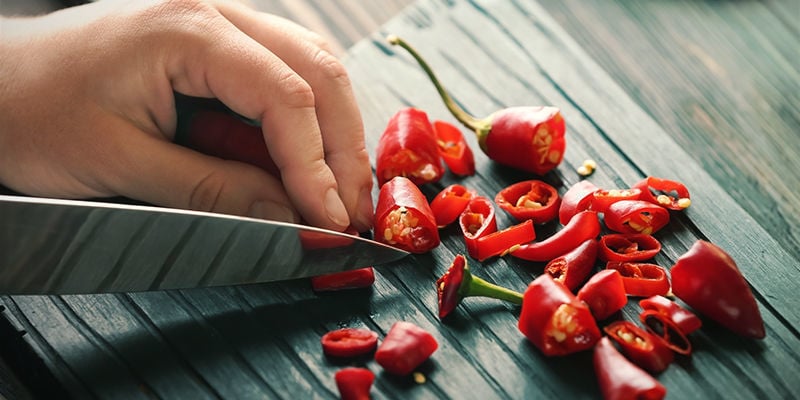 As you can probably see, chilli peppers are highly nutritious. For most of us, we stand to gain more from some milder peppers. A Carolina Reaper might be jam-packed with capsaicin, but we'll only be able to stomach a fraction of one before we need to run off and recover.
A slightly cooler chilli pepper offers the benefit of being able to be eaten in greater concentrations, meaning that we can take the manifold benefits of their many beneficial compounds—such as those listed above.
Inflammation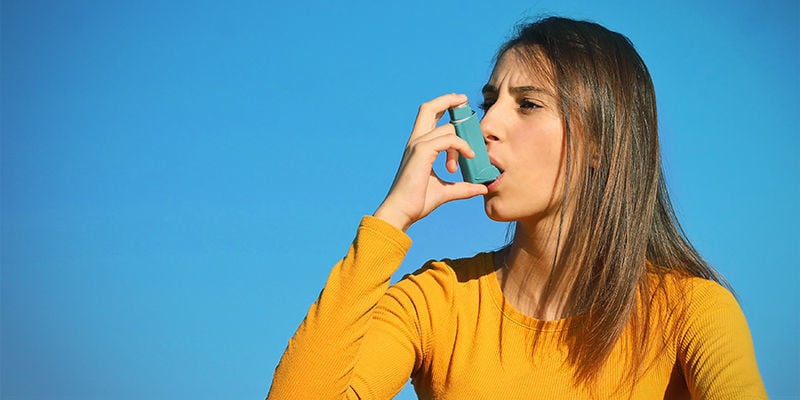 Hot peppers are thought to affect inflammation. The route via which they do this is by acting on capsaicin receptors, specifically the TRPV1 receptors, or channels. TRPV1 is involved in somatic and visceral peripheral inflammation. By affecting it, capsaicin is assumed to be able to reduce levels of inflammation (Frias & Merighi, 2016).
The full range of potential uses for this characteristic of capsaicin are as yet unknown. One potential thought is that it could maybe help to fight allergies and asthma. One study used a nasal spray, and found that symptoms were reduced (Bernstein, 2011)
However, much more research needs to be conducted into how capsaicin affects inflammation, and then how these effects could be harnessed. As it stands, if you suffer from chronic inflammation, eating a loads of chillies may not be your best bet.
Metabolism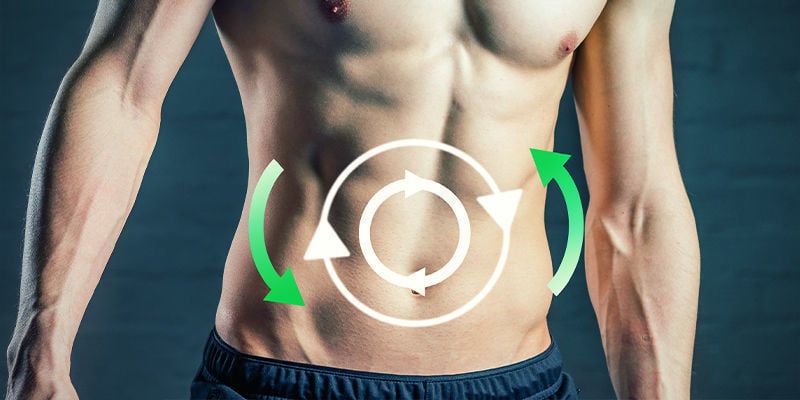 Capsaicin has long been said to boost the metabolism, and there is some significant evidence for this. One review found that—once again via the TRPV1 receptors—capsaicin was able to increase the expression of UCP2 and fire up the metabolism (McCarty et al., 2015). In rodent studies, this characteristic has been shown to have beneficial effects for the following conditions: atherosclerosis, metabolic syndrome, diabetes, obesity, non-alcoholic fatty liver, cardiac hypertrophy, hypertension, and stroke risk.
Capsaicin, and its analogues, like capsiate, are thought to augment energy expenditure and increase fat oxidation (Ludy et al., 2012). There is a twofold usage to these effects. First, processing these compounds has a moderate effect on the metabolism, speeding up the overall process. And secondly, it also helps to suppress appetite, especially when eaten earlier in the day.
However, as with other uses, these effects are more observable at fairly high doses. So whether it would be possible to simply eat hot peppers and boost your metabolism is hard to say.
Blood pressure and heart rate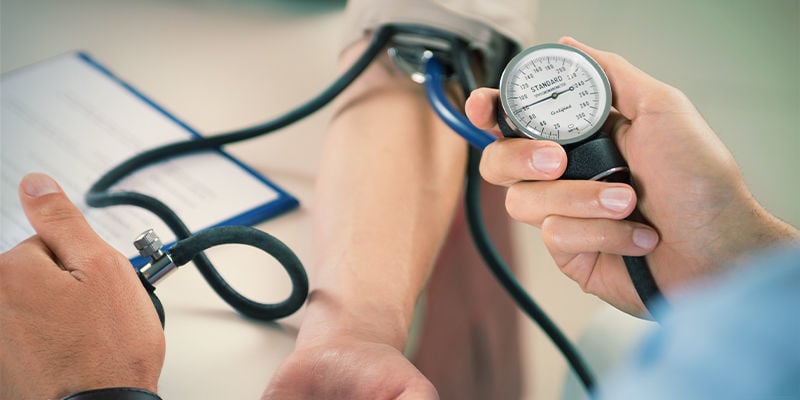 There have been a significant number of studies investigating the effects of capsaicin on heart rate and blood pressure. Across these studies, there have been a range of contradictory findings.
One meta analysis of many studies found there was no significant effect from capsaicin on heart rate or blood pressure (Shirani, 2021). That being said, the authors did point to the need for further well designed studies to investigate the matter in-depth. Though they found no overall conclusion, there are many studies which claim to.
Digestion
It is thought that chilli peppers could aid digestion, including digestion-related conditions such as irritable bowel syndrome (IBS). One study notes the range of gastrointestinal uses that chillies could be put to. These are: dyspepsia, loss of appetite, gastrooesophageal reflux disease and gastric ulcers (Maji & Banerji, 2021).
Another study specifically looked at the effects of chilli peppers for IBS and found that those who took chilli powder observed beneficial effects compared to the control group (Bortolotti & Porta, 2011).
However, in both cases it's important to recognise that chillies can certainly upset stomachs too, as many will already know! By all means, experiment with chillies to help your digestion, but tread carefully and be mindful of any discomfort or upset they may cause.
Which hot peppers are best for you?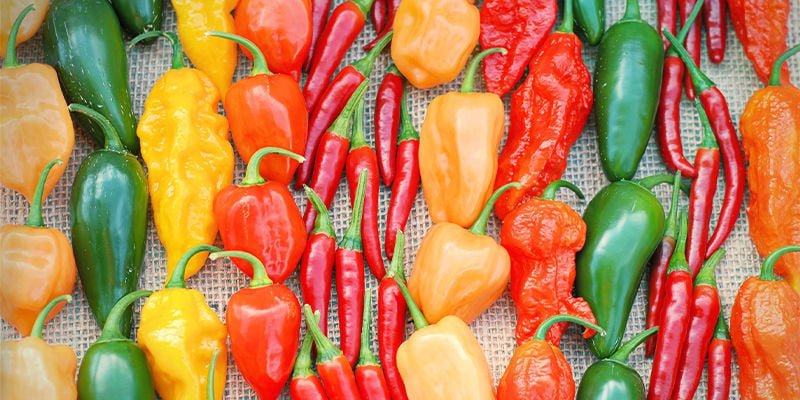 As you might have noticed, capsaicin is the main compound noted in most of the above effects. Not only are chillies full of this, but it's a hard compound to find elsewhere. While you can get your antioxidants from a range of sources, capsaicin is much harder to find.
So, given that, the hotter the chilli, the better! Take this with a pinch of salt though, as there's no point buying chillies you can't actually consume. But in general, the more capsaicin a chilli contains, the more likely it is to offer a benefit.
Are there any side effects from hot peppers?
There are potential drawback to chilli peppers. The main one is that, for some people, the experience of eating something spicy is thoroughly unenjoyable. But even if you enjoy the heat, there could be some unwanted side effects of hot pepper consumption:
Digestive upset
Pepper burn
Some studies have observed an increased occurrence of gall bladder, stomach, mouth and throat cancer in those who eat a lot of chillies, especially in India (Notani & Jayant, 1987).
All in all, you can probably consider chilli pepper consumption a net-benefit to your health, so long as you don't suffer unwanted side effects from them. If you find they help with certain conditions, then that's an added benefit. Although it seems certain that capsaicin does possess benefits, you probably shouldn't rely on spicy food as an alternative to a generally healthy lifestyle.