Blog

6 min
11 Mind-Blowing Visionary Artists
6 min
These psychedelic artists take us to fantastical realms of spirit and colour. Learn more about the visionary art movement, legal hallucinogens, and cannabis strains to spark creativity.
What lies beyond the boundaries of perception, beyond physical reality? What can we see with our third eye, trained upon the mystical realms of spirit and imagination? Visionary art is, at its core, a deep exploration of esoteric questions and themes that cross cultures, religions, and disciplines.
WHAT IS VISIONARY ART?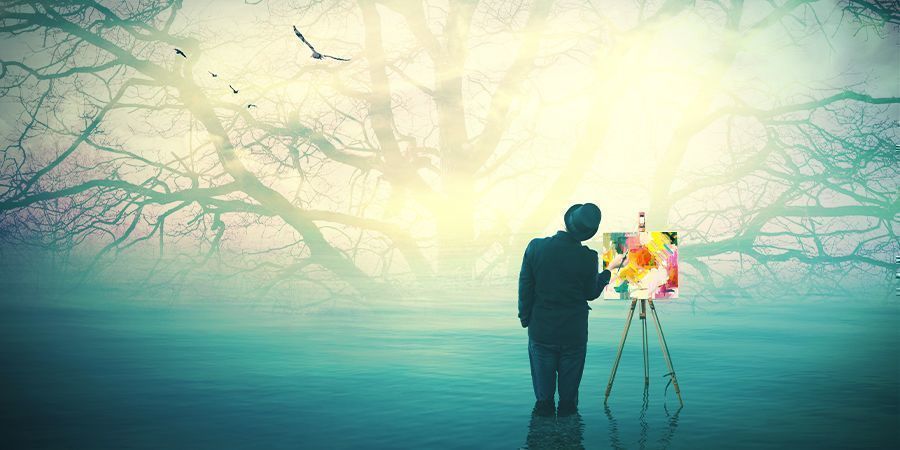 Visionary art shares qualities with surrealism and the psychedelic art of the swingin' sixties. It explores the same metaphysical realms as the poetry of William Blake. As a movement, visionary art is most directly traced back to the Vienna School of Fantastic Realism. Developed in the post-war period, fantastic realism combines religious and esoteric imagery with influences drawn from psychoanalysis.
The visionary art movement of today continues to draw from diverse artistic traditions and cultural influences. With an eye to the future, many artists incorporate digital media into their work. Read on to learn about our favourite visionary artists and their mind-blowing psychedelic oeuvres.
PSYCHEDELICS AND VISIONARY ART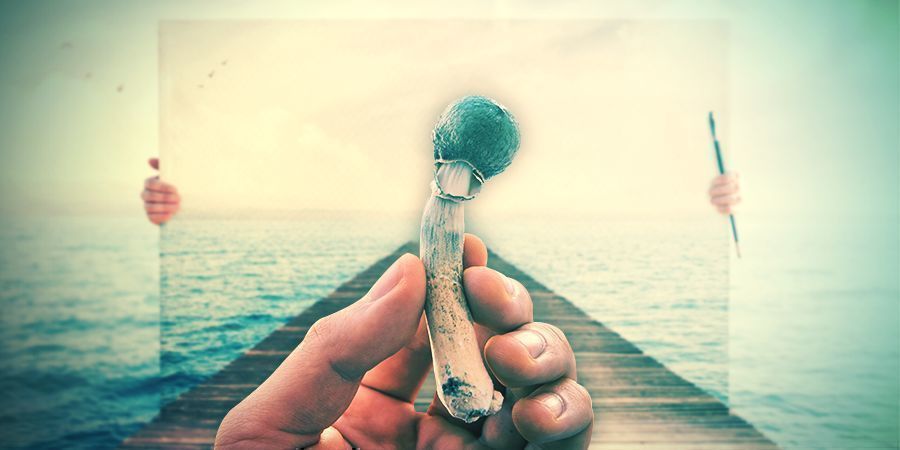 Visionary art is heavily concerned with altered and heightened states of consciousness. So, it comes as no surprise that many visionary artists draw inspiration from psychedelics like LSD, magic mushrooms, DMT, and mescaline cacti.
Hallucinogens have long been used by artists and musicians to inspire creativity and trigger transcendental experiences. During a study at San Francisco State University in the 1960s, artists reported that LSD allowed them to "see the bigger picture". Nobel Prize-winning scientists have made groundbreaking discoveries on acid, and microdosing is a hot trend in Silicon Valley.
For those seeking inspiration and enlightenment from psychedelics, anti-drug legislation can be a barrier. Luckily, there's more than one way to trip. There are actually many legal hallucinogens you may not know about, each with its own unique properties.
CANNABIS STRAINS TO SPARK CREATIVITY
Psychedelics aren't the only drugs that can provide a creative boost. Many people use cannabis as fuel for the imagination. The important thing is to choose the right strain. Go with a heavy indica and you're more likely to be mind-melding with the couch than exploring new existential planes. On the other hand, certain sativa-dominant strains could inspire your next masterpiece. Wondering where to start? We've assembled a full list of our favourite creativity-boosting strains just for you!
11 AMAZING VISIONARY ARTISTS
These incredible artists showcase the best of modern visionary art. Let their work take you on a psychedelic journey through fantastical dreamscapes.
GEORGE ATHERTON (AKA "GEOGLYPHIKS")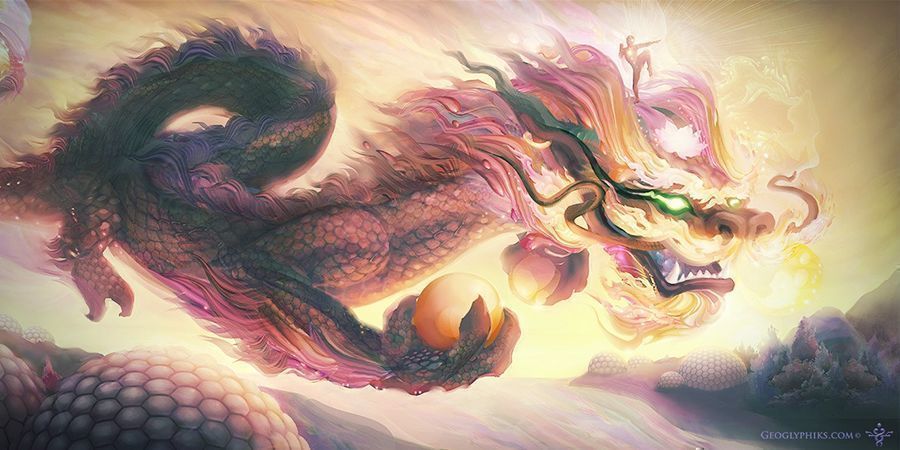 Based in America's lush Pacific Northwest, George Atherton is better known as Geoglyphiks. His psychedelic moniker roughly translates to "symbols, language of the earth". Fittingly, Atherton's work embraces the transformative nature of art, both personal and planetary.
A globetrotter inspired by diverse cultural influences, he is a dedicated yoga teacher and martial arts practitioner. Atherton draws from these traditions to hone his craft, merging traditional techniques with modern tools. Riding the computational wave, he creates his esoteric masterpieces exclusively through digital means. A transcendental explorer, Geoglyphiks uses lucid dreaming and meditation to guide his creative practice. The result is a vivid interpretation of the mind made manifest. His digital dreamscapes evoke spiritual themes using otherworldly colour palettes.
FABIÁN JIMÉNEZ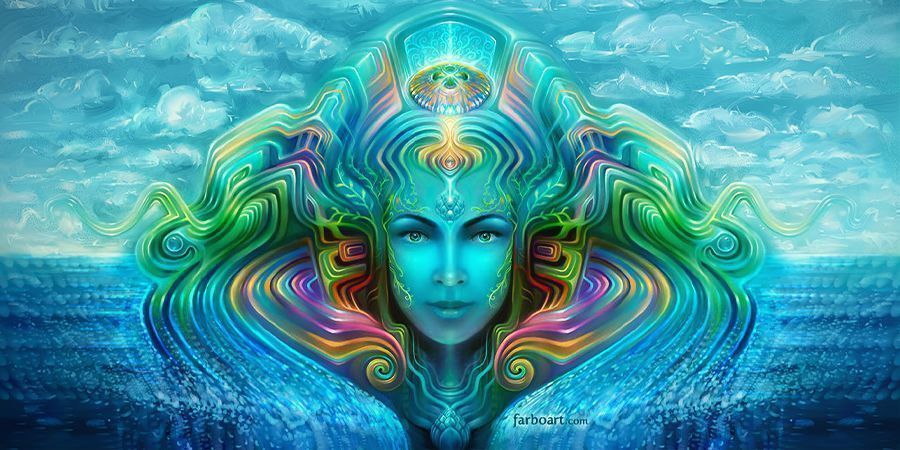 Born in Mexico City in 1987, Fabián Jiménez is another artist who merges traditional and digital media. He creates digital paintings and drawings, tapestries, psychedelic album art, and intricate 3D-printed sculptures.
Jiménez is interested in the flow of time, the exploration of inner realms, and the universal oneness that connects us all. He has a sacred love of nature, which is reflected in his artistic style. Jiménez' works are masterful explorations of symmetry. He weaves together complex, fluid patterns into breathtaking mandalas and glowing dreamscapes.
MICHAEL DIVINE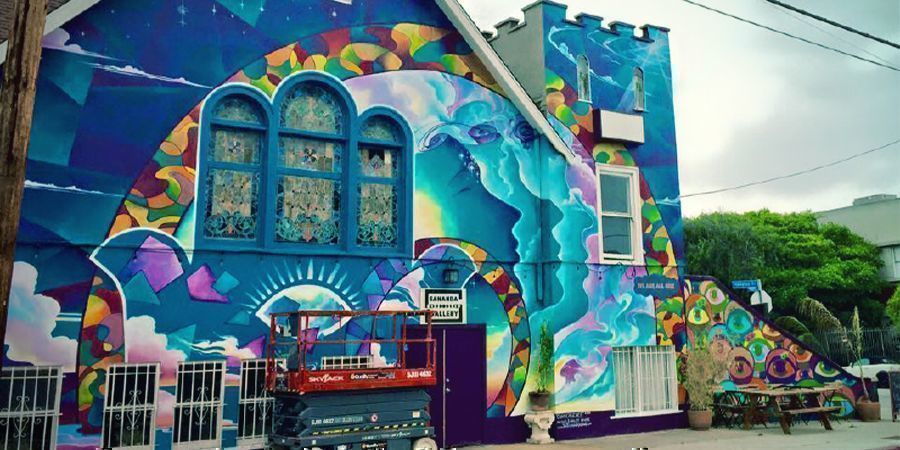 Michael Divine paints every day. He's not formally trained, but driven by an enduring passion for artistic creation and a desire to form authentic human connections. Divine's approach is grassroots. He makes art for the people, not for institutions, critics, or others with status in the art world. When he's not painting or working in the garden, he runs monthly online meet-ups to share inspiration with other artists.
Divine's style is largely focused on traditional paintings using acrylic on canvas, with some mixed media. He has also created a number of impressive murals. His piece "Convergence" is a breathtaking chorus of colour, painted on the side of a centuries-old church. Divine and his wife live in Northern California. Together, they run the website Ten Thousand Visions. Their goal is to unify diverse people and communities through the power of art.
KRYSTLE MARIE SMITH (AKA KRYSTLEYEZ)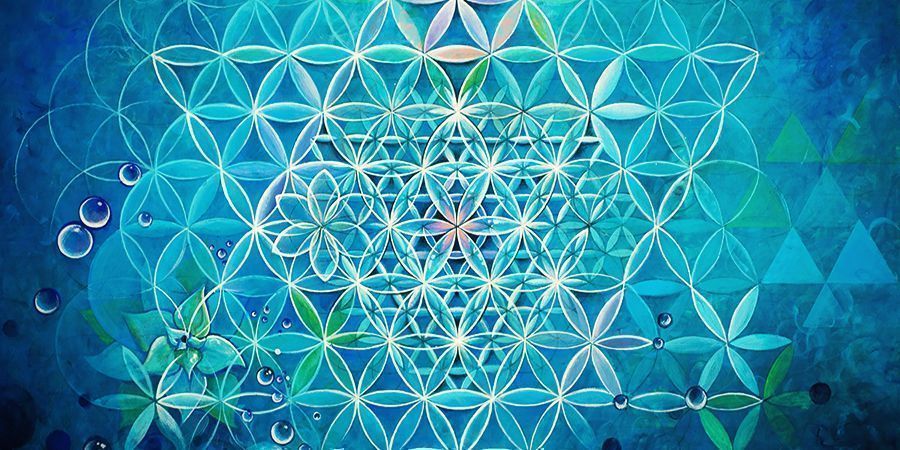 Krystle Marie Smith, otherwise known as Krystleyez, comes from a long line of artists. Both of her grandmothers were painters, and she fondly remembers drawing next to her architect father as a child. This architectural quality can be seen in Krystleyez' work. Her paintings are blueprints that reveal natural unifying patterns from the microscopic to the cosmic. The sacred symbol at the heart of her work is the flower of life—a geometric pattern of overlapping circles found in many world cultures.
Born in the US, Smith holds a Bachelor of Fine Arts from the University of Wisconsin–Madison. She is currently based in Milwaukee, and can be found live-painting on stage at numerous concerts and festivals the world over. Krystleyez has painted fantastical murals in Chile, Peru, and the US. One of her more notable pieces is the "Mushroom Café" mural at the Chapel of Sacred Mirrors in New York City.
AMANDA SAGE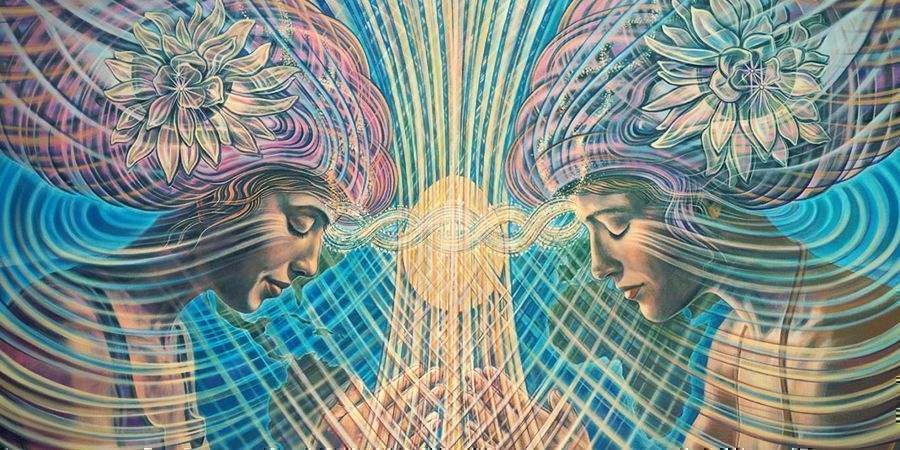 In contrast to artists who incorporate digital media into their work, Amanda Sage focuses on traditional painting. Her use of traditional techniques is truly striking when you consider the painstaking level of detail in her work. Originally hailing from Denver, Colorado, Sage honed her craft in Vienna as a painting assistant to Ernst Fuchs, founder of fantastic realism. Now based in Los Angeles, her art has been exhibited worldwide. Sage uses her practice as a path to spiritual growth. Her multidimensional paintings reflect the inherent connectedness of all things.
In 2014, Sage branched out into fashion. Her collaboration with designer Shabnam Q is a collection of wearable art "made with love from threads of light". Sage is also deeply rooted in her community. She helped found the Vienna Academy of Visionary Art and has organised a groundbreaking series of painting retreats. The retreats are held in eco-villages—intentional communities that practice social and environmental sustainability. The series has flourished in diverse locales from Costa Rica to Australia.
KAMIEL PROOST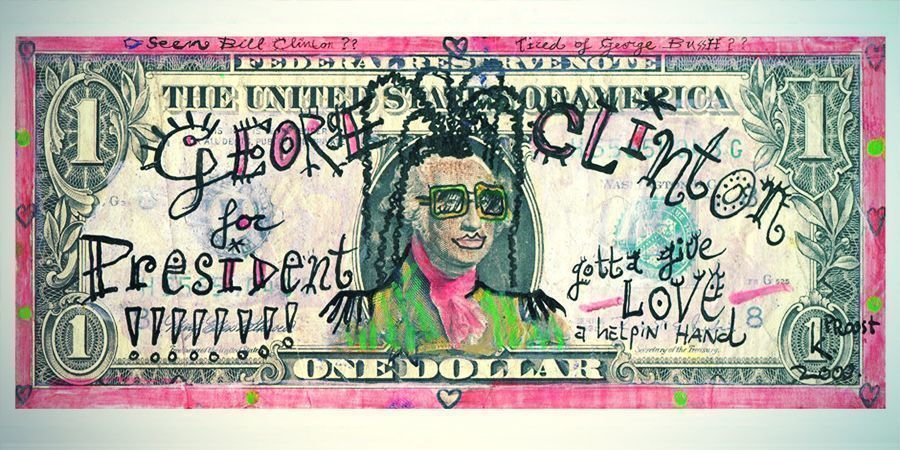 Born in Amsterdam in 1969, it's almost as if Kamiel Proost was destined for the psychedelic. His works are whimsical and unexpected. Creative mutations in style highlight his diverse influences, melting into what he calls "a witch-brew of many cultures". In one corner of his oeuvre you'll find simple yet surreal studies of the human form. Drawn in a Renaissance style reminiscent of da Vinci's Vetruvian Man, these odes to the metaphysical human form fall somewhere between spirit and science.
In another corner is his popular "Art on Money" series. Painted directly on American one dollar bills, these dreamscapes surround the dead president with colourful, psychedelic imagery. In one piece, George Washington is cheekily made over as a hitchhiker on the side of a moonlit highway. In another, he rides a pink elephant against a starry backdrop. Equally as clever are Proost's depictions of "Painters in Heaven". In this collection, he imagines his favourite painters riding through a personal mixed media paradise. Basquiat rides a refrigerator rocket through a rollicking expressionist cosmos. Dalí is borne across the clouds by a spindly-legged steed, his moustache pointing toward the heavens.
JUAN CARLOS TAMINCHI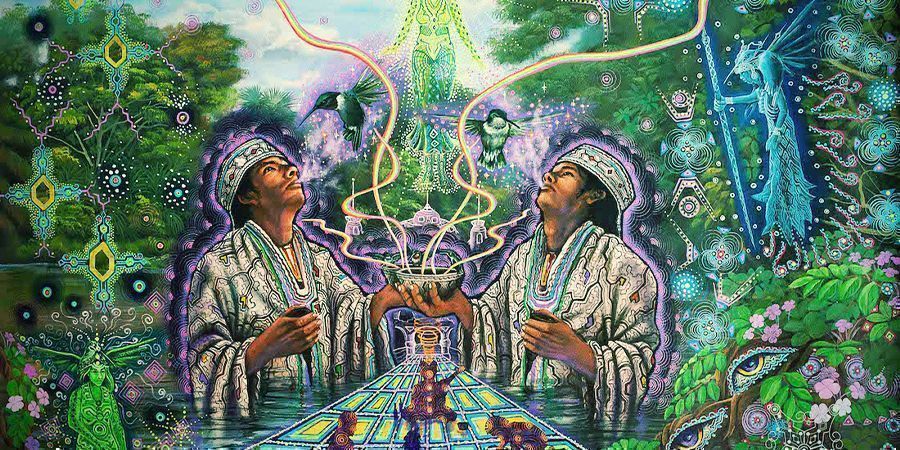 Peruvian teacher and visionary artist Juan Carlos Taminchi is deeply rooted in his Amazonian-Andean cultural heritage. Educated at the Pucallpa School of Arts, where he also served as a professor, Taminchi has exhibited across Europe and the Americas. He is part of an association of Amazonian artists called ONANYATI, which means "the wisdom of elders" in the Shipibo language.
The Shipibo are an indigenous people based along the Ucayali River in the Amazon rainforest. They have a strong ayahuasca tradition, and Taminichi is inspired by the powerful hallucinogen. These themes are visible in his lush, colourful work, which often uses imagery evocative of the Amazon rainforest.
PETER WESTERMAN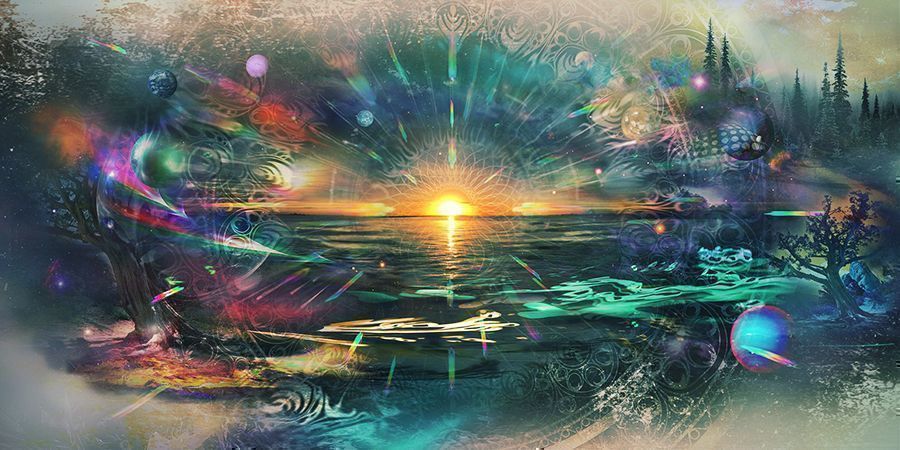 Peter Westerman is the founder and creative director of Threyda art and apparel collective. Threyda is a creative platform designed to support artists, both financially and through deepened exposure of their work.
Peter's own artistic practice employs rich colour palettes, blending natural and cosmic imagery. In addition to paintings, he creates unique digital prints on die-cut aluminium panels. These intriguing works resemble steampunk mandalas or post-industrial nautilus shells. While not much is known about Peter's early life, his impressive body of work speaks for itself.
ANDROID JONES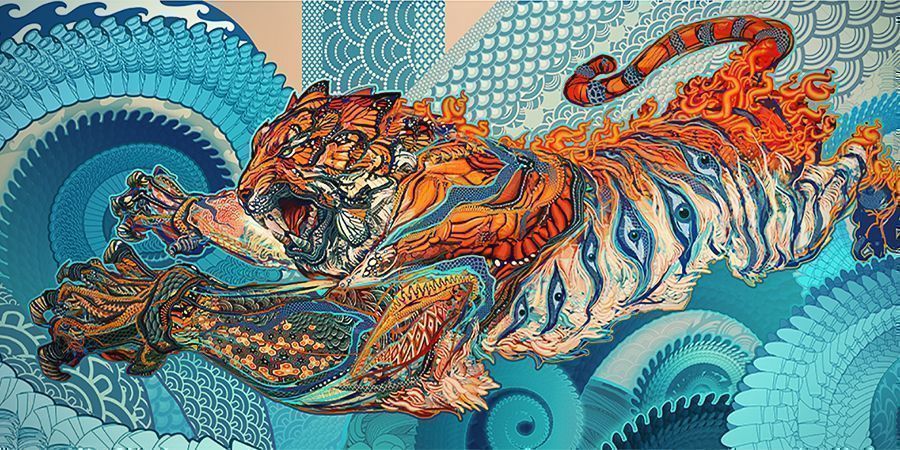 Android Jones is an acclaimed visionary artist whose work has defied convention for decades. Describing his style as "electro-mineralism", he combines classical artistic training with cutting-edge digital technologies. Based in the US, Jones is a seasoned member of the Burning Man community. He interned at George Lucas' Industrial Light & Magic Studio and worked for Nintendo before founding his own company, Massive Black.
Jones weaves a spiritual element throughout all of his work. Inspired by altered states of consciousness, he's driven to push the boundaries of human imagination. Jones' creations have been shown around the world. His work has even been projected on the Sydney Opera House and the Empire State Building. His visions grace the covers of acclaimed rock, electronic, and psybient albums. Artists who've been lucky enough to work with Jones include Papa Roach, Beats Antique, and Tipper. A true visionary who is constantly at the avant-garde, Android Jones is now exploring the fertile realm of virtual reality. His recent projects involve the creation of immersive psychedelic experiences in 3D.
OLIVIA CURRY (AKA DREAM NECTAR)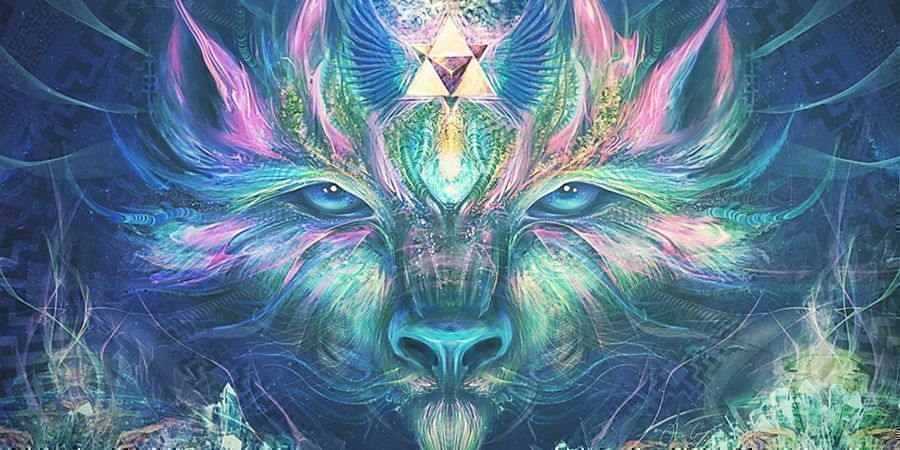 Olivia Curry, otherwise known as Dream Nectar, is a visionary artist with a powerful point of view. One could say that her work explores the divine feminine through an intergalactic lens. Curry grew up in the forest in the American Southwest. She maintains a deep connection to nature, which is apparent in her creative practice. Inspired by sacred geometry, she weaves organic light and form together with metaphysical imagery and sci-fi revelations. Her paintings are vibrant, complex, and textural. Curry's compositional techniques rely heavily on symmetry, allowing her visions to burst outward in a visceral explosion of colour and spirit.
Originally self-taught, Curry levelled-up her practice when she completed a Bachelor of Science in computer animation at Full Sail University. Though primarily a digital artist, she enjoys mixing and experimenting with a range of media, including traditional painting. Curry is based in Atlanta, Georgia, but constantly travels. A self-described "digital nomad", she shows her work at different festivals, art shows, and events around the globe. After years of practice, she is well-respected in the visionary art community. If you want to have your mind blown, check out her collaborations with Fabian Jimenez, another artist on this list.
LUKE BROWN (AKA SPECTRALEYES)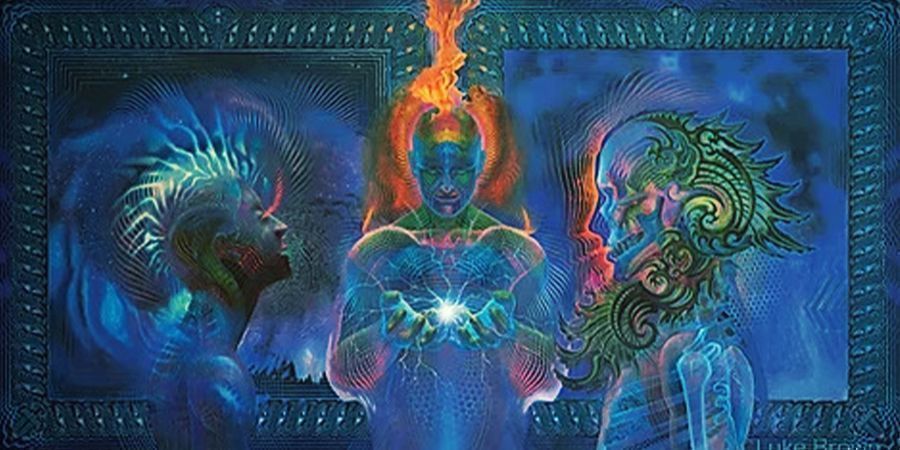 Canadian artist Luke Brown, also known as SpectralEyes, crafts entrancing entheogenic dreamscapes that explore sacred symmetry and collective consciousness. He holds a degree from the Ontario College of Art and Design (OCAD) and has taught at the Visionary Art Academy in Vienna.
Brown is inspired by lucid dreaming and experiences with sacred medicinal plants. Stylistically, his work is characterised by extreme attention to detail, with a focus on digital painting and multimedia sculptures. He uses the tiniest brushes to achieve impossibly intricate designs. Deeply rooted in psychedelic culture, Brown can be found live-painting at various festivals and events.
ARTISTS INSPIRING VISIONS
Whether they use traditional paints or cutting-edge digital techniques, these artists inspire us with their visions of beyond, and of within. We hope their work has kindled your own creative spark