Blog

2 min
Strain Review: Durban Poison
2 min
Durban Poison is a pure sativa old school strain of cannabis that has become one of the main core building blocks of most modern hybrids today.
Durban Poison was first discovered in South Africa back in the late 1970's during an expedition by Ed Rosenthal to discover new and untested genetics. Fortunately for him, Durban Poison was amongst the seeds gathered and taken back with him to the US. It was here that the potential pedigree of Durban Poison was recognises, and through a process of selective breeding, the lineage was improved and stabilised through its generations. From here, Durban Poison made its way to Amsterdam, where it was further refined to flower outdoors within the shorter Dutch summer – which became one of its main initial selling here in Europe, and allowed it to take the market by storm.
THE DURBAN POISON EXPERIENCE
Durban Poison has quite a unique taste and aroma, having a sweet, aniseed infused flavour that lingers in the mouth. It is a pure sativa, and induces the high you would probably expect from such a strain – focusing greatly on an electrifyingly energetic cerebral high. However, unlike some strains of pure sativa, we found that Durban Poison doesn't launch your mind full out of your body, instead leaving you in control of a very motivational and exploratory high – perfect for when you need to get stuff done or want to fully take in the beauty of the world around you. This functionality is partly thanks to the relatively low THC content and ratio of other cannabinoids – being most often in the region of 8-9% (although it is not uncommon for it to sometimes reach up to 15%).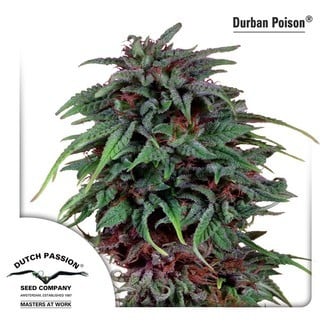 View
THE MEDICAL POTENTICAL OF DURBAN POISON
This low THC content – and the functionality that goes with it – is also a reason Durban Poison has become such hit with the medical crowd. Although we do not know the specifics of its other cannabinoid content, it is anecdotally a dispensary favourite, offering a degree of relief whilst still allowing people to go about their day.
DURBAN POISON IN THE GROW ROOM
Staying true to its sativa genetics, Durban Poison grows into an extremely big plant, reaching 3m in height on average - it dominates any indoors space. For this reason we would generally recommend growing it outdoors; however, if you have the space, or are willing to train it, Durban Poison can still thrive in a grow room setting.
As Durban Poison grows it produces strong and vigorous side branches – adding to its potential for yields. Unlike other sativas, Durban Poison actually has a relatively short flowering time, only taking 8-9 weeks; and as it flowers it produces some stunningly dark and resinous bud. Durban Poison is also extremely resistant to pests and mould, making it an excellent option of novices trying to get to grips with growing.
CONCLUSION
On the whole, if you have the space, and are looking for a strain that won't knock you for six, then you could do no better than Durban Poison. This old school legend has the energy, the functionality, and the grow room traits to do any sativa lover proud. Push your mind into a higher state understanding and appreciation, without actually compromising your faculties.