Blog
3 min
How To Make Weed Brownies
3 min
If you've ever heard of edibles, you've almost definitely heard of weed brownies. If you don't want to worry about going to the store for your baked goods, you can make this iconic treat in the comfort of your own kitchen! Just gather some simple ingredients, follow a few steps, and you'll be munching sooner than you can say "chocolate!".
If you've watched a movie mentioning weed in the past few decades, you likely already know about weed brownies. Even though they look like any other brownie at the grocery store, these snacks can have you smacked for hours. At first, it might seem like there's a lot involved in making a brownie infused with weed, prompting the uninitiated to visit the dispensary to buy them ready-made. We're happy to tell you, though, that making them in your own kitchen is simpler than you'd think, not to mention a fun time.
Get Off To A Good Start With Cannabutter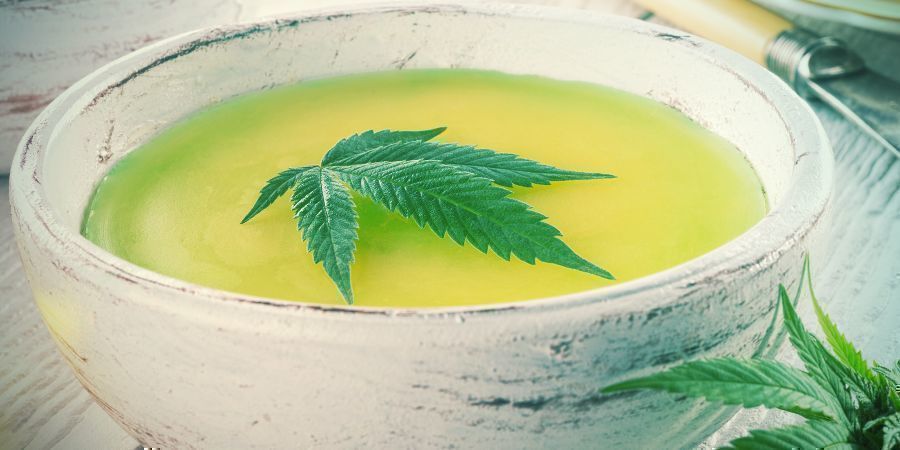 Before you start whipping up brownies, though, you'll want to make sure your fun time doesn't get too fun. In other words, make sure your cannabutter is only as potent as you want it to be. This is as simple as noting your flower's potency and considering the amount of edibles you're making. If you have one gram of 20% THC bud, for example, you'd have 200mg of THC, and could make ten 20mg doses. Be sure to calculate the strength of your edibles correctly.
From there, making sure you nail the butter-to-cannabis ratio is your only worry. If you're not sure how to make cannabutter, we have a detailed recipe available on our blog.
An Easy Recipe For Weed Brownies
Now that the cannabutter is ready, it's time to bust out the brownie mix. Follow the steps below for a batch of marijuana brownies that you will definitely enjoy.
Ingredients
50g cannabis butter
100ml water
One package of brownie mix (note the amount of butter, water, etc. your mix requires and proportion accordingly)
Hardware
Mixing bowl
Whisk
Baking sheet/brownie moulds
Cooking spray
Toothpick
Directions
Set your oven to 180ºC (approximately 360ºF) and allow it to preheat.

Scoop your cannabis butter into your mixing bowl, then pour the water onto the butter.

Add the brownie mix. Then, using your whisk, stir everything together until a thick batter forms.

Pour this batter into your baking sheet or brownie moulds. Use cooking spray or an equivalent to make sure the batter doesn't stick.

Once the oven has reached 180ºC (360ºF), place the sheet or moulds into the oven. Allow your brownies to bake for about 40 minutes. To check if they're done, use a toothpick to poke into the centre and see if any batter sticks to it. If something sticks, it goes back in. If not, you can take the brownies out (if you haven't already) and turn off the oven.

Allow the brownies to cool on a plate for about ten minutes. Voila! You've got a fresh batch of some delicious weed brownies.
Nice Cannabis Strains For Weed Brownies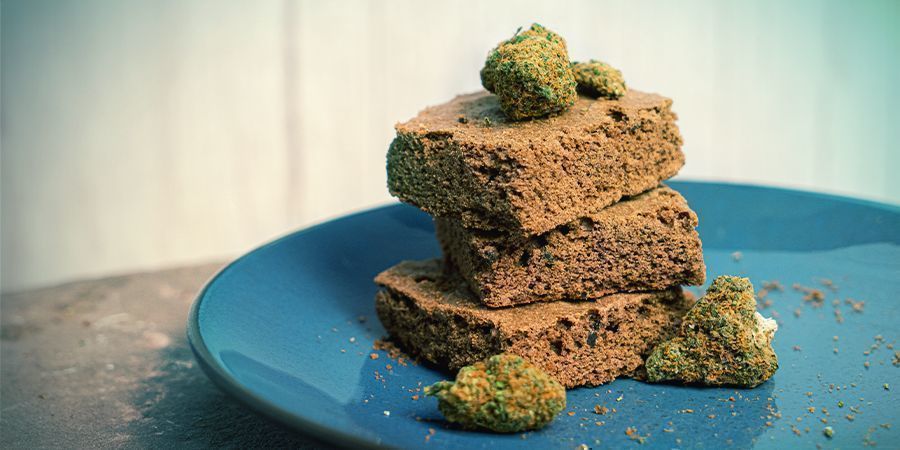 Now, sure, you could use whatever strain you can get your hands on. However, if you want the best possible experience, you'll have to be a little more discerning. For starters, how do you want your edibles to make you feel? Do you need them to do something besides get you high?
Gorilla Glue, for instance, has a beautifully soothing effect. Even though it's considered an indica, it offers a very balanced high alongside a lemony flavour that is sure to be an interesting combination with the brownie's chocolate. Bringing around 24–26% THC to the table, you won't have to use too much of it in your butter, either.
GG#4 (Zamnesia Seeds) feminized
Parents: Chem's Sister x Chocolate Diesel
Genetics: 50% Sativa/50% Indica
Flowering Time: 8-9 weeks
THC: 26%
CBD: 0-1%
Flowering Type: Photoperiod
If you want your edible to get you lifted, Strawberry Amnesia is your ideal strain here. Along with bringing 20–22% THC to the party, it offers a sweet strawberry aroma true to its name, with subtle hints of citrus and spice in tow. If you are looking for something to promote a good night's sleep or ease tension, then this strain could be exactly what your brownies need.
Strawberry Amnesia (Dinafem) feminized
Parents: Original Amnesia x Original Strawberry Cough
Genetics: Sativa-dominant
Flowering Time: 10-11 weeks
THC: 22%
CBD: Low
Flowering Type: Photoperiod
If we had to pick a third for you to consider, we'd go with Zkittlez Auto. It descends from the famous Zkittlez, even offering its signature fruity aroma and taste. The strain packs a huge amount of THC and induces a high just as sweet as the namesake candy. Not too couch-locked, not too energetic—just right.
Zkittlez Auto (FastBuds) feminized
Parents: Zkittlez Z3 x Grapefruit x Autoflower
Genetics: 60% Indica / 40% Sativa
Flowering Time: 9-10 weeks from seed to harvest
THC: 23%
CBD: 1%
Flowering Type: Autoflowering
Why Make Weed Brownies?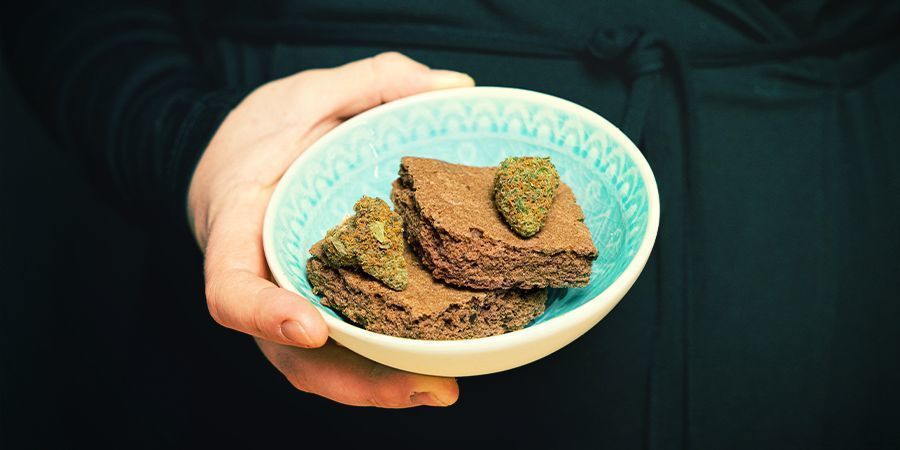 Since we've been making a big deal about brownies, we're sure you have some questions. For one, you're likely wondering why you should bother getting high this way. Is there something inherently better about it? Well, there are a few answers to that question. To start, unless your lungs haven't told you, smoking anything, including weed, isn't great for your respiratory system.
Getting even more specific to brownies, chocolate and cannabis are a healthier pair than you'd think. Scientifically, chocolate has been shown to enhance the benefits of some cannabinoids, and cannabis can boost the euphoric effects of chocolate in turn. For those folk who don't enjoy tasting cannabis flowers, chocolate is perfect for masking the flavour. On top of that, both substances are aphrodisiacs, meaning weed brownies can be perfect to get you in a sensual mood.
Even if you just want to get high, brownies still have advantages. Live somewhere they don't want you smoking? A brownie is likely the most discreet way for you to get high. The same logic applies if you're in public and don't want to risk breaking out a vape pen or joint. After all, who's gonna question someone taking a bite of a brownie? Remember, though: getting high discreetly is one thing; being high discreetly is a whole other issue. That's all up to you. All that we ask is for you to enjoy your weed brownies responsibly!