Blog
4 min
How To Make Cannabis Cupcakes
4 min
Craving some top-shelf cannabis cupcakes? We have the perfect recipes for you to try out! Even those who don't eat gluten or animal products will find something special! Best of all? It's easy!
Everyone loves a cupcake. It's that special treat that instantly transports you back to the carefree days of childhood, when worries and obligations were non-existent.
But you know what else is beloved by many? Cannabis cupcakes. If you're a baker who also enjoys marijuana, you can have a field day creating goodies that not only please the palate, but also induce a comfortable, relaxing high. Perfect for sharing with friends!
We're here to help you get started on your journey to canna-cupcake supremacy. We'll give you some dosing tips, as well as two recipes you can try out—one of which is gluten-free!
Dosing Cannabis Cupcakes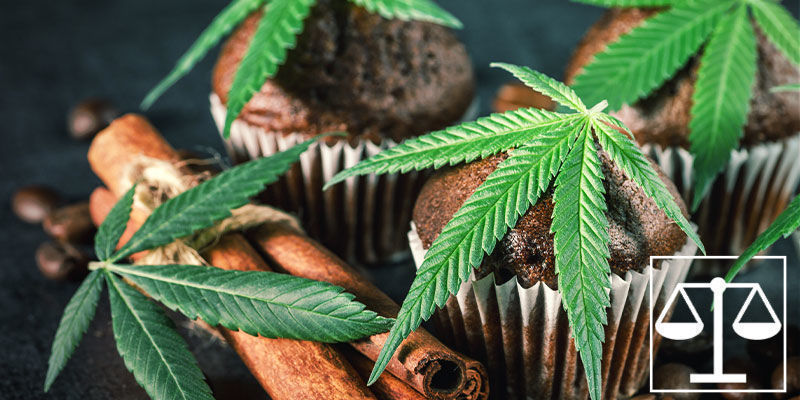 Now, before we get into the meat of the topic, we must first talk about proper dosing. Remember that the rules are different when it comes to edibles. And you may be in for a wild ride if you're not careful.
First, calculate the rough amount of THC (in milligrams) in your dried buds. Here's a simple formula to follow: multiply the existing THC percentage by the amount of flower you have in milligrams. So if you have one gram (1,000mg) of weed with 16% THC, you're dealing with roughly 160mg of THC.
Another thing to keep in mind: as a rule of thumb, edibles should contain no more than 20mg of THC per serving. This is already potent enough to induce a powerful psychotropic kick.
If you want a more detailed breakdown of what to expect, here's a rough estimate of the effects you'll experience based on the dose of THC (in milligrams).
2mg: Very little to no impairment. Recommended for those who don't usually consume edibles, or marijuana in general.
2.5mg: Still unlikely to cause a full-blown high, but effective enough to lower inhibitions. Recommended for people who are looking for more cerebral effects.
5mg: The perfect amount for occasional users. It can improve mood and induce giggles and light munchies.
10mg: The comfort zone for regular users. Expect euphoria, stronger munchies, and a pleasant impairment overall.
15mg: This amount isn't recommended for irregular users, as it could turn into an uncomfortable experience. But for experienced users, it results in a robust high.
20mg: This is where those long-haul stoned flights begin. It's a powerful dose even for regular users, and is more suitable for experienced edibles lovers.
25mg and above: A region where even regular users can feel overwhelmed. But if you're a daily user, this is something you can likely handle.
Red (or Green) Velvet Cannabis Cupcake Recipe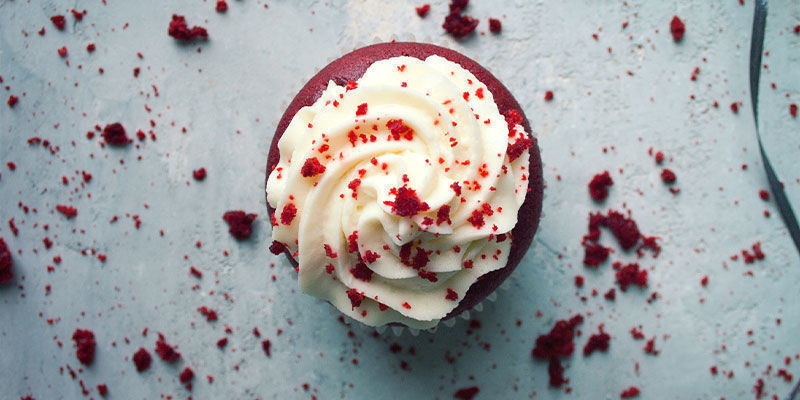 Now, let's get to the fun part of this article. First, let's start with a particularly tasty recipe we are fond of—red velvet cannabis cupcakes.
Ingredients
115g cannabutter
160g all-purpose flour
115g sour cream
225g sugar
2 large eggs
3 tbsp. unsweetened cocoa powder
1 tsp. baking powder
1 tsp. vanilla extract
2 tsp. red food colouring (or green, if you prefer a cannabis-themed colour!)
1 tsp. white vinegar
½ tsp. salt
White frosting or buttercream icing for the topping
Any other decoration you want!
Equipment
Muffin tin
Cupcake liners
2 large mixing bowls
Sieve
Electric hand mixer (or whisk)
Wire cooling rack
Directions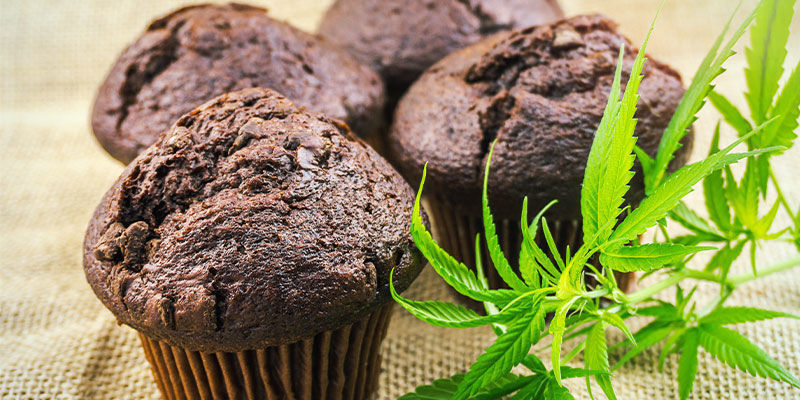 Preheat your oven to 170°C (~340°F), and line a muffin tin with cupcake liners.

Using a sieve, sift your flour, salt, baking powder, and cocoa powder into a large mixing bowl.

In a separate bowl, combine the sugar and butter until it reaches a soft, creamy consistency and a pale colour. An electric hand mixer is best for this. Once this consistency is reached, mix in your food colouring and vanilla extract until the entire mixture is the colour of the dye.

While beating, add in one spoonful of your flour mixture, followed by one of the eggs. Continue mixing, and add in another spoonful of the flour mix, followed by the last egg. Lastly, add in the rest of the flour mixture and beat everything together until you have an even consistency.

To finish off, mix in the sour cream and white vinegar. Once again, beat it all together until you reach a smooth, even consistency.

Spoon equal amounts of your now-finished cupcake batter into each of your paper cupcake liners, then bake in the oven for 20–25 minutes.

Once out of the oven, take each cupcake and place them on a wire rack, leaving them to cool. Do not frost until they cool completely.

Once cool, take your frosting of choice, and other decorations, and finish off your cupcakes!
Gluten-Free Cannabis Cupcake Recipe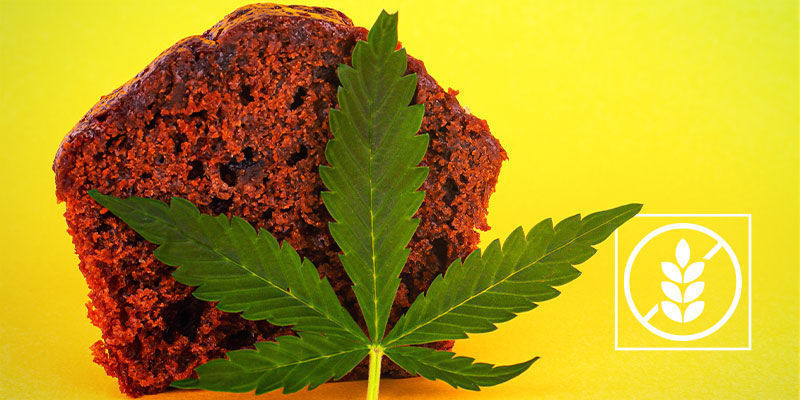 Unable to tolerate gluten? Don't worry, you can still have your fun. We have a gluten-free recipe for you to enjoy. This is also vegan-friendly, by the way, for all you plant-based eaters out there.
Ingredients
½ tbsp. cannabutter (use cannabis-infused oil instead if you want this recipe to be fully vegan)
2 tbsp. flax seeds
250g rice flour
150g grated carrot
1 tbsp. baking powder
1 tbsp. yeast
½ tbsp. ginger
½ tbsp. cinnamon
½ tbsp. baking soda
¼ tbsp. nutmeg
¾ tbsp. coconut sugar
2 tbsp. soy milk
Equipment
Muffin tin
Cupcake liners
Medium mixing bowl
Large mixing bowl
Whisk
Wire cooling rack
Grater (for carrots)
Directions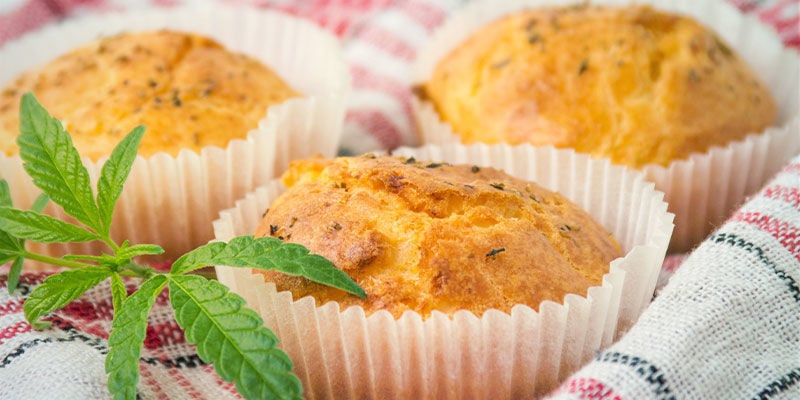 Preheat the oven to 170°C (~340°F). In a medium bowl, mix together the yeast, ginger, cinnamon, rice flour, baking powder and baking soda.

In a large bowl, toss in the flax seeds, sugar, grated carrots, nutmeg, coconut sugar, butter and soy milk. Likewise, mix well until fully incorporated. Now, add in the mixture from the first bowl. You now have your cupcake batter.

Take a cupcake tin, add your paper liners, and pour in your batter. Make sure each paper is filled halfway through. No need to fill it all the way to the brim.

Place the tin into the oven and allow it to bake for 20 minutes.

After it's done baking, marvel at your creation and pat yourself on the back. Transfer the cupcakes to the cooling rack. Feel free to decorate the cupcakes with soya cream or any other frosting.

Serve, and enjoy!
Make Your Own Marijuana Cupcakes — It's Easy!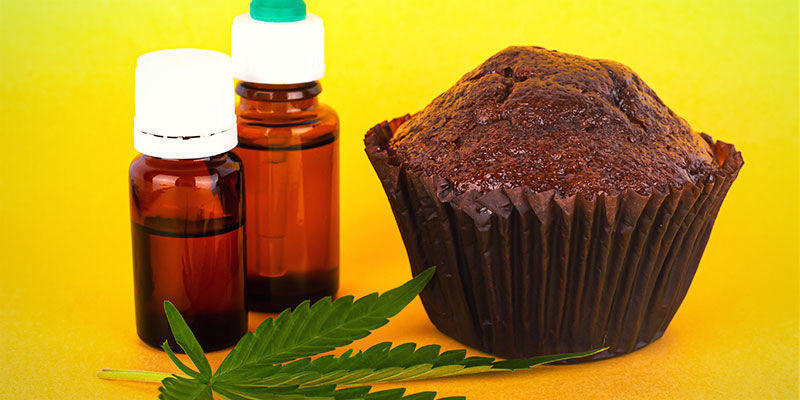 As you can see, you don't need top-level baking skills to make yourself a batch of delectable cannabis cupcakes. You will need to take that extra step of making your own cannabutter, but everything else is a walk in the park. And if you do get lost along the way, look back on this article to put you back on the right track.
Also, remember the necessary precautions and suggested doses, because edibles are a different animal. Now go ahead and whip up a batch for you and your loved ones. Be the life of the party, and most importantly, enjoy!