Blog
4 min
Baked Jalapeño Poppers Recipe
4 min
There's no denying that jalapeño poppers are a hot, savoury treat perfect for any occasion. But how about creating some yourself? With just a few ingredients and the help of our recipe, you too can bake some awesome jalapeño poppers. We promise, you won't regret it. Just be sure you can provide enough for your friends!
As arguably one of the best finger foods known to man, baked jalapeño poppers combine the spiciness of one of the world's favourite chillies with the richness of cream cheese to deliver an extremely versatile snack.
Hungry while watching a movie? They've got you covered. Got the munchies during a smoking session with friends? Get some jalapeño poppers in the oven! Of course, you can go to your local supermarket and grab a bag of these straight from the freezer, but did you know they are incredibly simple to make yourself?
Don't believe us? Well, take a look at our handy recipe, and keep this one nearby for when the mood strikes—which, once you've made these, will be more often than you think! We've even included a recipe infused with cannabis to take the experience to new heights.
Always Handle Chilli Peppers With Care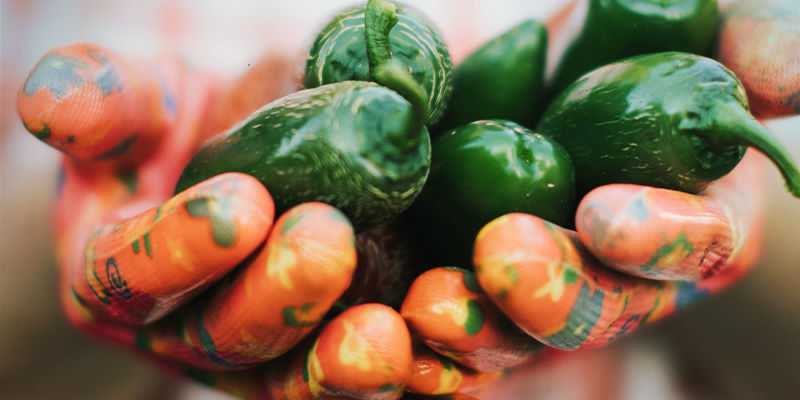 First things first. Regardless of whether you've got shop-bought peppers or grew your own using seeds from the Zamnesia Peppershop, take care when handling your chillies. Of course, jalapeños don't have the same Scoville rating as, say, the Carolina reaper, but that's not to say they can't produce some burning if they come into contact with your eyes and sensitive skin areas.
So it's always best to prepare your peppers with a pair of gloves to prevent any unnecessary burns. And believe us, if you're heading to the bathroom after preparing chillies, you'll thank us.
How To Make Baked Jalapeño Poppers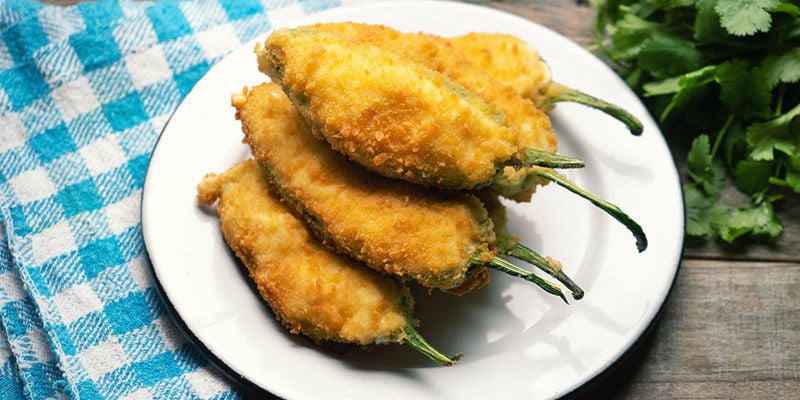 So, let's get to it. Here we'll be sharing our prized recipe for baked jalapeño poppers, including the ingredients and equipment you'll need to pull it off. While this isn't an overly complex dish, like all cooking, a little care and patience are required for the best results.
We've also got a cannabis variant that we'll get into a little later on. So if you're ready to wow your friends and family with this tasty treat, we'll begin.
Equipment
Sharp knife
Teaspoon
Tablespoon
Baking tray
Mixing bowl
Parchment/baking paper
Gloves
Oven
Ingredients
We're going to give you a few options for ingredients (we'll cover this in the steps), so we can cater for all tastes. However, if you want to adapt the recipe and switch out ingredients to better suit your palate, feel free to do so. Half the fun is improvising and finding your own way of doing things.
12 large jalapeño peppers
8 oz (roughly 225g) cream cheese
4 oz (around 110g) grated cheddar cheese (or a cheese of your choice)
1 teaspoon garlic powder
2 tablespoons finely chopped chives
30g panko bread crumbs (crisps work just as well!)
1 tablespoon melted butter
That's all there is to it. As we said, though, this is a recipe that can be easily adapted. Want to add bacon? You most definitely can. It's even possible to turn up the heat by adding more spices or hot sauce into the mix, so you can really feel that burn!
Steps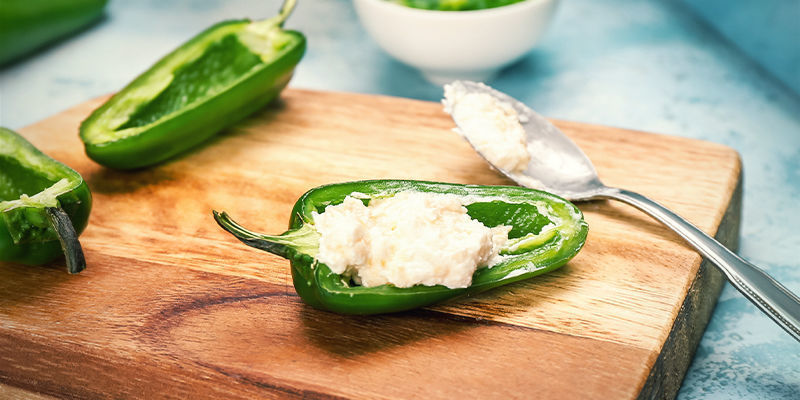 Begin by preheating the oven to around 400°F (~200°C).

Next, it's time to slice and deseed your jalapeños. But first, make sure you've got your gloves on. Cut the peppers in half lengthwise, then take your teaspoon and scoop out any seeds and chilli remnants.

Take a sheet of parchment paper and lay it on a baking tray. The paper will allow you to remove the cooked poppers without them getting stuck.

Once you've prepped the peppers, you can start on the filling. In the mixing bowl, combine the various quantities of grated cheese, garlic powder, chives, and cream cheese. Give it a good stir to ensure it's all combined and ready to use. Place the mixture to one side once prepared.

To add a little crunch to the poppers, combine the panko crumbs with the melted butter. Place both ingredients into a bowl and give them a stir, making sure the bread crumbs are coated in butter. As mentioned, you can substitute bread crumbs for your favourite crisps. You can definitely have fun creating some awesome crunchy combinations.

All we need to do now is fill up the jalapeños. Take your teaspoon, get a little of the cream cheese mixture, and apply it to the cut pepper. This is something you can be pretty liberal with, filling them to an amount you see fit. Once you've filled the peppers, lay them onto the parchment-paper-covered baking tray.

Finally, take a pinch of the buttery bread crumbs and top the peppers. These will bake nicely in the oven, giving your jalapeño poppers the best kind of crunch.

Place your chilli-loaded tray into the oven and allow them to cook for around 18–22 minutes, or until the tops are golden. After this point, remove them from the oven and let them sit for about 5–10 minutes before getting stuck in.
And that's all there is to creating some moreish baked jalapeño poppers! We told you it was an easy recipe to follow. You can always look to serve them with a range of dips or sauces to maximise that spicy flavour. In the unlikely event that you have some leftovers, they can be easily stored in the fridge for around 3 days after cooking. Just give them a little reheat in the microwave when you're ready to finish them off.
Nutrition Facts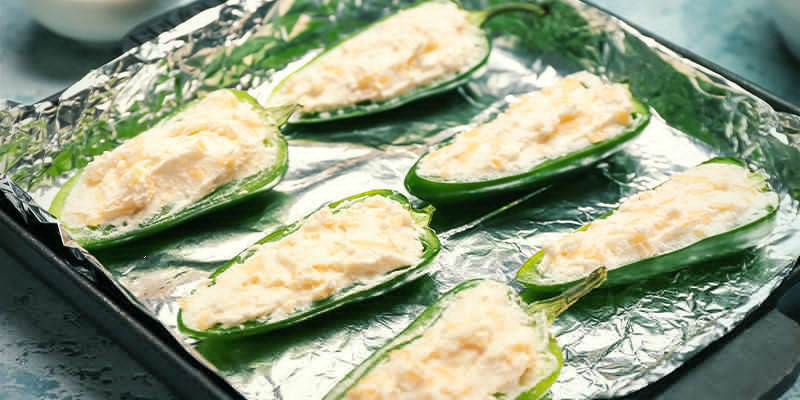 There's no denying that baked jalapeño poppers are incredibly tasty, but how do they stack up nutritionally? Per popper, you can expect the following:
| | |
| --- | --- |
| Calories: | 104kcals |
| Fat: | 9g |
| Saturated fat: | 5g |
| Carbohydrates: | 2g |
| Protein: | 3g |
| Cholesterol: | 28mg |
| Salt: | 122mg |
| Sugar: | 1g |
| Potassium: | 66mg |
| Vitamin A: | 485IU |
| Vitamin C: | 17mg |
| Calcium: | 86mg |
| Iron: | 0.2mg |
Spice Up Your Baked Jalapeño Poppers With Cannabis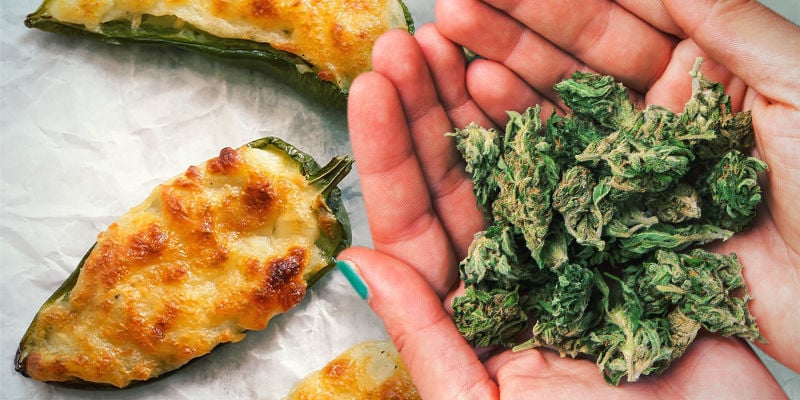 Are you looking to add a little extra "spice" to your poppers? Well, cannabis can easily do the trick. Whether in finely ground bud, kief, or hash form, you can easily add a little green to your recipe.
Just ensure it's decarboxylated before you use it as an ingredient; otherwise, you won't be getting any of those sweet effects.
While adding your herb to the mixing bowl with all the other ingredients may be tempting, it's best to take a different approach. Once it's all mixed together, you won't be able to dose each pepper correctly. So it's better to sprinkle an even quantity on each popper. This way, you can keep track of exactly how much herb you'll have to enjoy. Moreover, be sure to add your cannabis at the end, after baking, so it isn't degraded by the high heat of the oven.
After Stuffed Jalapeños? You've Come to the "Popper" Place
As you can see, there's plenty you can do with baked jalapeño poppers; they truly are a versatile food that can be enjoyed at any time. And there's really nothing like making your own at home.
Hopefully, you're inspired enough to go and create some yourself; we promise you won't regret it. But where to start? Well, not only can we provide you with awesome recipes, but we can help you out with your chilli seeds as well! Head over to Zamnesia's Peppershop and grab some jalapeño seeds to cultivate at home. That way, you can have a steady supply of chillies so your poppers will never run out.