Top 5 Stoner Apps per iPhone e Android
Published : Jan 17, 2014
Categories : Blog • Tecnologia

Disporre della connessione a internet sui telefoni cellulari ci ha permesso di accedere alle più bizzarre informazioni a livello globale. Ciò non vuol dire che si debba sfruttare solo per vedere video divertenti con gli amici, ma permette anche di acceder
Disporre della connessione a internet sui telefoni cellulari ci ha permesso di accedere alle più bizzarre informazioni a livello globale. Ciò non vuol dire che si debba sfruttare solo per vedere video divertenti con gli amici, ma permette anche di accedere molto più facilmente alla miriade di informazioni sulla Cannabis. Queste notizie sono ormai alla portata di tutti, grazie anche alle diverse applicazioni studiate appositamente per i cellulari degli "stoner".
Ma quali App meritano una maggiore attenzione? E qui entrano in gioco in nostri utili consigli. Vi proponiamo qui di seguito la nostra lista delle migliori 5 App per "stoner".
1. LEAFLY
Questa incredibile applicazione è un'enciclopedia sulla marijuana ed un archivio delle notizie, tutto in uno. Si tratta di una biblioteca completa che racchiude le diverse varietà di Cannabis, i differenti effetti trattati in maniera dettagliata, i tratti e le caratteristiche di ciascuna specie e, inoltre, riporta i diversi commenti, le notizie e le opinioni espressi dai consumatori su ogni varietà. Leafly è disponibile in versione free sia per iPhone che per cellulari Android.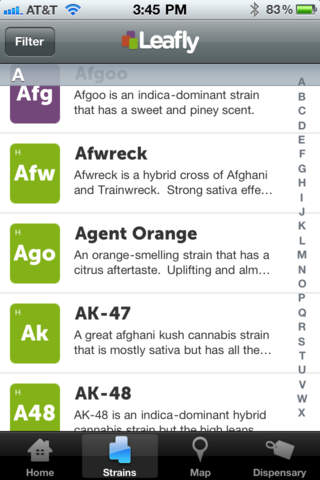 2. GRASSCITY COMMUNITY
Grasscity Community vi offre un link diretto e semplice da usare per accedere al cuore di una vibrante e fiorente comunità della Cannabis, il tutto comodamente dal vostro telefono. Si tratta di uno strumento di facile gestione per mantenere traccia di tutto ciò che avviene all'interno del mondo della Cannabis, con la possibilità di partecipare alle discussioni ad esso collegate. L'accesso dei membri alla community è libero e le informazioni disponibili sono davvero tante. Anche questa app è gratuita, sia per iPhone che per apparecchi Android.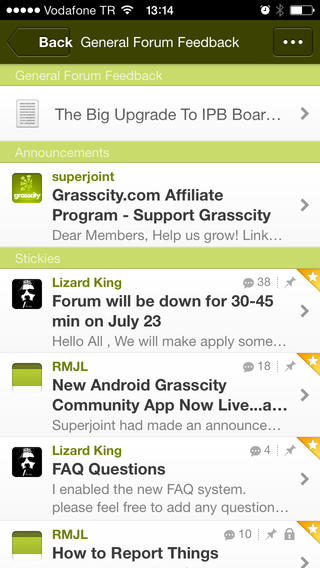 3. THE GROW APP
The Grow App è facile da usare per chiunque sia nuovo al mondo della coltivazione. Grazie a dei segnali sonori è possibile tenere d'occhio la crescita; è uno strumento utile dal momento che offre soluzioni a possibili problemi, ma è anche un convertitore di unità di misura, una rivista sulla coltivazione ed un dizionario sulla Cannabis per capire anche le espressioni gergali. E`disponibile in versione free sia per iPhone che per cellulari Android. La versione a pagamento è più completa ed offre, in aggiunta, un numero maggiore di tecniche di coltivazione avanzata.
4. MARIJUANA HANDBOOK
Marijuana Handbook è una grandiosa app che offre informazioni generali che tutti gli stoner dovrebbero avere. Riporta un sacco di informazioni, come i fatti più interessanti ed utili relativi alla marijuana, una libreria completa delle diverse varietà, un dizionario del gergo stoner, una collezione di ricette a base di marijuana ed una guida alla coltivazione, ovvero tutto ciò che potrebbe essere utile avere a portata di mano. E`un'app free sia per iPhone che per Android.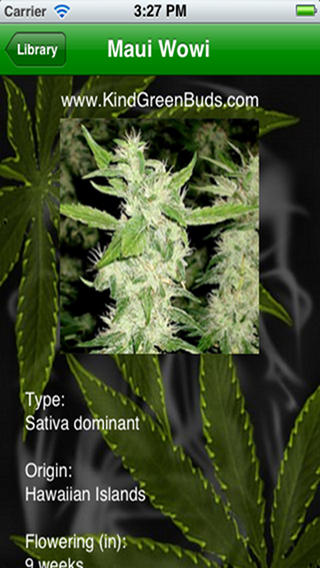 5. STONERS HANDBOOK
The Stoners Handbook è un'app molto simile al The Marijuana Handbook, ma vale comunque la pena dargli un'occhiata. E`, allo stesso tempo, una biblioteca completa sulle diverse varietà, un dizionario e una collezione di gustose ricette alla marijuana ma, inoltre, è anche una guida estremamente utile per coloro che vogliano imparare a rollare uno spinello, a improvvisare una bonga, o creare una pipa ad acqua, e contiene molti altri usi e suggerimenti utili per accrescere la vostra esperienza. The Stoner Handbook è in versione free sia per iPhone che per apparecchi Android.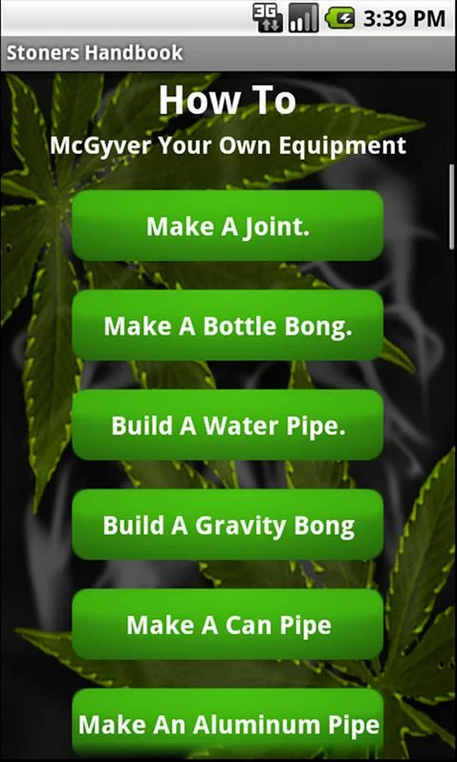 comments powered by

Disqus