Blog

4 min
Top 10 Cannabis-Related Gifts Under €50

4 min
Does a stoner in your life have a birthday coming up? Or, are you just looking for a little something for yourself? If so, then we here at Zamnesia have compiled a list of affordable, weed-friendly gifts that are perfect for any occasion.
Does a stoner in your life have a birthday coming up? Or, are you just looking for a little something for yourself? If so, then we at Zamnesia have compiled a list of affordable, weed-friendly gifts that are perfect for any occasion, and for every type of pot smoker. The best part of all, they're all under €50! From a twisty glass blunt that will change the way you get high to a can that makes growing ganja as easy as 1-2-3, treat yourself or someone you love today with one of these 10 gifts. Or all of them!
1. FOR THE HOME GROWER THAT WANTS TO KICK THEIR GARDEN UP A NOTCH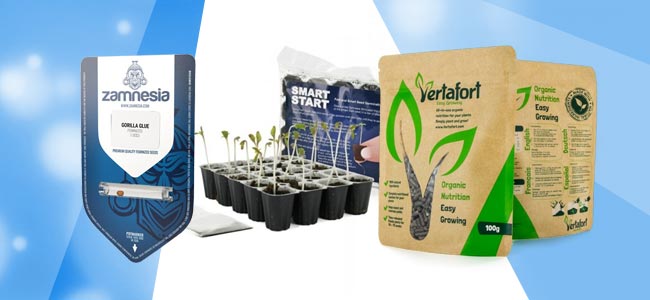 Is your home grow disappointing you lately? If so, we have everything you need to help those plants bloom successfully and produce maximum yields. All for under €50!
For starters, you'll want a strain that's loaded with THC. We have a variety of seeds to choose from, but we highly recommend Gorilla Glue. Gorilla Glue is a potent indica whose flavours are sweet and earthy. In fact, she can contain as much as 30% THC, though her normal range is between 24-26%.
On top of promoting relaxation, she's great at relieving stress and putting you into a deep sleep. At the same time, she will boost your mood, leaving you feeling happy and uplifted. For only €36, you get a 5-seed pack of this ultra-powerful strain. You can't beat it!
To go along with your seeds, we recommend getting some Smart Start and Vertafort. Altogether, you'll still be spending less than €50, so no worries. The Smart Start makes germinating cannabis seeds easy. It includes a close-packed tray of 20 tiny pots filled with compost; Also, a packet of Stimulator Mix to activate the microbes in the in the Smart Pots, critical for successful germination.
As for Vertafort, it will help you grow happy and healthy plants by providing them with essential nutrition. All you have to do is mix the all-natural pellets with your soil and Vertafort does the rest.

2. FOR THE HUMBLE GROWER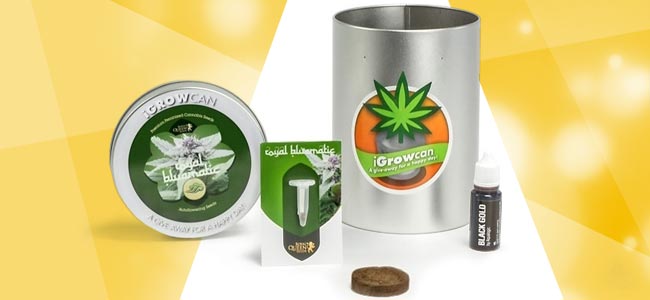 Growing cannabis doesn't come naturally for everyone. But with the iGrowcan, anyone can cultivate ganja with ease! No experience necessary. The iGrowcan isn't just easy-to-use, it's also not a pain in the ass to clean. With this kit, you get 2pcs feminized Royal Queen quality seeds, approximately 0.9l of soil, high-quality 100% organic nutrition, and a pipette. Just open the packaging, drop the seed down in the soil, and add water. After 2-3 months, you'll be rewarded with an adorable baby plant.
3. FOR THE WISE, EXPERIENCED, AND SOPHISTICATED STONER
Whether you're a Lord of the Rings fan or want to look all fancy-schmancy while you toke, The Chongdolf Pipe by your two favourite stoners Cheech & Chong is just what you need. Puffing on this baby will unleash your inner Gandalf. And you'll be amazed at the remarkable smoke shapes you can blow out of it; why not aim for a smoke dragon or a full-on pirate ship?!
4. FOR THE POT SMOKER IN NEED OF A QUALITY, STAND-OUT GRINDER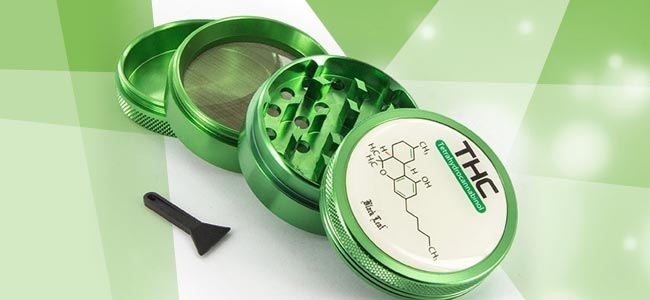 As you know, a grinder is a stoner essential. But there are so many out there, and finding one you can trust isn't always a breeze. So Zamnesia did the work for you and found this one from Black Leaf company, based in Germany. Not only are its teeth razor sharp, but it's also a 4-piece, meaning it will collect all that delicious kief that falls off your buds.
On the top, you'll find the chemical formula of THC, along with Black Leaf's logo on a white background. It truly is a great working grinder. And it's lightweight, too. 
5. FOR THE GLASS COLLECTOR LOOKING TO UP THEIR COOL FACTOR
Now here is a device that will elevate your glass collection, and up your blunt game. This is a game-changing piece of stoners' paraphernalia. To begin with, the Twisty Glass Blunt is super simple to use. Even rookies will have no trouble learning how to work it. It also holds a whole lot of dank, 1.5 grams to be exact. After you get your blaze on, just dump out the ash, load it back up with fresh dry herb, and keep on smoking. Talk about convenient.
6. FOR THE VAPER THAT LOVES PLAYING AROUND WITH CLOUDS
VIDEO: MONKEY O VAPE TRICKS
The Monkey O Vapor Tricks Kit will have you blowing sweet-looking vapor rings in no time. In fact, you won't even have to watch any YouTube videos to become a smoke tricks master. In addition to the hand-held Monkey O, which comes in black, the kit also includes a container of Monkey Juice for vapor bubbles. It's everything you need to impress the hell out of your stoner buddies.
7. FOR THE CANNASSEUR WHO IS NEVER ON TIME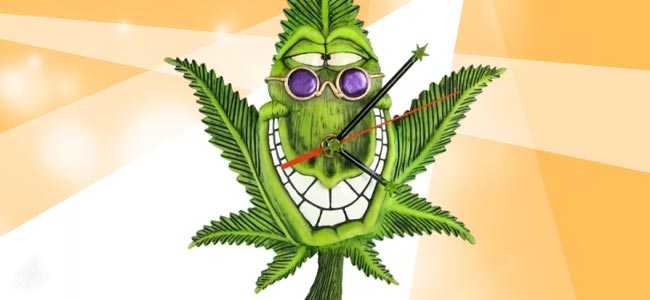 Tardiness is laziness, or so they say anyway. To ensure that you always make it to your destination on time, here is a whacky, fun little weed-friendly clock just for you. The Clock 'Cannabuds' is designed to hang on the wall and only calls for 1 AA battery. Of course, literally every clock out there can tell time. But how many people can say that a pot leaf helps them promptly arrive where they need to be?
8. FOR THE STONER THAT'S TIRED OF MESSY, HANDMADE BUCKET BONGS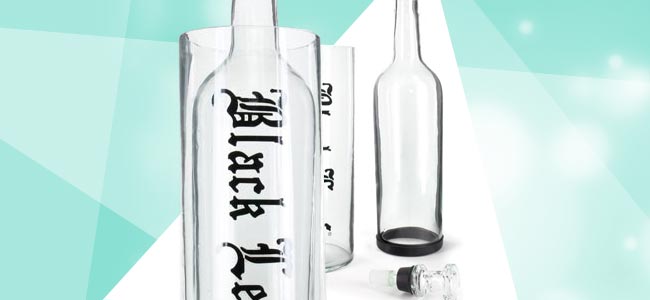 Eventually, a stoner will smoke their bud out of a bucket bong at least once in their lifetime. But for the most part, they are handmade and look rather rough - not to mention, messy. Well, they've come a long way since you've tried one out. As it turns out, there is now a glass bucket bong that's far more reliable than a recycled coke bottle. It's called the Pump Gun, and it hits like a champ. Physics nerds will get a kick out of this one as well!
9. FOR THE ORGANISED JOINT/BLUNT ROLLER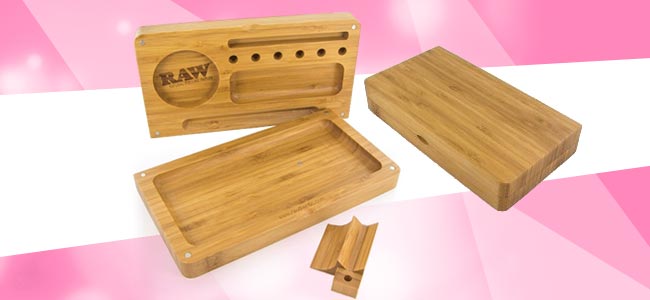 You've probably already heard of RAW. They're only responsible for the best, highest-quality smoking accessories around, including this sweet-ass rolling tray, made from natural bamboo. If you're a roller, you know the process can be a messy one. But with this rolling tray, you can keep your bud and papers nice and organised. It comes with both a top and bottom, so when you're done, just secure the cover and store it somewhere safe. Its eight strong magnets will keep all the parts in place.
10. FOR THE STONER WHO CAN'T HANDLE THE RESPONSIBILITY OF MAKING SUCH A CRITICAL DECISION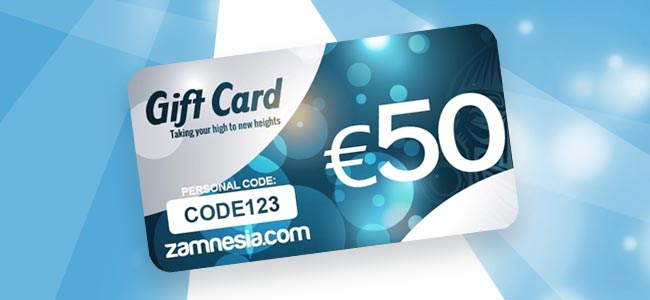 If you would rather let the receiver pick out a present on their own, then you can always settle for a €50 gift card. Have no shame, choosing a gift for someone else can be tough, especially when there are so many cannabis seeds and smoking essentials available.
And you never know if that person will like what you pick out or not. So, by handing over a Zamnesia Gift Card, you can't possibly go wrong. After all, they know what they like better than anyone else.
Written by: Brittney
A firm believer that cannabis can be a benefit to society, Brittney has enjoyed its subtleties for a long time. This love is reflected in her writing, which aims to inform, educate, and bring people together over a love of cannabis.

Find out about our writers
---