Monster Zkittlez: When Great USA Genetics Come Together

2 min
Say hello to the super-fruity Monster Zkittlez, the latest indica hybrid sensation by Zamnesia Seeds. Monster Zkittlez isn't just one of the sweetest indicas around, she has many other great attributes that will make her an instant hit among indoor and outdoor growers alike! This isn't your typical hybrid...
AN INDICA LIKE NO OTHER: MONSTER ZKITTLEZ BY ZAMNESIA SEEDS
The team at Zamnesia Seeds created Monster Zkittlez by blending the excellent genetics of Grape Ape and Grapefruit. The former is an indica appreciated for its distinctive grape smell and very relaxing indica stone. Grapefruit is a fast-flowering sativa beloved for her rich grapefruit flavour and tropical citrus aroma. Combine the two, and there is no choice but to create something truly special.
As so often happens when blending highly desirable genetics, the stabilisation process is far from easy. Creating a successful new strain often requires careful selection of only the best specimens to get the strain stable with all the desired traits. Everything must be right, from the strain's aroma to the potency, and, of course, the yield. And to get there, this can sometimes take time. Making Monster Zkittlez was no exception, and we wanted to ensure that this soon-to-be superstar was fully market-ready. But to make a long story short, Zamnesia is happy to introduce a strain that surpassed our high expectations for quality! Monster Zkittlez only at Zamnesia.
A UNIQUE AND SUPER-ENJOYABLE EFFECT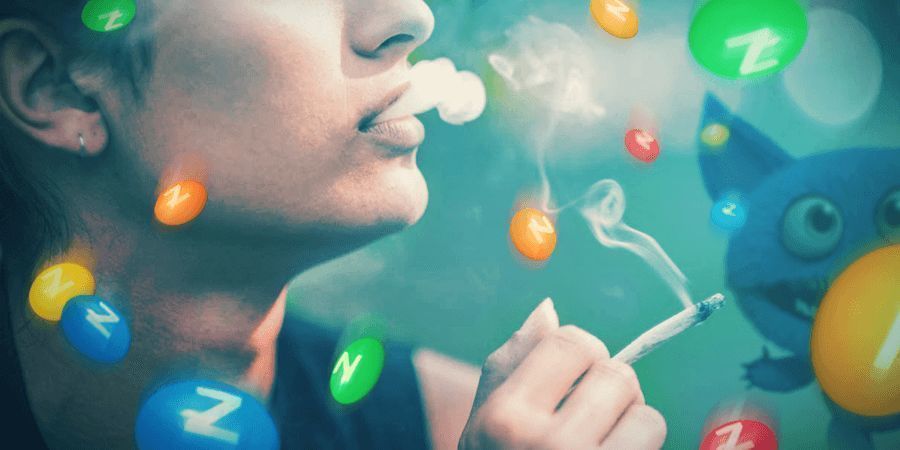 On paper, Monster Zkittlez may be an indica hybrid (80% indica), but don't let this fool you. This lady is anything but typical, and this becomes abundantly clear as soon as you spark her up. Her effect makes her come across like a sativa, and may even surprise veteran tokers with her counterintuitive high. She induces a happy and euphoric head high—perfect if you want to say bye-bye to stress and a bad mood.
But even as she caresses you with endless waves of happiness, she won't forget about your body either. Once the initial euphoria begins to subside, a relaxing sensation will calm your muscles and put you at ease. But never fear; she won't lock you to the couch in sedation: with 15–22% THC, she is not weak by any means, but not as crazy-potent as some other market-leading strains. This means you can fully enjoy her smoke without worrying about the repercussions of finishing an entire joint (or two).
Let's Make American Cannabis Strains Great Again
AN EXPLOSION OF FLAVOUR
Of course, perhaps one of the biggest highlights of this cultivar is her sensationally sweet, fruity, and candy-like flavour. Thanks to her super-fruity parents, she really brings out those deliciously sweet notes. You will love her succulent berry and grape notes, which blend nicely with a hint of sour citrus to keep the taste buds interested. Mouth-watering and irresistible, they didn't name her Zkittlez for no reason… If you love sweet and fruity smokes, look no further; this baby was bred to please the palate.
GROWERS WILL LOVE THE GREAT YIELDS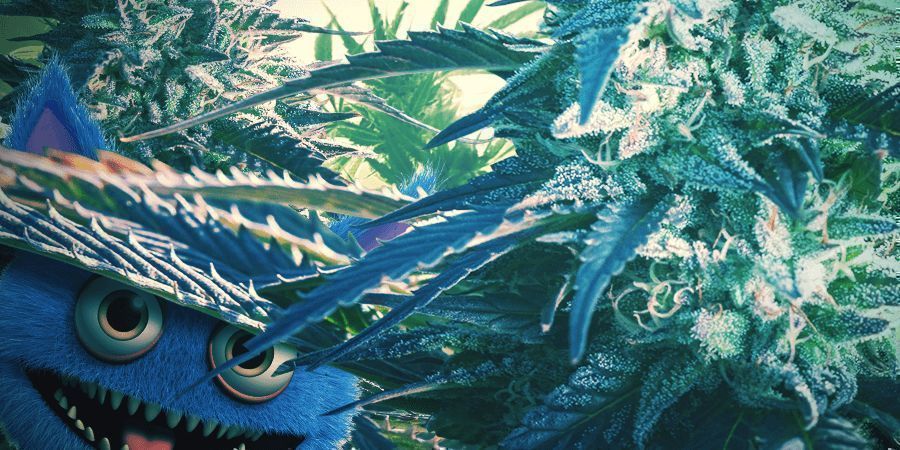 While the second part of her name indicates her superior flavour, the first part of her name hints at her production potential. Monster Zkittlez is a must-grow strain if purely for her robust growth and satisfying end yields. Not only will the total weight be impressive, but the size of the buds themselves will be something to gawk at. Quite monstrously big, very firm, and highly resinous buds will make themselves known via one major central cola and an infantry of full side branches.
Reaching a height of just 90–150cm indoors, she is sure to fit in most well-appointed grow rooms, and can be trained and topped if necessary. Even at such a manageable size indoors, she still rewards with substantial yields of up to 600g/m². Outdoors, she gets a little taller (up to 190cm) where she yields up to 600g/plant. Not to mention, the plant will also make a gorgeous figure in the grow room (or great outdoors) when she shows off her bright green and sometimes purple-hued nugs. Requiring around 8 weeks to flower, there's not much to criticise, even for the most entitled cannabis aficionado.
MONSTER ZKITTLEZ BY ZAMNESIA SEEDS IS A WINNER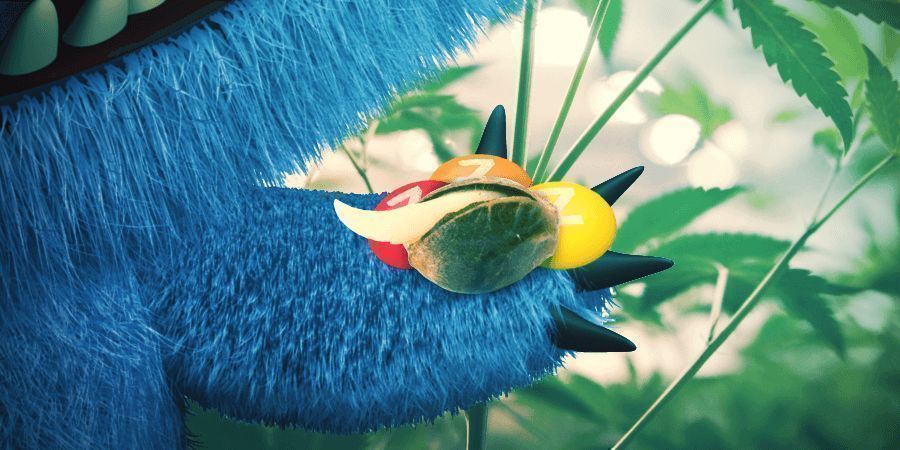 No doubt, Monster Zkittlez by Zamnesia Seeds is a real winner. She scores with many outstanding qualities, is fun to grow, and even more fun when you can finally enjoy her! We think that Monster Zkittlez has everything it takes to become a monster hit among cannabis lovers in the coming growing season and beyond. Plant her and see for yourself what she has to offer!
Written by: Zamnesia
Zamnesia has spent years honing its products, ranges, and knowledge of all things psychedelic. Driven by the spirit of Zammi, Zamnesia strives to bring you accurate, factual, and informative content.

Find out about our writers
---